Anthony Marra's Grocery Store, 300 South Meadow Street at Cross Street
Marra's grocery store, started by Anthony Marra, began on the corner of South Meadow Street and Cross back in 1950. Anthony was granted the right in 1950 to vary the use of his residential property for establishing his grocery store. The Marra family was no stranger to being proprietors: Anthony's brothers Antonio and Rocco owned and operated Rocky's Fruit Stand in Watertown, while Rocco once owned the Burrville Cider Mill.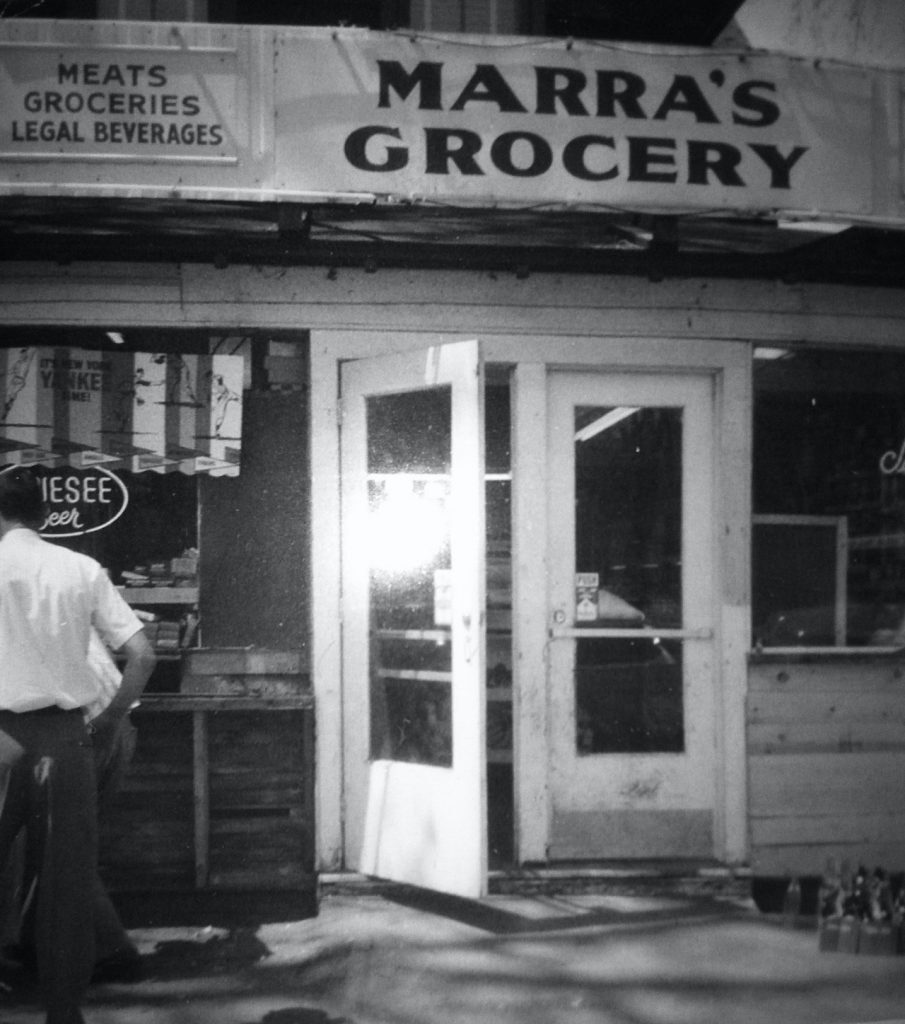 Prior to establishing his grocery store, Anthony Marra was a 1940 graduate of Watertown High School and served in the United States Army during World War II.  31 of his 38 months of enlistment were spent overseas in Italy, Africa, and Switzerland, where he saw action in the Italian and North African campaigns of the war as an Allied interpreter at Leghorn, Rome, and Naples in Italy. He was honorably discharged as a sergeant in 1945 and marry Patricia M. Peters the following year.
Two years into the grocery business, Anthony and his brother Antonio purchased the Tontarski Market at 400 South Massey Street, a two-story frame structure on the corner of West Mullin Street, which had operated as a store since 1911 under various owners and names. They branded the new store the Marra Brothers Market, though Anthony would continue to operate Marra's Grocery from his residence.

As mentioned previously, the small Watertown neighborhood grocery stores were often the targets for thieves – and Marra's Grocery was no different.  In one incident, the Watertown Daily Times reported–
A basket of peaches, three pints of ice cream – one vanilla and two chocolate, and a bottle of soft drink were consumed last Sunday night or early this morning by burglars who entered the Marra Grocery store at 300 South Meadow Street.

The owner, Anthony Marra, discovered the front door of the market pried open at 8:15 this morning and police found the empty ice cream containers hidden in a clump of bushes behind the store.  The value of the burglary loot was totaled $1.68.
But wait!  There's more!  In another article from 1964–
Gum Ball Machine Stolen

Police staid thieves made off with the gum ball machine and its contents, valued at $41, in front of Marra's Grocery, 300 South Meadow street, some time overnight Tuesday.

Anthony J. Marra, owner of the store, said the machine was worth $30, the gum balls $5.  The machine also contained $6 in change.  The theft was reported to police Wednesday at 10:30 a.m.
In 1967, Anthony leased his store at 300 South Meadow Street, which became Meadow Market. He operated the Tap-A-Keg Restaurant on Court Street with his brother Rocco up until his unexpected death on January 5, 1970, at the age of 46.
Watertown Neighborhood Grocery Stores
According to the Watertown Daily Times, there were as many as 87 neighborhood grocery stores operating in the city back in 1907 (a list from 1908 can be found here.)  While there will always be a place for chains – some of them serving up a number of fond memories themselves, such as the much-beloved Mohican, there's something about the neighborhood stores and their place within our communities, and particularly our childhood memories, that made them endearing.
Over the years, more and more large grocery stores infiltrated the area, offering more competitive pricing and larger varieties of goods. A&P, Weston, Super Duper, P&C, and many others have come and gone through the years, and while the neighborhood grocery stores are (very) few and far between, if you look around, you still might see a little mom-and-pop store… somewhere.
In an ever-evolving world, it's the chain stores themselves who now face stiff competition from the likes of large conglomerates such as Sam's Club and Walmart or the likes of Amazon.com. While some of them may be able to boast even MORE offerings and DEEPER discounts, they'll never aspire to be, and thusly never match, the quaintness of the old neighborhood grocery stores.
As one astute commenter, Lee Crandall, wrote on the You Haven't Lived in Watertown, NY if— Facebook page,
In most American cities our zoning laws have put this type of store out of business. So now we miss out on the interaction with neighbors, drive miles to a big box store, get less exercise, and waste fossil fuels to get the stuff that used to be at the corner store.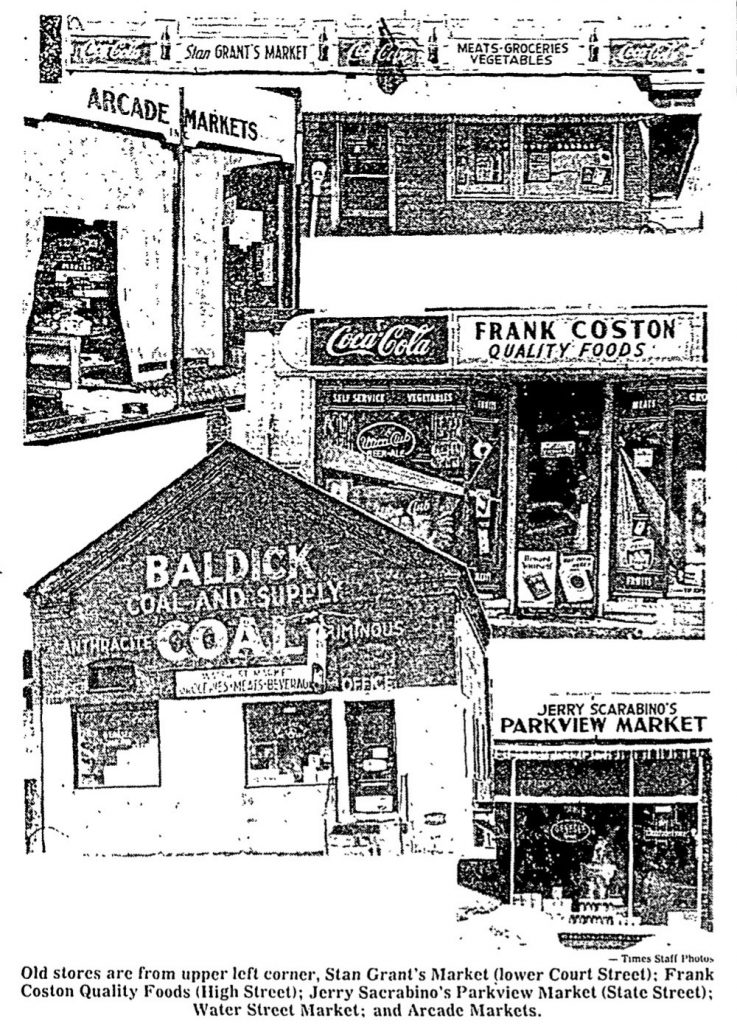 A list of neighborhood grocery stores in Watertown over the years includes the following below:
Academy St Market
Ashkar's
Boora's Soda Shop
Breen Avenue Market
Calendar's Market on Factory
California Fruit Market
Capone Grocery
Clay Street Market
Cooper Street Market
Crescent's Market
Derrigo's Fruit Stand
Dorr's Market
Eveleigh's Market
Fobert's Market
French's
Gayle Street Market
General Store, Coffeen Street
Greico's Produce
Guardino's Grocery
Habeeb Bros. Red & White
Hickey's Grocery Store
Highway Market
Holcomb Street Market
Horning's Grocery
Jenkins Market
Johnnie's Fruit Stand
LeRay Street Market
Major's Market
Meadow Street Market
Mathar's Market
Parkview Market
Rocky's Fruit Stand
Ruth's Market
Rutland St. Market
Sowans on State and High St.
Tony's Fruit Stand
The view more Watertown neighborhood grocery stores like Marra's Grocery, click here.