Gorri's Market: First a Grocery Store, Then Resurrected as a Meat Market
If Gorri's Market was in the motion picture business, its second coming after a 12-year absence might be called a reboot. The earliest advertisement of the original Gorri's Market, opened by Frank Gorri and brother-in-law Joseph Spano at 901 Arsenal Street in 1924, was found in the be April 2, 1931 via the Watertown Daily Times offering "ANY kind of spaghetti, imported olive oil and tomato paste."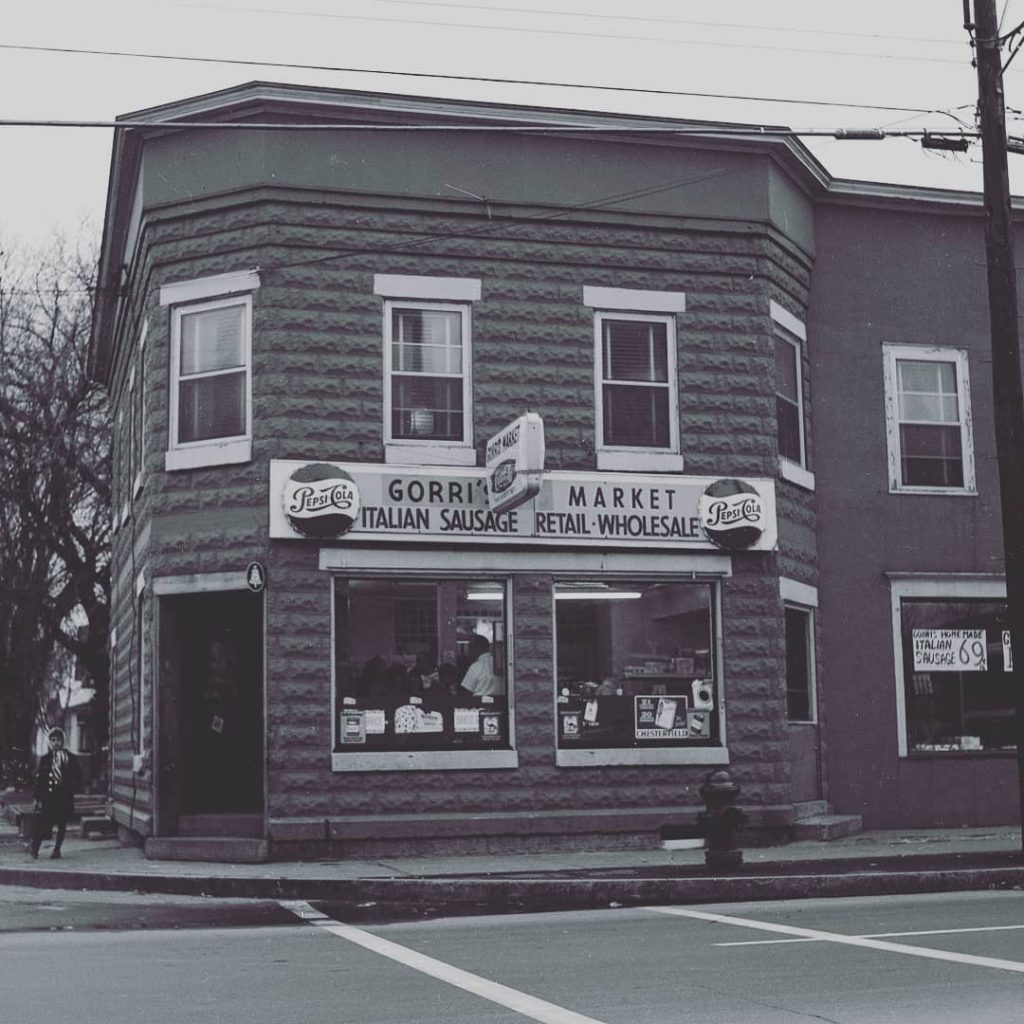 Prior to Gorri's market, the location was a long-standing store in the Sand Flats neighborhood at the corner of Smith and Arsenal Streets and previously owned by Frank Vallone who, himself, had purchased several years earlier.  Frank and Joseph ran the store jointly for a few years before Frank took over the operation completely.
As a side note, the end of Smith Street were many Italian family gardens, the subject of much controversy in 1917 when the New York Central Rail Road expanded and built a round house and coal trestle on part of the land being used.  Frank Gorri, at the time of his marriage in 1916, had an occupation as a gardener according to the Watertown Daily Times and very well could have been impacted by this.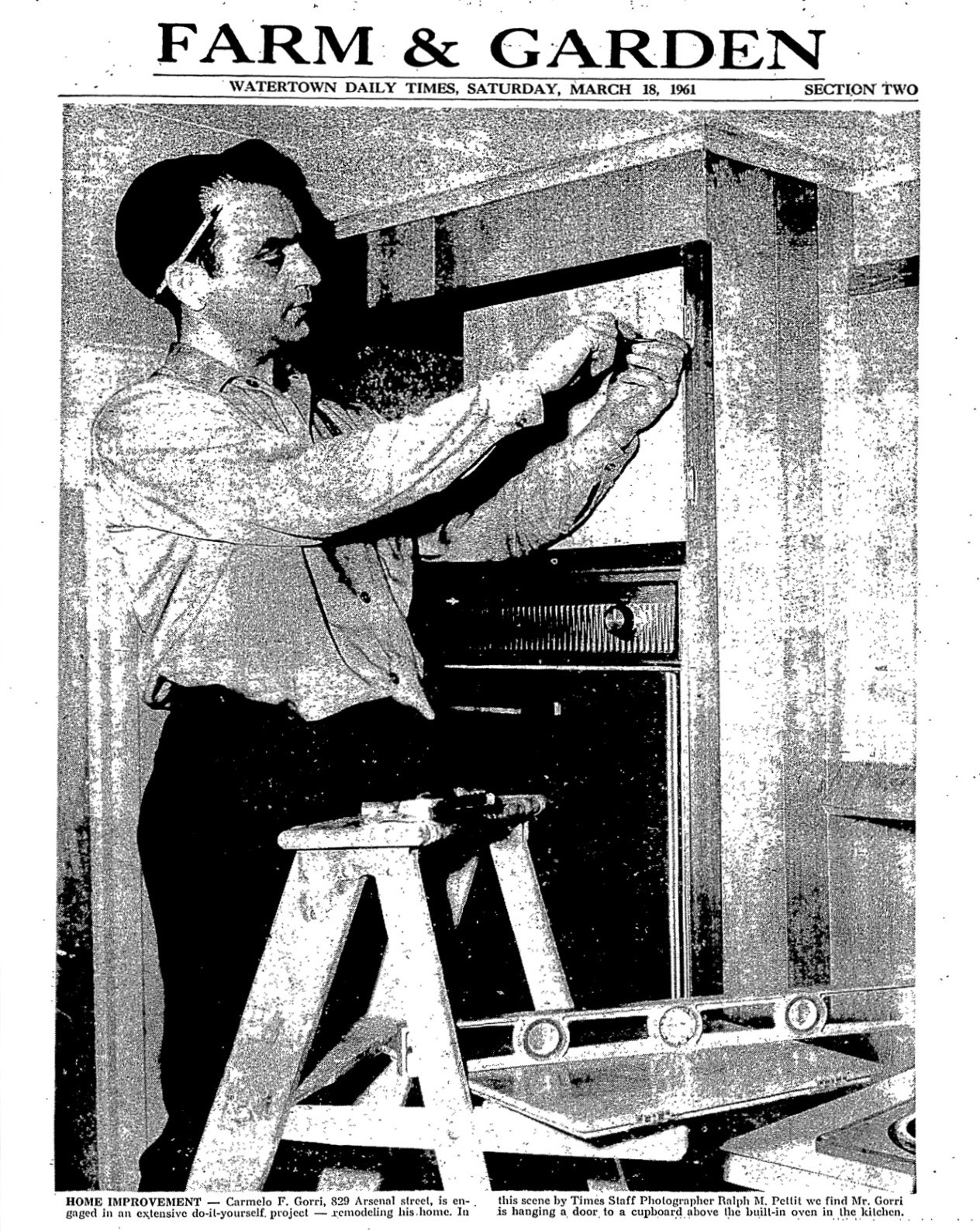 After Italy surrendered in WWII, many local Italians who migrated from Italy and still had family serving in the Italian Army were overjoyed with the news.  Frank Gorri was one of them, as the Watertown Daily Times reported–
One local grocer, Frank Gorri, 901 Arsenal Street, was so enthused that he immediately closed his store for the afternoon.  Mr. Gorri, who has a sister in Reggio de Calabria–the point of invasion–and five nephews serving with the Italian army, hailed the surrender as "one of the greatest moves ever made by Italy.  I am so nervous from the excitement and joy that I don't know what to say."
Frank Gorri would retire from the business in 1945, leaving it to his sons, Dominic and Carmelo, to operate.  In 1955 Frank would pass away at the age of 65.  Eventually, Dominic would operate the store until 1960, when it became Coleman's Grocery, operated by Francis Coleman until 1963 when the Gorri's took back of over.  In 1968, Anthony Malara and his wife, Florence Gorri Malara, would operate it until 1974 when it was leased to Richard F. Crescenzi.  Crescenzi would operate it as "Riccardo's" until 1977.
The Return of Gorri's Market
In 1981,  Mary Jane Yarmer, an English teacher at Watertown High School, wrote for the Watertown Daily Times ran a three-part retrospective on the quickly disappearing independent grocers in the city. Arsenal Street was singled out as having had a number of popular neighborhood grocery stores over the years, including Crescent Grocery, which gave us Crescent's Pizza back in the 1980s and 90s, and of course, Gorri's Market which found itself back in business, but focused on and specializing in meat as a result of the changing times.
Dominic Gorri and his wife Julie tried to get out of the business, and they did from 1965 to 1977.  Then Mr. Gorri finally succumbed to people's pleas for him to return to business.  Today (1981), the grocery store is gone and the space is for rent: the Gorri's now have specialized in meats.

Mr. Gorri prefers the meat market where he does not have to carry a large inventory and he says, "I can give more attention to my customers."  His sausage is prized by many in the city, and visitors often buy large quantities to take with them when they return to their homes in places like Florida and Alaska.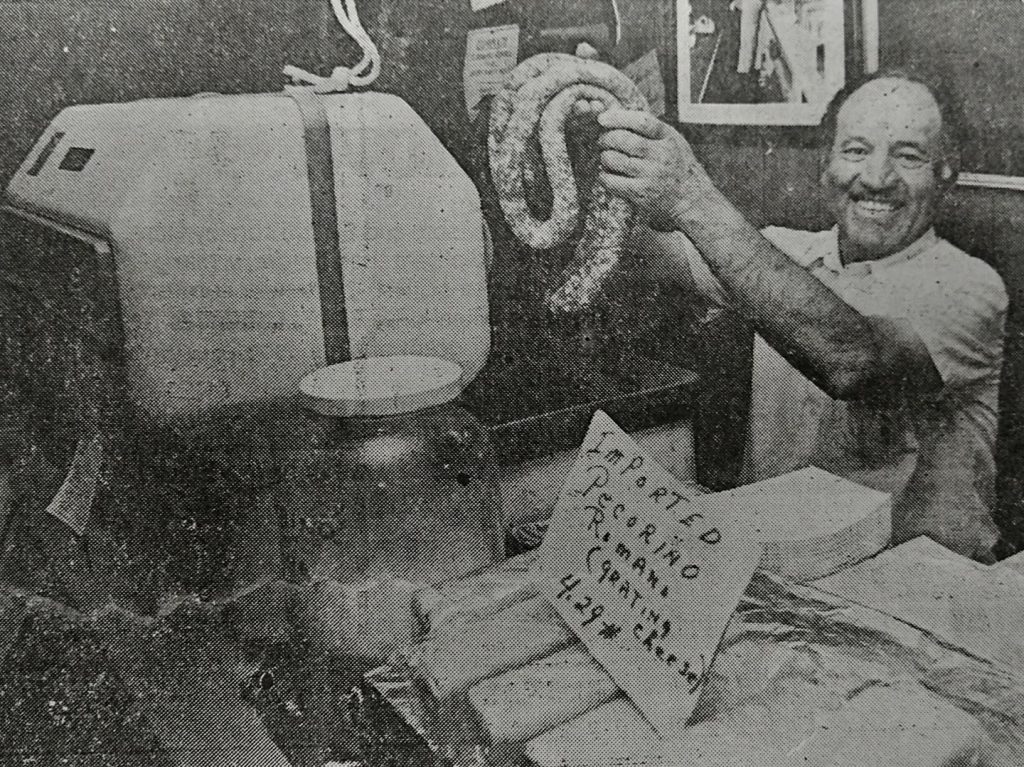 The article would also mention how the times had changed since Dominic took over the store.  Prior to the 1950s, clerks would fetch items for the shopper while they waited at the counter.  Soon, the transition to self-service and providing shopping carts became standard.  Reference was also made to the well-known six-foot candy case which was frequented by the children who attended St. Anthony's School, "some who 'snuck over' to the store during recess and lunch knew the class a little better than others."
In the mid 1980s, the front of the store would be occupied by Waterbed Discount while the meat market was relegated to what was once the storeroom.  There, according to another Watertown Daily Times article printed April 28, 1987, family photos, memorabilia and "a treasured autograph photo of Frank Sinatra with a note, 'the sausage was great'" hung on the walls with pride.
Dominic Gorri had been making sausage at the young age of 11 while watching his father make it.  Surprisingly, Dominick professed he didn't use a recipe. Rather, from all his years of making it, he knew how many handfuls of each ingredient to use per pound of sausage.  Fortunately, he did offer up a recipe for Italian Sausage Casserole Gorri, which is shown below.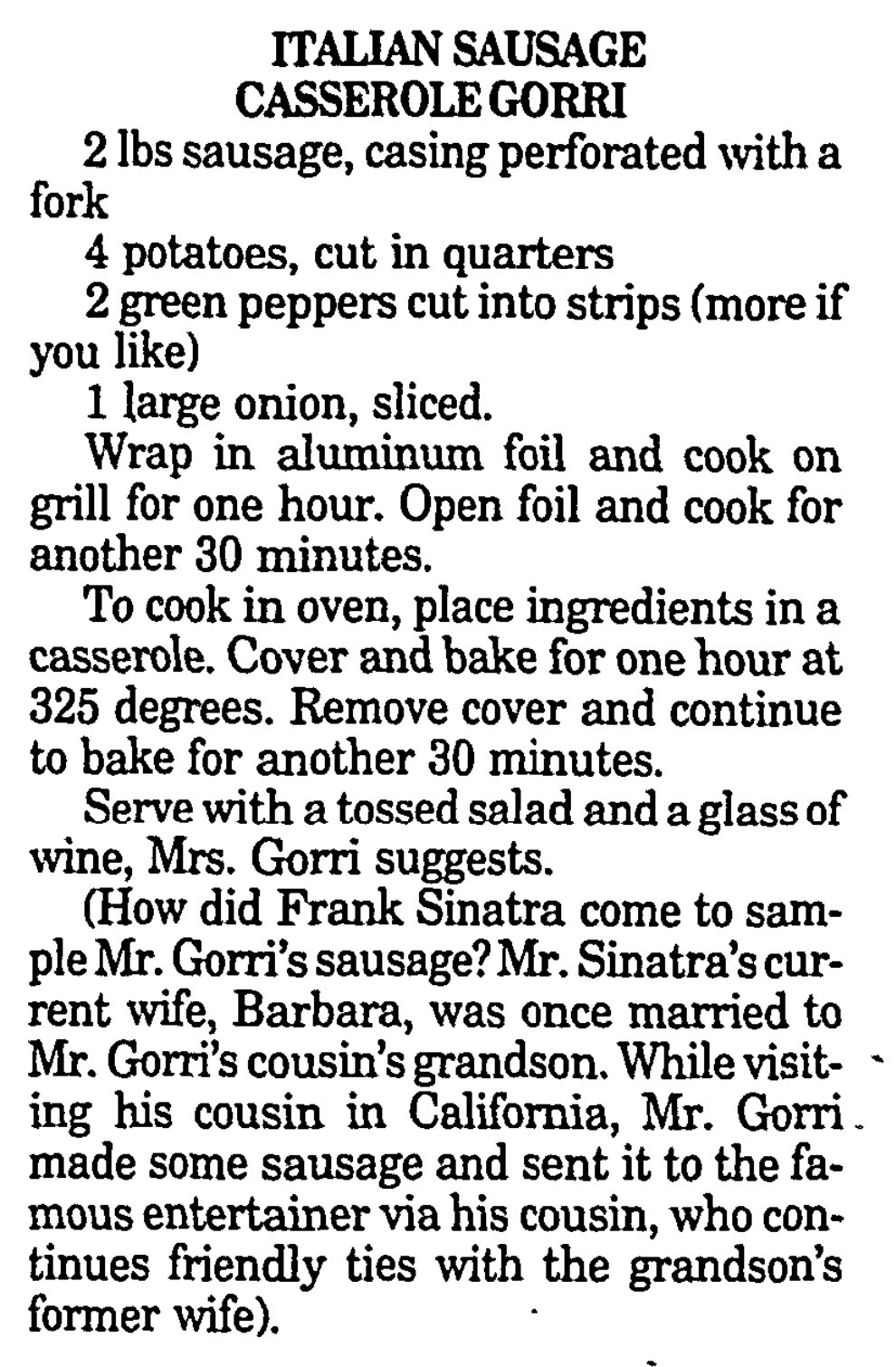 Dominic Gorri would decide to retire at the end of the year and sold the business to Michael and Karen Misercola, who operated it as Mike's Meat Market as of January 1, 1988.  Dominic would pass away later that year at the age of 68 on November 27.
In July, 2009, the building that was home to Gorri's Market and family for some time was demolished, taking with it a fair share of history.  87-year-old Julee Gorri, widow of Dominic, would reflect on the times changing to the Watertown Daily Times–
"I've watched Watertown grow," she said.  "In 1953 they tore up all of Arsenal Street and made it four lanes.  That construction went on and on – it was crazy.  It went from people parallel parking in front of the store to four-lane traffic."
Despite the changes, she said, "you can't stand in the way of progress," but added that she couldn't bear to watch the demolition.  Today, the lot across from St. Anthony's Church on the corner of Arsenal and Smith Streets, once home to Gorri's Market, remains vacant.