Watertown Neighborhood Grocery Stores – Guardino's Grocery at 602 Franklin Street
One of the Watertown neighborhood grocery stores operating on the south side of town was Guardino's on Franklin Street.  It wouldn't be the first grocery store at that location, the first, at least mentioned in the local newspapers, was Parlor Grocery back in the 1930s.  That particular store would be for rent in 1936 and noted for having a good magazine and ice cream business.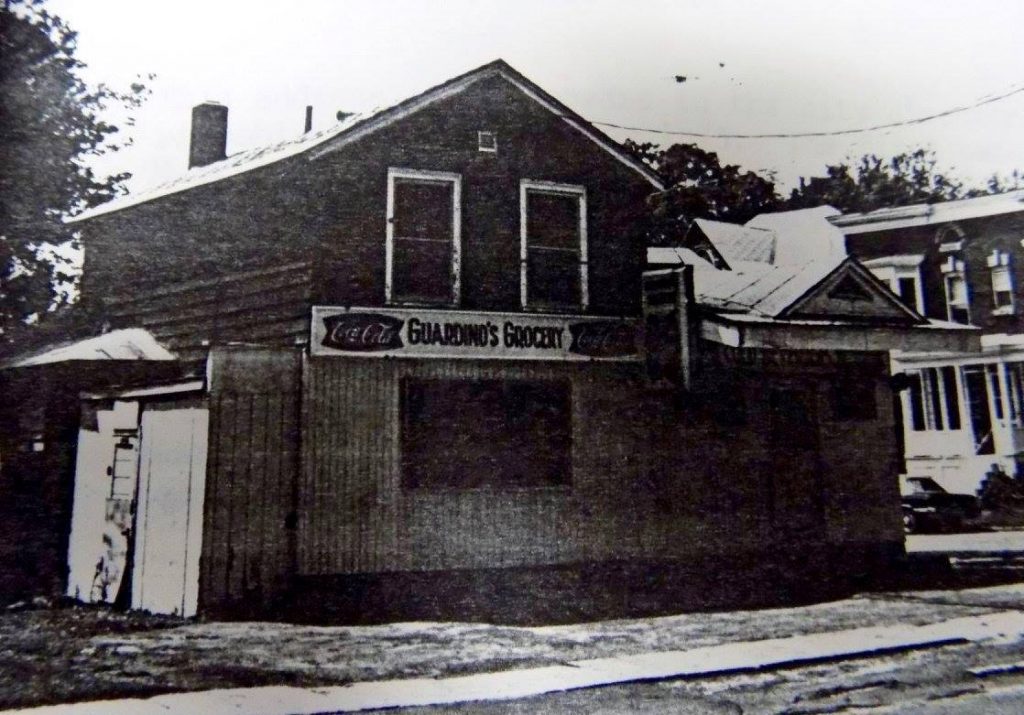 In the early 1950s, the location would be home to B. & W. Grocery, operated by George Bertrand until 1955 when it would be run by L. D. & H. F. Clark and known as Clark's Grocery.  Like many mom and pop stores, it would have a short life and change hands to Sidney D. and Katherine M. Fitzgerald in 1957 who would operate it until 1965 when the store and living quarters would be put up for sale with an asking price of $8,500.
Enter the Guardinos, Joseph & Dorothy.  Opening in 1965, Guardino's replaced a former grocery store in the same location and unfortunately seemed to have the same issues with the occasional crime-spree.  In 1961, the Fitzgeralds would report a ready-made Christmas tree, complete with lights, stolen from the porch of the store sometime during the night.
In 1976,  Joseph Guardino, would be robbed at gun-point.  As reported in the January 21, 1976 Watertown Daily Times–
A masked, armed bandit took between $150 and $200 Tuesday night after ordering the owner of Guardino's Grocery Store, 602 Franklin St., to surrender all his cash.

Police said the bandit, wearing a blue or black ski mask, walked into the store at 10 p.m., displayed a small revolver having a blue finish, and ordered Joseph Guardino, 49, who was alone at the time, to "Give me the money out of the till."

Mr. Guardino complied, and was then told not to use the telephone. The robber then fled from the front door.
Stephen J. Thornill, 18, would eventually be charged with the crime, as well as holding up the A&P store at Northland Plaza – though he said he didn't recall committing them because he was "high on drugs."  A second person, a 17-year-old, was charged as an accomplice for being a look-out on the Guardino's hold-up.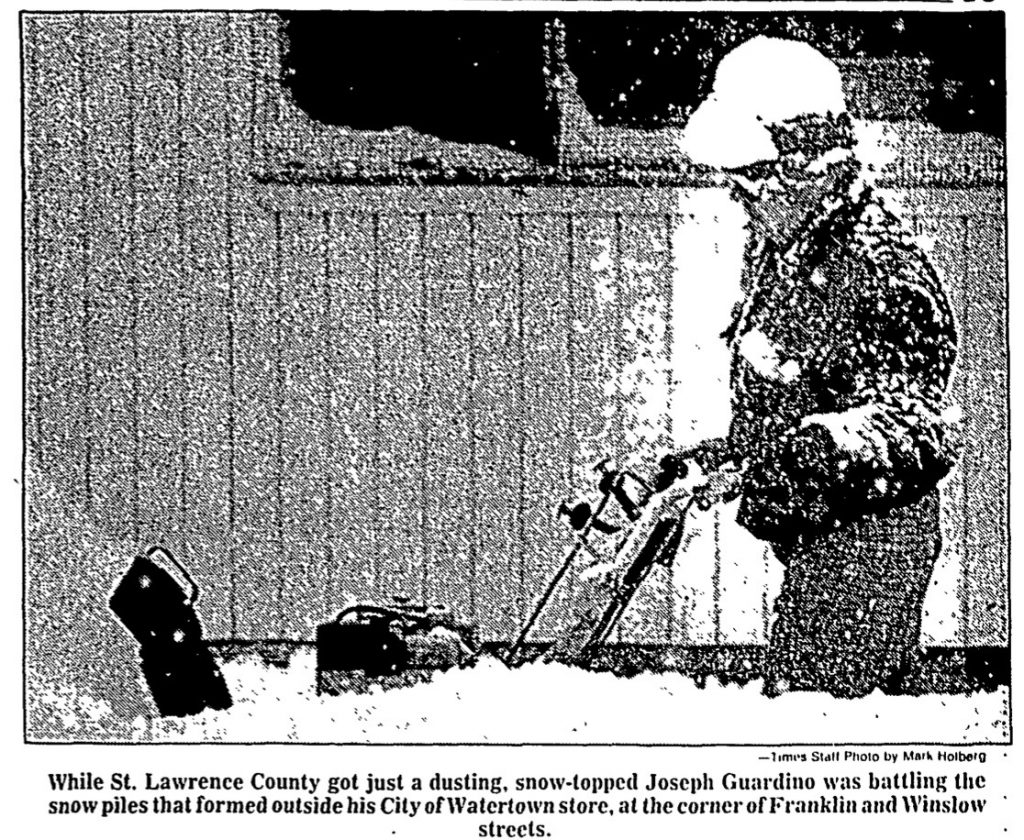 In 1981, Mrs. Guardino would note in an article of the Watertown Daily Times reflecting on the disappearing corner stores–
"The good days are gone for small stores," says Mrs. Joseph Guardino who runs a corner store at 602 Franklin St.  Her husband became involved in the business 16 years ago and Mrs. Guardino says she liked it at first, but then the high costs of utilities and insurance rates and the change in the neighborhood helped alter her attitude.

Because they rent apartments, the Guardians do not have to depend on the store for their livelihood.  The inventory is limited to essentials, along with cigarettes, candy, soda and beer.  The hours also very limited.  Mrs. Guardino says that if they feel like going somewhere, they simply close down.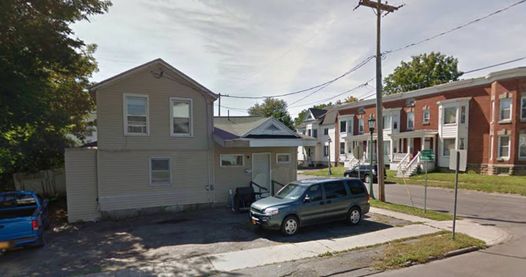 Watertown Neighborhood Grocery Stores
According to the Watertown Daily Times, there were as many as 87 neighborhood grocery stores operating in the city back in 1907 (a list from 1908 can be found here.)  While there will always be a place for chains – some of them serving up a number of fond memories themselves such as the much-beloved Mohican, there's something about the neighborhood stores and their place within our communities, and particularly our childhood memories, that made them endearing.
Over the years, more and more large grocery stores infiltrated the area offering more competitive pricing, and larger varieties of goods.  A&P, Weston, Super Duper, P&C and many others have come and gone through the years and while the neighborhood grocery stores are (very) few and far between, if you look around, you still might see a little mom and pop store… somewhere.
In an ever-evolving world, it's the chain stores themselves who now face stiff competition from the likes of large conglomerates such as Sam's Club and Walmart, or the likes of Amazon.com.  While some of them may be able to boast even MORE offerings and DEEPER discounts, they'll never aspire to be, and thusly never match, the quaintness of the old neighborhood grocery stores.
As one astute commenter, Lee Crandall, wrote on the You Haven't Lived in Watertown, NY if— Facebook page,
In most American cities our zoning laws have put this type of store out of business. So now we miss out on the interaction with neighbors, drive miles to a big box store, get less exercise, and waste fossil fuels to get the stuff that used to be at the corner store.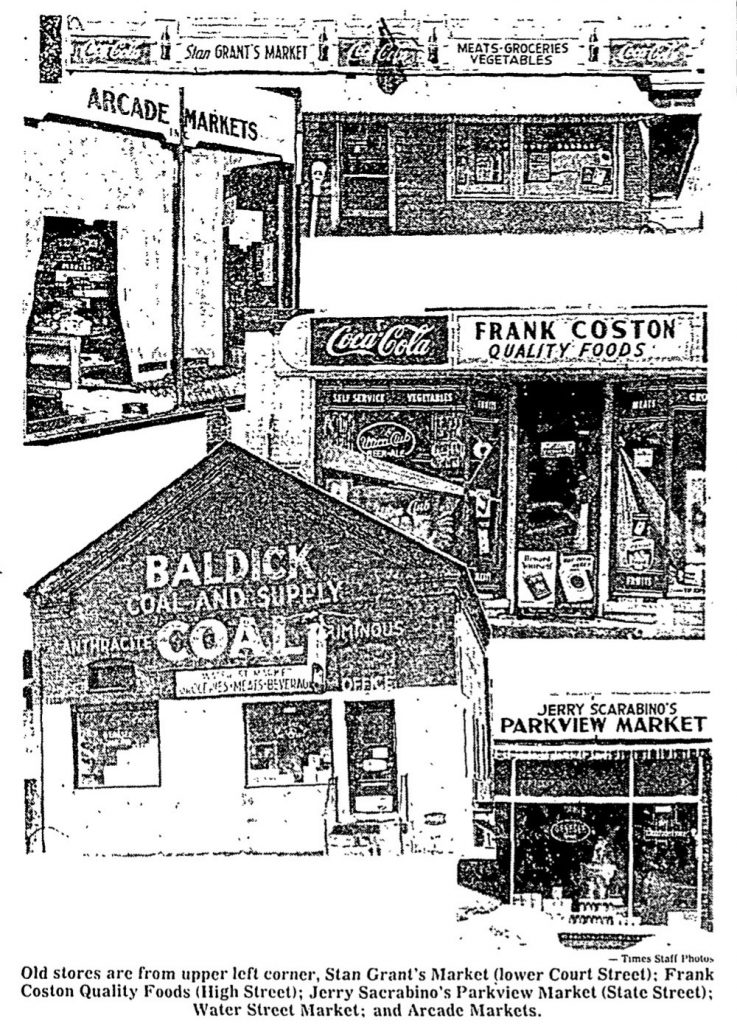 A list of neighborhood grocery stores in Watertown over the years include the following below (feel free to email support@memoryln.net for any additional ones not mentioned, or, if you have photos of any that you would like to see added to the website!)
Academy St Market
Ashkar's
Boora's Soda Shop
Breen Avenue Market
Calendar's Market on Factory
California Fruit Market
Capone Grocery
Clay Street Market
Cooper Street Market
Crescent's Market
Derrigo's Fruit Stand
Dorr's Market
Eveleigh's Market
Fobert's Market
French's
Gayle Street Market
General Store, Coffeen Street
Greico's Produce
Guardino's Grocery
Habeeb Bros. Red & White
Hickey's Grocery Store
Highway Market
Holcomb Street Market
Horning's Grocery
Jenkins Market
Johnnie's Fruit Stand
LeRay Street Market
Major's Market
Meadow Street Market
Mathar's Market
Parkview Market
Rocky's Fruit Stand
Ruth's Market
Rutland St. Market
Sowans on State and High St.
Tony's Fruit Stand
Interested in viewing other Watertown neighborhood grocery stores like Guardino's? Click here.