Downtown Vs. Uptown: The 1986 Christmas Shopping Season Was The First For Salmon Run Mall
The 1986 Christmas shopping season marked a new era for Watertown, one of uncertainty and optimism for retailers but also a time of bargains, variety, and options for consumers.  With the opening of Salmon Run Mall just a few months earlier, downtown merchants were wary of losing traffic, as they had for decades since urban renewal and the advent of I-81, to outer Arsenal Street.  The Salmon Run Mall was not only a potential threat to downtown business traffic, but many retailers had already left downtown for the mall, taking their customers with them. Yet, at least for the first year, both saw numbers that, in some cases, surprisingly far exceeded expectations.  

In the decade that brought us Back to the Future a year earlier, it's only fitting the Salmon Run Mall put local retail at a crossroads; the Watertown Daily Times even published an article, History Vs. Glitter, in the weeks before Black Friday. Several dichotomies were proposed between the more traditional downtown shopping experience, particularly the Paddock Arcade, against what could be described as the pantheon of one-stop shopping, despite the mall's then occupancy rate of only 50%.  It's also fitting that, in October of 1986, Van Halen released Best of Both Worlds, which consumers would have in spades.
The article, published November 16, 1986, reported the following, which have been edited to focus on those contrasts–
The Arcade is a Watertown Landmark: its red tile floor and lofty glass roof familiar to north country shoppers for the past 186 years.  

Across town, the two-month-old Salmon Run Mall stands as a monument to Watertown development.  Shoppers can stroll on inland white and pink marble floors, watch a huge sculpture with hundreds of moving parts, and sit on wooden benches under small ever-blooming trees.  

The Arcade is a place for a cup of coffee and a bowl of caramel corn, a special birthday card, a roll of film, an airplane ticket, an oil painting, or perhaps if you're feeling extravagant, a new fur coat. 

The mall is a place for a $400 tweed coat, spinach pasta, dozens of flavors of Jelly beans, a frozen yogurt topped with coconut, a Chinese or steak dinner, a diamond ring, a six-foot inflatable Godzilla, or a new puppy.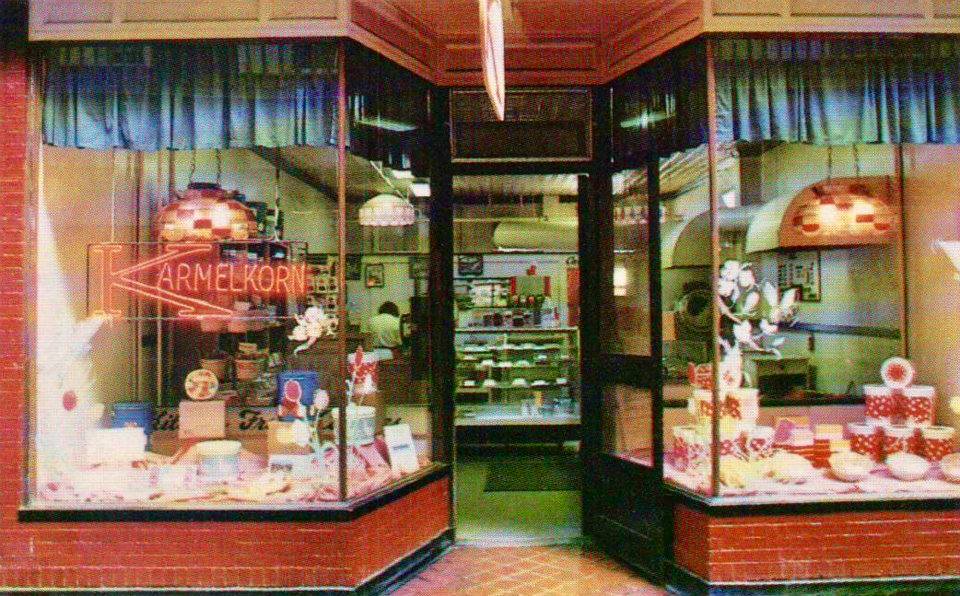 Some retailers decided to have their cake and eat it, too. Barbara Moss opened its third franchise store, Watertown's second, at the Salmon Run Mall, on November 20, 1986.  Richard Moss was also committed to staying in its City Center Plaza location beneath Woolworth.  As reported in The Daily Times–
Mr. Moss said the opening of the Salmon Run Mall afforded the company an opportunity to capture the best of both worlds—appealing to those persons who prefer mall shopping, while continuing to attract those who would rather browse shops downtown. 

Michael Campbell, Salmon Run Mall manager, said Barbara Moss is one of several prototype stores to locate in Watertown.  He said others include the Ralph Lauren Polo factory outlet and the Casual Corner women's clothing store. 

"It's an exciting addition to the mall… I'm very impressed with what they've done with the store," said Mr. Campbell.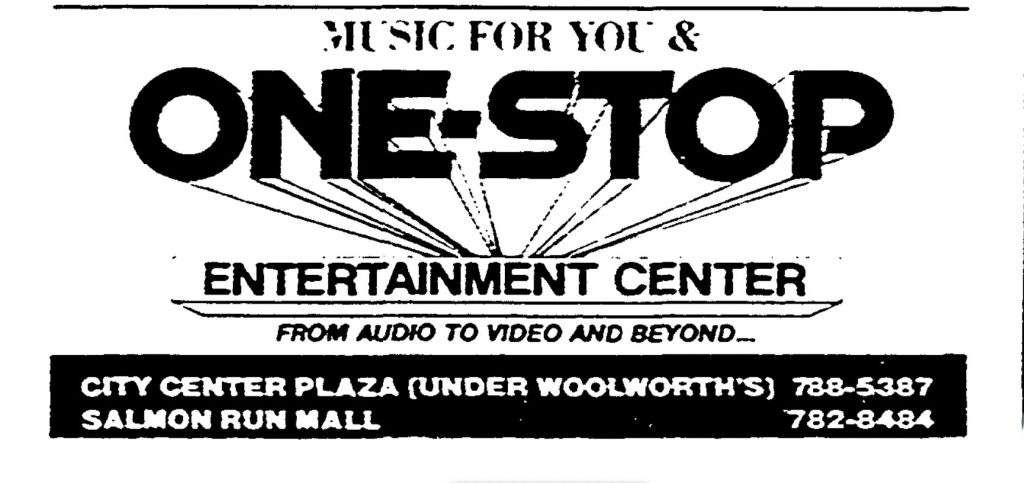 Upon its opening, the Salmon Run Mall was seen as an opportunity to lure some of the fly-by traffic on I-81 on its way to shopping in Syracuse.  Some of the traffic undoubtedly contained a large segment of locals, too, who were seeking a better variety to choose from.  At the time of the mall's opening, Mary M. Parry, executive vice president of the Greater Watertown Chamber of Commerce, told The Daily Times that, hopefully, the mall would entice locals to shop at home and that the secret to keeping a downtown retail section thriving was  "having some stores that complement what's out at the mall."
One thing the Salmon Run Mall capitalized on that downtown apparently gave up on was the entertainment value bringing in potential customers. Downtown Watertown had long been a hub of many movie theaters over the years. The Town, Olympic, and Avon were the biggest, to name a few, but the last to operate shuddered in the 1970s. By then, Stateway Plaza had laid claim to being the only place in town to show first-run movies, at least until Salmon Run Mall opened a new, "luxury" state-of-the-art cineplex in 1986. Never underestimate the value of dinner and a movie.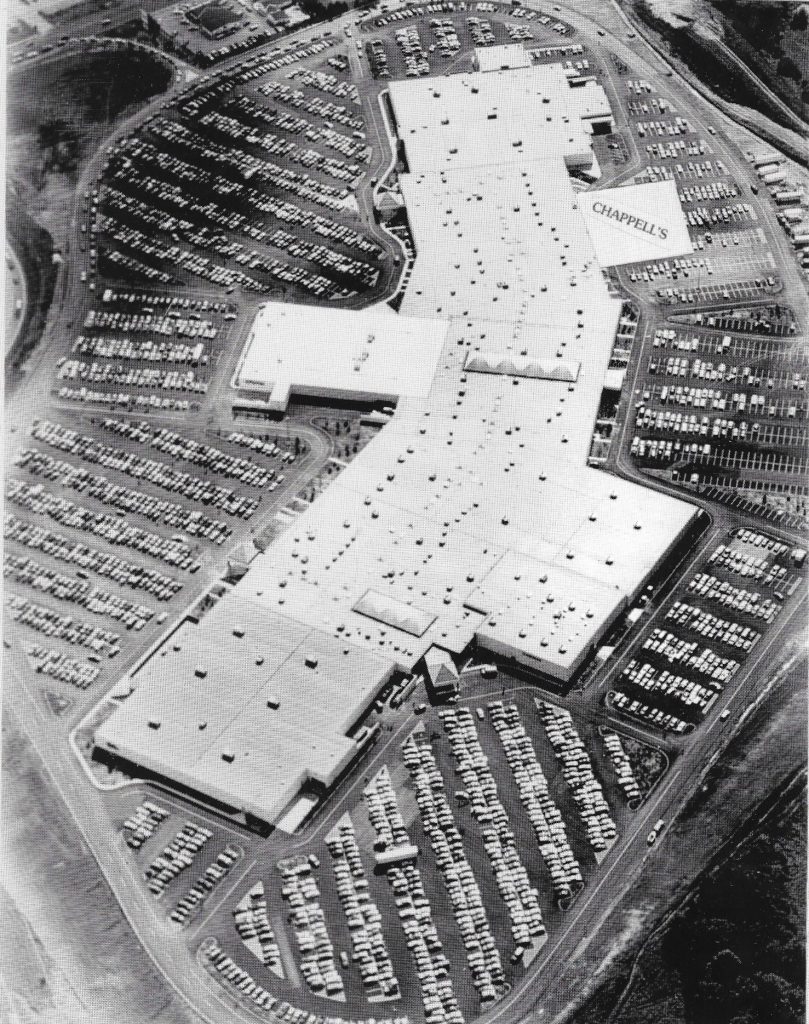 For those wondering what was actually playing at the Salmon Run Mall Cinemas 1-8 the week of Black Friday, the films were: 52 Pick-Up, An American Tail, Song of the South, Vanishing Wilderness, Something Wild, Salvador, "Crocodile" Dundee, Streets of Gold, Firewalker, and Top Gun. It isn't any stretch of the imagination to believe moviegoers that weekend spent money on something other than movie tickets, popcorn, and Twizzlers.
When Black Friday finally came, both downtown merchants and retailers at the Salmon Run Mall saw thousands of shoppers as crowds took to both looking for bargains.  At the mall, an estimated 12,000 shoppers, on par with its grand opening in September, came out with most store managers reporting stronger than anticipated sales.  Sears, Roebuck and Co., one of, if not the largest, retailer to move from downtown, noted the difference to The Daily Times between Black Friday and the mall's grand opening–
"Grand opening, you had a lot of lookers. Today, not only do you have a good crowd, but they're buying," said John S. Rothermel, senior manager of Sears, Roebuck, and Co.

Mr. Rothermel said sales were "better than expected." In fact, if Friday's receipts remain consistent with those throughout November, he projects a 40 percent increase over last year's sales figures when the store was located in downtown Watertown.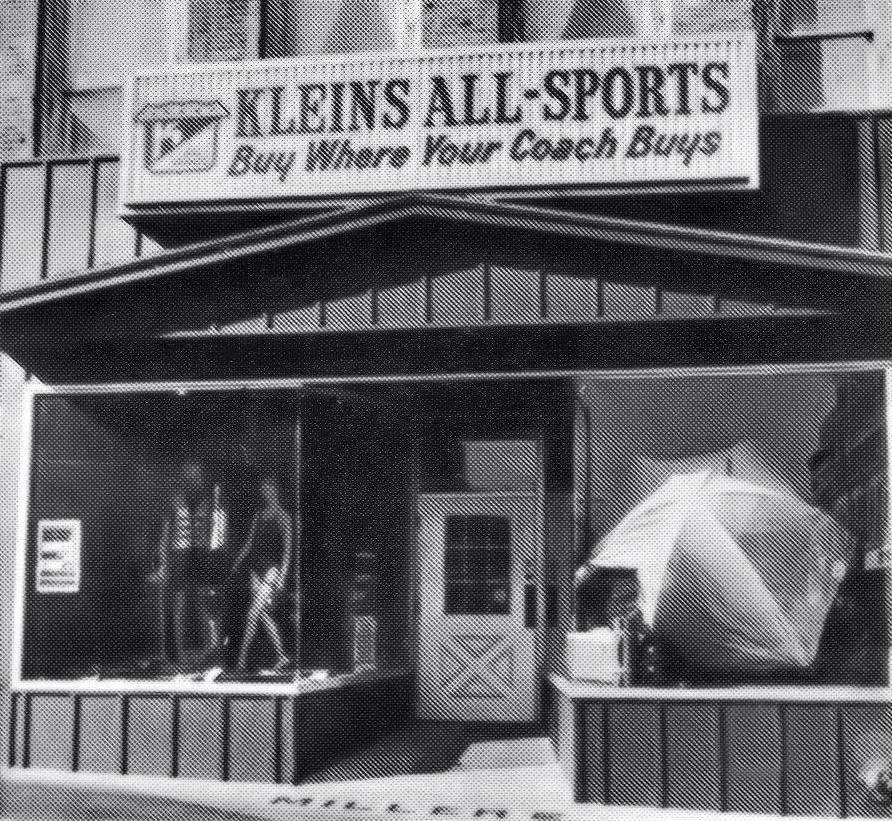 Klien's All Sports would not be undersold either, having moved from Public Square to Salmon Run Mall.  The store reported "improved sales and an expanded client base" since its relocation.  Store manager Richard Stephens attributed some of it to shoppers traveling from north of Watertown from places like Massena, Ogdensburg, and even Canada.
Even the smaller, niche-type stores were finding greater success than they had ever bargained for. One such store, Chess King, brought a certain offering of style that was lacking in the area, which resonated with consumers–
Tracy Degon, manager of Chess king, a men's apparel store, characterized sales as "fantastic."  She said the Watertown store, which was not projected initially to be a strong performer, has surpassed all others in the Syracuse area in total sales.  She said the store has cultivated a strong base of clientele at Fort Drum and others living in Ogdensburg, Massena, and Potsdam.  
Echoing Mary Parry's hopes that the mall would encourage locals to shop locally while bringing in outside consumers, Salmon Run Mall manager predicted the mall could attract more shoppers to Watertown and produce "a ripple effect on local retail businesses, enhancing sales throughout the area," which in fact, it did.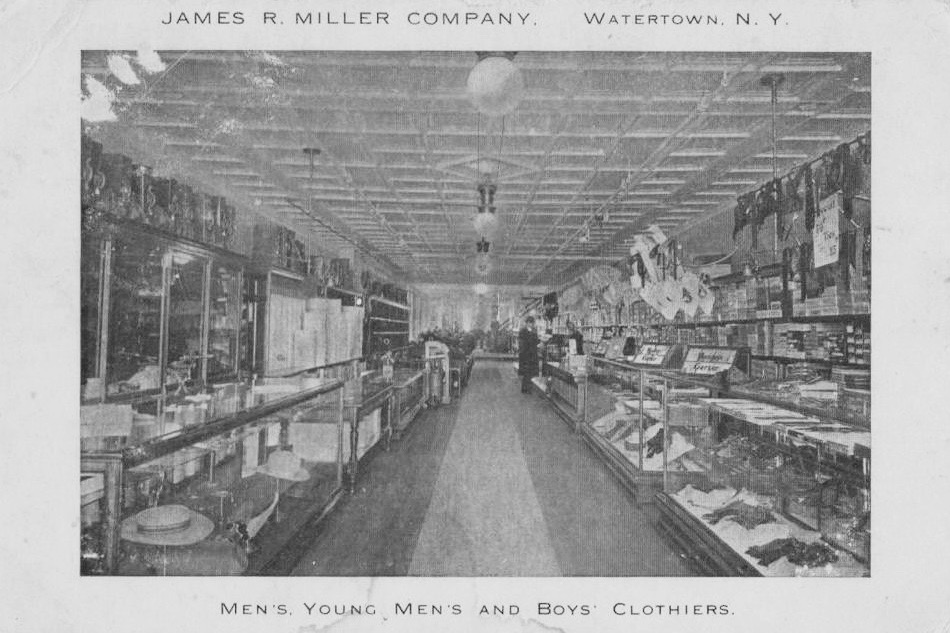 Despite competition from the Salmon Run Mall, the sidewalks were crowded, and available parking spaces were few and far between as thousands of shoppers made their way to the historic downtown Watertown shipping district or what remained since urban renewal. According to The Daily Times—
Many downtown merchants said the volume of customers and sales was actually higher Friday than on the same day last year despite the presence of the Salmon Run Mall and other commercial developments on the city's fringes.  

"It's been excellent.  As of 1 p.m. we were ahead of last year's figures by 10 to 15 percent," said Empsall's Department Store General Manager Marion A. Capone.  Mr. Capone said that he believes the new mall has not adversely affected business downtown; rather, it has brought more shoppers to the city's center.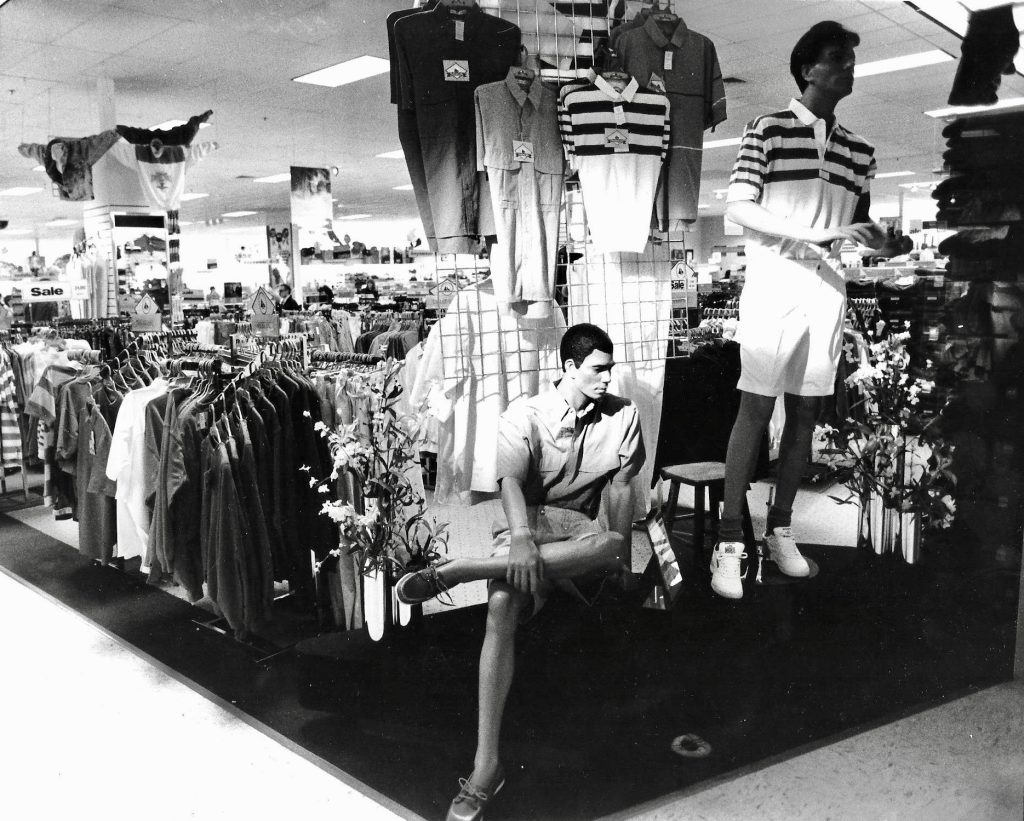 Howland, which moved to Salmon Run Mall in 1987, a few months after changing its name to Steinbach, had particularly heavy traffic, according to store manager Ronald J. Remeczky.  "We're jammed," said Mr. Remescky, who noted the store had already exceeded last year's day-after-Thanksgiving sales figures by 4:30 p.m. and was scheduled to remain open until 10.  
The store offered a "secret sale," a popular marketing approach over the years where shoppers were given a piece of paper with sealed portions, which, when removed by a store employee, revealed the shopper's savings of either 10, 20, or 30 percent off. 
Elsewhere, long-time downtown retailers J.R. Miller Co., on Public Square, and Robinson's Bookstore, Court Street, both described business as "excellent," with many shoppers from out of town.  Further down Court Street, the Globe Mall and City Center Plaza also saw many shoppers, though some other merchants noted business was slightly down from a year ago.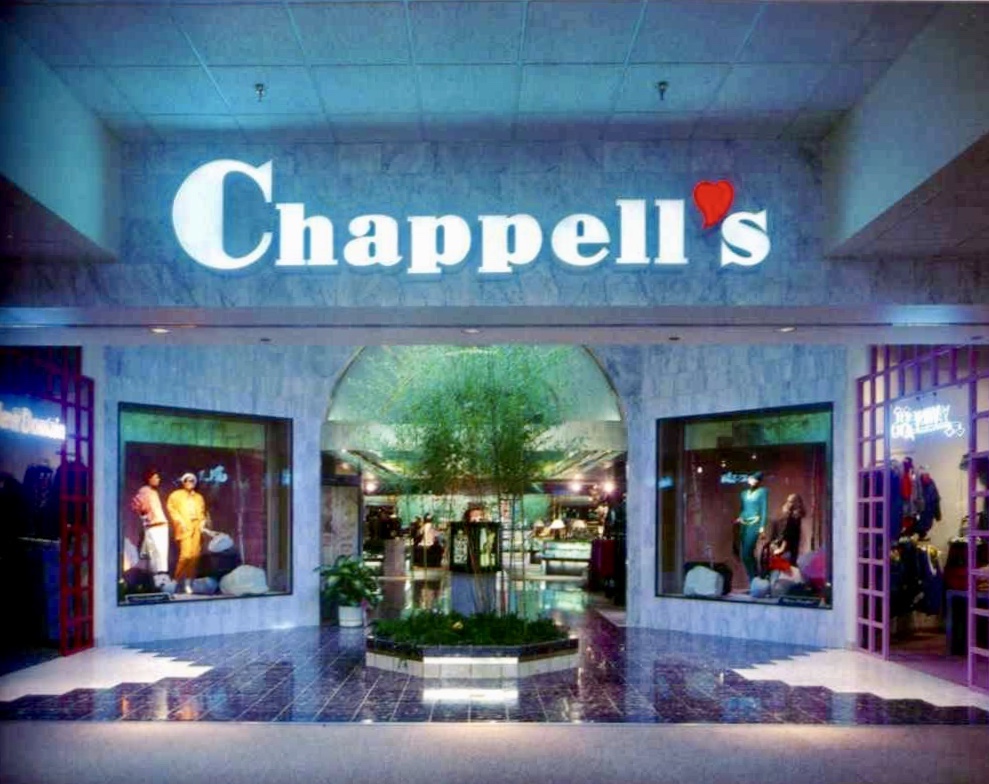 By the following week, business was still booming at the Salmon Run Mall. With expectations far surpassed, requests for the availability of space doubled. Mr. Campbell had said that when the mall first opened, many retailers took a "wait and see" approach, but with so many businesses doing well, others were now wanting in on the action.  Aside from the aforementioned Steinbach, other big stores, such as Chappells, based in Syracuse, and Montgomery Ward, would soon call the Salmon Run Mall home, too, over the next several years. Even sit-down restaurants like O'Toole's got into the act, opening in 1988.
As the shopping season entered its final weekend, sales remained strong in both mall and downtown locations.  Last-minute shoppers clogged Arsenal Street, turning much of it into a parking lot.  Downtown merchants such as Harold Rothschild of Rothschild's Jewelers at 152 Court Street were very pleased with December sales which, unlike the year before, were aided by good weather.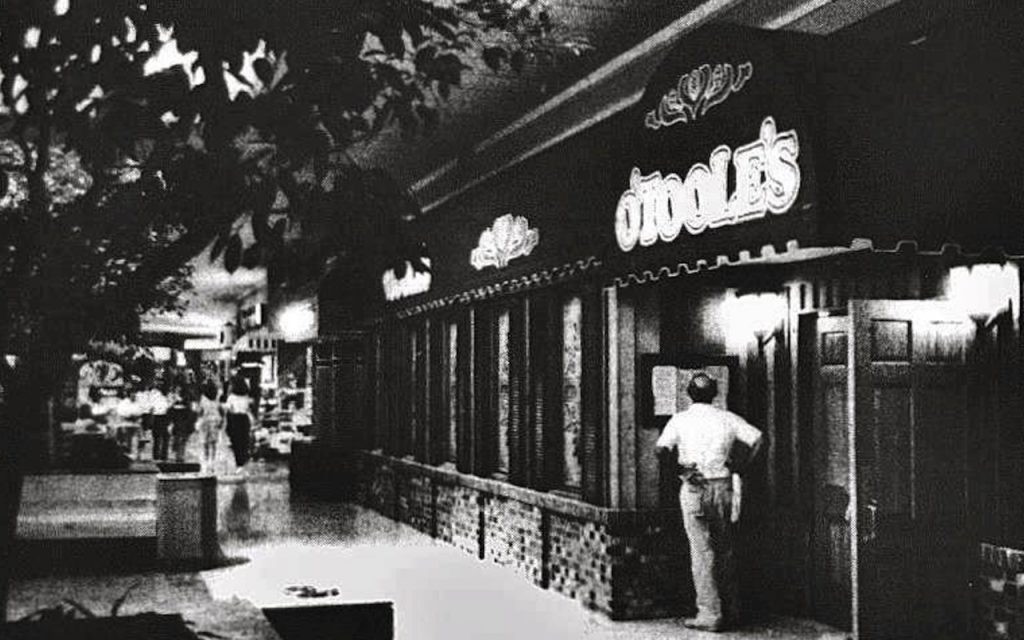 Back To The Future: 36 Years Later…
In the year that saw the sequel to Top Gun land in theaters and a major renovation at the Paddock Arcade, it's only fitting to say that local retail may be at a crossroads again. One could say there are more local stores in the Salmon Run Mall now than there are chain stores.  Sears, Montgomery Ward, Steinbach, Chappell's (and later Bon Ton), Hills, and others, are distant memories. The mall itself appears to require a renaissance, with vacancies numbering what they were back when it originally opened.
Other stores, like Dick's Sporting Goods, are looking to join the ever-westward expansion of Arsenal Street plazas, foregoing the mall for greener pastures. What is old is new again, what was new then is now old, and what the future holds is uncertain, other than the one constant everyone can expect: more ¢ha-change.
The following is a list of stores that were open at the Salmon Run Mall by the Christmas Season 1986:
Barbara Moss
One Stop Entertainment
Sears, Roebuck & Co.
Casual Corner
Belden Jewelers
Radio Shack
Polo
Sperling's Sit and Sleep Shop
Country Keepsakes
Claire's Boutique
Sterling Optical
Tid Bit Alley
Tape World
General Nutrition Center (GNC)
Kliens All-Sports
American Vision
Bedazzled
Kinney Shoes
Lauriat Books
Ups and Downs
Footlocker
Doctor Pet Centers
Deb Shop
Linen Barn
Bavarian Pretzel
Orient Express
Original Cookie Co.
Piece of the Pie
Arby's 
Philadelphia Steak and Sub Company
California Smoothie
Ground Round
Kay Bee Toys
Sacketts Card & Gift Shop
Regis Hairstyling
Lerner Shops
Lane Bryant
Teams & Tees
Dunkin Donuts
Burger King
Long John Silver
Chess King
The Limited
Wilson's House of Suede and Leather
CVS
Thom Mcan Shoe Store
Great Expectations
Friendly's Restaurant
St. Clair Paints
Wicks N Sticks
Athena Gallery
Benetton
And for those who are feeling really nostalgic, here are Billboard's Top Ten hits from the week ending November 29, 1986. Go down to Music for You or One Stop Entertainment and give them a listen!
10. Walk Like an Egyptian – The Bangles 
9.  Love Will Conquer All – Lionel Richie
8.  The Way It Is – Bruce Hornsby & The Range
7.  Amanda – Boston
6.  Word Up – Cameo
5.  Hip To Be Square – Huey Lewis & The News
4.  The Next Time I Fall – Peter Cetera & Amy Grant
3.  True Blue – Madonna
2.  Human – The Human League
1.  You Give Love a Bad Name – Bon Jovi