From Ann's Stand To Ann's Restaurant: 67 Years of Tradition.
Ann's Restaurant, originally known as Ann's Stand was located on outer Arsenal Street surrounded by farmland when it began in 1938, but it actually originated four years earlier as a fireworks stand but made the change to food after fireworks were banned in 1938.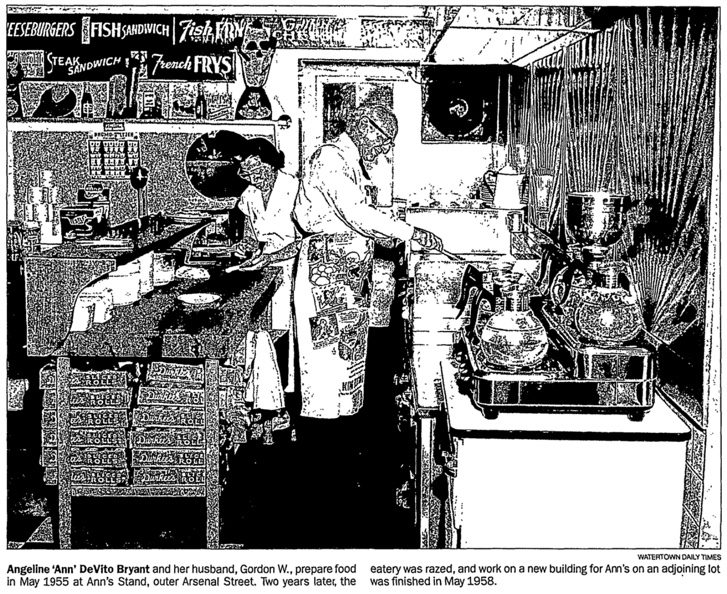 For the first years Ann's Stand was owned and operated by Angeline "Ann" Bryant, a 1972 Shapiro Citizen of the Year recipient, who sold the aforementioned fireworks, soft ice cream, hot dogs and sandwiches to summer tourists.  The transition to culinary may have been in the blood as Ann originally purchased the land from her father, Michele DeVito, a restaurant proprietor and her brother, John DeVito, was well known concessionaire in the community and fondly remembered as "The Popcorn Man" by many.
1958 would bring us the "New Ann's Stand," an advertisement proclaiming–
The former Ann's Stand which has served the public for 19 years has been razed to make room for a more modern structure.

It is with pardonable pride that we present our "New Look" where you may now enjoy the same delicious food under more comfortable surroundings.

The new stand is air conditioned for summer and heated for the cool spring and fall days and nights.

Mrs. Ann DeVito Bryant, who opened the first stand in the summer of 1938 in the same location, celebrates the 20th anniversary with this modern structure and up-to-date equipment.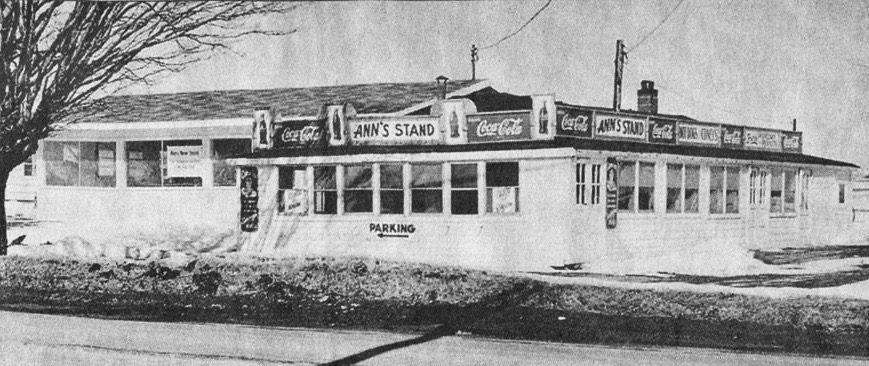 Ann would later sell it to her son and daughter-in-law, Mr. sand Mrs. Nunzio Speno in 1968.  As Mr. Speno took it over, the restaurant underwent a significant remodeling that made it larger yet again.  It would go through additional increases in 1976, 1978-1979 and then again in 1985 when significant changed were incorporated into the overall aesthetic of the building.
The 1985 expansion also allotted for an additional 1,000 square feet, adding about 32 extra seats.  The last expansion in 1978-1979 enabled 95 patrons at the time.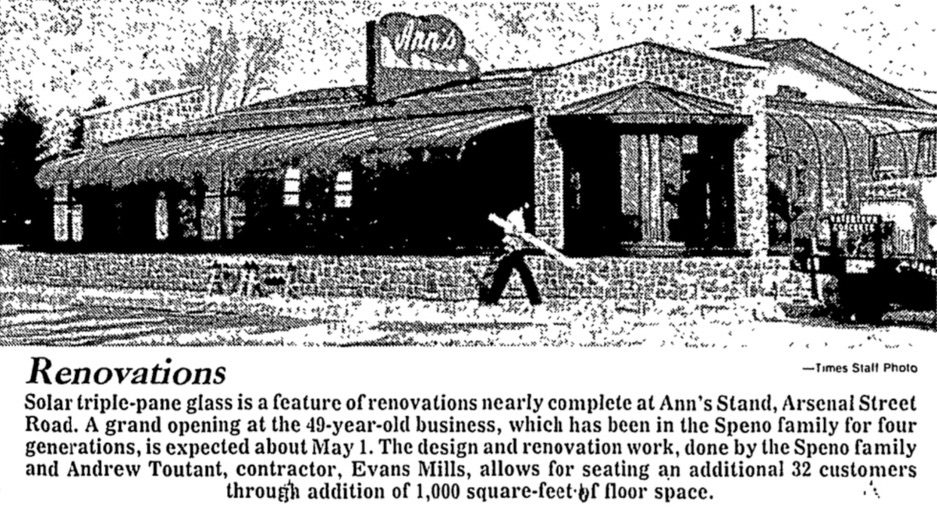 The opening of Salmon Run Mall in 1986 coincided with the Fort Drum expanding to include the newly reactivated 10th Mountain Division.  Suddenly, Ann's Restaurant would find itself in the midst of much more traffic and prime real estate as a result.  Two years later, the restaurant would undergo its second major expansion in less than a decade, the Watertown Daily Times noting–
In one of the most extensive renovations to date, owners Nunzio J. and Parmae Speno have added a second-story "mezzanine" dining area, enclosed in the same curved glass that creates the same greenhouse effect that has served as the trademark for the restaurant since the solar glass atrium was added in 1985.

Although it has undergone major changes, it still retains the character of a family business.  Mr. Speno is joined by his son Michael J. Speno, who manages the restaurant, his daughters Michele R. Speno and Shelley Speno Thompson, who jointly prepare payroll and supervise the crews, and grandchildren Marianne and Michelle Speno, who work as waitresses.
The restaurant upon its 1988 expansion would seat 250 people and employ approximately 70.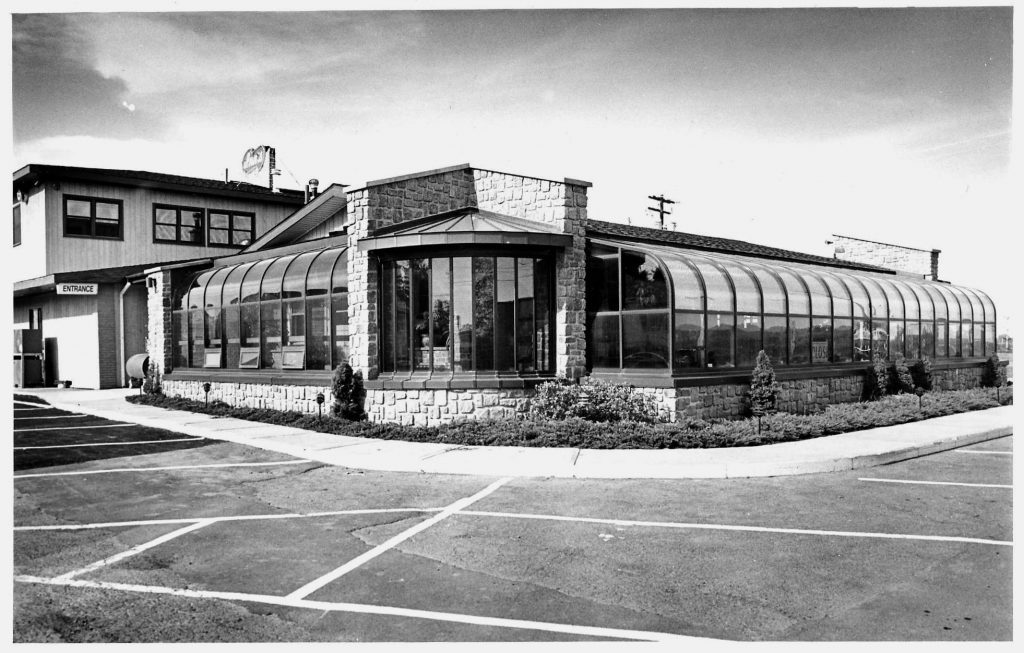 Beloved by many Watertown natives and travelers alike, Ann's Restaurant would be known for its friendly and family-oriented atmosphere, bringing diners back time and time again in what would become known as a Watertown tradition.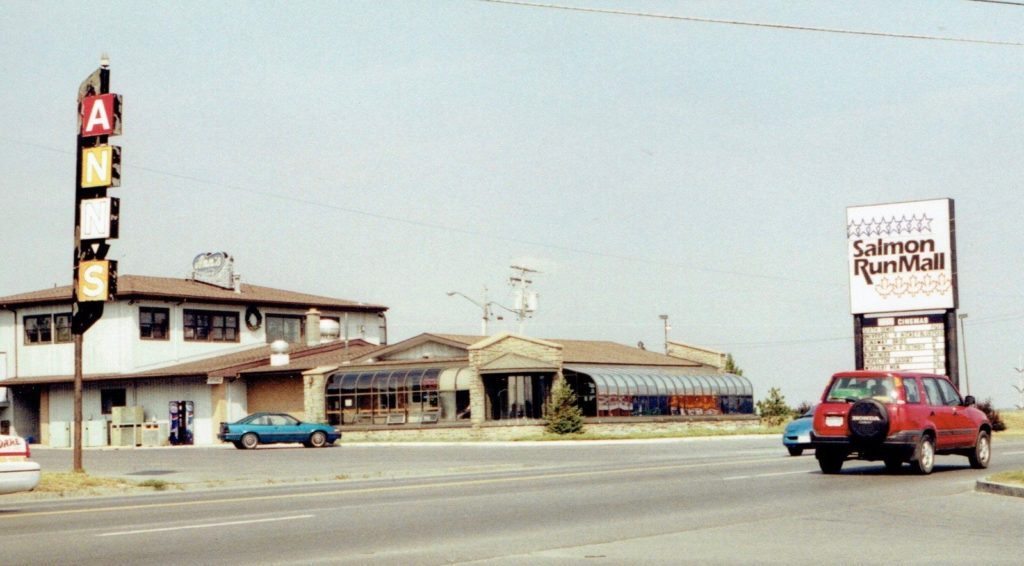 After suffering the loss of a few key family members, Ann's would decide to close its doors permanently in 2005 with the following announcement–
CLOSING FRIDAY

After 69 years, we will be closing our doors forever.  We would like to thank all of our friends and patrons for 69 wonderful years.  Please join us on our last day Friday June 19th.  On behalf of the Speno family

Thank you –
At the time of the closing announcement, Universal Realty and Development Inc., Miami, Fla., had received approval from the town of Watertown to construct a nearly 14,000 square foot retail plaza on the restaurant's site.