Boys' and Men's Specialty Shop Opens On Arsenal St
Ira Pellman, proprietor of the Boys' and Men's Specialty Shop on Arsenal Street, was born in Poland in 1894 and immigrated to the United States around 1912. The next decade would see him peddling dry goods throughout Jefferson County, particularly Alexandria Bay, Cape Vincent, Clayton, Chaumont and surrounding areas. In 1914, he worked at the Globe store before opening a partnership with Samuel Zeitlin, Zeitlin & Pellman, a retail clothing store at 216 Court Street for four years, which would be interrupted by his service in WWI.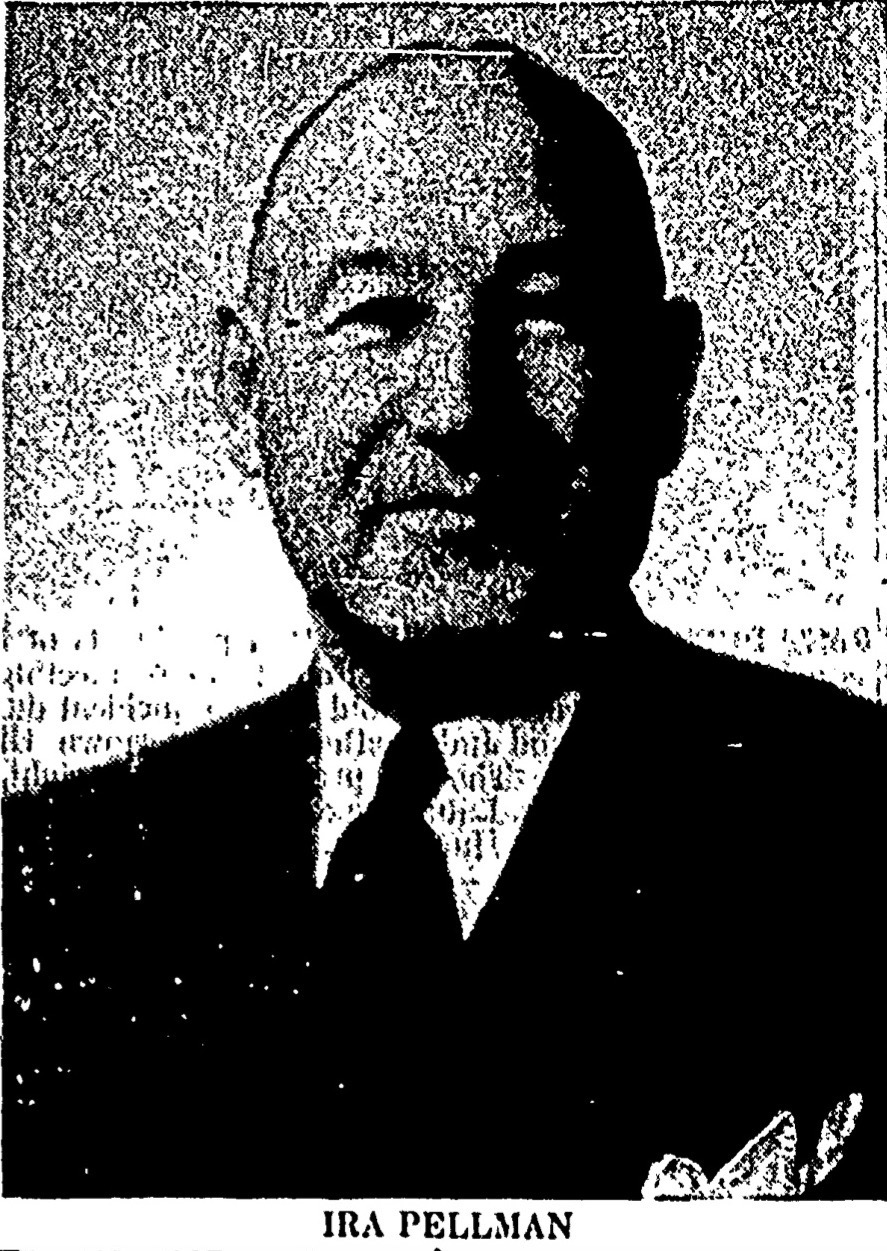 During the First World War, Mr. Pellman served in the U.S. Army and was stationed in France for a time before the Armistice of November 1918. He wrote home to the Watertown Daily Times, who would print his letter, telling of moving around numerous times in box cars, to which he described, "We call them over here the 'France Pullmans,' but it's much better than if we had to walk 20 miles every day."
In 1922, Ira married Ms. Ida Oliet of Syracuse. Together, they established the beginnings of the Boys' and Men's Specialty Shop on September 1 of the very same year with the opening of their original store, the Boy's Specialty Shop, located in the Bradley Building at 126 Arsenal Street. It would be the first such store in Watertown to specialize in boy's clothing, though the couple would have another store in Syracuse where they would make their residence.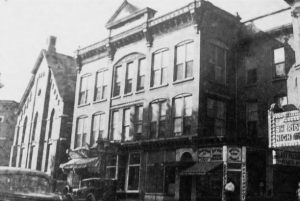 In 1925, the store relocated to 137 Arsenal Street due to the need for more space. In 1931, the Pellmans purchased a home in Watertown and discontinued their Syracuse location altogether.
In 1940, the Boys' Specialty Shop relocated a few doors down to 145 Arsenal St in what was then known as the Devendorf Building. Ira leased the entire block, formerly home to an automobile showroom, and remodeled it extensively, adding a modern fluorescent lighting system to the first-floor interior and displays. In 1943, the Pellmans purchased the Devendorf Block outright. In 1945, Ira Pellman was one of five directors elected to the Watertown Chamber of Commerce. Later that year, the change to Boy's and Men's Specialty Shop would be made official.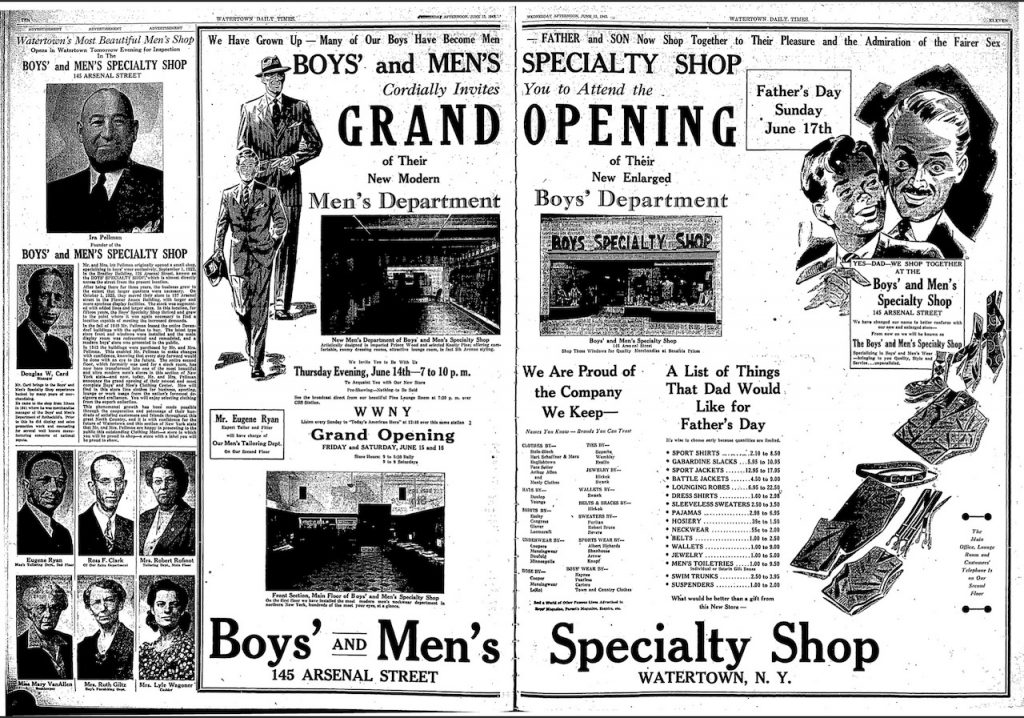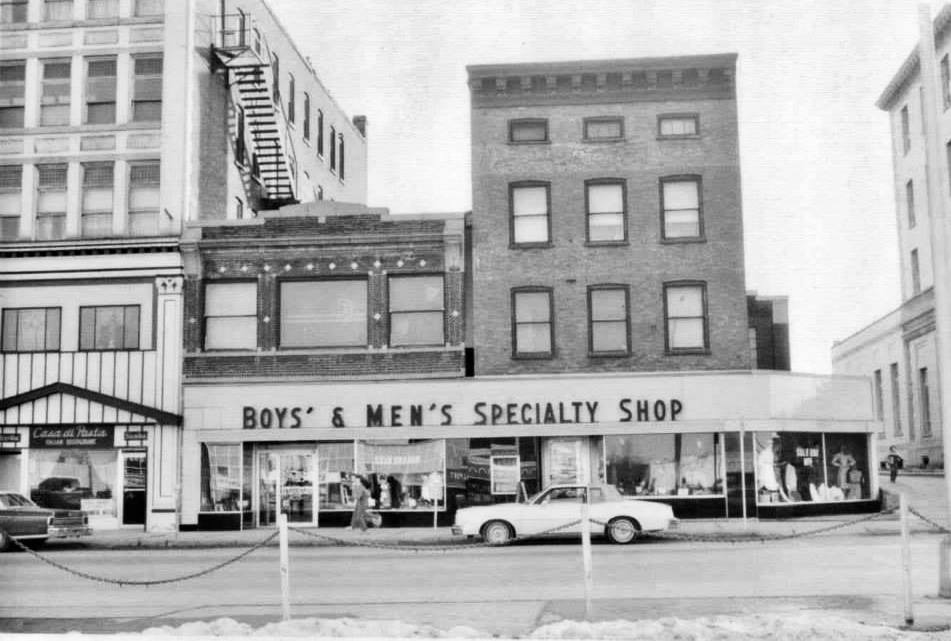 With the renaming in 1945, the Pellmans utilized the second floor of their building for a modern men's department.  It proved so successful that the store expanded yet again in 1949. This may have been the idea behind purchasing the block building in the first place, as the family was able to lease unneeded space and then utilize it as expansion was needed. Such was the case when creating a new, modern boys' department in what was formerly the Lowe Brothers store. An arch was cut between the adjacent locations, allowing for a continuous flow of shopping space.  And they weren't done yet.
On Sept. 1, 1954, the Watertown Daily Times would once again display an advertisement for another grand opening–
After 32 years of serving Dad and the Boys, we proudly present after weeks of careful consideration and planning… our entirely new and modern Ladies' Department which will feature a complete line of Nationally famous brands of wearing apparel

Mrs. Ira Pellman, with many years of experience, will be in charge of the new department.

We hope you will accept this as our cordial invitation to visit us opening day.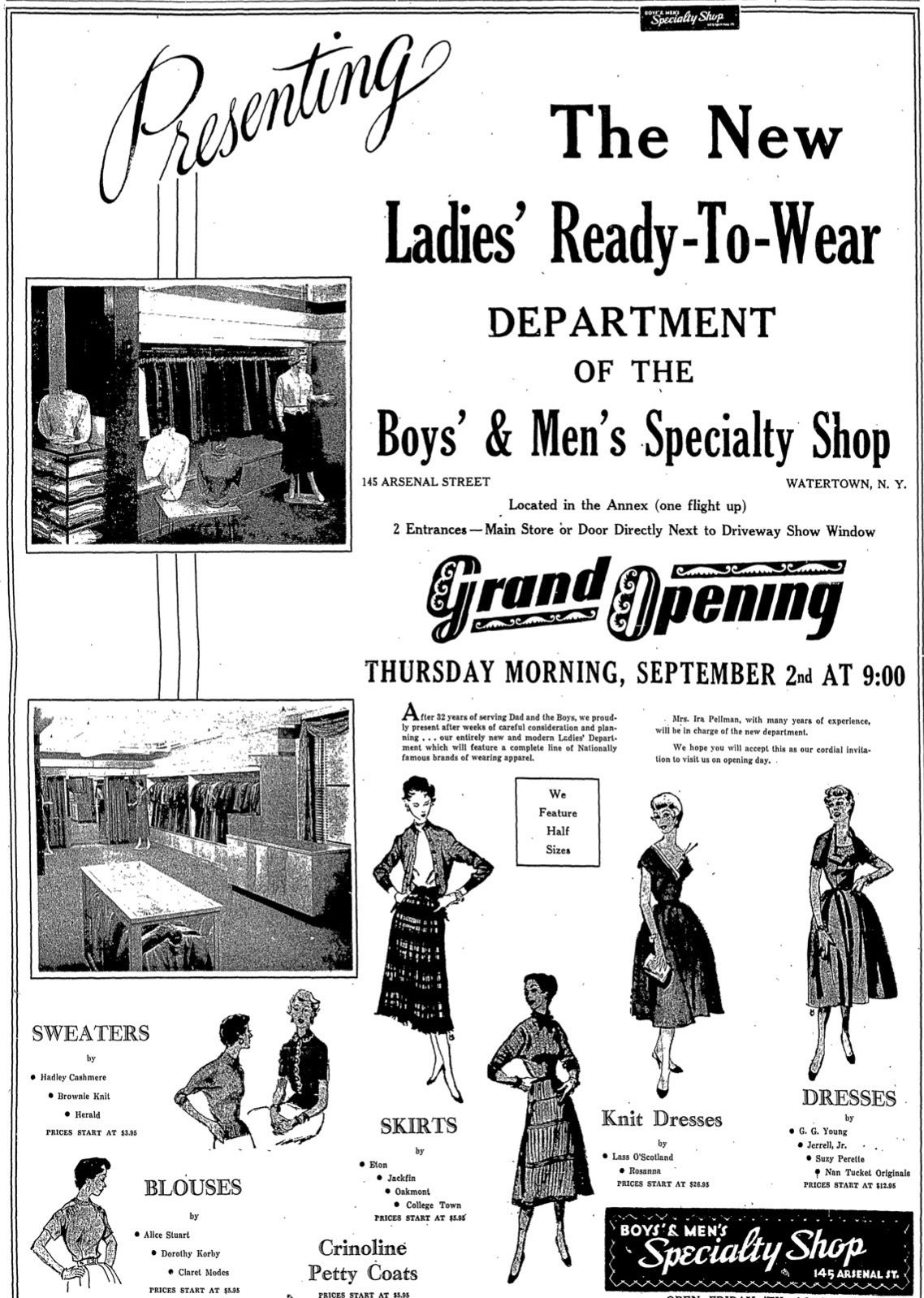 Unfortunately, Ira would suffer from health problems after a heart attack in 1954, and heart disease would continue to be an issue. In February of 1957, he passed away en route to a vacation in Florida, though he had visited his store just the prior week before leaving for vacation and making stops in Albany and New York City. Ira's son, Milton, would take over the business along with his mother, Ida.
Milton would go on to operate the Boys' and Men's Specialty Shop, later Pellman's Specialty Shop, in the same location for 30 more years, at which time, like many other Public Square stores like Sears and JCPenney, it would relocate to the Salmon Run Mall. Milton also operated another store in the Pyramid Mall at Plattsburgh for a time until closing it in February 1986.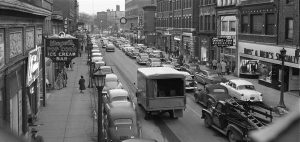 After stating to the Watertown Daily Times that he was "disillusioned" with what the Mall had to offer for the price of doing business there, Milton moved Pellman's Specialty Shop back to its location at 145 Arsenal Street in January of 1990. The move would be short-lived as Mr. Pellman soon after decided to close for good in April, citing no heir-apparent for continuing the business he had run for the last 35 years.
The old Devendorf Block that housed the former Boys' and Men'/Pellman's Specialty Shop was razed in 2000 to make way for the expansion of the Jefferson County Courthouse.