Shuler's Restaurant: It All Began Way Back In 1936… Or Maybe 1944.
On the city's northside where Shuler's Restaurant sits was one the home to a former SOCONY service station which would later become Baker's Restaurant in 1936, according to the Watertown Daily Times.  Interestingly, the address, 802 Mill Street, continued to show as a service station until 1943.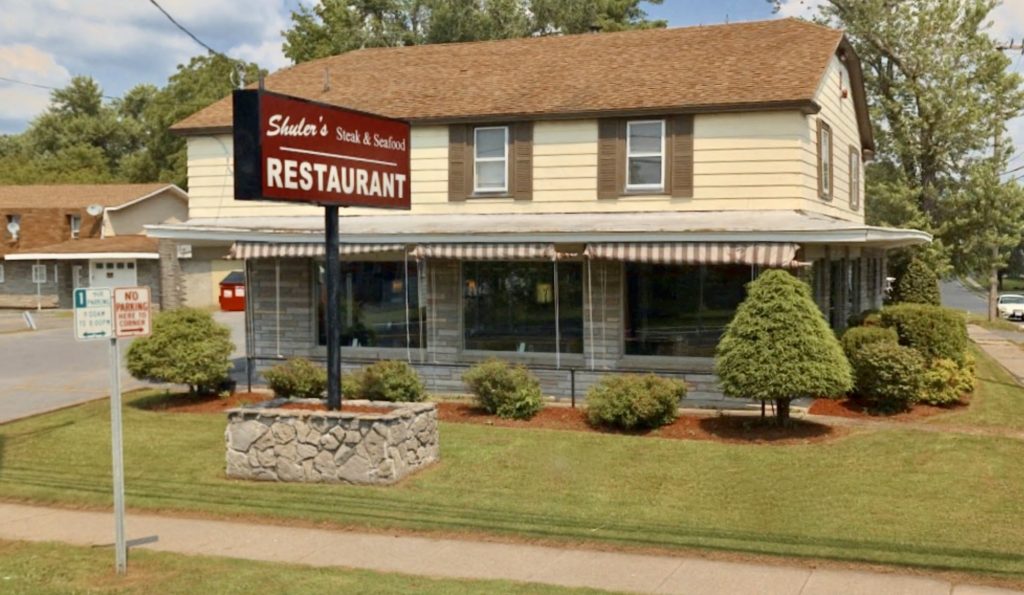 According to Thomas LaClair commenting on the You Haven't Lived in Watertown, N.Y., If– Facebook page, the service station "was built by Charles Edward Deline of Deline Construction Company and run by his Niece Blanche Deline Alguire and her husband Frank Alguire. Blanche is the daughter of George Nelson Deline, brother to Charles Edward Deline."  The earliest mentioning of the Alguire's business at the address would be 1924.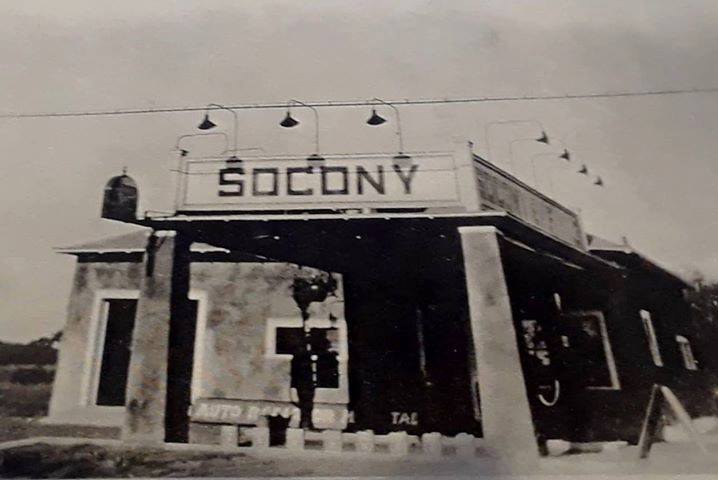 In 1942, the address would be listed as "service station for rent" in the Watertown Daily Times as "suitable for garage, wholesale business, etc."  In 1944, the first appearance for Baker's Barbecue in the want ads was found, looking for waitresses.  It should be noted that the Brown Shanty next door had just opened the year prior in 1943, taking the place of what was originally Wade's Barbecue that opened in 1932, becoming Moran's Barbecue in 1937.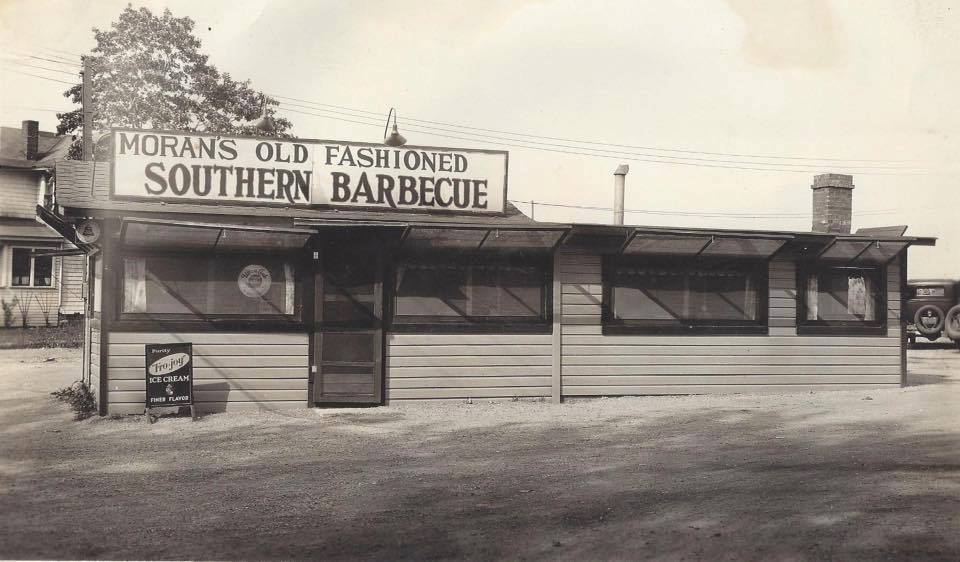 Another commenter on the You Haven't Lived in Watertown, N.Y., If– Facebook page, Douglas Singleton, provided some history that ties into Baker's Barbecue–
Moran's was owned by my Grandparents Bernard and Mary Singleton it later became The Brown Shanty.  As an added note of interest, Howard Traynor was my Grandfather's bread man they were great friends and a lot of Howard's Resturant's favorite menu items actually came from my Grandfather's place including those famous crinkle cut fries!  Interestingly my Father Richard Singleton bartended for Howard for many years! Howard's later became Shulers!
In 1949, Howard E. Traynor would post a notice in the Daily Times doing business as "Baker's Barbecue" at 802 Mill Street.  In the fall of 1955, Baker's Barbecue would undergo remodeling and reopen in December as "Howard's Barbecue," operated by Howard, of course, and his wife Emma Traynor.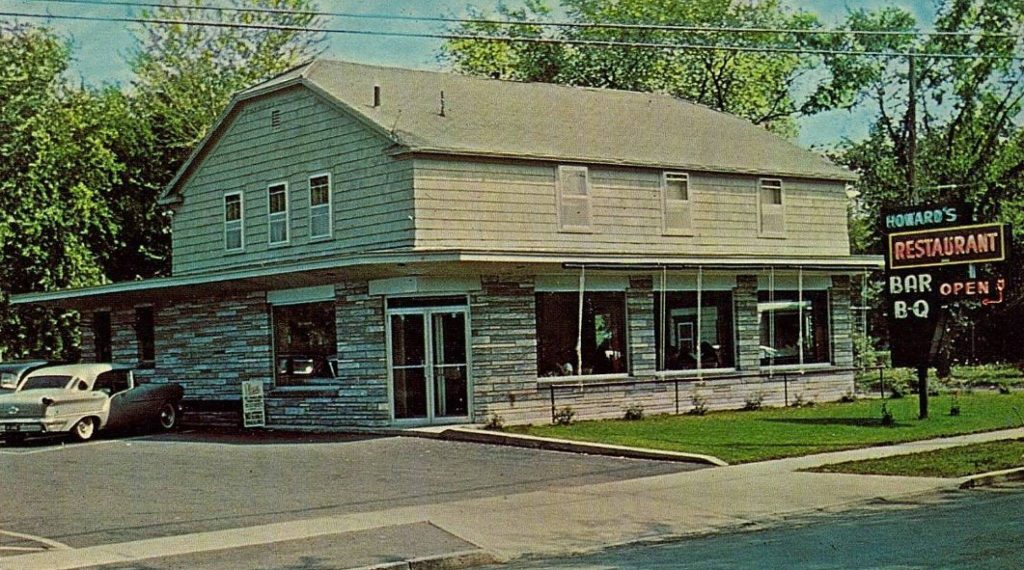 In 1968, David and Glenna Shuler would purchase Howard's Barbecue.  Shuler, in 1971, would also purchase the A&W Root Beer Drive-In stand on Bradley Street for a short period of time.  The Shulers would continue operating the restaurant as Howard's Barbecue for several years until changing it to Shuler's Restaurant mid-1974.
The Shulers would eventually sell it to Peter Clough and Richard DeGon in 1976, making it only 10 years that the Shulers operated the restaurant under their own name – an irony considering it's remained the same name for nearly 50 years despite several changes in ownership since.
Clough and DeGon would sell the restaurant in 1984 to Charles Williamson who would sell it the following year to Herbert and Margaret Gould who would operate it for nearly 30 years.  An article in NNY Business on October 29, 2014 prior to the couple's retirement would note–
Mr. Gould, 66, said his passion for the restaurant industry began as a high school graduate with his first job as a waiter at the Partridge Berry Inn in Watertown. After serving in the Army from 1968 to 1970 during the Vietnam War, Mr. Gould returned to the north country and married Mrs. Gould in 1972. He worked as the manager of a Ponderosa restaurant in Syracuse until 1977, when the couple bought Land & Sea Restaurant in Black River and operated the upscale seafood establishment for six years.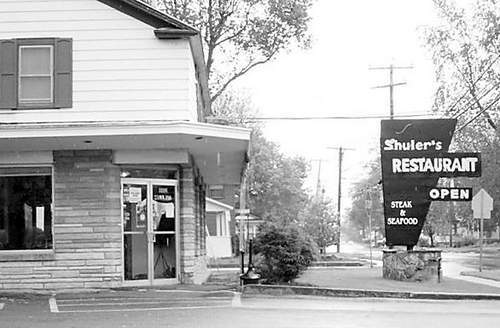 According to Mr. Gould, the neighborhood Shuler's Restaurant was different from the chains restaurants popping up on Arsenal Street because they bread their own seafood which resulted in about 90/10 ratio of actual fish vs. breading whereas the chain restaurants it's about 50/50.  Who should know batter better having been the manager of a Ponderosa restaurant for several years?
In 2014, the Goulds would sell Shuler's Restaurant to Jason A. Tanner and Terry Williams. Despite closing during the first part of the pandemic, response for Shuler's Restaurant via social media asking when they were going to reopen was "overwhelming," according to a Watertown Daily Times article published on Sept. 4, 2020.  After being closed for nearly six months, and on the verge of closing for good, Shuler's Restaurant reopened once again.