A&W Drive-In, 728 Bradley Street "Come As You Are – Eat In Your Car!"
Who doesn't remember A&W and that "frosty mug taste"?  Or better yet, who could forget the bees always buzzing around that Bradley Street Location?  A&W Root Beer would be the creation of Roy W. Allen who, in 1918, who was  a hotelier in Arizona at the time.  There, he had the good fortune of partaking in a conversation with a retired pharmacist who had concocted a new formula for root beer.  Allen would purchase the "secret" formula, said to have included herbs, spices, bark and berries among other ingredients.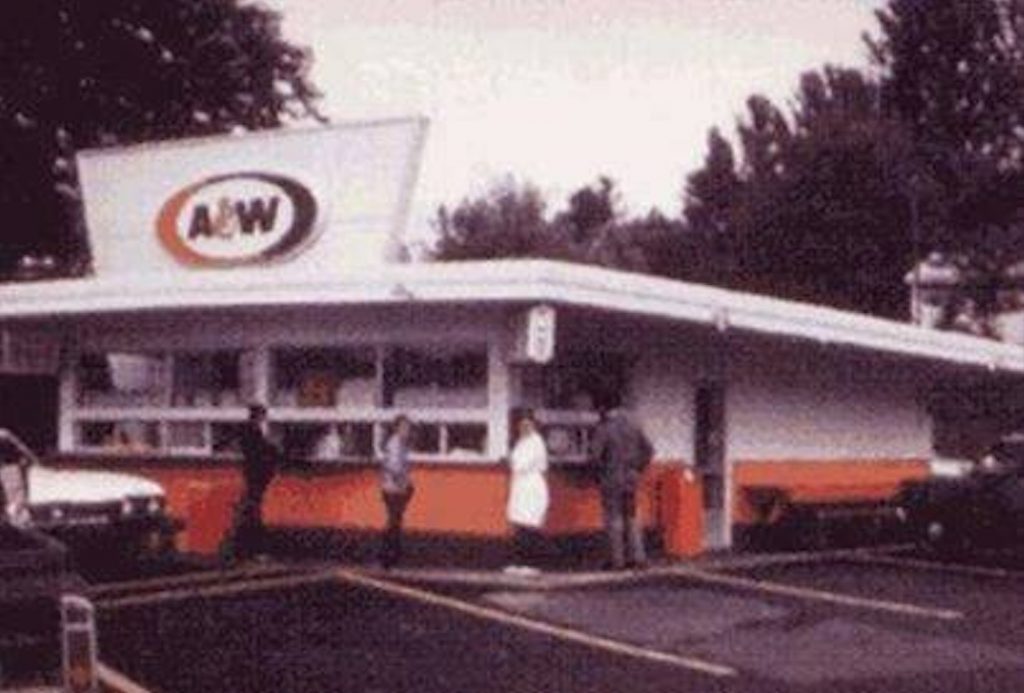 A year later, the entrepreneur sold his first root beers at a roadside drink stand in 1919 during a parade honoring WWI Veterans in Lodi, California, who were returning home from war.  Thus began a long history with American Veterans that would later help bolster the franchise in post-WWII 1950s.  Aiding his cause in those early years of his venture was the onset of prohibition and those frosty mugs would allow people to wet their whistle and quench their thirsts.
Speaking of franchise, the restaurant chain itself started four years later when Mr. Allen teamed up with one of his employees, Frank Wright, to open the first drive-in located in nearby Sacramento.  A&W, as it would become known, was merely the first letter of each of their last names.  In 1925, the partners would begin selling franchises, becoming the first restaurant franchise in the United States.
According to its official website, the post-war boom in the 1950s and "prevalence of G.I. Loans lead to a "new flurry of development and nearly 450 operating A&Ws."  The first international restaurant would be established in Winnipeg in 1956 and the first, and only A&W in Watertown would be established in 1959 via a partnership between George Forshaw, a teacher at North Junior High School, and Lewis R. Morgan.  The drive-in, of course, would be located at 728 Bradley Street.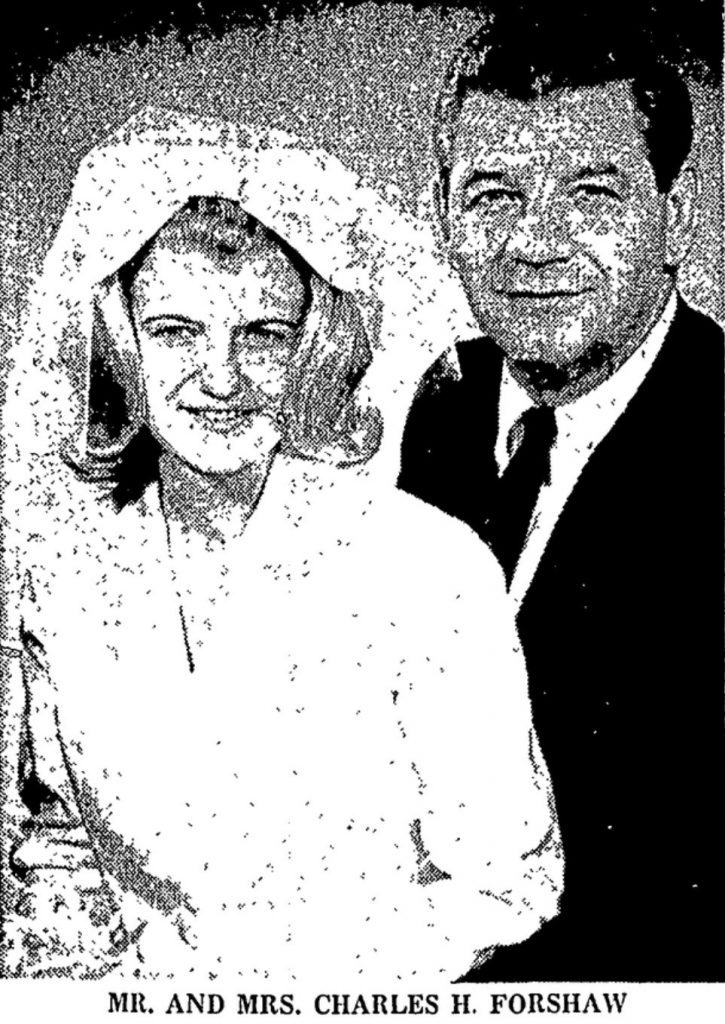 The local A&W would promote the drive-in with car hops and "Come as you are – eat in your car!" located on the road to the Thousand Islands.  There you could indulge in pizza, hot dogs, chili-dogs, french fries and take home some of that frosty-mug goodness in a quart or gallon.  Into the 1960s, Mr. Forshaw would relocate to California, but still own the local restaurant that was, for some time, managed by long-time North Side advocate and Watertown politician Bruce Dempster.
In 1963, A&W would serve up a bacon cheeseburger, laying claim to be the first to serve the All-American favorite that's yet to be disputed.  Papaburgers, declared a meal in itself, were joined by Mamaburgers, Teenburgers and even Babyburgers.  If that weren't enough, Shrimpburgers were on the menu, too, though they must have been a fad that didn't quite catch on with the finicky-fast-food crowd – or perhaps the marketing effort wasn't as catchy as later rivals efforts of "Two all beef patties special sauce lettuce cheese" while "Where's the shrimp?" doesn't sound quite as enticing, either.
On Jan 12, 1971, the Watertown Daily Times reported—
Root Beer Drive-In Purchased

The A & W Root Beer Drive-In Restaurant, 728 Bradley Street, has been purchased by David L. Shuler from Charles H. Forshaw.

Mr. Shuler is the owner of the Howard's Restaurant, Mill Street.

Mr. Forshaw, a former teacher at North Junior High School, lives in Riverside, Calif.

Purchase price of the business was not disclosed.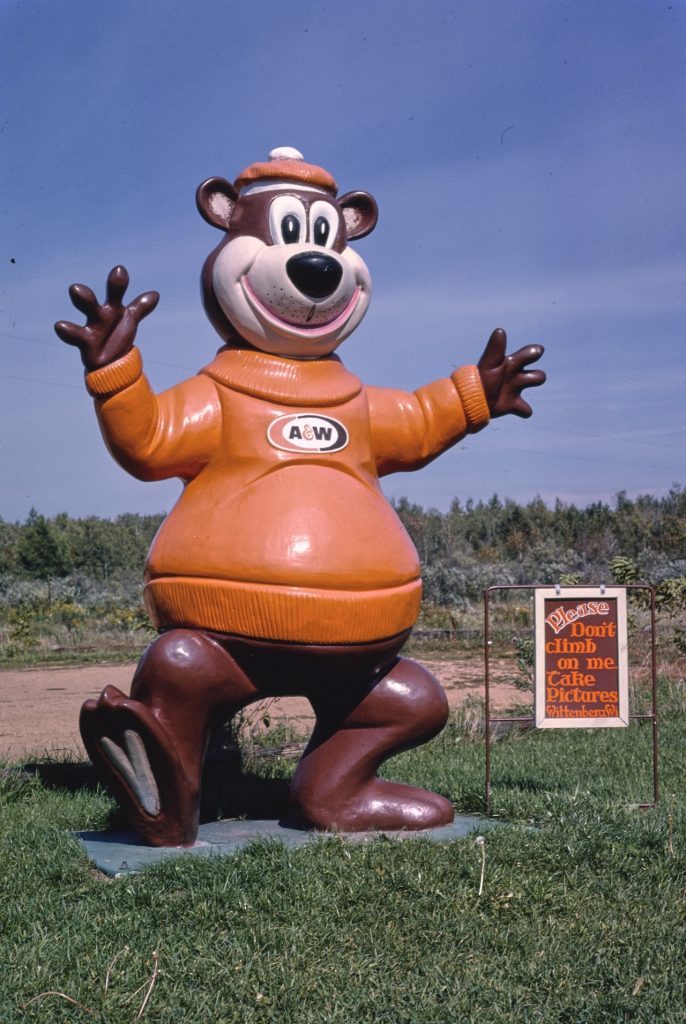 Perhaps feeling pressure from competitors who had introduced mascots to go with catchy advertising jingles, A&W would introduce Rooty the great root bear in 1974 – just three years after the brand's root bear was made widely available in cans and bottles for the first time.  Locally that same year, Mr. Shuler would sell his A&W on Bradley Street to Gerald K. and Clarissa Forshaw, the brother and sister-in-law to original owner Charles Forshaw.
Interestingly, Charles Forshaw would purchase Benton's Crossroad Diner on outer LeRay Street the following year.  The sale was negotiated by, coincidently, the local realty firms of John Urban and Bruce Dempster.
The Forshaws would operate the A&W drive in until 1985 when it was sold for $100,000 to Peter Hunter who razed it to build a new Mexican restaurant in its place, Margaritaville, one of only two such eateries in the tri-county region including Jefferson, Lewis and St. Lawrence, at the time.    
According to Mr. Hunter who spoke with the Watertown Daily Times, "It's time for a new restaurant because there will be more people in the area due to Fort Drum," adding that the new Salmon Run Mall would also attract many Canadian shoppers who currently travel to Syracuse.  Though A&W would leave the Watertown market in 1985, it wouldn't be for long as it would return at the Salmon Run Mall food court.  
Interesting Tidbits
In 1972, the Canadian A&W restaurants would become independent and operated separately from the United States franchises.  The 70s would also see a standards slip across franchises, leading to a new terms of agreement which many locations decided not to adhere to and let their stores' terms and agreements to expire.  This may explain why there were (and still may be) a number of older locations with the same coloring schemes operating under different names.
As of today, there are over 1,000 A&W franchises world wide, with eight of them located in New York State.
In 2003, A&W introduced real Wisconsin fried cheese curds to their menu.
Locally, in 1982 tacos cost .50¢ while burritos were .75¢.
Also locally, A&W used to be the place to go after baseball games played at North Junior High School's athletic fields.  Kids donned in uniforms and gloves would descend on Bradley Street by the carload.  The 1984 commercial below with one well-known actor plays a little tribute to the "after-game" tradition of stopping by A&W.