The KarmelKorn Shoppe Comes To The Paddock Arcade
The KarmelKorn Shoppe is actually a national franchise that began all the way back in 1929.  The local franchise at the Paddock Arcade that many fondly recall opened on August 16, 1941. It was sold to Charles "Charlie" Close, a returning Army veteran, six years later, in August of 1947 – oddly enough, this wasn't the city's first franchise as initially thought. The first opened in January of 1932 at 2 Paddock Arcade, one of 528 stores in 46 states at the time. Little is known about what happened to it, except it was opened and managed by William Combs and that a karmelkorn popcorn machine was for sale the following year.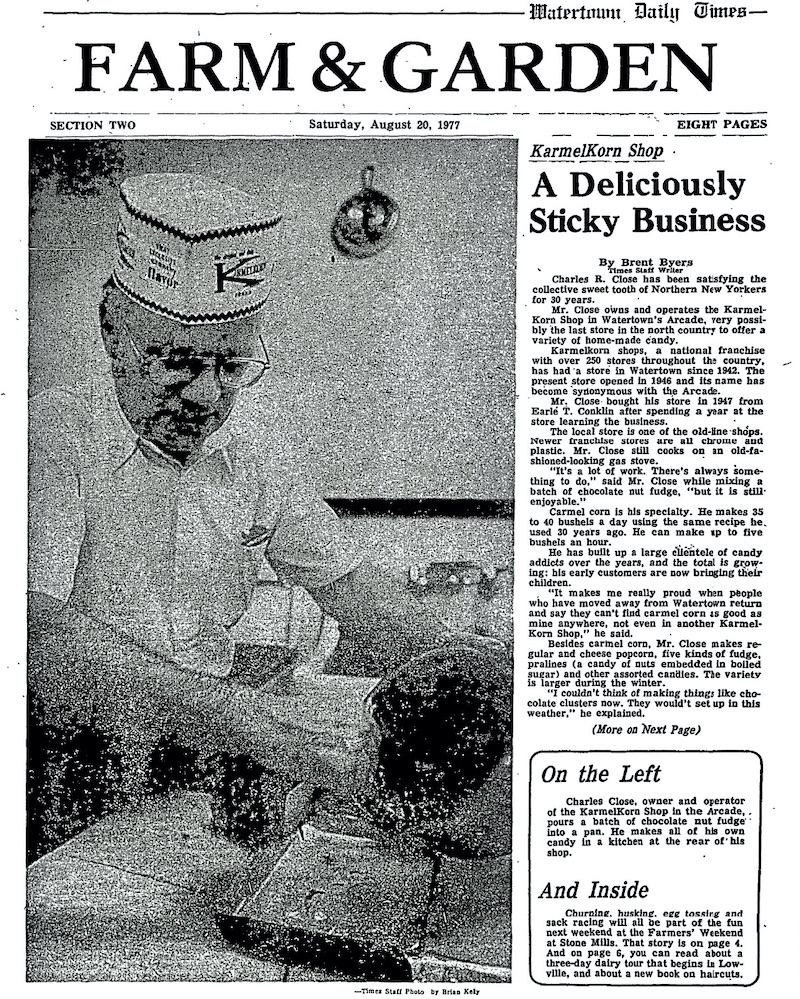 Charlie and the KarmalKorn Shoppe were featured in the Farm & Garden spotlight on August 20, 1977, in the Watertown Daily Times, which reported some of the local franchise's history–
KarmelKorn shops, a national franchise with over 250 stores throughout the country, has had a store in Watertown since 1942.  The present store opened in 1946 and its name has become synonymous with the Arcade.

Mr. Close bought his store in 1947 from Earl T. Conklin after spending a year at the store learning the business.

The local store is one of the old-time shops.  Newer franchise stores are all chrome and plastic.  Mr. Close still cooks on an old-fashioned-looking gas stove.
In his heyday, Charlie could make up to five bushels an hour, 35 to 40 bushels a day, using the same recipe to ensure a consistent quality that kept the customers coming back for more over the years, even when they moved out of town.
"It makes me really proud when people have moved away from Watertown return and say they can't find carmel corn as good as mine anywhere, not even in another KarmelKorn Shop," he said.
For the great many with recollections of walking into the Paddock Arcade and being greeted with the aroma wafting throughout, Charlie was the face of the KarmelKorn Shoppe up until his retirement in 1982, which was documented in the Watertown Daily Times July 1 edition–
Charlie at work at the KarmelKorn Shop. Photo: Watertown Daily Times.

Confectioner Retires

Today marks the end of a sticky era at the KarmelKorn Shop in Watertown's Arcade.  After 35 years, Charles R. Close is hanging up his apron.

Relax sweet-toothed fans of the homemade fudge and KarmelKorn, the face behind the counter will change but the succulent smell in the Arcade will not.

The franchise, one of about 325 KarmelKorn ships nationwide, now is headed by Mr. Close's son-in-law, Bernard "Bud" Lamb.
Mr. Close, a Massena native, bought the shop, the second oldest franchise of the Rock Island, Ill.-based company, from Earl T. Conklin in 1947.  Over the years he has developed a reputation for tastiness that now yields an average of of about 1,300 customers a week, he said today.

The new operator, a Fulton native, married into his "business destiny" 17 years ago.  Mr. Lamb and his wife, Janet, have three children, Joel, age 16, A. Charles, 14, and Kellie, 12.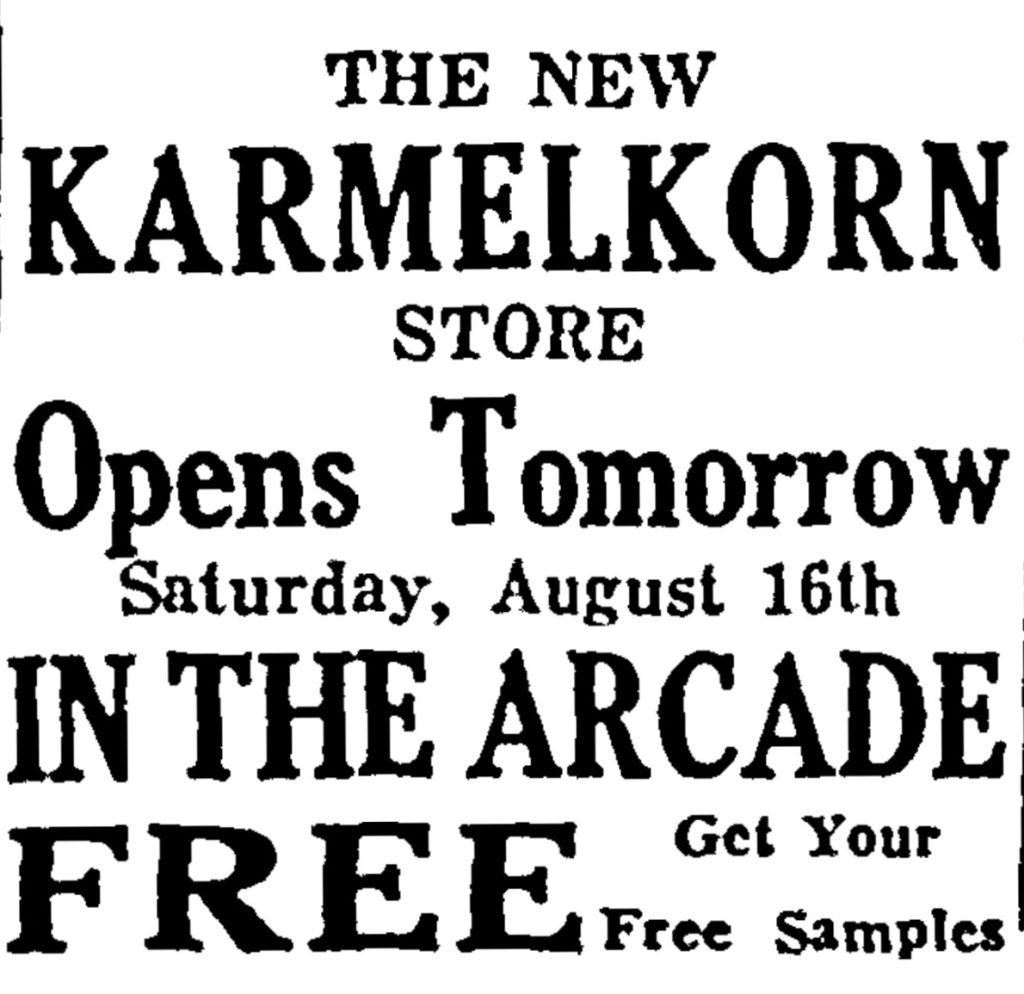 Sadly, Bud Lamb would pass away about a year and a half later in early 1984.  The KarmelKorn Shoppe would then be operated by Janet Lamb, Charles's daughter, who would take over the business until 1998.
After his retirement, Charlie remained active in his community and was named the Northern New York Community Foundation Humanitarian of the year in 1992.  He passed away at the age of 80 on December 29, 1999.  As written in a special supplement, Leave A Legacy in the North Country —
In December of 1999, Charlie passed away, a loss to the entire community.  However, Charlie did leave a lasting impression on the organizations for which he cared deeply.  He made plans during his lifetime to "Leave his Legacy" to these local organizations:  Literacy Volunteers of Jefferson County, Meals on Wheels of Greater Watertown, Northern New York Community Foundation, Watertown Urban Mission, Hospice of Jefferson County and the First Presbyterian Church.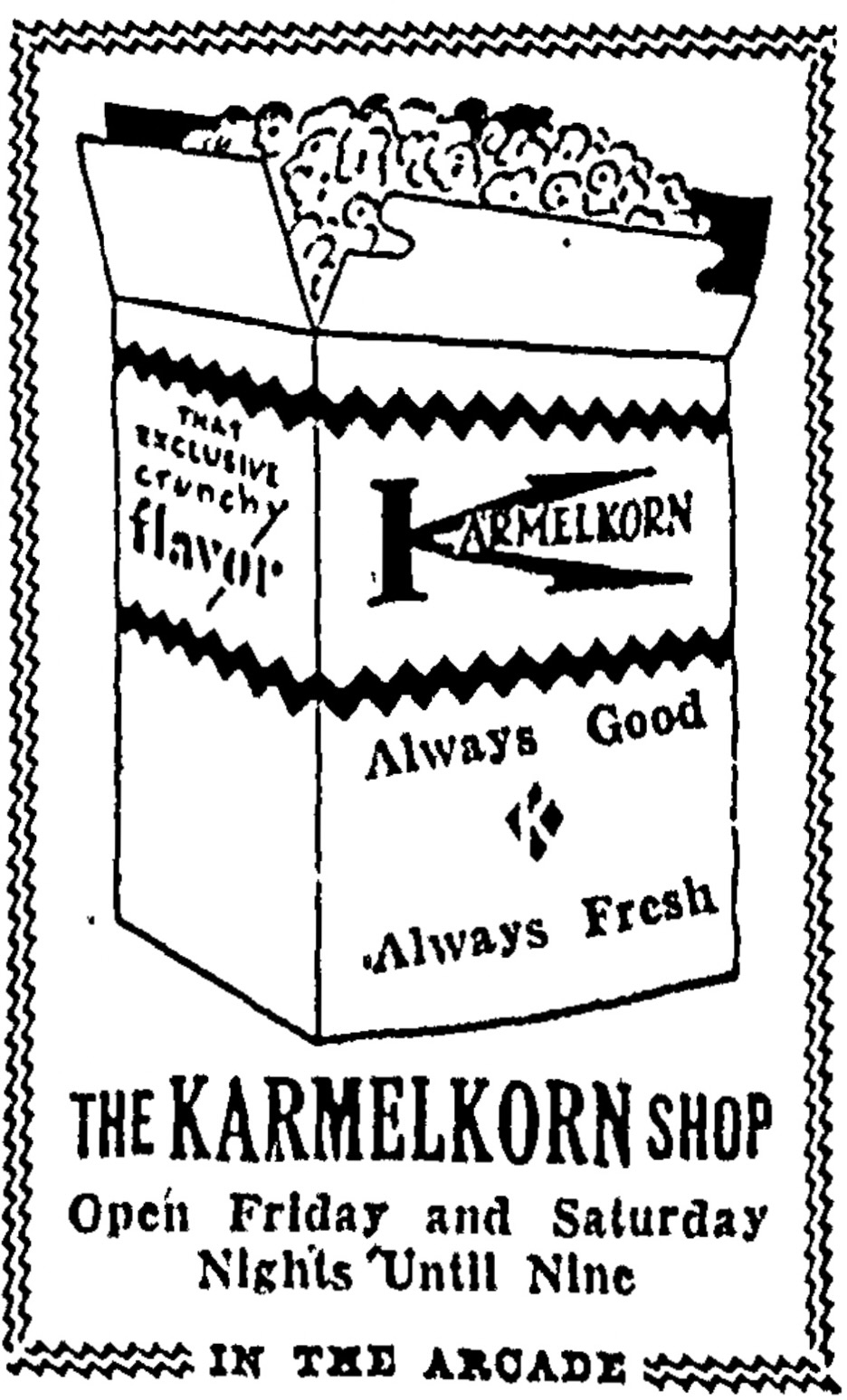 Charlie is somewhere up on cloud nine right now, prouder than ever: 46 years later, people are still saying they can't find carmel corn better than his. Sure, it was a sticky business that drew people in, but I'd like to think his secret ingredient that enriched everyone was his selflessness in the community.
As for the franchise itself, as of 2023, there's at least one store to be found on the internet, located in Wichita, Kansas. You can even order online!