The Wing Wagon: a Taste of Buffalo on Public Square
The Wing Wagon would make its Watertown debut all the way back on December 22, 1982.  Chuck & Mary Ann Wert would open the 2nd store of the new chain, started by Buffalo native William Demma in New Hartford, by taking over the former Sylvia's Gift Shop on 71 Public Square.  Within a short period of time, they would buy Demma out and manage a handful of stores including one in Oswego at 205 W. Bridge Street.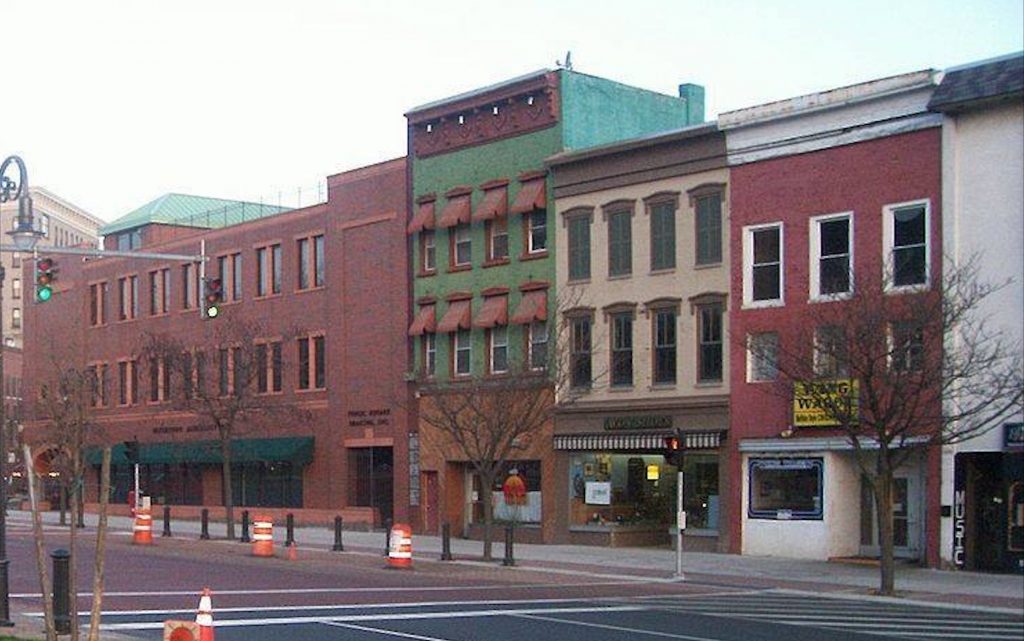 The history of chicken wing dates back to 1964, when the co-owner of the Anchor Bar in Buffalo served up some leftover wings as a late-night snack for her son and his friends.  The proliferation of the chicken wing would take a while, but the spicy hot finger-licking goodness would be picked up by other area restaurants, most notably Duff's in Amherst, NY, in 1969.  
Back in Watertown, a 1984 Watertown Daily Times article by reporter Tricia Crisafulli had Enrico's Restaurant owner Richard Fiaschetti taking credit for being the first to serve chicken wings in Watertown about ten years prior.  According to Mr. Fiaschetti, he had chicken wings while at a restaurant in Buffalo and brought the recipe back with him.   The article also noted wings had been served at Kentucky Fried Chicken since the summer of 1981.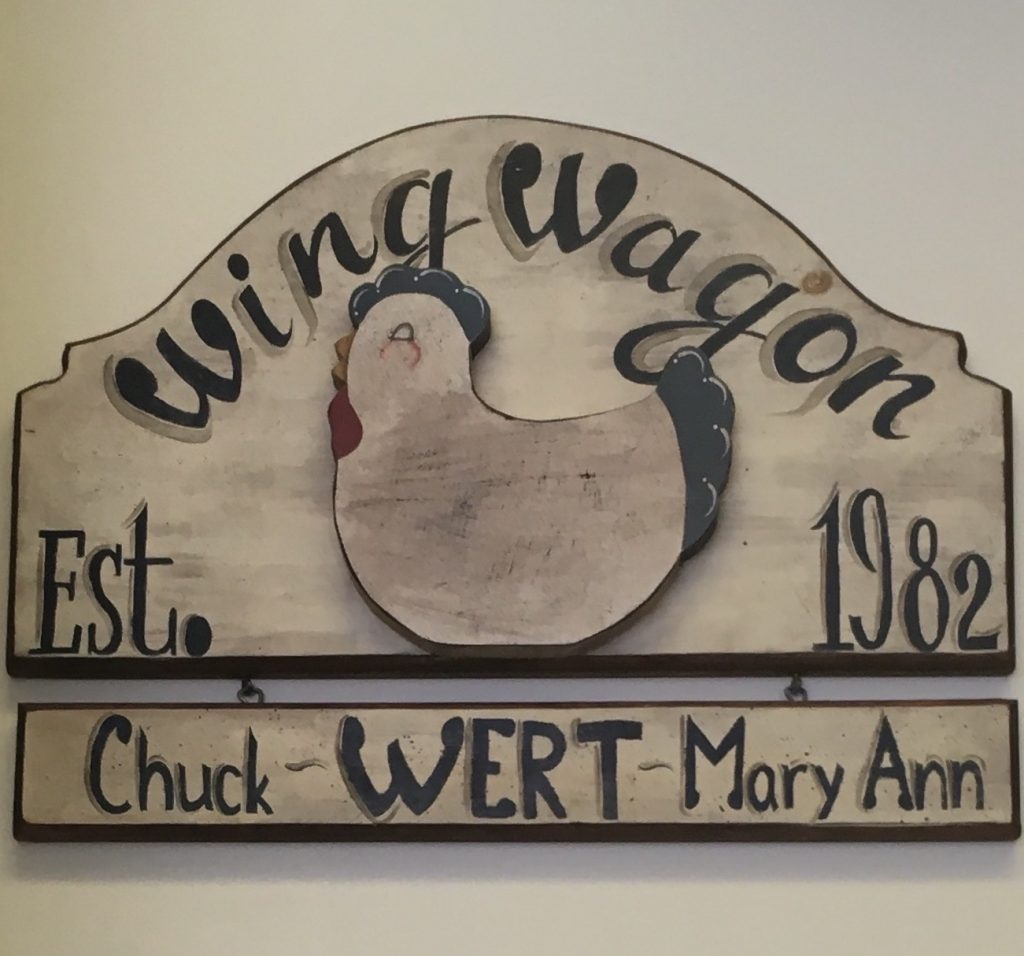 Nevertheless, it wasn't until a place like Wing Wagon specializing in Buffalo-style chicken wings as their primary offering that the fried-finger food slathered in hot sauce began its popularity locally.  According to the January 13, 1984 article, the Wing Wagon used to cater to the late night/early morning crowd and served upwards of 12,000 wings a week—
The wing business keeps Mr. Wert busy seven days a week and until Midnight on Sunday, 1 a.m. Monday through Thursday and 3 a.m. Friday and Saturday.  

"The bar-hopping crowd gets the munchies about 2 a.m. and they'll come in here for wings," Mr. Wert said.  I usually give them free coffee the last hour." 
It was also noted that the Wing Wagon back then would have orders for about 300 wings per week for a couple of local bars, but their lunch specials proved to be popular with 10 wings, potato fries and a beverage for $2.88.  Talk about a happy meal!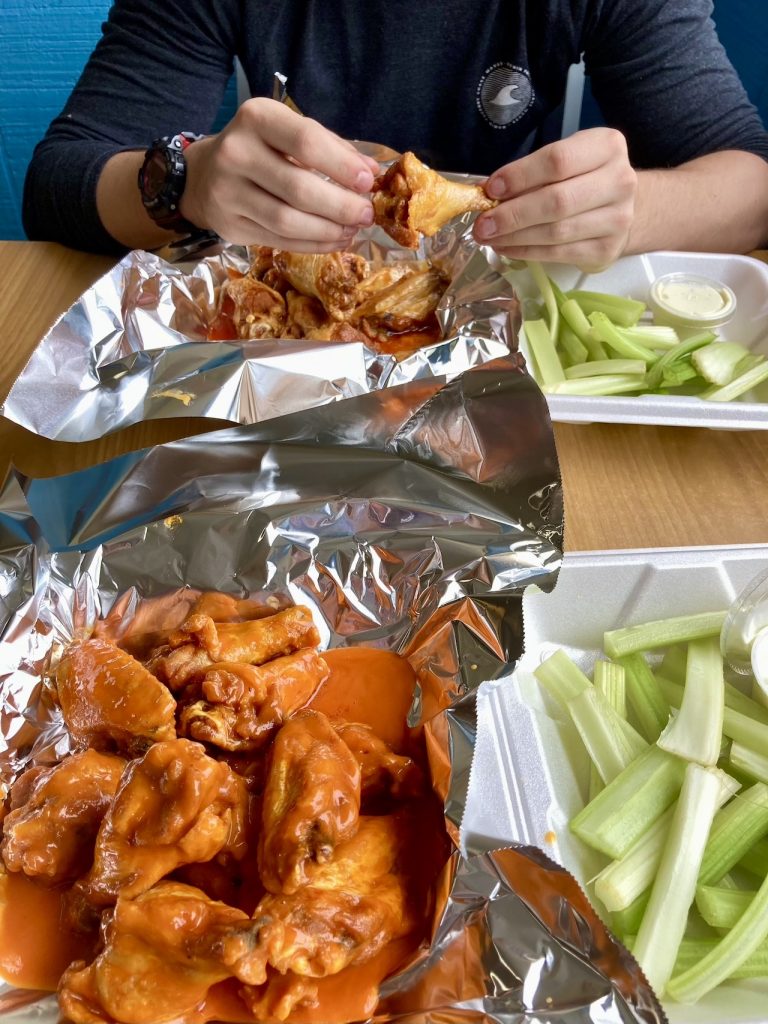 One thing immediately noticed in the first year of business was the rise in costs due to the wing's popularity.  In 1979, wings in grocery stores cost about .49¢/pound.  By 2004, it was .78¢.  Mr. Wert would note Wing Wagon's wholesale price of .52¢/pound in January 1983 shortly after opening vs. the then current as of January 1984, .65¢/pound.  As the years progressed, so too did the chicken wing's size and costs. 
In 2010, the costs per pound had increased to $2.15.  As of 2021, a frozen bag of chicken wings at Walmart now goes for $3.72 a pound, a 4 lbs. bag nearing $15.00 whereas pre-pandemic it was slightly less than $10.00 for the same size bag at the very same location.  
By the mid to late 1980s, it seemed as if chicken wings were everywhere. Crescent's, Soluri's and other local pizza places were churning them out, as were sit-down places like Ponderosa and the Golden Lion, not to mention the Salmon Run Mall's Ground Round and O'Toole's. Try as they might, very few could approach the standard that Wing Wagon had established.
In 1989, the Werts would look at creating national franchises.  The Watertown Daily Times would report on September 24 of that year–
With the help of Franchise Consulting Group Inc. of Boston, the Werts spent a year learning the franchise process.  In July, they began advertising.

The response, said Mr. Wert, has been overwhelming.

"I advertised in a number of newspapers throughout New York State," he said.  "But the calls have been coming in from people all over the country."

Mr. Wert said that in two months he received 92 inquiries from across the country and has opened a restaurant, in Gloversville, N.Y., 40 miles north of Albany.  The Werts' goal is to have 70 restaurants opened within five years.

"I have a strong feeling we will be opening three restaurants in the near future around Brooklyn, Mr. Wert add.
At least one of those restaurants in Brooklyn is still operating today.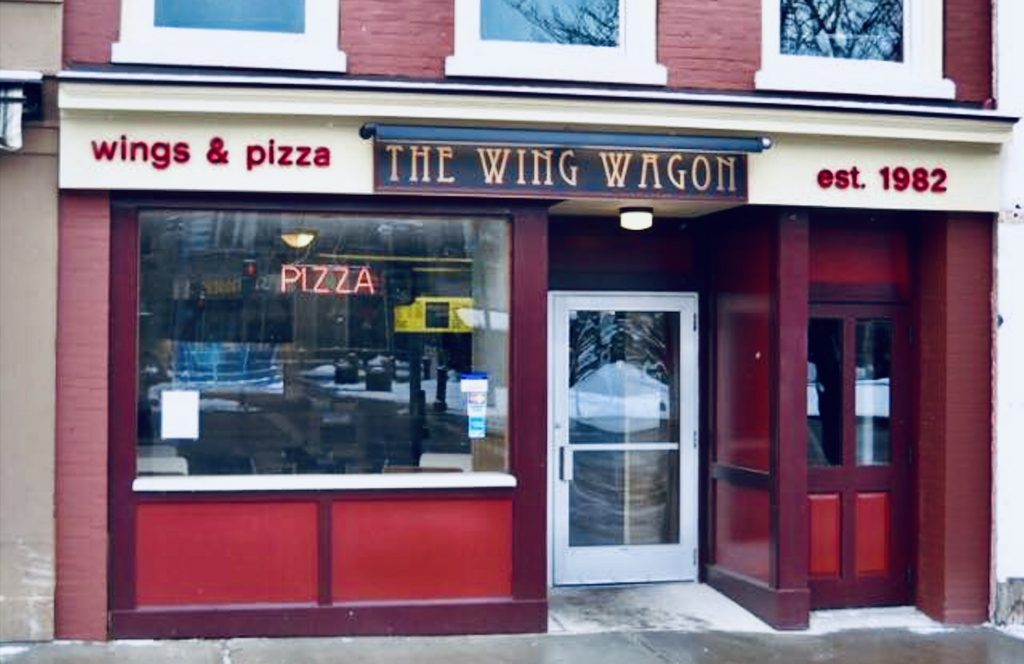 In 1991, Wing Wagon would partner with Jreck Subs to make and sell their wings.  10 Jreck Sub locations signed up to have their staff trained on making them.  By October when the news was announced in the Watertown Daily Times, Wing Wagon reportedly sold nearly a half-million wings.
Through the years and the ups and downs, the Wing Wagon has seen many changes, from closing the Oswego location and selling the other franchises in Schenectady and New Hartford in the 1980s, to the expansion of Fort Drum and, in more recent years, the unfortunate passing of Chuck Wert in 2017.  They've remained consistently consistent and, for many people who move away, the first place they stop when coming home.
New Year's eve 2021 will mark the end of an era on Public Square as the Wing Wagon opens its doors for the last time before closing for good.  The chicken wing itself will keep on cluckin' as people will discover soon to be new favorites, a few locally which have award-winning wings themselves.  And with that, perhaps this is the best place to remember Chuck Wert's quote painted on the wall inside the Wing Wagon–
"Life is short.  Eat what makes you happy."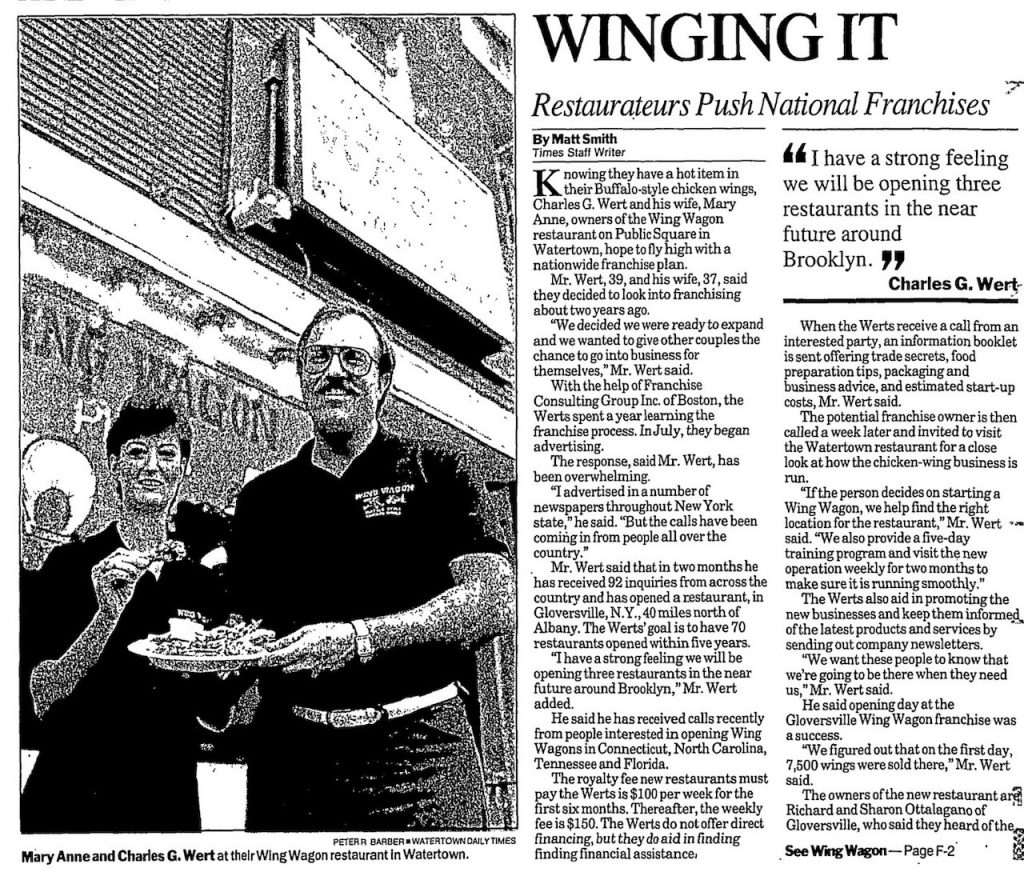 First Time Eating Wing Wagon Chicken Wings
Well, not just my first Wing Wagon chicken wing, but my first chicken wing, period.  Though they opened in December of 1982, it wasn't until the following summer I heard of them.  Actually, I smelled them first.
Back in the summer of 1983, many will recall that Watertown became home to the Pittsburgh Pirates single "A" baseball team in the NY-Penn League.  I'd already been a Pirates fan for a few years, so having one of their minor league team in town was an incredible experience getting to see big-leaguers in the making like Jay Buhner, Tim Wakefield, and Moisés Alou.
During those first few years, the Duffy Dome, as Mel Busler liked to refer to it, would see nights where the Watertown Pirates would literally outdraw the Pittsburgh Pirates, sometimes with 5,000+ raucous fans in attendance.  The Watertown Pirates would lead the league and shatter attendance records those first few years where on summer nights, you could hear those horns blowing from just about anywhere in the city.
Going to the concession stand, one could smell the distinct aroma of chicken wing sauce in the air – that hot pepper, buttery aroma that smelled like it had a touch of vinegar in it.  I may be mistaken, but I'm almost certain Wing Wagon was working in the concession area selling orders of wings.  If not, I'm blaming it on taking a foul ball to the head.
I do remember that the concession stand also sold chocolate candy bars, perhaps for $1.00 or $1.50, but I don't recall exactly.  I do know that the wrapper contained the equivalent of the golden ticket to Willy Wonka's Chocolate Factory: a coupon to buy ten chicken wings and get ten chicken wings free from the Wing Wagon.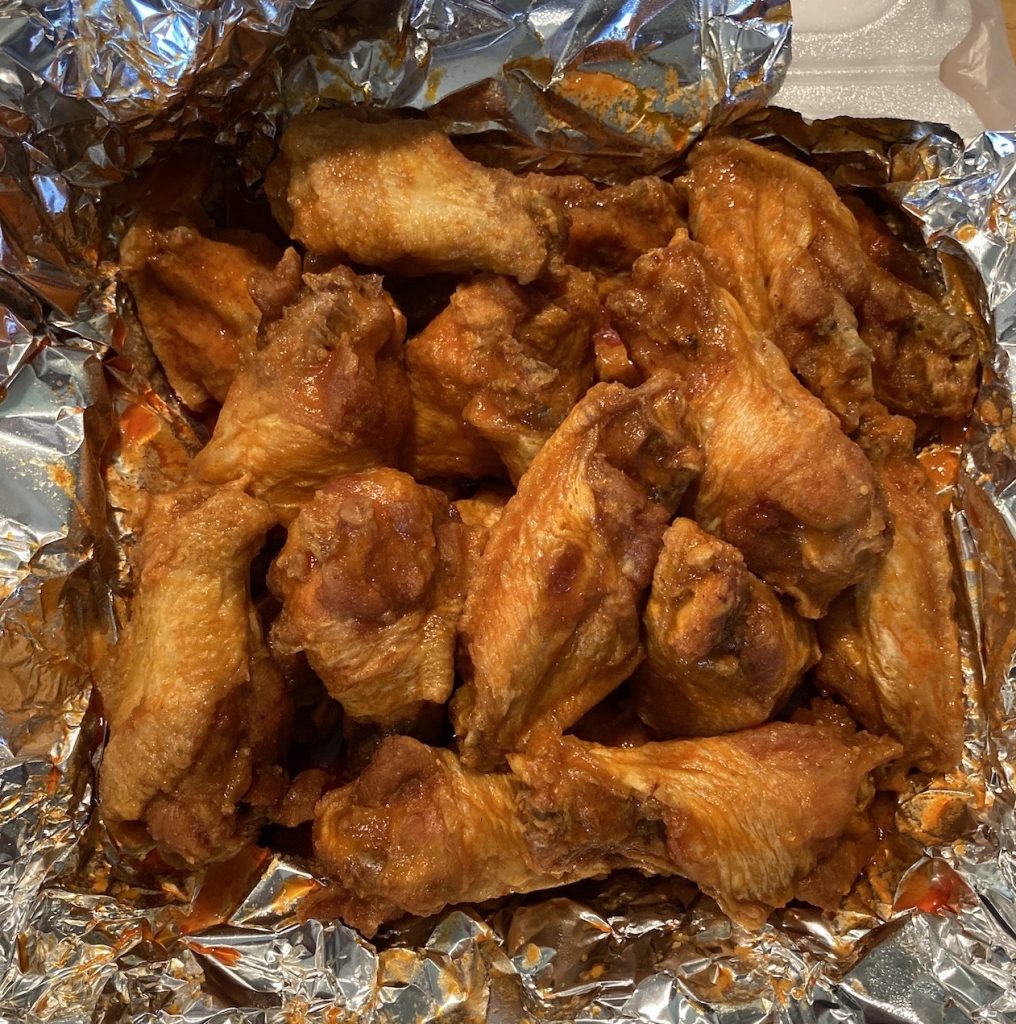 My brother and I, recipients of said golden ticket, would make the trip down the yellow brick road to see the wonderful wizard of wings.  We would get our buy 10, get ten wings free, and a couple of sodas (there may have been fries, too, but hey, we were there for the wings!) – all for about $3.00, if I remember correctly.  Thus began my love for the chicken wing, which was due partly to my favorite baseball team.  It was like the perfect meal on a perfect summer day, and that hot sauce may have put a little pep in my step.
While attending the University at Buffalo, I had wings from who knows how many different places – it was a scavenger hunt to find who made the best.  Many said that while the Anchor Bar created the chicken wing, Duff's perfected them, and I found that to be pretty much true.  Having lived all over the country, Duff's is at the top of the list, but in my book, they're there with some pretty good company in the name of Wing Wagon, too.
Indeed, as Chris Berman loved to say, "nobody circles the Wing Wagon like Buffalo."  Ok, maybe I imagined him saying that, or something like that.  A foul ball to the head will do that, too.