Benny's Steak House Had Three Different Locations Before Closing In 2006
Benny's Steak House was one of the most recognizable landmarks on Arsenal Street, first located at its 1262 address for several years starting in 1968. In 1972, Benny Tufo purchased the one-story brick building at 1050 Arsenal Street that once was home to the North Country Library System. For thirty-six years, the restaurant operated at that location with customers greeted by the life-sized Steer that became an icon for the business.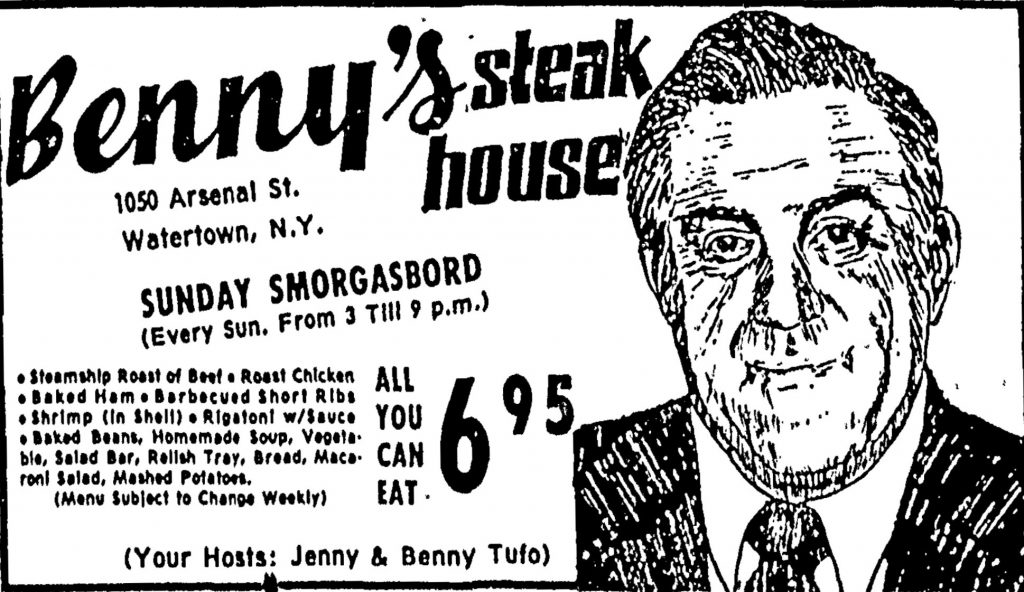 Bernard J "Benny" Tufo, Sr., was born August 23, 1927, in Watertown, New York, the son of Sabatino "Samuel" and Louisa Esposito Tufo.  Benny's siblings include Sammy Tufo, Jr., who would open Giovanni's on State Street and later LeRay Street, Jerry, and five sisters, Joanne Jones, Edith Seymour, Dora Berkman, Veronica LaFontain, and Mary Neuroth.  After graduating from Watertown High School in 1945, Benny served in the 160th Air Corps Squadron until 1948, returning to Watertown to work at the New York Air Brake and marry Jane D. "Jenny" Giordanelli at St. Anthony's Church on Oct. 23, 1949.
In 1953, Benny became a patrolman for the Watertown Police Department but resigned after 18 months to partner with his brother Sammy in purchasing the Liberty Restaurant in the Hungerford Block at 234 Court Street.  The restaurant would become known as "Tufo's." Still, the partnership between the two brothers would end in 1960, and Sammy would eventually take over the State Restaurant on State Street, which would later become the first location for Giovanni's.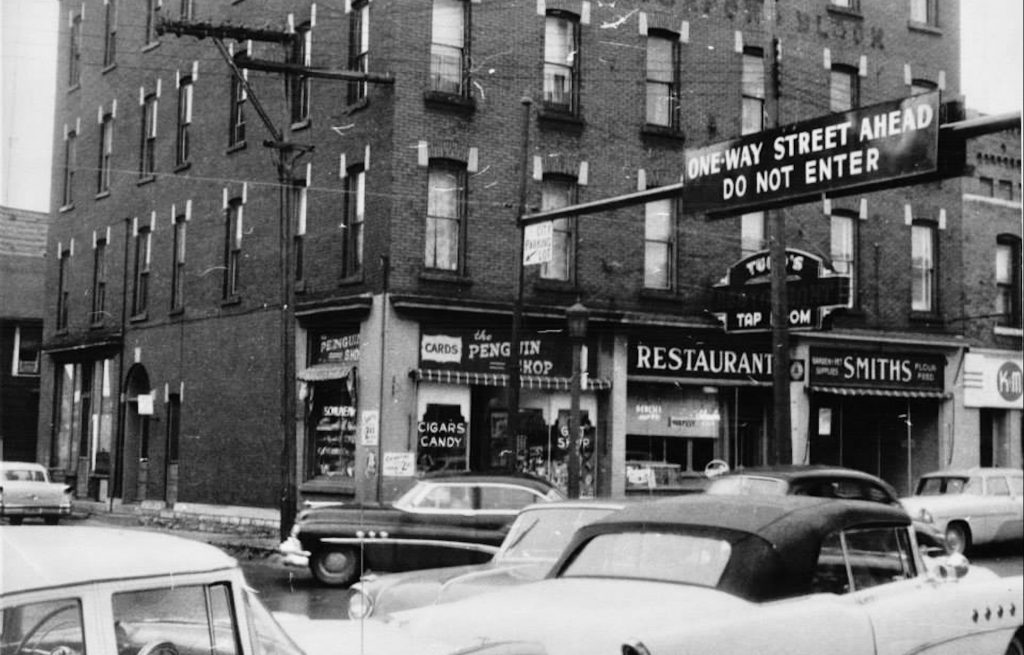 Benny would continue Tufo's with Arthur (Art) Mangini to form the Tu-Man Corporation shortly after that. Mangini had operated the Star Restaurant at 316 Factory Street from 1956 to 1960, later opening Track 14 on Coffeen Street and, at one time, also owned nearby Joe's Tavern. At the Hungerford Block, Tufo's would fall victim to urban renewal, and Benny's first efforts to establish Benny's Steak House on Public Square with a liquor license would not be approved.  As reported by the Watertown Daily Times on April 27, 1965–
The State Liquor authority has disapproved a request made by Seventh Ward supervisor Bernard J. Tufo, Watertown, to take over the corporation controlling Paddy Ryan's restaurant in the chamber of commerce building, Public Square, Watertown.

Under the proposed change, the restaurant, licensed to Dominic Capone, was to be operated as Benny's Steak House.
The venture would eventually get the green light shortly afterward and be located at 44 Public Square. At that point, the advertisements declared, "You haven't had STEAK until you've eaten at BENNY'S STEAK HOUSE." Alas, the liquor license would be surrendered several months later, in October of 1965, after an unfortunate incident, and the premises vacated sometime after that.  The incident would also result in the suspension of Tufo's Restaurant's liquor license on Court Street for one week.  A jury of five women and one man would find Tufo innocent of charges in May 1966.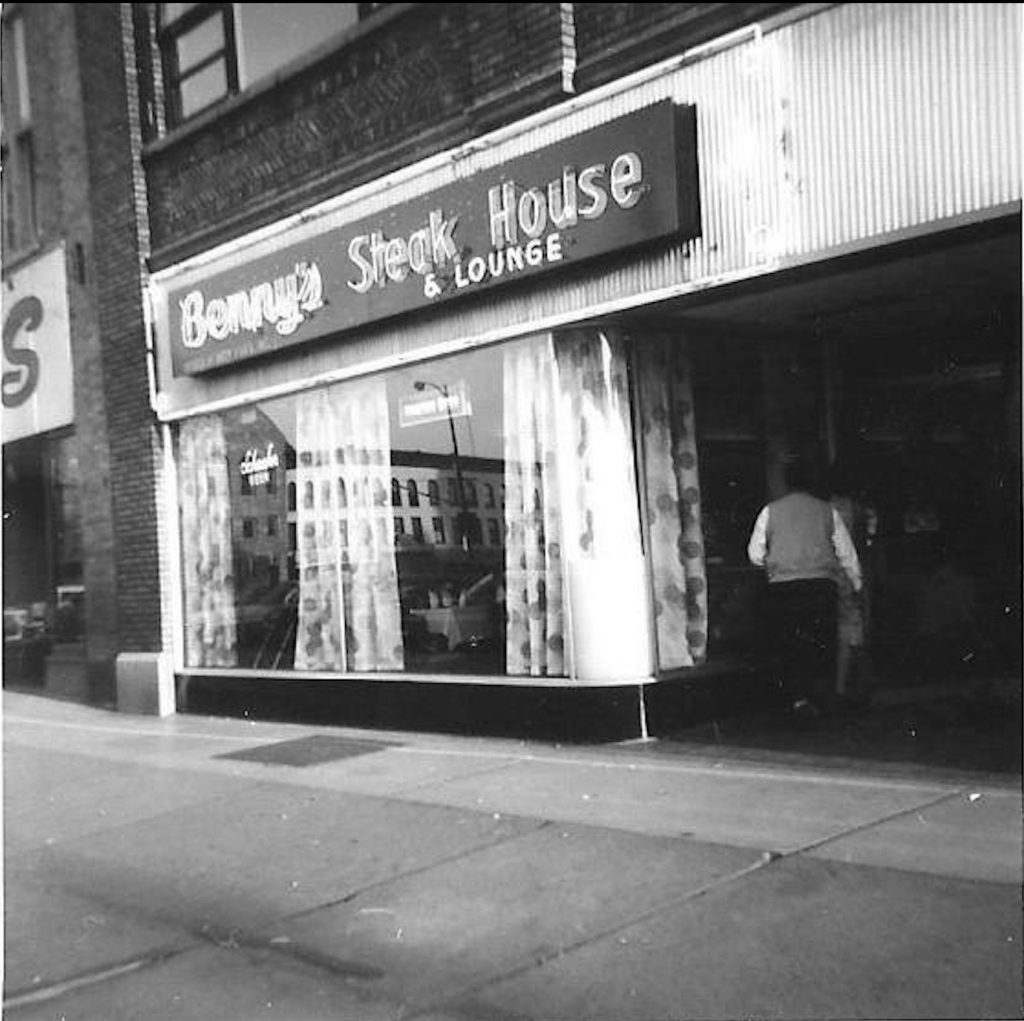 Benny would attempt to transfer his liquor license from Tufo's Restaurant later in 1966 when Tufo's Restaurant was scheduled for demolition in the near future, but the state would once again deny the transfer to the 44 Public Square location.  In April of 1967, the U.S.O. would take over the space at the former Benny's Steak House location, and Benny would manage the Stone Inn on outer Washington Street for some time.
Down, but not out for long, Benny's Steak House would find a new location in early 1968 – this time, at what was then 1262 Arsenal Street in front of Ed Massey's Furniture Barn.  Benny's Steak House would operate at the location until 1972, when Benny purchased the property at 1050 Arsenal Street.
Benny would contract a $50,000 renovation project at the former North Country Library System location, converting the single-story building into a modern restaurant suitable for holding large banquets for 300 people.  During the 34 years of operation at the site, Benny and Benny's Steak House would see several changes, including two major ones, in the span of five years.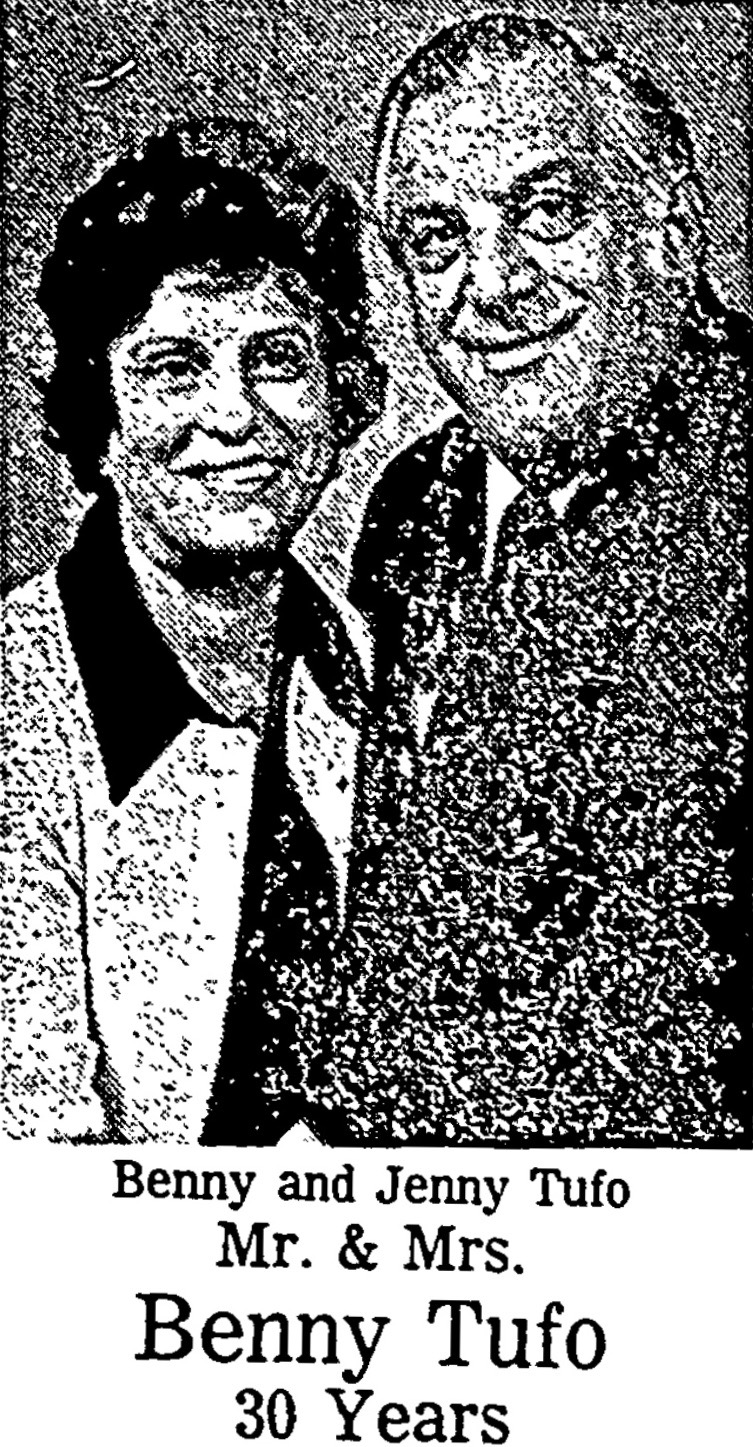 In 1982, the legal drinking age in New York was raised from 18 to 21. Some local restaurants were for it, some weren't.  Benny believed if you were old enough to serve your country at the age of 18, then you should be served in return.  Others believed the age itself wasn't a problem, it was the hours of operation and pointed out that most problems occur after midnight and particularly between 1 a.m. and 2 a.m.  Even Benny's former partner Art Mangini agreed in a Daily Times article that the age probably should be raised and that most of his issues stemmed from the younger crowd.
The second major change in 1987 was the smoking ban that required businesses to designate certain indoor spaces for smoking and non-smoking 1987.  In a Feb. 1987 WDT article—
Bernard J. "Benny" Tufo, owner of Benny's Steak House, a 200-seat Watertown restaurant, said, "You can't fight the state," when asked to comment on the new regulations.

Although the restaurant does not have a non-smoking section, Mr. Tufo said, "If I have to mark a certain section for non-smokers, I will."

"The state doesn't like us restaurant owners.  We just give them the taxes, that's all," a disgruntled Mr. Tufo said.
Below: A little trip down memory lane, Bob Kissell Band performing in 1986 at Benny's Steakhouse from Steven W. Adam's YouTube page.
After his health declined for several years, Benny Tufo passed away on June 29, 1997, at the age of 69.  His obituary in the Watertown Daily Times would read, in part–
Mr. Tufo also operated the restaurants at Watertown Golf Club and Ives Hill Country Club for a time and served for several years in the late 1960s and early 1970s as president of the Jefferson County Hotel and Restaurant Association.  

In 1957, he was defeated in a bid to become the supervisor of the 7th Ward running as a Republican.  In July 1960, Democratic Supervisor James V. Vittorio resigned because he had moved to the town of Pamelia.  The Watertown City Council Appointed Elizabeth Lawlor, a Democrat, to succeed him in August of 1960.  Mr. Tufo, then of 400 Coffeen St., ran against her for the 7th  Ward seat in November of 1960, winning, 231-209.  

Mr. Tufo was a member of Elks Lodge 496, Veterans of Foreign Wars Post 1400, Ives Hill Country Club and Ironwood Country Club, Bradenton, Fla.  He was a fourth-degree member of the Knights of Columbus and a communicant of St. Patrick's Church, where he was an usher.  

An avid bowler, Mr. Tufo in March 1965 bowled a 770 triple for the Tufo Restaurant team in the Elks Four-Man League.  It was the second highest 700 triple in Watertown at the time.  He had games of 256, 279 and 235.  Don Harmon had established the record with a 781 triple several years earlier.  Mr. Tufo was also an avid hunter and fisherman.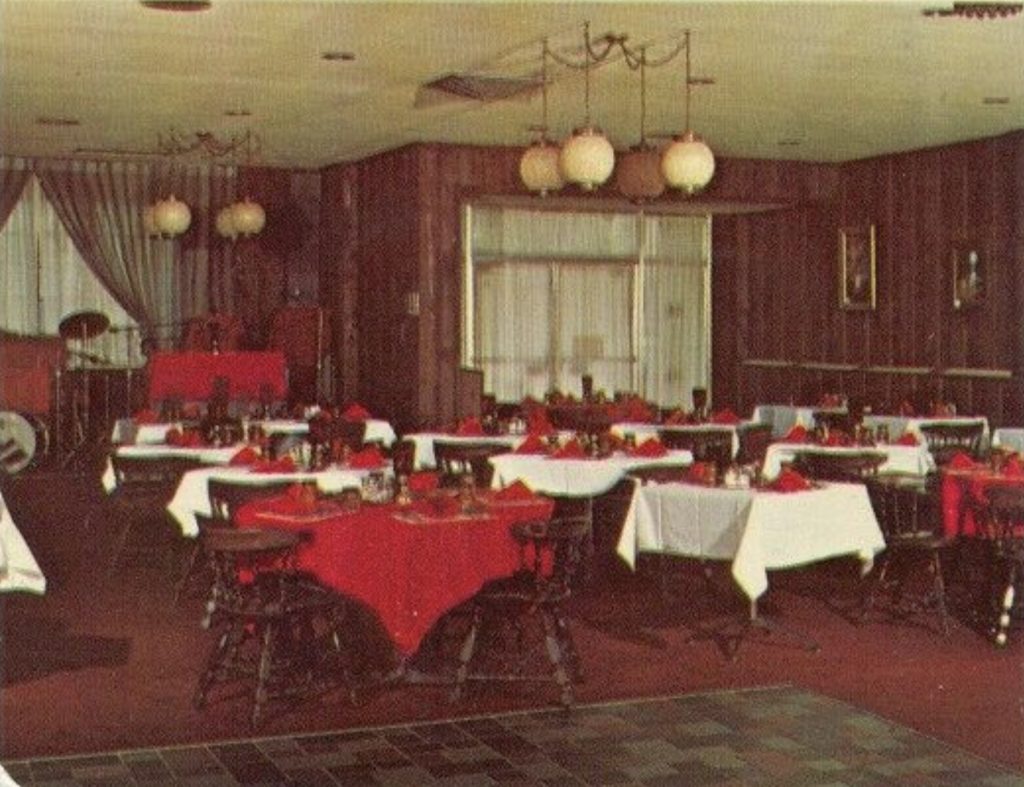 Benny's Steak House would continue to operate under Benny's son, Bernard Tufo, who would put the place up for sale in June of 2005.  In December of 2006, Benny's Steak House would serve its last meal, having sold to Davidson Automotive Group, which turned the location into a used-car dealership.  An auction would be held later that month to sell off items.  
As for the iconic steer that graced Benny's Steak House all those years, it found a permanent home atop the Massey's Furniture Barn just down the street adjacent to the Arsenal Street Bridge.