Morgia's Restaurant In Watertown, NY, Corner of Cedar at W. Prospect Streets.
"Watertown's first singles bar," the Watertown Daily Times would write of Morgia's Restaurant in a 1987 retrospect piece the day the vacant building would be torn down.  The restaurant had long been a staple in Watertown, N.Y, dating back to 1934 when family members decided to pivot from Watertown's neighborhood family grocery store and meat markets to a full-time restaurant.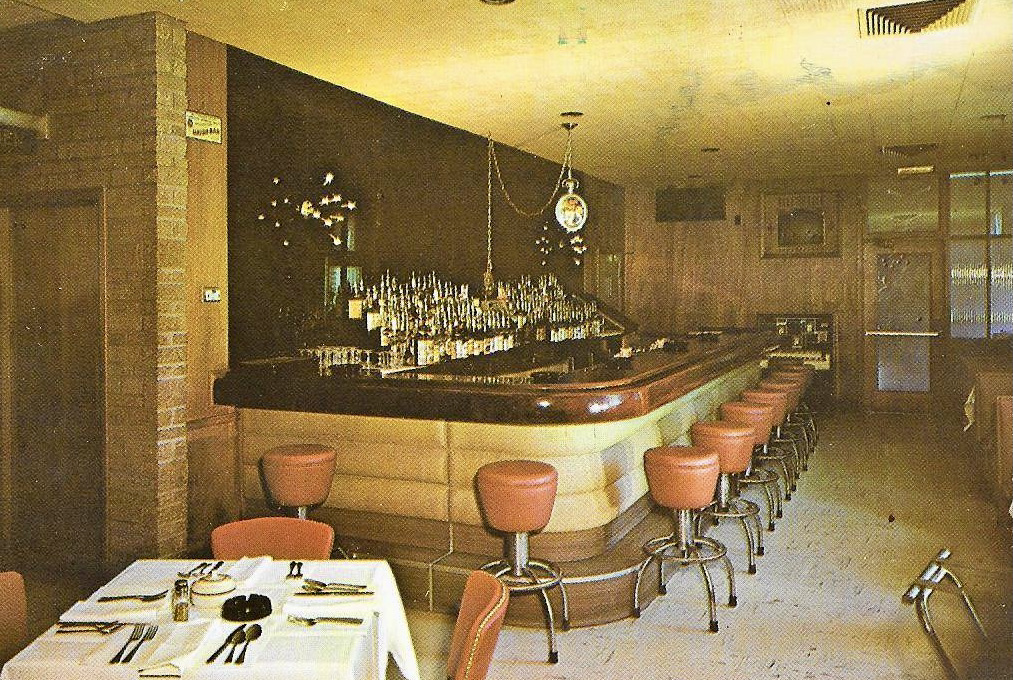 On the bone-chilling cold night of January 21, 1956, the former grocery store turned Morgia's Restaurant would be destroyed by a fire suspected to have started shortly after it had closed for the night due to an oil-burning boiler.  The Daily Times would note–
Three persons, forced to flee in night attire into the near-zero cold, barely escaped with their lives as fire swept through and completely destroyed Morgia's Restaurant, 603 West Prospect Street, at the southwest corner of Cedar Street, about 2:15 this morning, causing loss which may exceed $100,000.

Scantily dressed Cataldo Morgia, 67, founder and former owner of the restaurant business; his wife, Mrs. Ida S. Morgia, 62, and their nine-year-old granddaughter, Barbara Jean Dupee, fled from living quarters located over the restaurant after Mr. Morgia was aroused by the smell of smoke and then discovered the fire.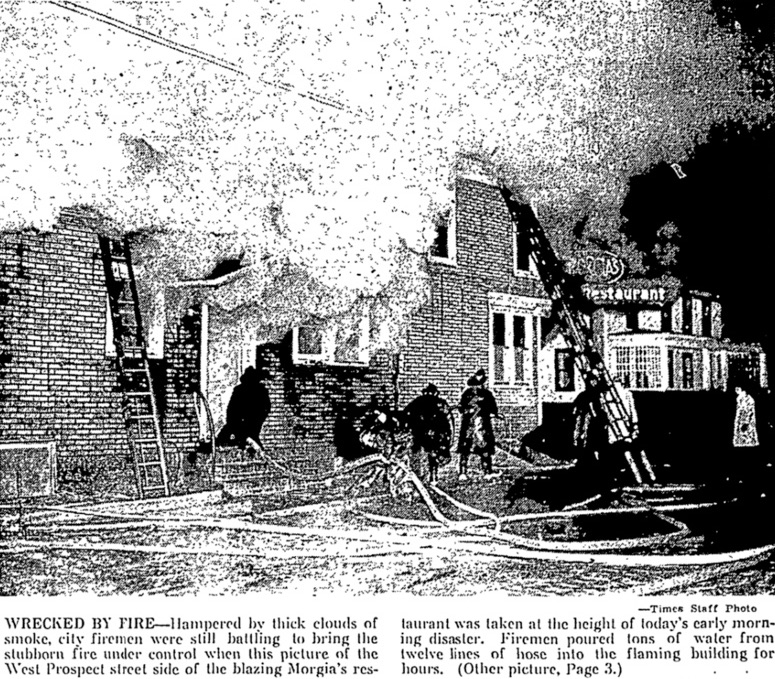 It was reported that the Morgias started to evacuate initially but had temporarily forgotten their nine-year-old granddaughter was spending the night.
Frantically, Mrs. Morgia rushed to the room, picked up the child and the three groped their way down the stairs to safety – Mr. Morgia clad only in pajamas and barefooted and Mrs. Morgia wearing slippers and a night dress.

Mrs. Morgia and the child hurried to the nearby home of relatives, while Mr. Morgia, despite the near-zero cold, raced across the street to the fire box alarm to summon firemen.
Fortunately, Silverio and Frank Morgia saved the tally for the night totaling more than $1,000, along with a safe containing insurance policies, deeds, etc., which was thrown out of the building during the fire.  The Times would report that to reach the box of receipts, Silverio "crawled through a roof window after climbing a ladder with a fireman (and) watched a floor collapse in the process."
Sadly, a pet Boxer dog was lost in the fire.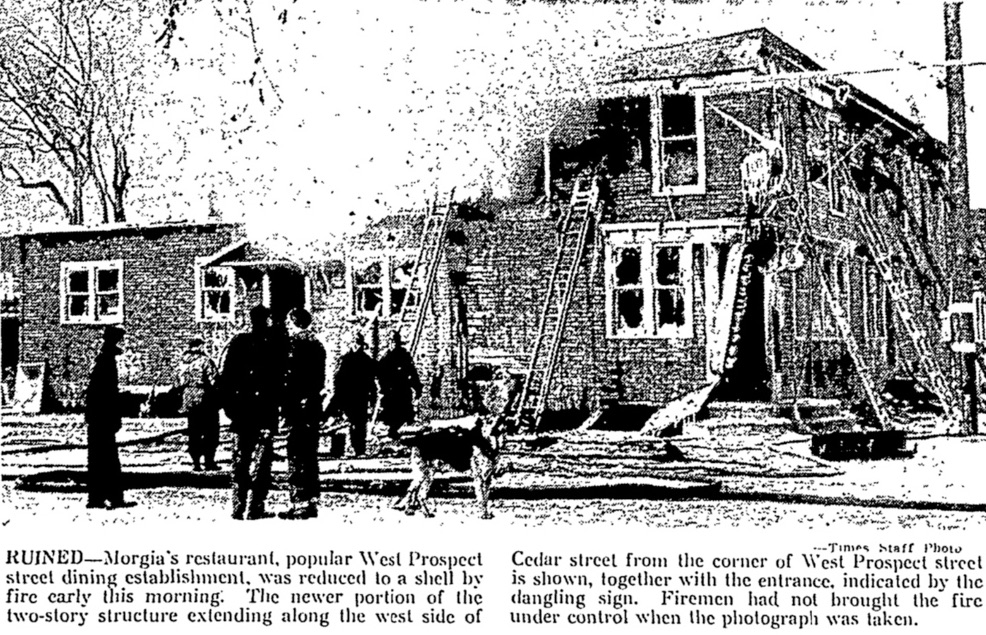 The family, friends, and neighbors would pitch in to demolish the remains of the building that weekend after receiving a permit and making arrangements for dumpsters.  Several days later, a permit to rebuild at the same location as soon as possible was filed.  The new building would be a two-story structure with a large banquet hall on the second floor and a dining room constructed with the clientele in mind.
Like a Phoenix rising from the ashes, Morgia's Restaurant, one of the area's most popular joints, was reborn and back in business nine months later, celebrating its grand opening of the new facility on Wednesday, October 3rd, 1956 with all-new, modern equipment.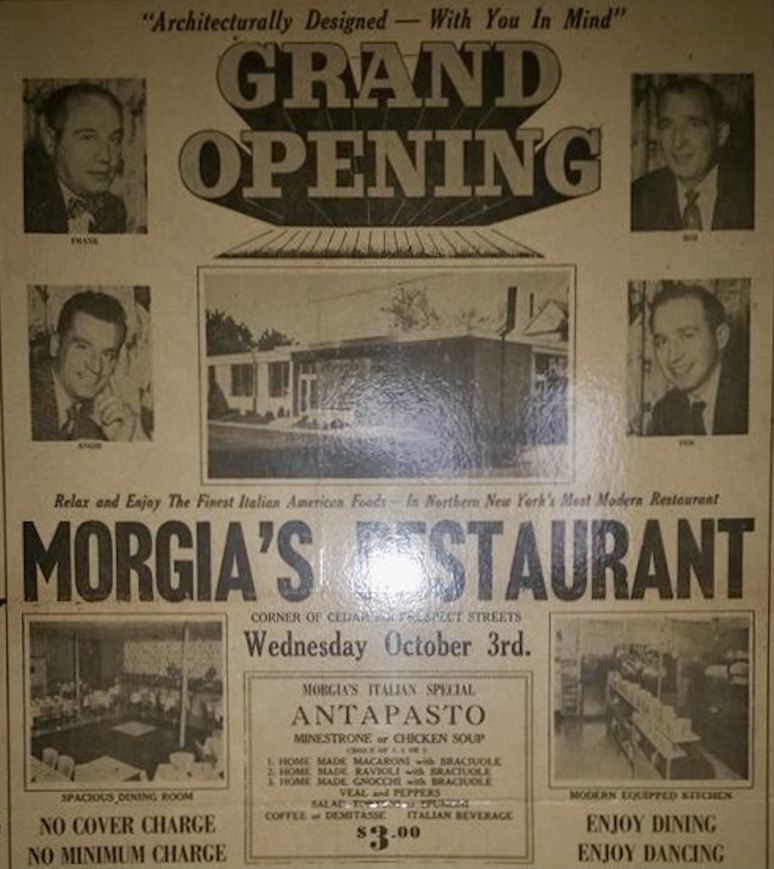 Several months after re-opening in their new building, Cataldo Morgia passed away after a brief illness at 68 in April of 1957.  The funeral would occur at the Simpson Funeral Home and St. Anthony Church, which was reported as the largest ever for either facility.  The funeral procession was said to have been more than 100 cars and stretched for blocks with the vehicle's bumper to bumper.
In 1978, George Sarkisian, from Binghamton, would acquire a significant share in the property from the estate of Frank Morgia.  The restaurant would be closed in March of that year for remodeling, but there appeared to be some confusion as to what the place was to be.  Original plans for opening a disco on the property had been scrapped.  The Watertown Daily Times would then report on October 4th–
Preliminary plans called for adding a new cocktail lounge and banquet hall facilities.

Continuing as members of Morgia's, Inc., besides Mr. Sarkisian, a Binghamton contractor, are three brothers, Silverio J. (Bim), Theodore B. (Teddy) and Angelo Morgia.

Tony C. Malara, a spokesman for the Morgia family, said Mr. Sarkesian bought his interest from the estate of Frank Morgia.

Mr. Malara said, "We're in limbo.  We're not sure what we're going to do."

Mr. Malara said the building is now gutted.
Mel Traub, a spokesman for George Sarkisian, contradicted the statement, however, noting, "plans for the restaurant's remodeling are in the 'final stages,' and 'we're aiming at an opening around Mother's Day 1979.'"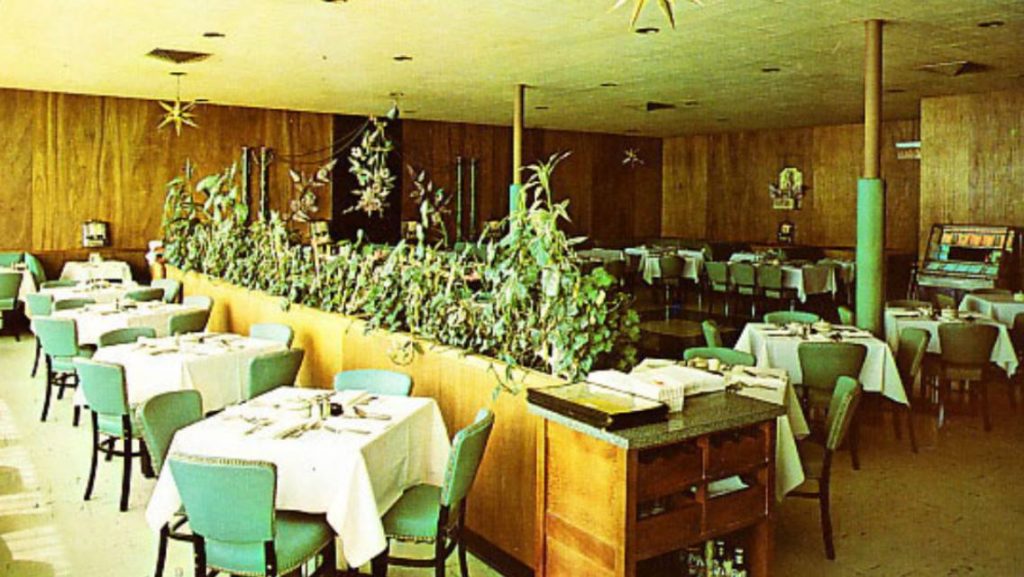 Unfortunately, shortly after Christmas in 1978, the bank would move to foreclose against Morgia, Inc., including Morgia's Restaurant and their properties in Sackets Harbor, including the Clam Shed, restaurant and motel damaged by fire earlier in the year.
Per the Times–
The foreclosure papers prepared by bank attorney Anderson Wise state that Morgia's still owes $208,036.82 on the $220,000 consolidated mortgage negotiated in April 1976.

That consolidation involved principal remaining on mortgages written in 1972 for $110,000 and in 1974 for $20,000, plus an additional borrowing of $67,410.96 at an annual interest rate of 8.5 per cent.
Morigia's had not made a payment since June 1st and was given until the end of October to pay $19,613.67 to cover payments, penalties, and school district property taxes.  As a result, Morgia's would never re-open, ending an era that spanned generations over 44 years, having become one of Watertown, if not Northern New York's, most popular restaurants and nightlife spots.
In the 1987 Watertown Daily Times retrospective piece, it was noted that the era when the restaurant began, and its role with debt, were much different–
"Gosh, it really was some spot when you think of it," Anthony C. Malara, former Watertown resident and now CBS Television Network executive, said wistfully.

"It was part of growing up in Watertown," said the network's senior vice president of distribution.

Today, his namesake, Cataldo Anthony (Tony) Morgia, financial consultant and senior vice president at Shearson Lehman Brothers, Inc., recalled stories of the early restaurant years told to him by his father, Silverio J. (Bim) Morgia, of 206 Cedar St.

The number of unpaid bills owed the store owners by their friends during the Great Depression era had grown so late the customers "couldn't look (the store owners) in the eye." The father and son gathered up all the unpaid bills and burned them in the furnace, Tony Morgia said, noting his father then observed, "We've got all our friends back.  It's time to get into a different business."
Maybe that was the secret ingredient to Morgia's Restaurant's success over the years and what made it so special.
While the restaurant is long gone and all but a memory, Morgia's Pasta, a family-run business, began in 1990 and continues to sell their pasta and sauces today and other Northern New York Specialties.  For more information, their Facebook page is here.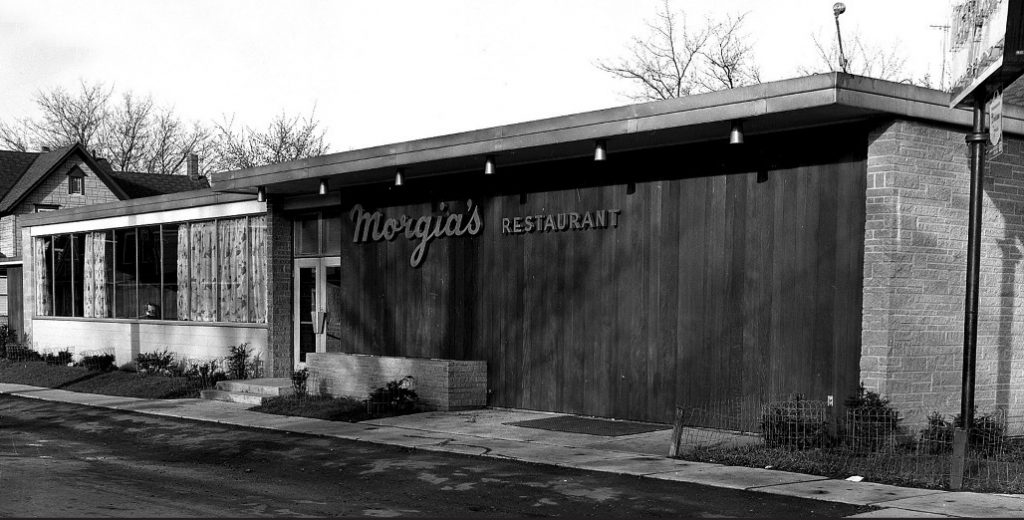 Interesting Tidbit
In the fall of 1956, after the fire destroyed the first Morgia's establishment, the Pla-Mor County League would feature the following teams vying for a bowling title: Morgia's Restaurant, Herb's Grill, Tufo's Restaurant, Canale's Restaurant, and Art's Jug.  Talk about an all-star lineup.  Unfortunately, Dante's, which opened the same year, apparently missed an invite!