Giovanni's: A Terrific Trattoria on LeRay Street
Giovanni's would first open in the late 1960s at 302 State St., where the Time Warp is presently, and since 1979, a fitting name when taking a trip down memory lane. The State Street location previously had been home to the National Restaurant and Sboro's in the 1940s, then the State Restaurant, which ran through the early 1960s, owned by the Tufo-Crescenzi Corporation until sometime in the mid-to-late 1960s when it would become Giovanni's.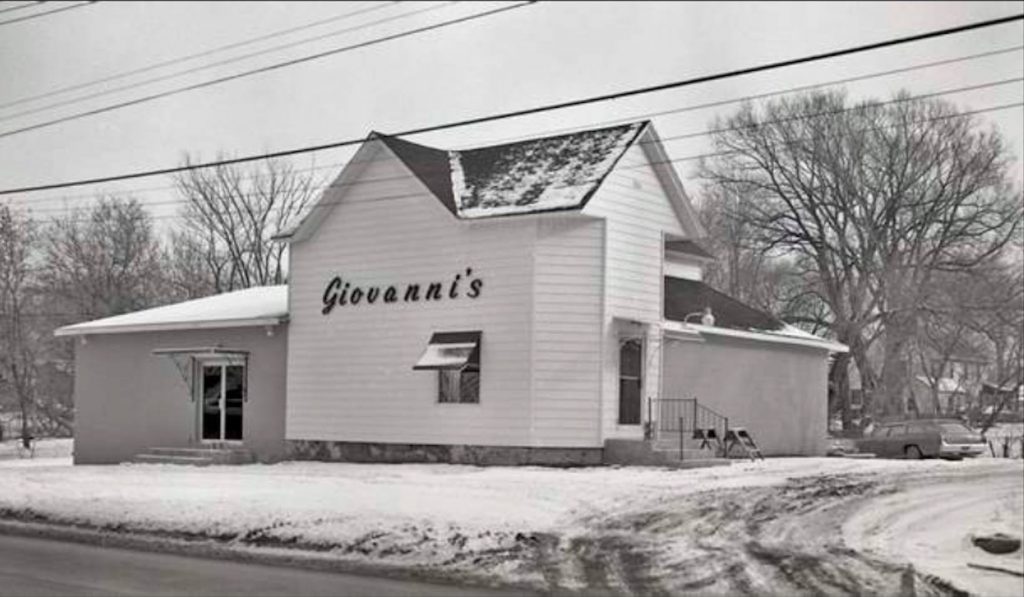 Giovanni's would continue to operate on State Street, closing for one week in February of 1974 to remodel, only to see its owners, husband, and wife Sam (Jr.) and Lillian (Morgia) Tufo, announce plans to build a new restaurant. Per the Watertown Daily Times–
A new restaurant in a one-story building to be constructed at 616 LeRay St. is planned by Sam and Lilian Tufo, 123 Cedar St., in partnership with Arthur and Agnes Zaremba, 204 Breen Ave.

The property, for years the business site of Hawk Trailer Sales, has been acquired by the two couples who will be partners in operation of the new restaurant. The project is in the preliminary stage, awaiting completion of the detailed engineering and construction drawings.

Mr. and Mrs. Tufo have owned and operated Giovanni's Restaurant, 302 State St., for the past eleven years and are offering that business for sale.

As planned now, the new restaurant at 616 LeRay St will have a bar room, dining room facilities to seat 100 and a 100-car parking lot. It will feature Italian food under a policy similar to Giovanni's. Mr. Tufo said plans call for opening of the new restaurant this fall.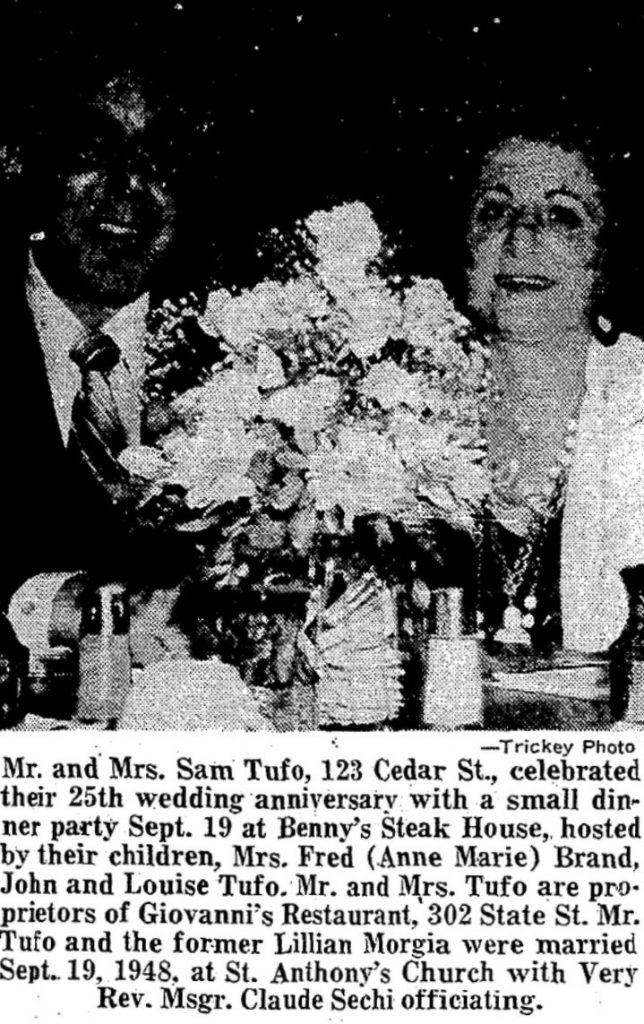 302 State Street would become known as "Little John's Tavern," managed by the Tufo's son John until it became The Time Warp.
In 1991, Dr. Lazaro's review of Giovanni's Ristorante in the Watertown Daily Times would give a rave review, noting it as a "Terrific 'Trattoria'"—
If delicious food weren't enough, Giovanni's is immaculate, from the glass doors at the entrance to the lighting fixtures to the table settings. Even the ceiling tiles shine.  The instant a table is vacated, the staff spruces up the surrounding rug with a hand sweeper. Dust, fingerprints and crumbs are nonexistent.

The bottom line is simple: The food is great, the atmosphere is family-oriented and the prices reflect good value.
A "Heart Healthy Pizza" contest was held amongst area eateries two years later. Giovanni's Ristorante took the "heart healthiest" category for having the lowest percentage of calories from fat and tied with Sgt. Pepperoni's New York Pizzeria for "most international," having the taste and appearance of "Old World" pizza. The same year, the restaurant was sold by Sam Tufo to son and daughter John Tufo and Anne Marie Brand.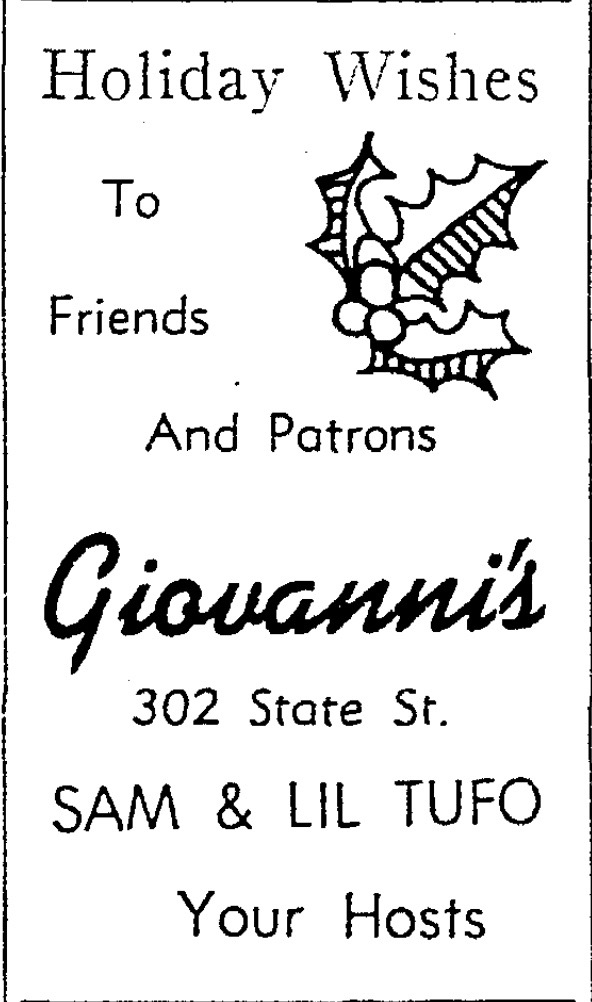 In December of 1996, Giovanni's announced its closure date after 22 years at 616 LeRay Street.  The Daily Times would report of the news—
Giovanni's Ristorante will close next month after 22 years at 616 LeRay St., but may find new life at another location, its owner said.

"It will not be the end of Giovanni's," said John P. Tufo, who owns the restaurant with sister Anne Marie Brand.  Giovanni's may merge with another financially troubled restaurant, moving to that restaurant's location, Mr. Tufo said.

Giovanni's has not been profitable for about a year, with revenue declining as more restaurants are built, Mr. Tufo said. "Every time a chain restaurant opens, business drops off."
The restaurant would close around January 5th of 1997, while both John and Anne would combine their menu with Pete's Restaurant on Breen Ave, where they went to work.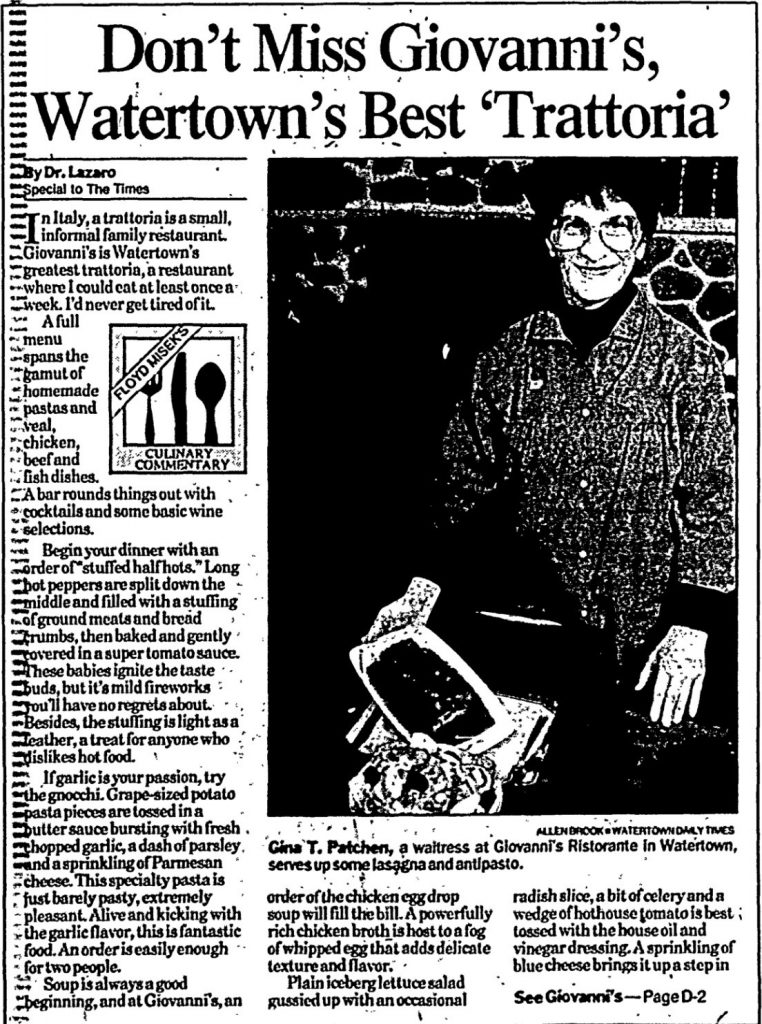 Giovanni's would be resurrected two years later by an employee of the Partridge Berry Inn, Dale A. Kirch, who had worked 15 years at his then-current employer. He would negotiate with the building's owner, Sam Tufo, to lease with an option to buy, but the restaurant never took off and closed a little over a year later in 2000.
Since Giovanni's permanent closure, the location has been home to The Edge Nightclub from 2001 – 2004, Stingers from 2004 until 2006, the Christian Supply Center from 2006 to 2007, LeRay Street Dairy Market from approximately 2011, and currently Full Circle Bar and Grill.
Interesting Tidbit
There are lots of restaurants named Giovanni's, but one in Fairborn, Ohio, was started years ago by Anthony (Tony) Spaziani, son of Jerry Spaziani and grandson of Gaetano (Guy) Spaziani, who started the local Spaziani bakery. Tony moved to Dayton from Watertown and uses the family recipe for their Italian bread. The Flats area is the epicenter for great Italian food, with Spaziani's Bakery and Morgia's Restaurant having been located there.