Cape Vincent's Hotel Carleton, Nationally Known Hotel Resort In Thousand Islands
Completed in 1901, Hotel Carleton in Cape Vincent became a nationally known landmark and attracted some notable and wealthy visitors over its many years.  Those who came often did so for the area's reputation as one of the best bass fishing locations on the St. Lawrence River, if not the country.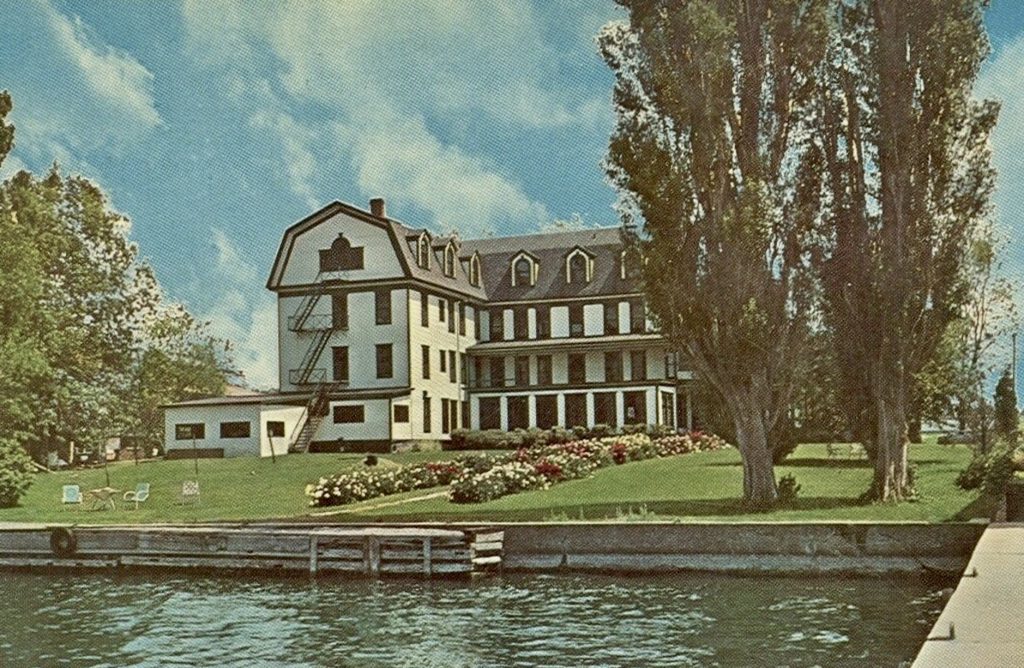 Though not a large hotel, at its peak Hotel Carleton had a capacity of 35 rooms and was regularly had no vacancies as it operated typically between mid-June to Mid-September, though in later years the season began around Memorial Day weekend.  
The Watertown Daily Times reported of Hotel Carleton's opening on May 6, 1901—
A fine new hostelry for the Cape — Thoroughly equipped in modern style — a long-felt need supplied.

Cape Vincent, May 6 — The new Hotel Carleton, which was constructed during the past winter by J. A. Scobell, for Charles E. Reed, was opened May 2.

It is beautifully situated on the bank of the St. Lawrence River, within two minutes' walk from the railroad station and steamboat wharf, and about two miles from the best bass fishing grounds on the river.  It is four stories high, 104 feet front, 75 feet deep and has 415 feet of verandas.  There is 180 feet of deck with 4 feet of water, which is deep enough to admit of the landing of any yacht or light draft boat.

The building is heated by steam, wired for electricity, and equipped with electric bells and return call, local and long-distance telephone, connected by telephone with boat, livery and has sanitary plumbing throughout.  The first floor consists of parlor, reading-room, office, sample room, dining room and culinary department.  The dining room faces the river and has a seating capacity of about 100.

The second and third floors consist of 45 light, airy sleeping rooms, several of which have private bathrooms.  These rooms are hard-finished and tinted, and contain metal beds, which are supplied with the finest of springs and hair-mattresses.

The people of Cape Vincent are very grateful to Mr. Reed, and appreciate his enterprise in thus adding this beautiful structure to their town.

It will be a boon to the traveling public.  Mr. Reed has been in the hotel business for several years, and is deservedly popular with the commercial men who frequent this town, also with families and sportsmen who have been in the habit of visiting this place during the summer.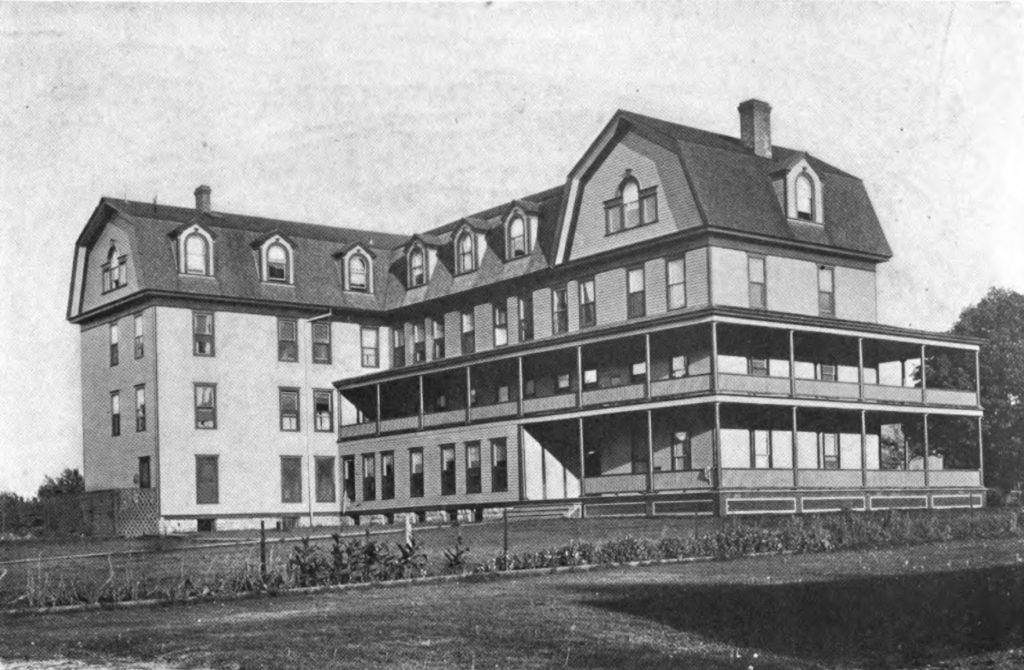 Hotel Carleton proved to be popular and frequently filled to capacity, particularly over the holidays.  Many would-be-guests having to find accommodations elsewhere. while some found them in local residences and took their meals at the hotel.  Such frequency lead to discussions of expanding Hotel Carleton, such as those reported on Oct. 9, 1916 in The Times—
Cape Vincent, Oct. 9 — There is some talk of building an addition to Hotel Carleton, in the form of a wing to consist of about 20 more rooms with bath.  Manager Keough, who just completed his first year as manager of the hotel, reports that he has had a very successful season and that nearly every night during the season he had to turn away a large number of guests because of lack of rooms.  If the addition is to be built it will probably be started early in the spring so as to be ready when the fishing season opens.  
Keough later purchased the Hotel Monticello and its furnishing in Alexandria Bay in 1936.  The hotel was then put under the management of his son, Forrest, who had extensive experience in operations.  
Hotel Carleton had its fair share of well-known individuals staying.  In July of 1933, famed WWI Ace Eddie Rickenbacker made his first trip to Cape Vincent by way of Watertown for fishing and stayed at the hotel.  Rickenbacker was the United States' most successful fighter ace during the war with 26 aerial victories and received the most awards for valor by an American including the Medal of Honor.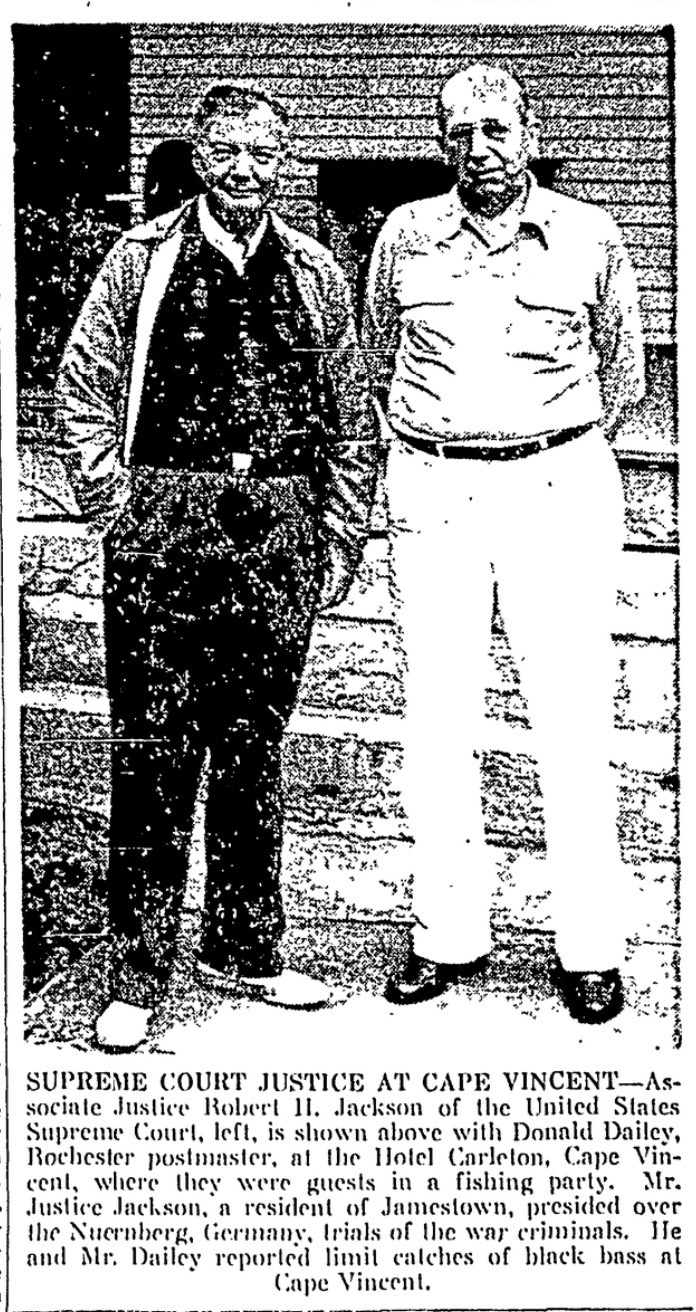 Other notable guests over the years include novelist Harold MacGrath; former U.S. Secretary of Commerce and publisher of the Houston, Tex. Chronical Jesse H. Jones; Industrialist Allen P. Kirby; Edward J. Noble and former Sen. Homer E. Capehart of Indiana.  Mr. Jones was said to have been one of Hotel Carleton's most frequented guests, his first visit occurring in 1926.  It was 15 years before he came again, but had been a regular up until his death in 1958.
In August of 1953, ownership of Hotel Carleton changed hands.  As reported in The Times–
Oscar L. Montonna, Cape Vincent, has acquired full ownership of the Hotel Carleton, Cape Vincent, through the purchase of the interest of his partner, Evan L. May, formerly of Syracuse.

Mr. Montonna assumed sole possession of the hotel, nationally known Thousand Islands resort spot, on Monday.  He and Mr. May had been in partnership since January, 1952, when they purchased the hotel from J. C. Schlauder.  

Mr. Schlauder, a former resident of Binghamton, owned and operated the hotel for nine years, having acquired it in 1943 from the Citizens Bank of Cape Vincent.  Previously it was the property of Andrew F. Keough, widely known hotel operator.  

Mr. Montonna, the new owner, is a native of Cape Vincent.  From 1947 to 1952 he served as assistant manager of the Hotel Carleton when it was under Mr. Schlauder's ownership.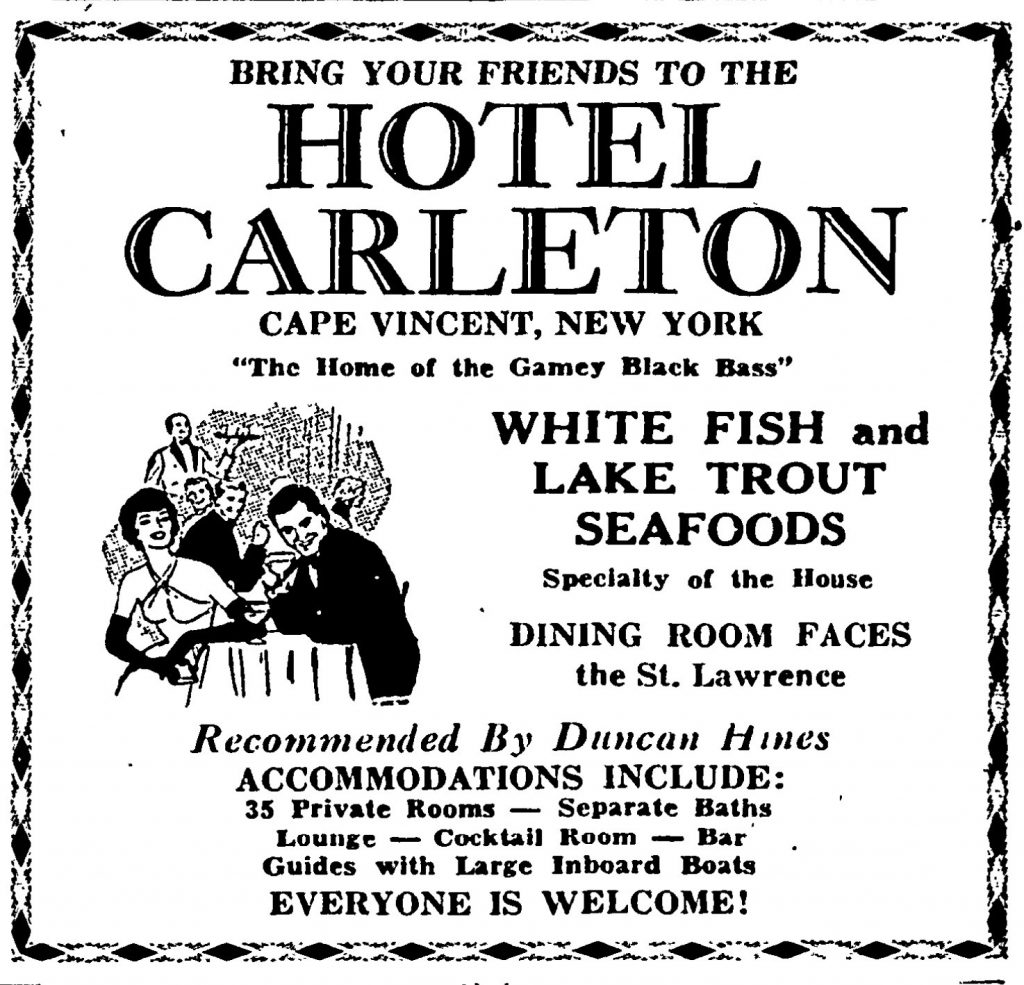 Prior to his assistant manager role, Mr. Montonna worked for 23 years in the federal fish and welfare services departments and was former superintendent of the Cape Vincent fish hatchery from 1942 until his retirement in 1947.  
Mr. and Mrs. Graham M. Stone of Cape Vincent purchased Hotel Carleton from The Montonna's in 1962.  The purchased necessitated Mr. Stone's resignation as mayor of Cape Vincent due to a State Liquor Authority regulation with issuance of his hotel liquor license.  
The ownership lasted a short period before returning to the Montonna's who sold it in 1966 to a Watertown corporation, Futures of Watertown, Inc., headed by five local men including Jack Klein, head of Klein Motors, Inc., Kenneth Steblen, Insurance Agency president, John Russell, manager of Hotel Woodruff; Ronald King, CPA, and Attorney Richard T. Kinnie.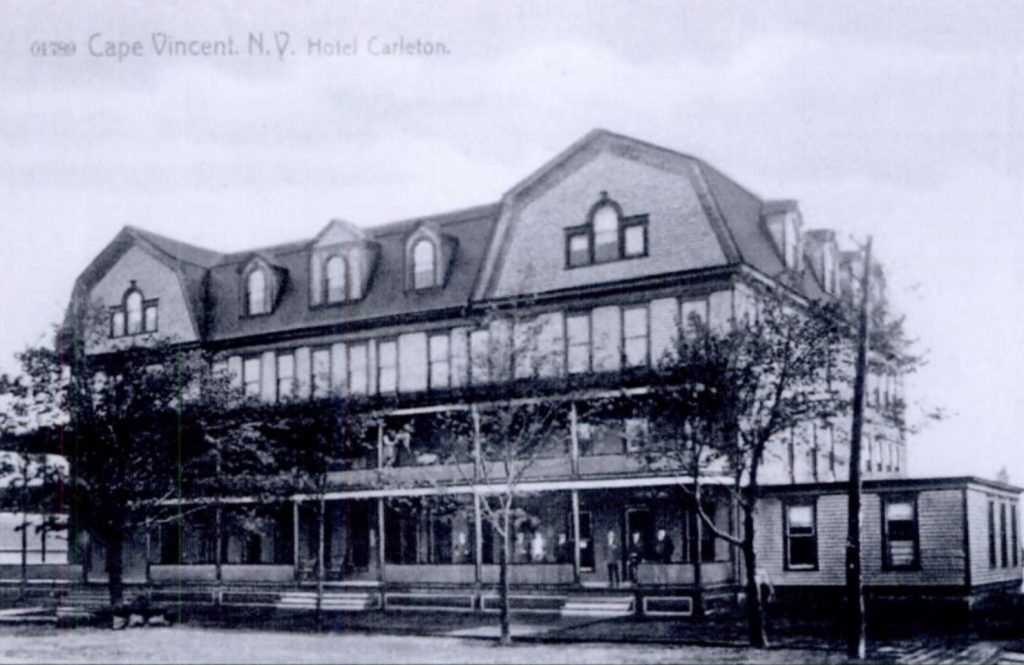 On July 24, 1968, The Times reported of the impending end of an era with the headline: 
Carleton Hotel, Cape Landmark Once Host To Rich, Faces Sale
The old Carleton hotel at Cape Vincent, which has hosted the rich and famous in its 68-year career, is soon to become another victim of the changing times.

Contents of the hotel are to be auctioned at 9:30 Saturday morning, and the four-story wooden frame structure itself will be offered for demolition.  The property itself will be retained by the Watertown corporation that has held it since May, 1966.

A director of the Futures of Watertown corporation, John N. Russell of Watertown, this morning described the Carleton as a "big obsolete property, which was losing money."  

He cited rising labor costs and a changing tourist market, coupled with an eight-week operating season, as the assassins of the hotel operation.  

Unlike the resort villages of Clayton and Alexandria Bay, Cape Vincent was different.  Instead of being noted for boat tours, night club entertainment and an almost carnival-like atmosphere, Cape Vincent played host to hard-working bass fisherman.  The Carelton was the Mecca where they gathered each season.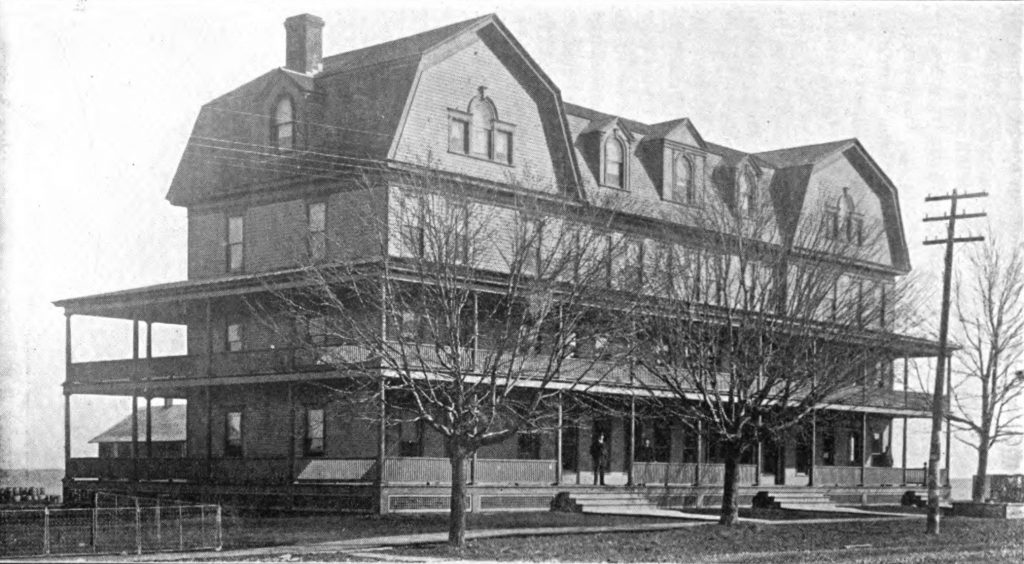 A large crowd between 700 – 1,000 attended the auction with one of the items sold being the large stuffed fish that adorned the hotel's walls.  Most bought at least one item, whether it was furniture, linens, etc., just to say they had a relic from the landmark.  
The Hotel Carleton itself was sold for $1,000 to John Burns of Watertown with an agreement that he would have the building razed and ground leveled by September.