The Central Park Hotel Becomes St. Lawrence Hotel, Then Hotel Lotus
Hotel Lotus originally opened under the management of W. G. Williams of Watertown in mid-June of 1884 as the Central Park Hotel.  Like the Thousand Island and Westminster Parks before it, the Central Park, later renamed St. Lawrence Park, was established as a community with a large hotel and cottages, many having been leased and/or owned by Watertown residents.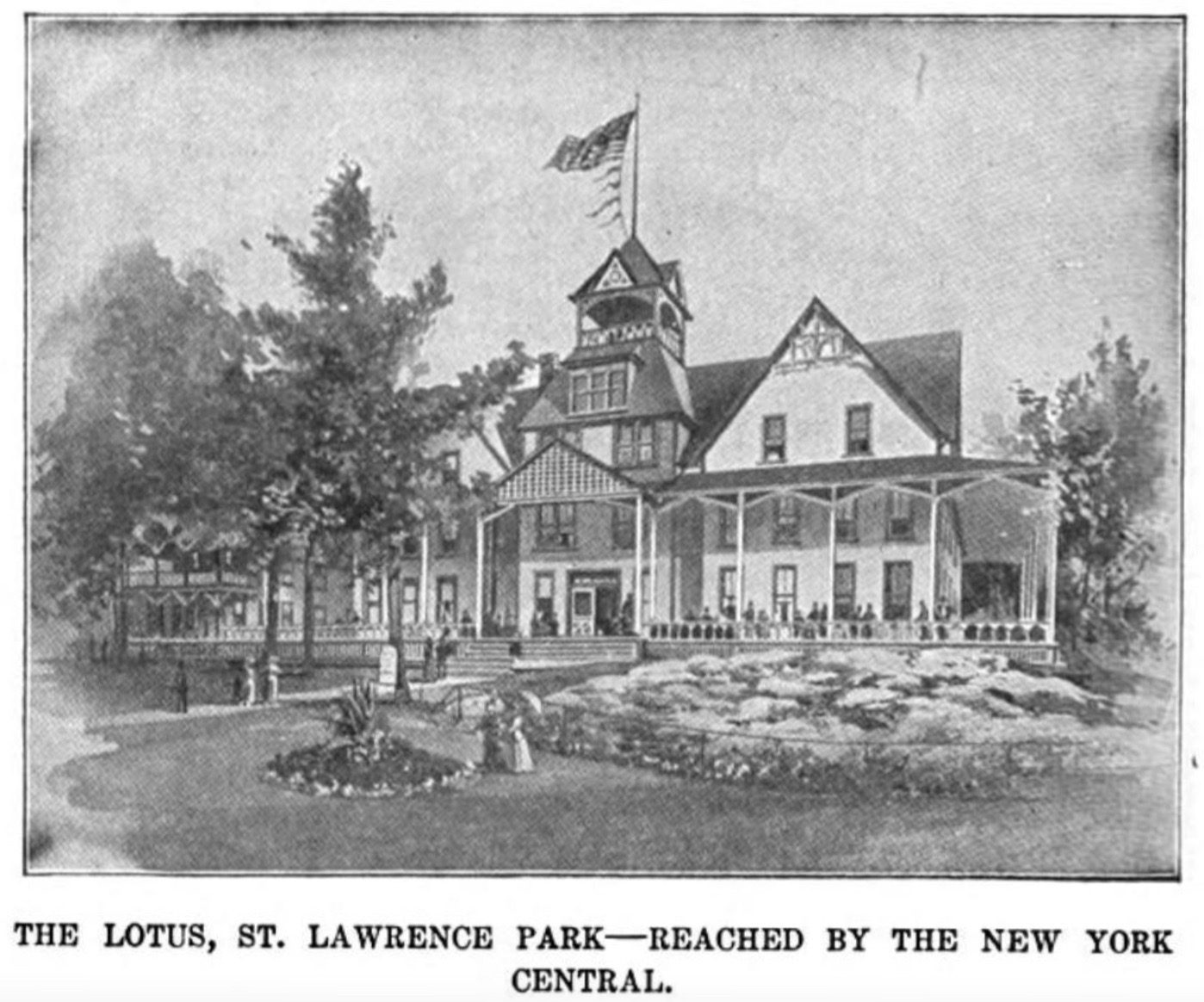 Though it was smaller than other hotel/resorts in the Thousand Islands region, the Central Park Hotel proved to be a popular destination. In 1887 the hotel's business had doubled from the prior season and remained open until October, often having to turn customers away with no vacancies. 
The Watertown Daily Times reported in late August of that year on the Central Park Hotel potentially being replaced—
An informal meeting of the stockholders will be held at Central Park today, principally for the purpose of deciding upon the sale and rental of lots, but the erection of a new hotel before another season will be discussed.  This season at the park will compel some action in this respect.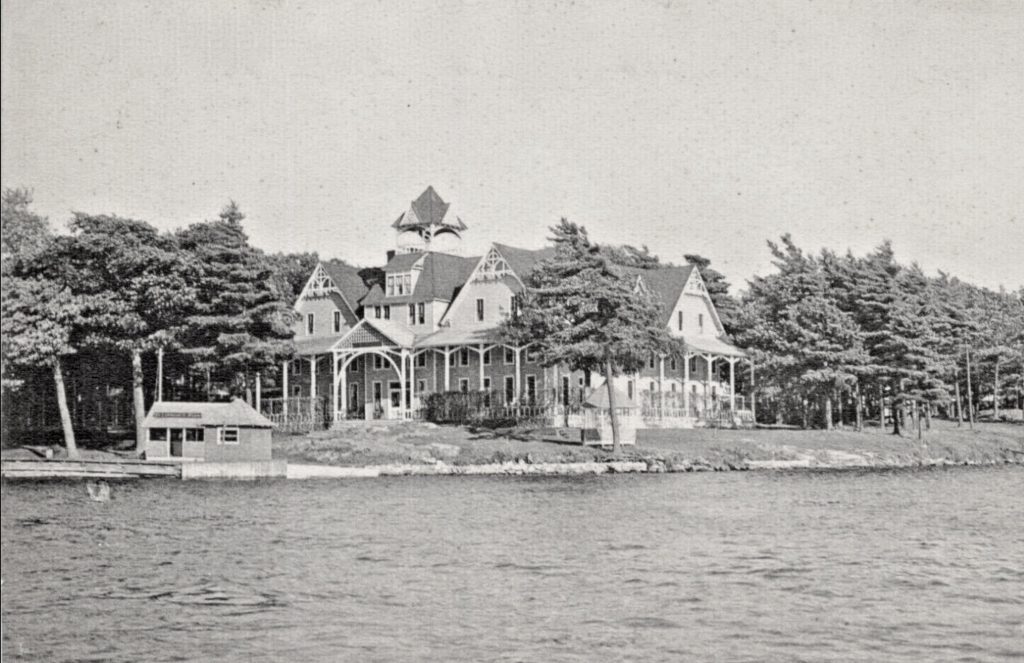 Though it wasn't clarified in The Times as to whether an entirely new hotel was built or it was merely expanded upon, in 1889 the "new" Central Park Hotel opened with an article detailing its offerings and making it appear as though it was an entirely new structure—
As its successor, the new Central Park Hotel is a handsome wooden structure, with rooms pleasantly arranged and fitted throughout with all the latest conveniences and improvements, there is every reason to believe that it will have a patronage commensurate with the importance of its location and the superiority of its advantages.

The hotel will accommodate 250 guests, and as reduced rates are offered for June and September, it is safe to say that the reason will be long and successful.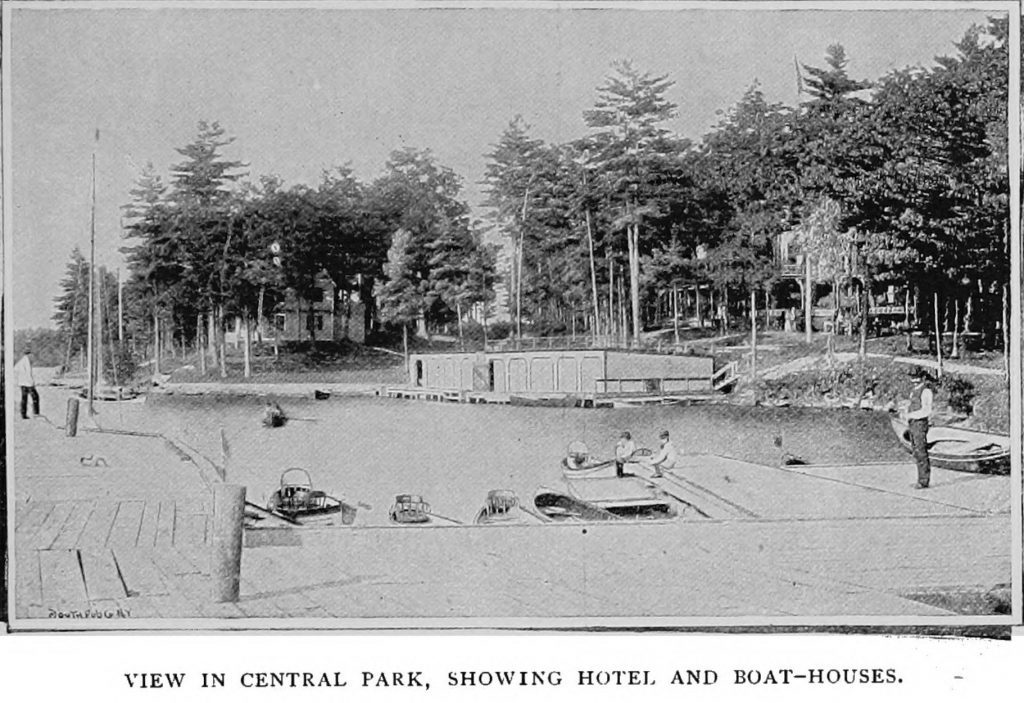 Popular with the Watertown crowd, Central Park and its hotel drew number of prominent  citizens that summer.  One particular day drew the likes of Hon. Roswell P. Flower and family, including wife Sara Morse Woodruff Flower, Miss Emma Flower, Miss Kate Flower, Mrs. Silas L. George, Mrs. (Imogene) William P. Herring of Herring Mansion, Miss Anna Ring, Miss Carrie Anderson, Miss Pauline Herring (married later as Dillenback), Samuel A. Upham, J. B. Taylor and Frederick W. Herring.  
In 1896, former Watertown Mayor Hiram Inglehart managed to lease a good number of the area hotels.  Included were the Columbian Hotel, Westminster Park Hotel, Central Park Hotel and the Thousand Islands House which Inglehart supervised the management of each for the upcoming season.  
In 1899, the Central Park was purchased by Byron B. Taggart of Watertown at a foreclosure sale for $7,700.  The property included the Central Park Hotel and about 40 acres of land.  Taggart made some improvements including new furnishings, paint and electricity added to the interior rooms from a plant owned by Andrew A. Leyare in Alexandria Bay.  The Central Park Hotel, when opened for the season that year, was then known as the St. Lawrence Park Hotel.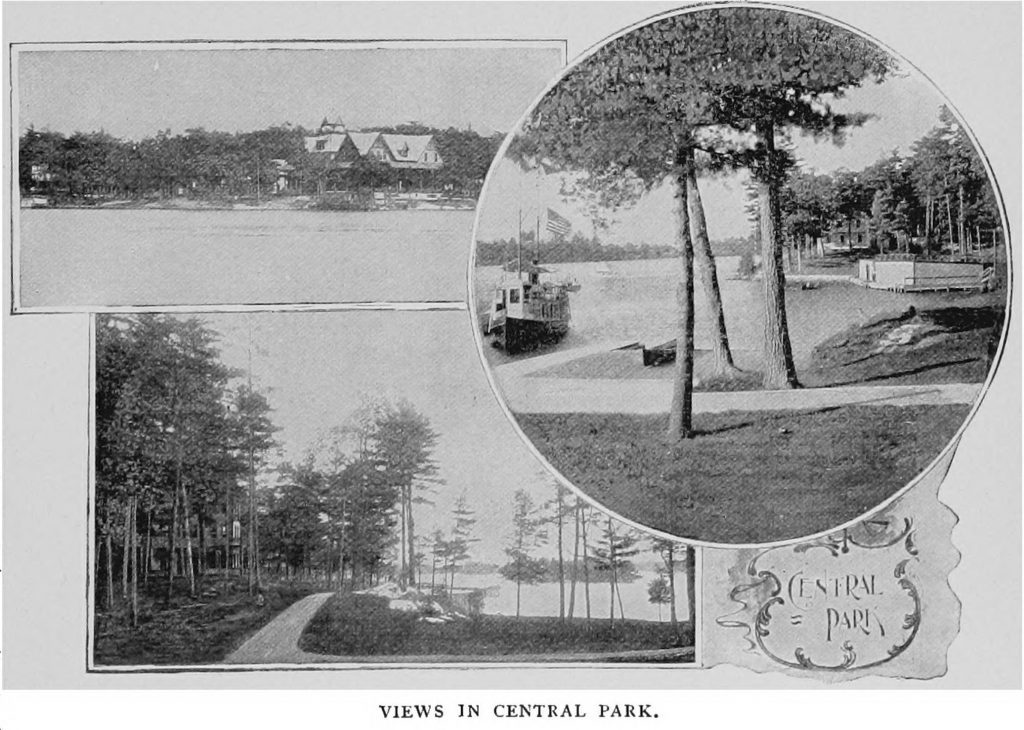 As the 1899 season drew to a close, an article in the August 30th Times detailed further expansion—
Owing to the increasing popularity of the Thousand Islands and the efficient management Proprietor Wylie, and the Park directors, see the necessity of enlarged accommodations.  With this in view, they have made arrangements for extensive improvements.

An addition will be built on the north end of the hotel this season which will contain 50 rooms.  The verandas will be continued around the house and will include an immense dancing pavilion.  The parlor, office and dining room will be enlarged.
When the entirely built-over hotel opened for the 1900 season, it was officially known as Hotel Lotus.  Despite the name change, it remained as popular as ever.  By 1903, Hotel Lotus was enjoying its most successful year ever with over 150 guests and advanced bookings keeping it full until early September.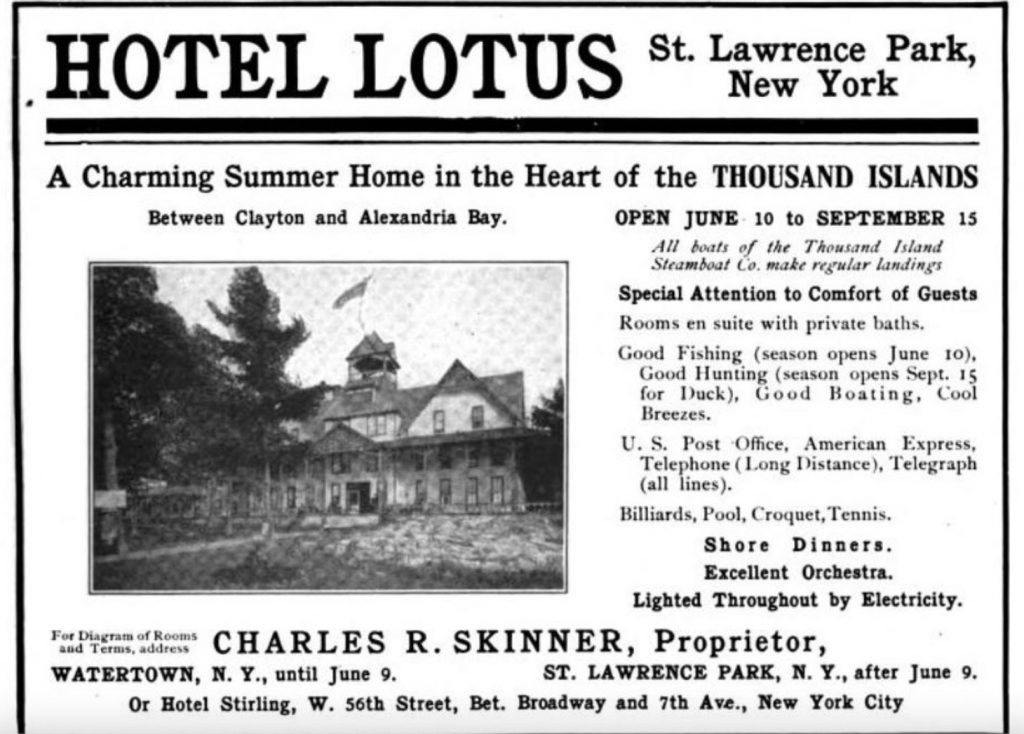 1906 saw similar success under the management of Hon. Congressman Charles R. Skinner of Watertown.  Hotel Lotus had many new improvements including a new dockhouse, ticket office and covered waiting room and an automobile garage to accommodate six machines – a feature that, with the growing popularity of automobiles, became a high demand necessitating future plans to build additional stalls.  
Mrs. (Abbie) Charles H. Remington purchased Hotel Lotus in March of 1917 for $7,050 in an effort to prevent any undesirable persons from obtaining it that may lesson surrounding area property values.  Mrs. Remington owned a summer home at St. Lawrence Park and several of its cottages, but did not have any definitive plans other than to lease out the property as it had been in the past though the hotel had reportedly been closed for several seasons due to a fire and rumors floated that a new hotel was being considered to replace it.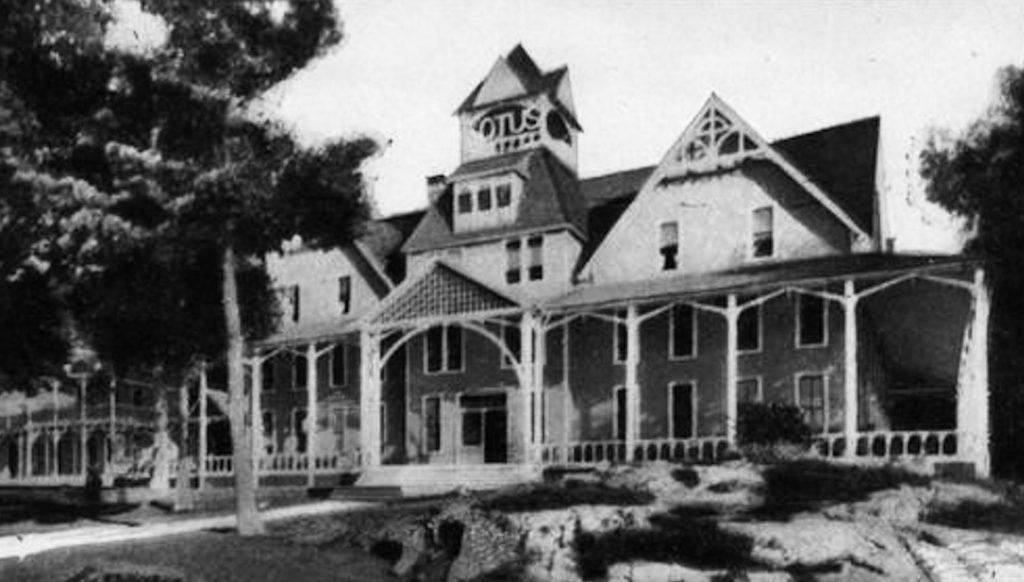 In July of 1917, it was announced all the furniture and contents of Hotel Lotus were to be sold at a public auction over the course of three days later that month.  Shortly after the announcement, it was reported that Hotel Lotus was to be torn down to make room for a new hotel.  The plans would change, but ultimately the hotel's fate wouldn't though its razing was delayed for nearly two years as the last remains of it were torn down in April of 1919.  
The Lotus Hotel, though one of the smaller hotel resorts in the Thousand Islands region, was one of its most popular for many years.  It would join the likes of The Frontenac on Round Island, Columbian at Thousand Island Park and the Pullman House at (little) Pullman Island to ultimately succumb to fire within the last decade.