Cornelius T. Sacket, Son of Famous Gen. Delos B. Sacket, Builds Historic Sacket House On St. Lawrence River In 1904
Built on the shores of the St. Lawrence River in Cape Vincent, the Sacket House, not to be confused with General Delos B. Sacket's Cape Vincent mansion further inland, was designed by his son Cornelius who had studied architecture at one point. Situated next to the town docks and just west of the Cape Vincent Fisheries Station, the Sacket House was added to the National Registry of Historic Places in 1985, along with a number of other buildings in the village as well as his father's house and the nearby Tibbetts Point Lighthouse.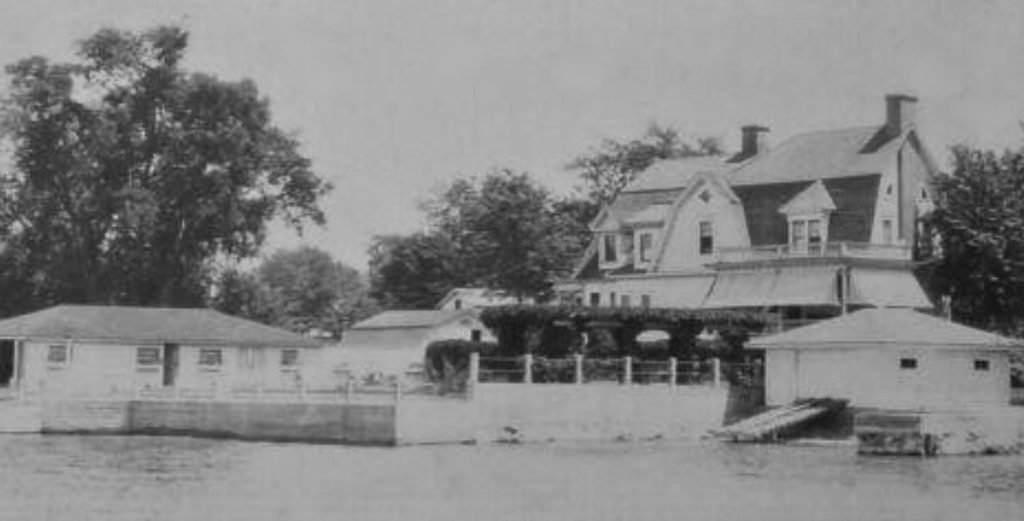 Born in Philadelphia, Pennsylvania, in 1870, Cornelius was educated in Washington, D.C., Chicago, Ill., and later the prestigious Tivoli-on-the-Hudson military school, having come from one of the most prominent families of Cape Vincent. His grandfather, Dr. Gideon Shepard Sacket, settled in Cape Vincent in 1812 and fought in the Battle of Sackets Harbor (for those wondering, the name Sackets Harbor came from Augustus Sacket; I'm unaware of any familial connection.)
Cornelius's father, Delos, obtained the ranks of Colonel, Brigadier General, BVT Major General (nominated by President Andrew Johnson in 1867), and the United States Army Inspector General. He attended West Point, though he wasn't in the same graduating class as Gen. William Tecumseh Sherman as is often been reported in local newspapers. During the Civil War, Delos Sacket served as an officer under Gen. McClellan after acting as Inspector General for the Department of Washington. Two years after the birth of Cornelius, Gen. Sacket had his large mansion built on James Street in Cape Vincent in 1872, where it's said he often entertained Civil War generals.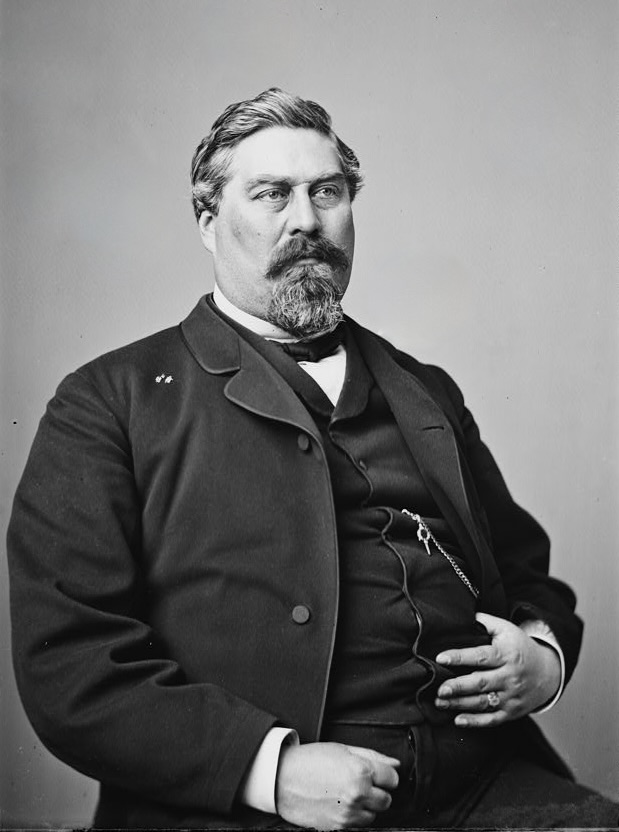 Contrary to his father's stellar and much-publicized military career, there was no evidence that Cornelius Sacket had served in the military very long. In fact, very little information or photos could be found regarding him until he came to Cape Vincent around 1901 to retire at the age of 31. That year, he married his wife, Miss Josephine Saunders, on January 17, 1901. Miss Saunders was a Cape Vincent High School graduate and the daughter of Captain Joseph and Harriet Saunders of the same village.
Like his father, and his siblings, at least those who made it past infancy, he didn't live an exceedingly long life, passing away at the age of 59 in 1929 (most of his siblings died between the ages of 58-63, while his father passed away at the age of 62.) A couple of years later, the land that the Sacket House was built was purchased from E. K. Burnham, an early settler of Cape Vincent.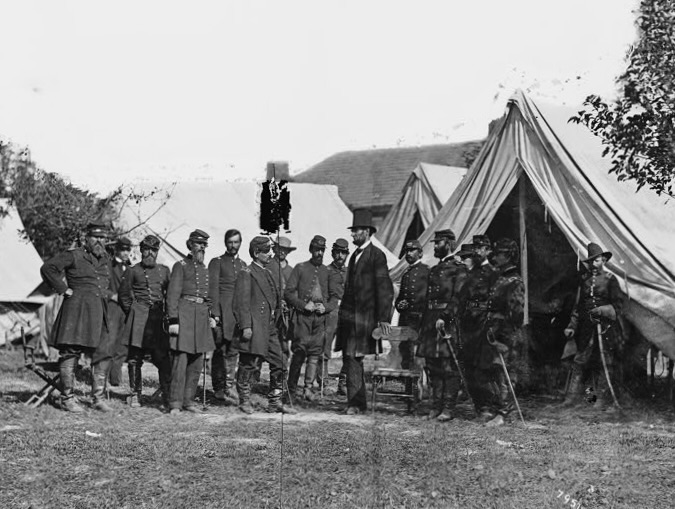 The photo above is from the war's main eastern theater, the Battle of Antietam, September-October 1862. 1. Col. Delos B. Sacket, I.G. 2. Capt. George Monteith. 3. Lt. Col. Nelson B. Sweitzer. 4. Gen. George W. Morell. 5. Col. Alexander S. Webb, Chief of Staff, 5th Corps. 6. Gen. George B. McClellan. 7. Scout Adams. 8. Dr. Jonathan Letterman, Army Medical Director. 9. Unknown. 10. President Lincoln. 11. Gen. Henry J. Hunt. 12. Gen. Fitz-John Porter. 13. Unknown. 14. Col. Frederick T. Locke, A.A.G. 15. Gen. Andrew A. Humphreys. 16. Capt. George Armstrong Custer.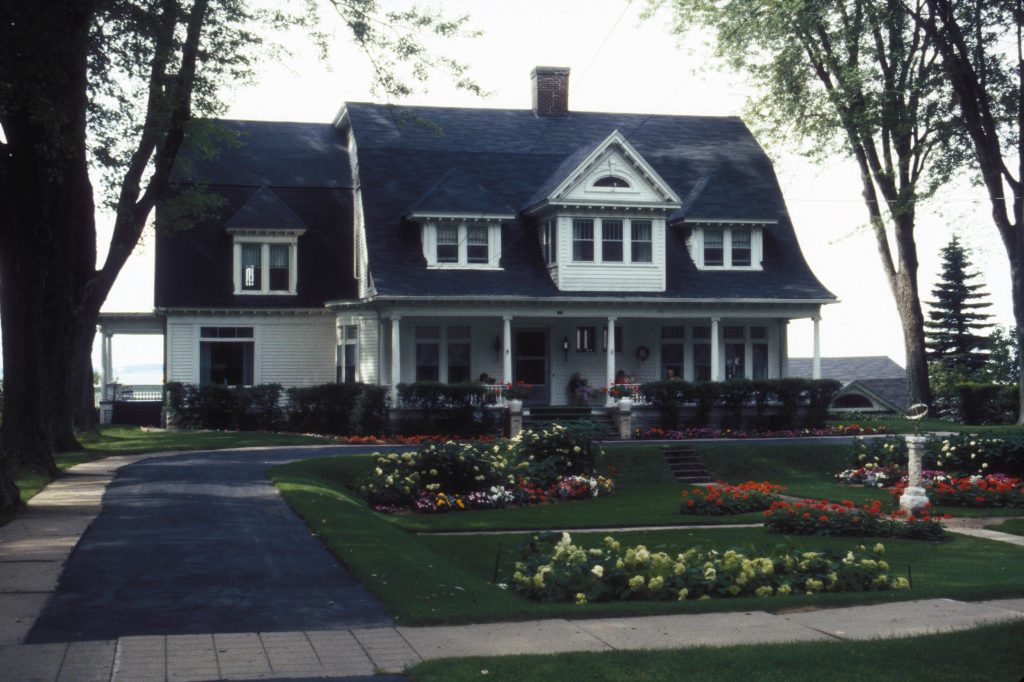 The Sacket House
Described as having Dutch Colonial Revival architecture, the Sacket House has seven bedrooms and 2.5 baths with nearly 5,000 square feet. Cornelius was assisted by the former Watertown mayor and architect of many of that city's buildings, including City Hall, David D. Kieff. The two-story structure was built near the middle of a large lot spanning between Broadway and the St. Lawrence River and sits far back from the street. The grounds were made into a sunken garden with a rolling lawn and flower beds.
A boat house accompanies the property. The Cape Vincent Eagle noted in his obituary as having a small museum of many items Cornelius Sacket collected throughout his life, including Indian relics, stuffed birds and animals, and other curious. The Eagle also noted of his collections–
Mr. Sacket spent most of his life collecting books and rare curios from all over the world. He had a fine library of some 16,000 volumes. Many old books of considerable value came down to him from past generations of his family and his library ranged from rare historical volumes dating back many years to modern fiction. It was said that he seldom refused to buy a book offered to him for sale.

He was also a collector of firearms and weapons of various periods and the ceiling in his spacious library is studded with old guns, swords, daggers and duelling pistols acquired from all parts of the world.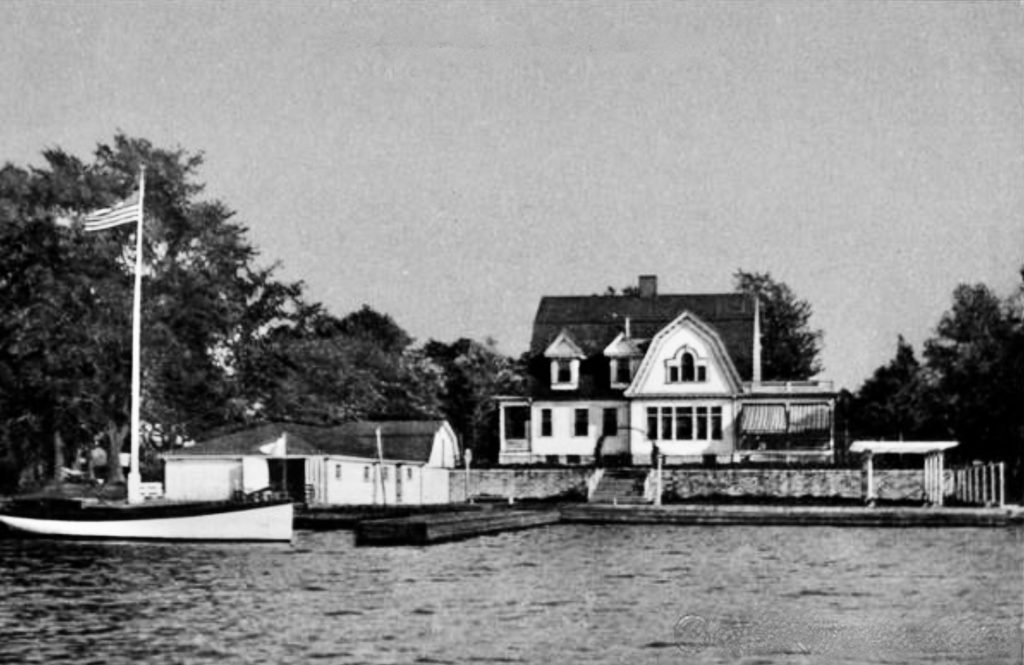 Aside from the Sacket House, Cornelius, along with his brother older brother Francis, who died nearly three years prior in Rochester, N.Y., owned an interest in real estate located in New York City's Fourth Avenue and 19th Street, Irving Avenue, and on Broadway which was estimated to put his estate between $300,000 and $500,000.
Cornelius Sacket developed an acute heart condition in the last two months of his life, succumbing on October 5, 1929. He left his estate to his wife, and his obituary described him as "of a quiet, unassuming nature–not given to any amount of she in the many acts he performed for the interest of his fellow man."  It went on to list his many involvements–
Mr. Sacket was a prominent Mason, belonging to Cape Vincent Lodge, No. 293, F. & A. M., Cape Vincent Chapter, No. 96, R. A. M., Watertown Commandery, No. 11, K. T. Central Consistory, at Syracuse, and Media Temple, of Watertown. He was also connected with the Sons of Veterans and the Cape Vincent fire department.
Cornelius Sacket was survived by his wife; a sister, Mrs. Eliza Ross deValin of Cape Vincent, residing in the old homestead; and a niece, Mrs. Frances (T. D.) Haigh, of New York City. After Cornelius's widow's death in 1934, the property was left to his niece Frances, who then sold it to Mr. and Mrs. Fay S. & Grace M. Eames Dean of Montclair, N. J. Fay was once a foreign buyer for the F. W. Woolworth company.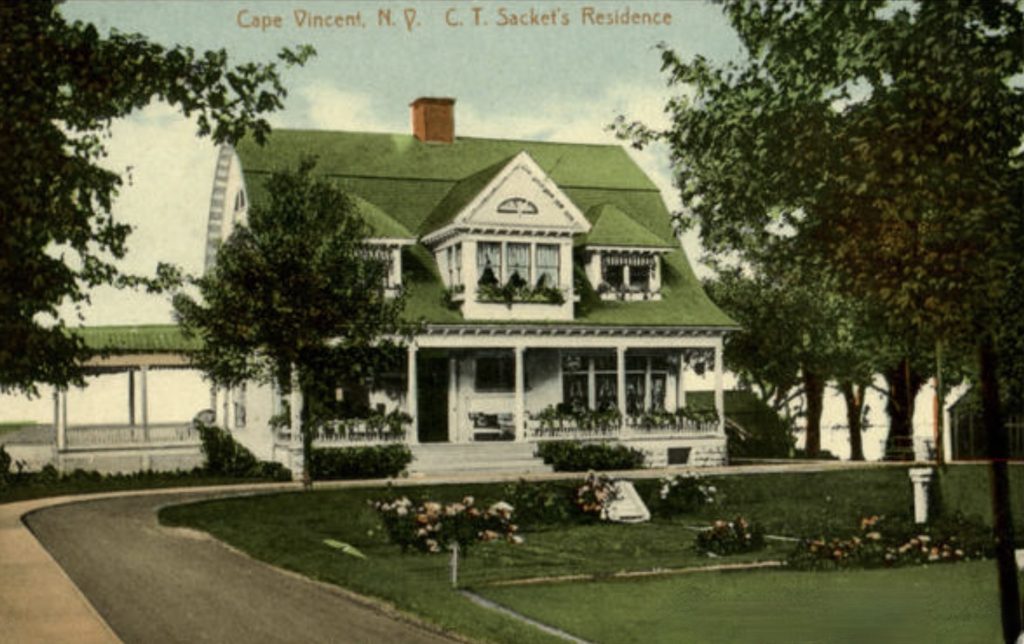 The Deans both passed in the mid-1940s, and the property went to Mrs. Alice Bennett Eames of Watertown, Mrs. Dean's sister-in-law. The property would then be purchased by Leon T. Clickner of Watertown, president of the Watertown Mattress Company, which once operated at one of the oldest paper mills in that city and helped get the Sacket house added to the National Registry of Historic Places in 1985.
The Watertown Daily Times wrote of the purchase on Dec. 21, 1954–
Leon T. Clickner, 202 Park Drive, has purchased a two-story palatial summer home in Cape Vincent from Mrs. Alice B. Eames, 321 Winslow Street. The residence, for years a showplace fronting on the St. Lawrence River, was built by the late Cornelius T. Sacket, a member of the prominent Cape Vincent family.

Mr. Clickner, president of the Watertown Mattress company and executive vice president of Faichney Instrument corporation, will take immediate possession of the property. He plans to spend his summer months there. 
Both Leon and his wife, Irene, passed away months apart in 1998. The property last sold in 2017.