Frank Augsbury, Who Renovated Madison Barracks, Brings Northern New York WaterFun Village
The first attempt at building WaterFun Village at Collins Landing near the foot of the 1000 Islands Bridge would come in 1979 when Interstate Recreation Co., Hilton Head, South Carolina, in conjunction with 20 limited partners, sought to lease property from the Thousand Islands Bridge Authority (TIBA) to build the theme park upon.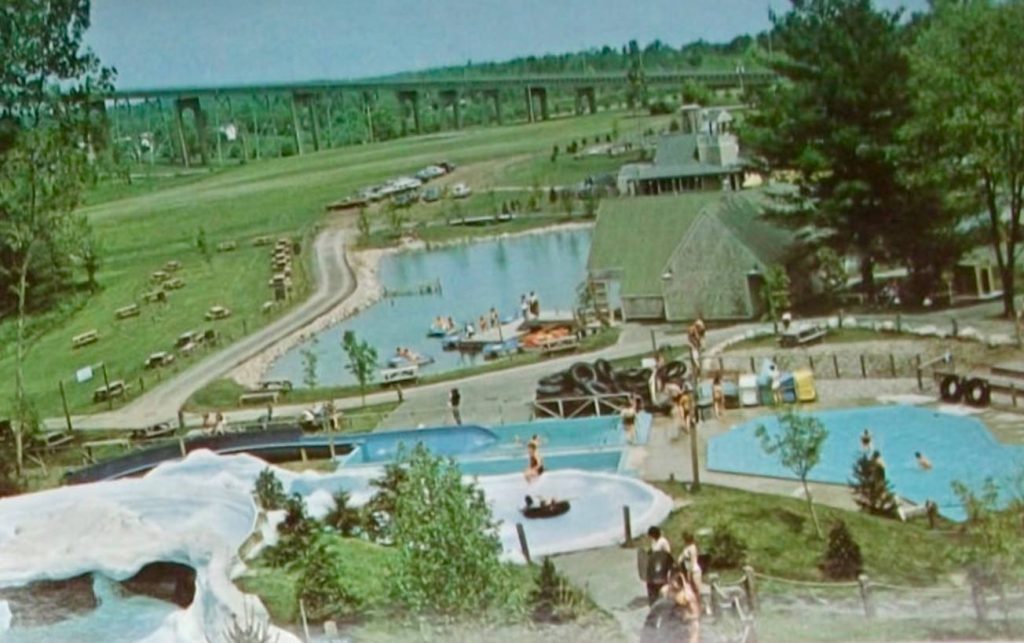 At the time, loan guarantees could not be secured, and the project hit the skids until a year later.  In 1980, the Thousand Islands Bridge Authority approved a financing plan to make Frank A. Augsbury, Jr., owner of the yet-to-be-built theme park.  Augsbury, owner of separate Interstate Recreation Co. of New York, would purchase nearly 30 acres from the TIBA and contract with another Hilton Head entity, Sea Pines Associates, to design, develop and manage the new park with plans to open the following Memorial Day (the Bernier, Peck and Gozalkowski firm of Watertown would ultimately be the architect for the theme park.)
Augsbury, an Ogdensburg native and businessman, had a number of ventures in progress, including the $5 million plan to renovate Madison Barracks in Sackets Harbor for use as a community, and believed tourism in Northern New York was an untapped market.  In an interview with the Watertown Daily Times in October of 1980, Mr. Augsbury would remark—
"I've been very interested in tourism, ever since I was president of the New York State Travel Council," Mr. Augsbury said, noting that all three of his firm's current operations are tourist-oriented.  

Mr. Augsbury termed tourism a "vital industry" with "tremendous potential."  

"It's a natural for this area," he said, "We simply have to let the people of New York City discover us."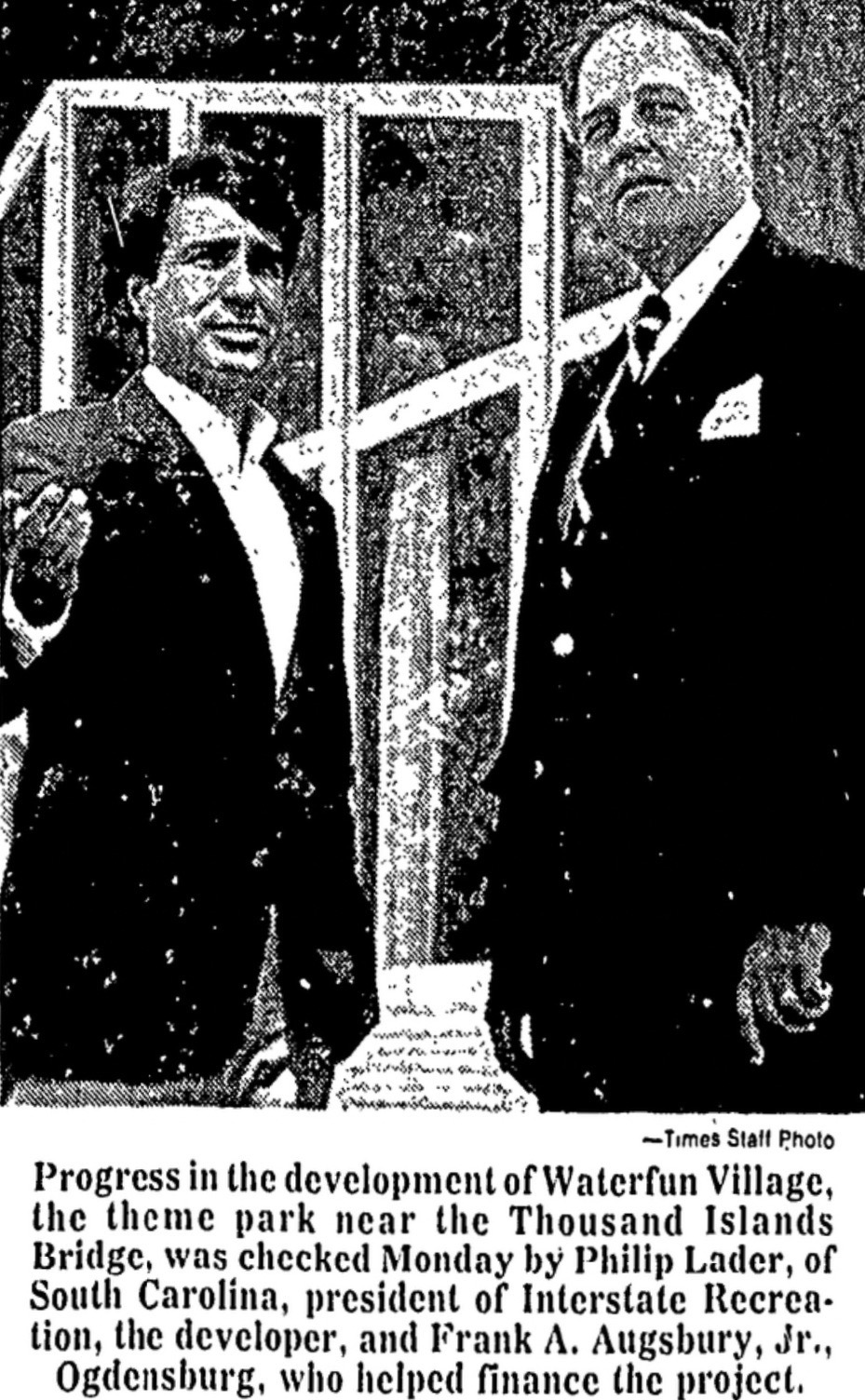 Officially called the 1000 Islands WaterFun Village, the nearly $4 million project would break ground on Sunday, October 19, 1980.  A soggy spring in 1981 would cause several delays in opening, June 22 and July 4th, both target dates that were missed before finally opening Friday, July 10th.  Forty people were waiting at the gates at 10 a.m.  The Times detailed the three-tiered admission prices as—
A $2 general admission ticket holder may enter the village, its cinema, Frontenac Odeum (where a multimedia presentation on the Thousand Islands is offered continuously), the children's playground called Sackets Boatyard and Box Maxwell's Great American High Dive Show.

The $5 active plan ticket includes those attractions and either 18 holes of miniature golf or admission to the Splashy Hollow area, site of the park's water slide, inner tube ride and water playground.

The $9 special ticket includes all features of general admission, 27 holes of miniature golf, entrance to Splashy Hollow and a rise on either the Tugs O'War motorized bumper boats or the Troll Patrol Boats, small motorized craft.
The park would draw nearly 4,000 people on its first weekend. 1,250 passed through the gates on Friday, but Sunday appeared to be the busiest day with more out-of-towners as manager Robert Bastian declared it a success, as did its patrons, two of which said they planned to stay "for as long as our mothers let us."  
For the first 44 days, attendance averaged just under 1,000 patrons a day for a total of 42,000 – a bit below expectations, but considering two consecutive rainy weekends to start the month of August, it still seemed like a success – especially with the tourism forecast before the start of the season predicting it to slump compared to previous seasons.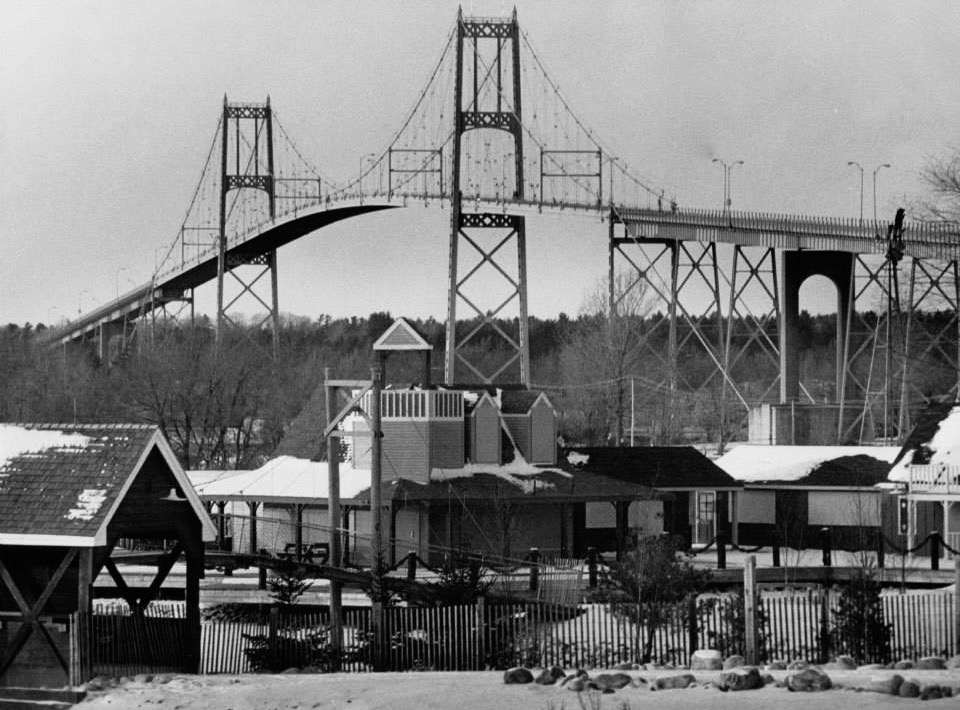 Frank Augsbury would put WaterFun Village up for sale at the end of its first season but stated they would continue to manage it and add attractions until a new buyer was found.  Earlier in the summer, the Augsbury Organization halted work on the renovations at Madison Barracks due to high-interest rates (among other issues noted later) driving the project over budget.  
Joseph Denny, head of development for Augsbury Organization, conceded "a substantial loss, more than what was expected," occurred in the theme park's first season.  A soggy spring, delays in opening, and a soggy end to the season brought attendance totals between 50-55,000, far, far short of a lofty 300,000 figure that was initially sought with desires to lure vacationers from New York City.  Unfortunately, the first chapter of WaterFun Village and its lofty ambitions was a harbinger for things to come.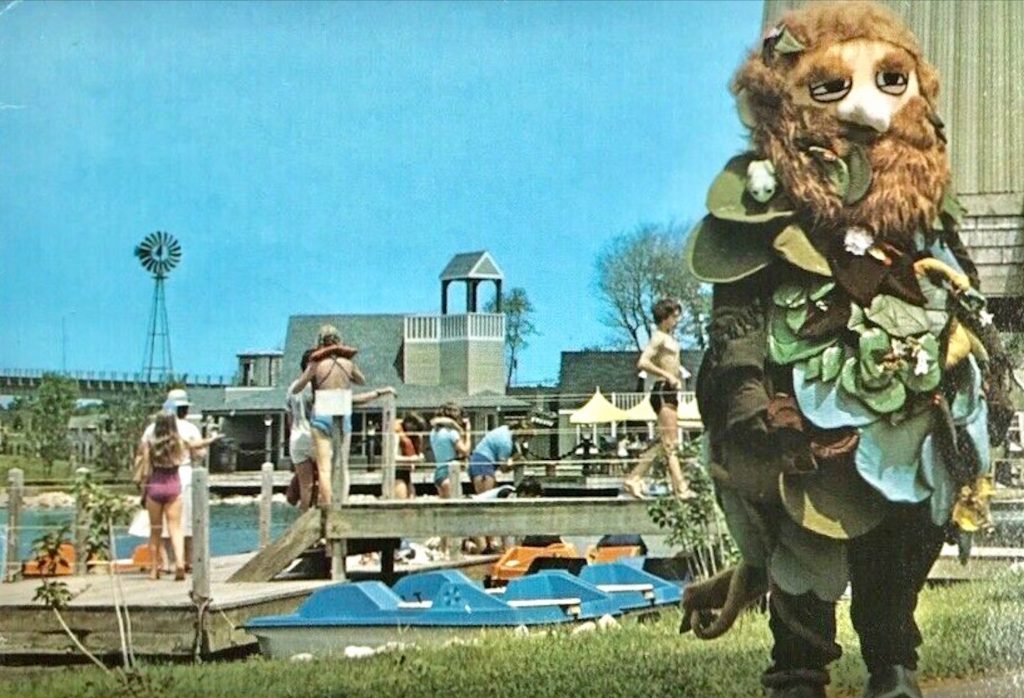 The 1982 season began pretty much as the one before ended.  Rain over Memorial Day weekend drew smaller crowds, and June was below conservative forecasts, but a stretch of good weather over the course of July and August had management pleased with the attendance and optimistic that they would break even. 
Later that year, Mr. Augsbury would approach the TIBA with an offer to exchange a portion of Madison Barracks for lowering the costs for the land deal involving WaterFun Village by $252,000.  Part of Augsbury's enterprise, his oil corporation, would file for Chapter 11 protection in December and reportedly had debts totaling $20.4 million. His projects at Madison Barracks and WaterFun Village, both of which he was actively trying to sell, were unaffected.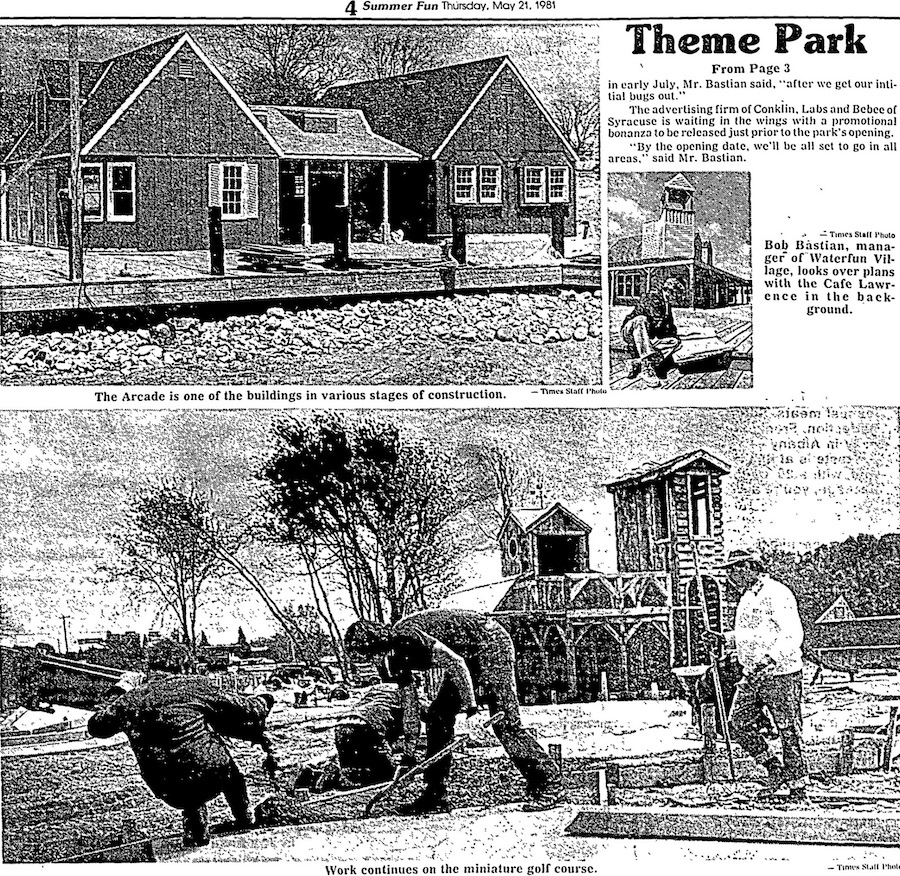 Things would only get worse in early 1983 when Augsbury could name make a $10,000 payment due.  He acknowledged a willingness to sell the theme park for $1 to the TIBA. He worked on refinancing the $2.5 million through the bank for them, but by mid-January said he had no option but to close the park, stating, "Frankly, WaterFun village isn't our business.  We're not theme park operators." According to The Times article printed January 19, 1983, Augsbury shed a little more light on the situation—
Mr. Augsbury hinted today and in previous conversations that he thought he was led astray by rosy predictions for the theme park by the TIBA and Sea Pines Associates, the Hilton Head, S.C., firm that devised the original theme park plan for the bridge authority.  
As previously mentioned, the original plan fell apart, and board members cautioned the TIBA on investing in the park, so they brought in Mr. Augsbury as owner and developer and were able to secure low-interest financing through the Jefferson County Industrial Development Agency (JCIDA).  After the first two seasons in operation, Augsbury lost $1,000,000 of his personal investment in the theme park.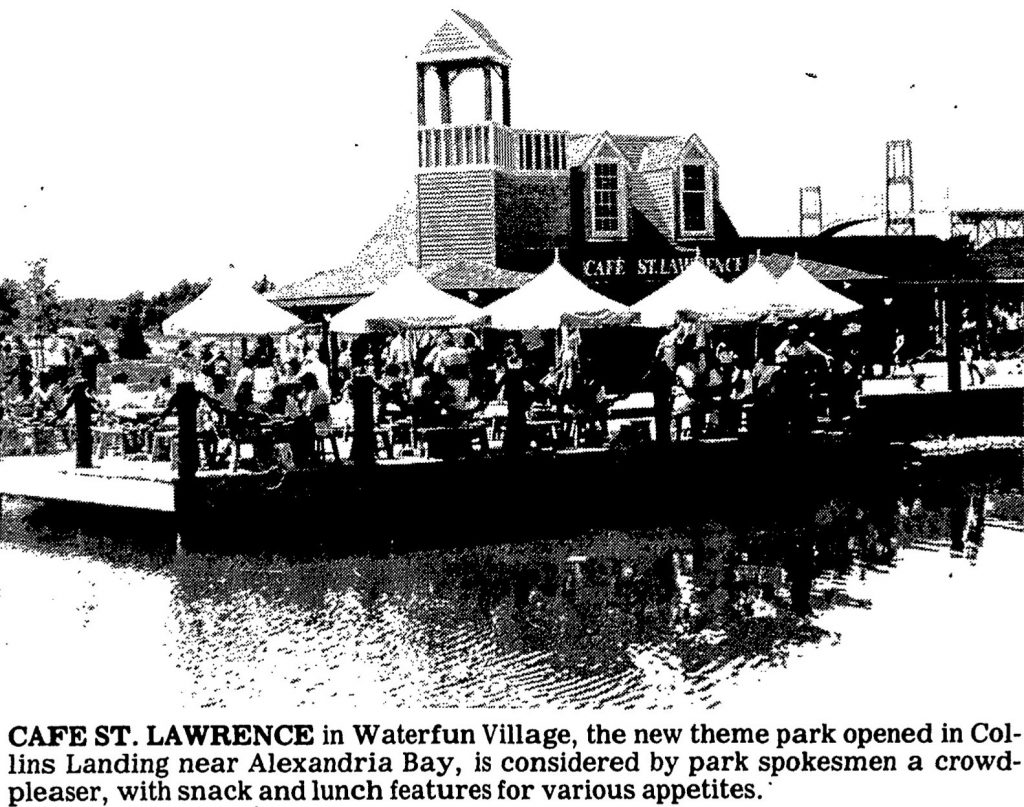 Even Abbie Hoffman, aka "Barry Freed," weighed in on the topic, stating in a letter to the Watertown Daily Times that several members of Save The River were vocal opponents of the theme park to begin with and foretold its future—
The fact does, however, remain that the "No-So-Much-Fun-Village" will go from bad to worse.  We who opposed the project should not gloat but instead brainstorm as to what now can happen.  Had it been any other group in Jefferson County that presented the case against the amusement park, platitudes would have long been in order.  We're content to be right rather than applauded.  
After much discussion and debate about the feasibility and practicality of bringing more mechanical rides to WaterFun Village, something Augsbury and crew believed should have been done from the get-go, approval was given and shortly after Augsbury found a prospective buyer from Toronto and entered into "serious negotiations." 
New Ownership From Toronto, Ontario, Takes Over
By early June, Beasley Amusements of Toronto, Ontario, had acquired the property and planned to open on June 24th.  No new rides would be installed that year, with minor alterations made, including a new entrance and better restrooms.  The biggest change would be reducing the price to $6.50 per day, $4.50 for just water slides, and introducing a $3 annual pass allowing for entrance at any time and requiring payment only for attractions used.  Augsbury would still be on the books for $406,000 owed to the TIBA due by Oct. 1, 1988, which included a 16% interest rate.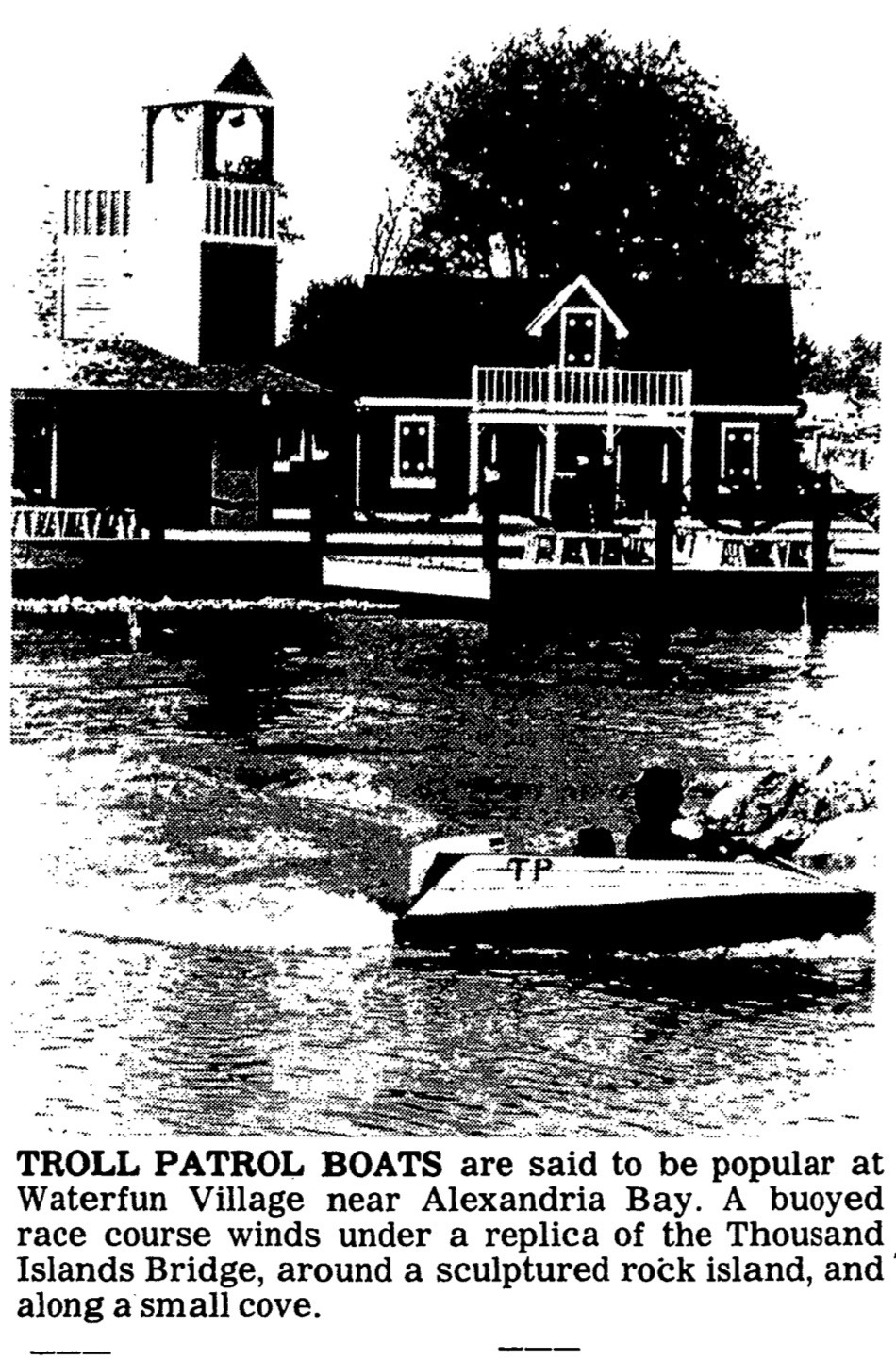 By September, WaterFun Village appeared to be on the right track, with revenues increasing by at least 15% over the prior year despite opening nearly a month later.  Mr. Beasley estimated attendance was between 82,000 and 83,000 and was "very pleased" with the first season results for his company owning and operating the troubled theme park.  
The future looked bright as at the close of the year, the park received approval to install a wave pool, a $150,000 go-cart track, and other new attractions as part of its new masterplan unanimously approved by the town of Orleans zoning board.  Also new for 1984 would be buses scheduled to continuously run throughout the day from Alexandria Bay, Cedar Point & Clayton area, and Wellesley Island State Park. 
1985 and '86 would bring more trouble to WaterFun Village when JCIDA warned Beasley Amusements that they needed to find insurance the JCIDA requires to be named in a $10 million liability policy or they would end its financing arrangement under the lease.  In December of '85, JCIDA would rescind the lease agreement after failing to obtain the necessary insurance and payments-in-lieu-of-taxes of $1,614 to the LaFargeville School District, thus sending the beleaguered theme park into peril once again.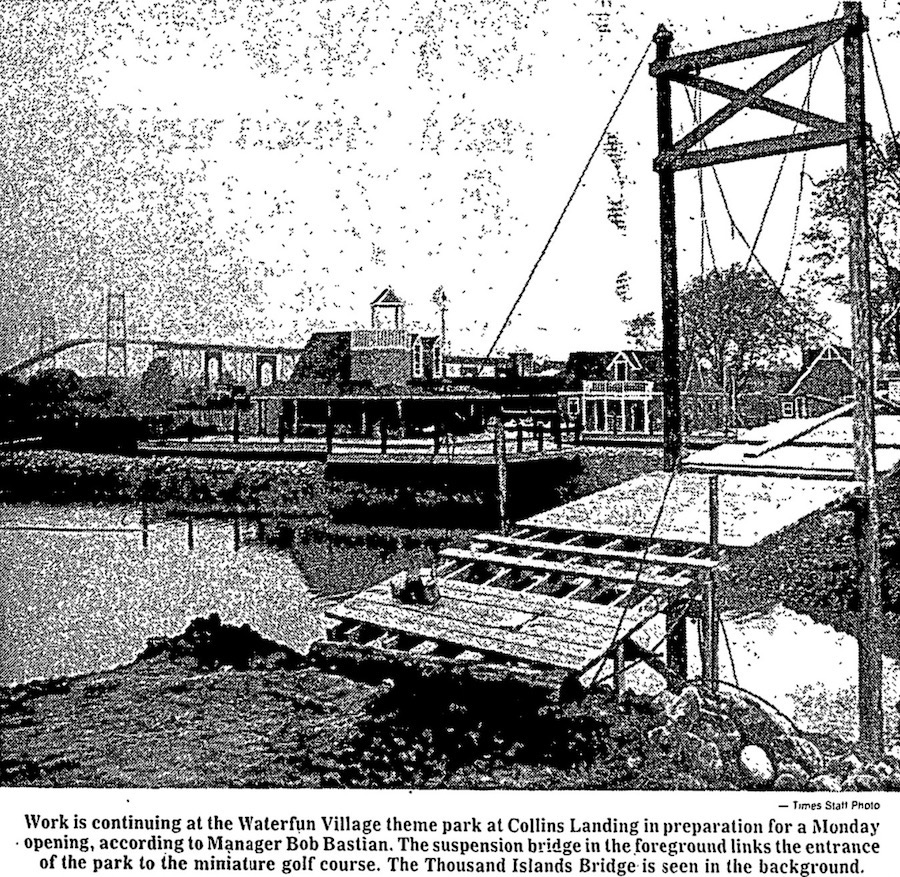 Down, But Not Completely Out… Yet
Early June would see the WaterFun Village remove its signs, closed permanently as far as its operator, Warren Beasley, was concerned.  The Royal Bank and Trust Company, owner of the park's assets, ordered payment of $1.5 million plus $71,437.42 in unpaid interest, while JCIDA held the title to the property itself and would obtain a court order to deed its interest back to the Toronto company so as not to be sued in a third-party action as owner of the property.  
1987 would see a Connecticut corporation take a spin at reviving WaterFun Village after coming to an agreement with the Royal Bank and Trust Co. of Canada, which still held ownership of the park's assets.  The deal, worth nearly $1.5 million, wouldn't be finalized until November of 1987, meaning another season washed out.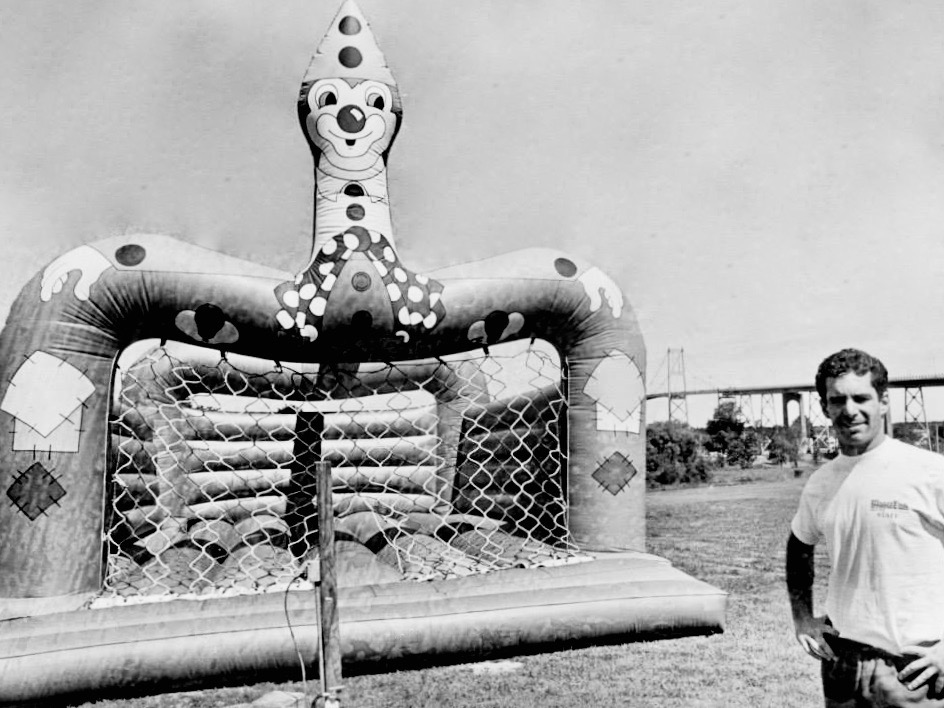 1988 would open with new attractions, including speed slides, Mountain River, Tad Pool Playground, and Turtle Train for the kids.  A Bozo "super-bounce" house raised controversy due to its placement and bright colors potentially having "adverse visual impacts" on the area, according to the St. Lawrence-Eastern Ontario Commission (SLEOC).  Park manager Steven B. Africk apparently didn't wait for their approval.  In the end, all SLEOC could do was make a recommendation, and that's what they did.  
Ultimately, nothing could apparently save WaterFun Village.  Attendance wasn't disclosed during the last couple of years of operation, and 1989 drew little to no press coverage with regard to its operation.  In December, the Connecticut-based ownership, IDF Services, Inc, donated the 28-acre property back to the TIBA, citing rapidly rising operational costs as a primary reason to discontinue the theme park.  
A new venture, Mazeland, would open at the location in 1992.