Cleveland Mayor William G. Rose Builds Mansion On Rose Island – Later Summer Home for Gen. J. Leslie Kincaid
In 1880, William G. Rose, former mayor of Cleveland, Ohio, purchased Rose Island from Charles Walton and John F. Walton, executors of Azariah Walton, deceased, for $475.  About the same time, the property was sold to the Waltons by Catherine P. Herrick for $400, which is apparently how the Waltons came about the sale to Rose which may have netted them a $75 profit.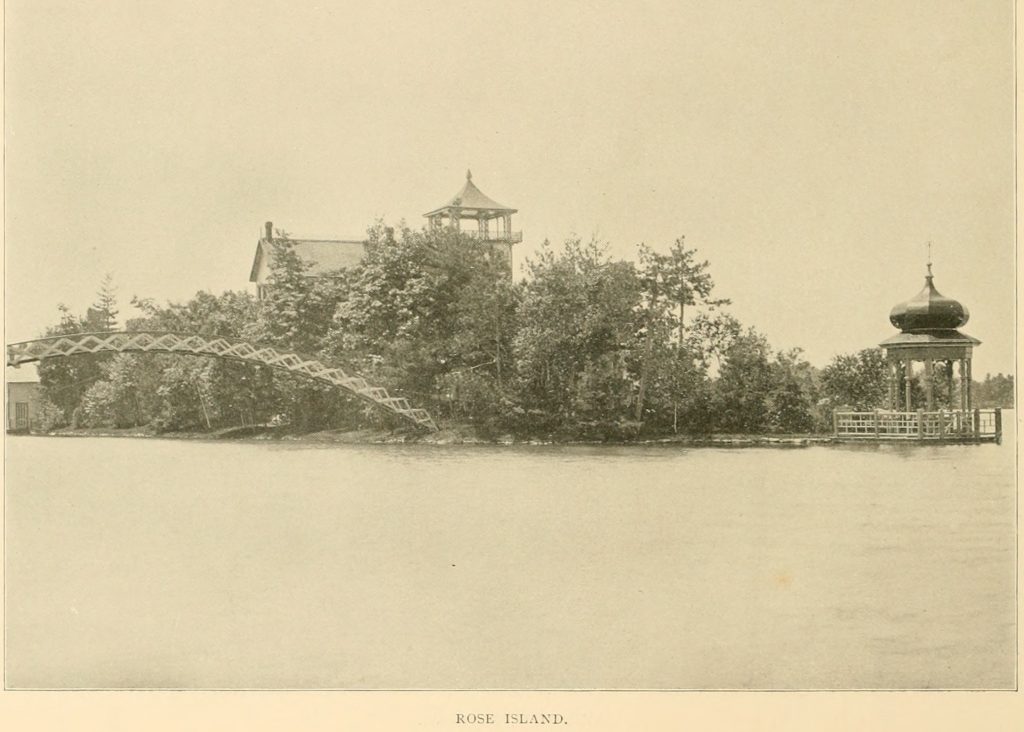 Four years later, I. D. Flynn of Cape Vincent was contracted to build Mayor Rose a cottage for $2,500 with work beginning in 1885. The summer home, described as "beautiful," became the subject of an oil painting by well-known artist D. S. Barrett of Utica shortly after its completion.  
Born in Grove City, Pennsylvania in 1829, Rose divided his time between school and working in the fields before finishing his literary education at the Austinburg Grand River Institute in Ohio.  In 1853, he began the study of law under Hon. William Stewart at Mercer and admitted to the bar two years later.  
After serving in the Civil War, Rose moved to Cleveland in 1865 where quick success in oil and real estate practically enabled him to retire in 1877 had he not accepted the Republican nomination for mayor in which he won the election by a large majority.  He served two terms as Mayor of Cleveland, the first in 1877 – 1878, and again in 1891 – 1892.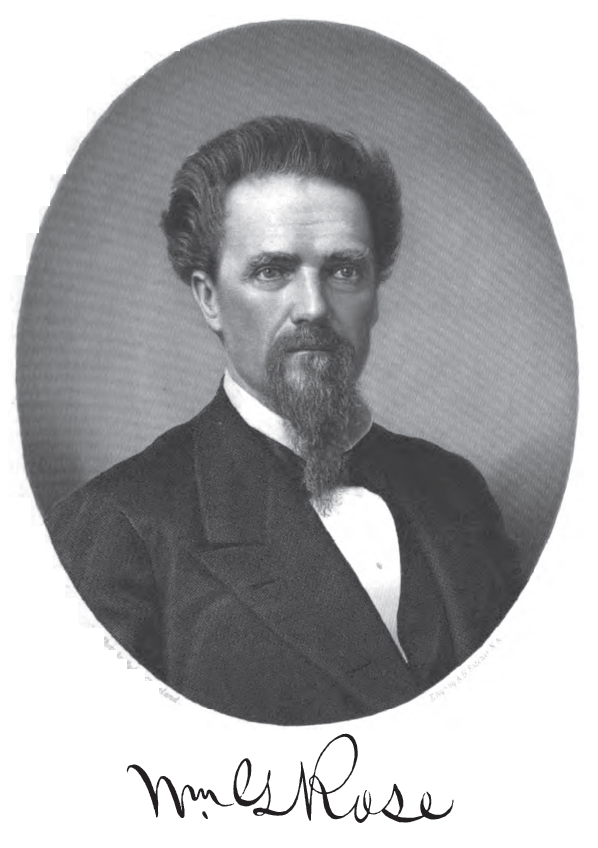 During his second stint, Mayor Rose was unable to visit Rose Island but the Watertown Daily Times mentioned it in an article dated August 16, 1893, when he was able to return—
Rose Island, with its elegant cottage, arched bridge and Morrish summer house, is one of the beauty spots on the river.  Rose Island is situated in the main channel just below Point Vivian, and is now occupied by its owner, ex-Mayor W. G. Rose, of Cleveland, Ohio, and wife.

Official duty has kept Mr. Rose away from the river for the past two years, but early in May this season found him at his island home where he will remain until the middle of September.  His son, Hudson P. Rose, brought his young and charming wife to Rose Island the first of August for a three weeks' stay.  This is the younger Mrs. (Molly) Rose's first visit to the St. Lawrence.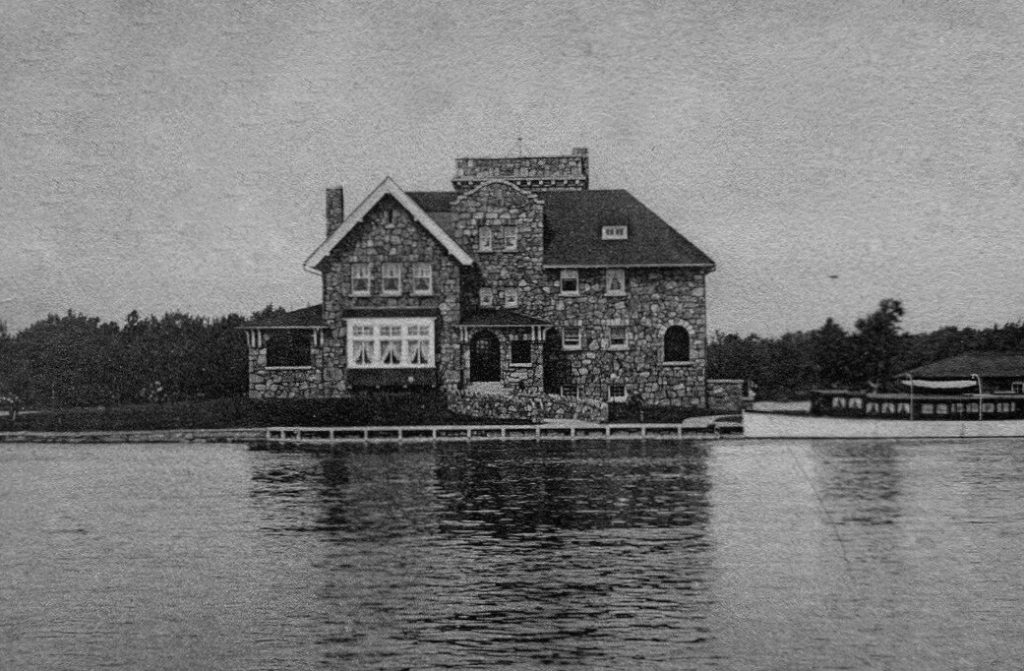 Hudson later purchased nearby Quartette Island, had it filled in and renamed Rosette Island upon which he built his own fine cottage.  The former Mayor Rose passed away at the age of 69 on September 15, 1899, just eight days before his 70th birthday.  Hudson Rose occupied his father's summer home for a couple of seasons before it was purchased by William F. Feeley of Brooklyn in 1904 – about a year before work began on Hudson's summer home on Rosette Island (later renamed to Longue Vue Island.)
The Watertown Daily Times had reported in 1904 that Feeley planned to build "a handsome summer hotel" on the island.  No other mention of Feeley or his plans for Rose Island was found and the property was occupied by Mr. and Mrs. George Emerson of El Paso, Texas, for several years.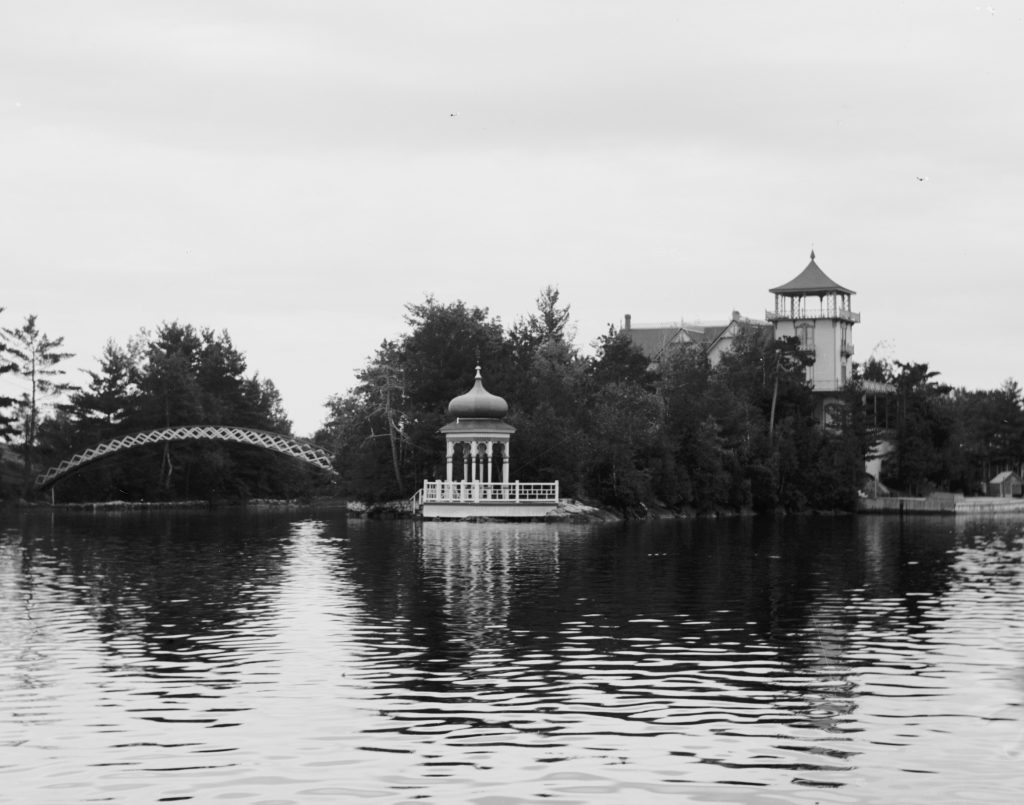 Rose Island Becomes Idle Isle, Summer Home To Adjutant-General J. Leslie Kincaid
In September of 1922, Adjutant-General J. Leslie Kincaid purchased Rose Island and entirely remodeled the 20-room, two-story frame structure.  Kincaid was born in Syracuse in 1884 and went on to serve in the New York National Guard, initially rising in ranks to lieutenant, squadron adjutant and Major.  
During these years, he also graduated from Syracuse University Law School in 1909.  Five years later, he was elected to the New York State Assembly representing Onondaga County 2nd District in 1915 and 1916.  During the Mexican War, Kincaid became Major, Judge Advocate-General's Department.  Just prior to purchasing Rose Island, he was serving as Adjutant General having been appointed by Governor Nathan Miller, only to become an unassigned brigadier general the following year in 1922.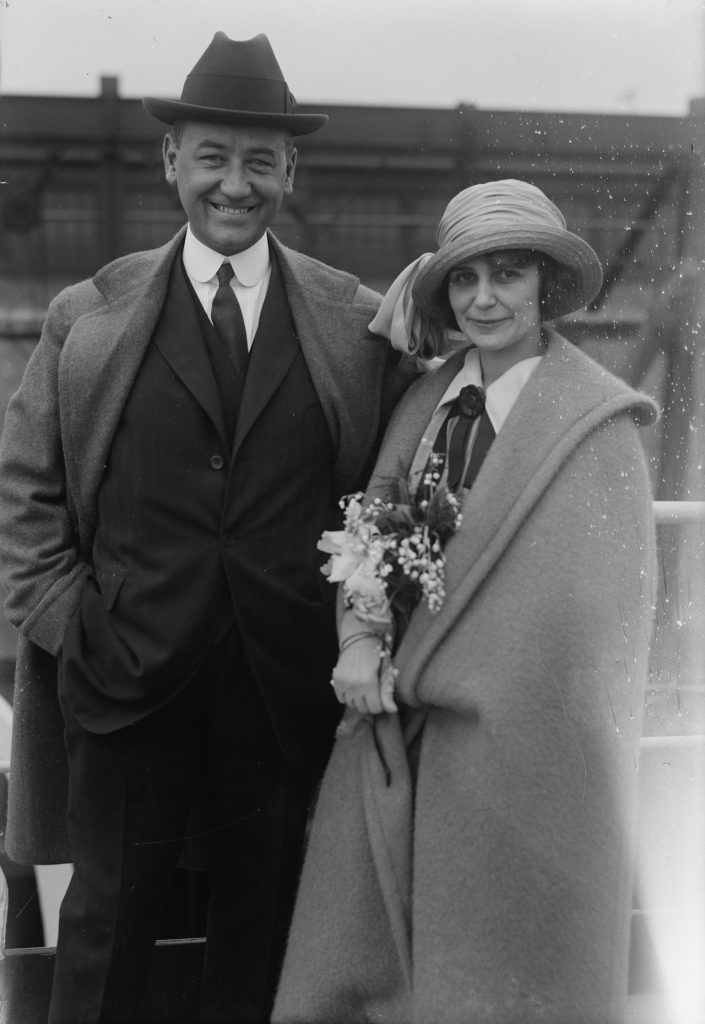 As an assemblyman, in 1916 Kincaid introduced a bill asking for an appropriation of $500,000 for the purpose of providing an encampment place for the mobilization of the National Guard.   The Watertown Daily Times reported on May 17—
Under the Kincaid bill the entire National Guard in the state would be taken this summer to Pine Camp, Jefferson County, and the soldiers given a very thorough training in what they might expect to meet in case this country goes to war. 
An amendment was added shortly afterward stating the camp was to be held on federal or state government-owned land only, restricting potential places to Governor's Island and Pine Camp.  Governor's Island is too small for the type of training being held ensured Pine Camp would be the only viable choice, further bolstering its importance which ultimately resulted in what is now Fort Drum.  Kincaid was also instrumental in creating what were called "dugouts," the organization of local posts of the American Legion where possible.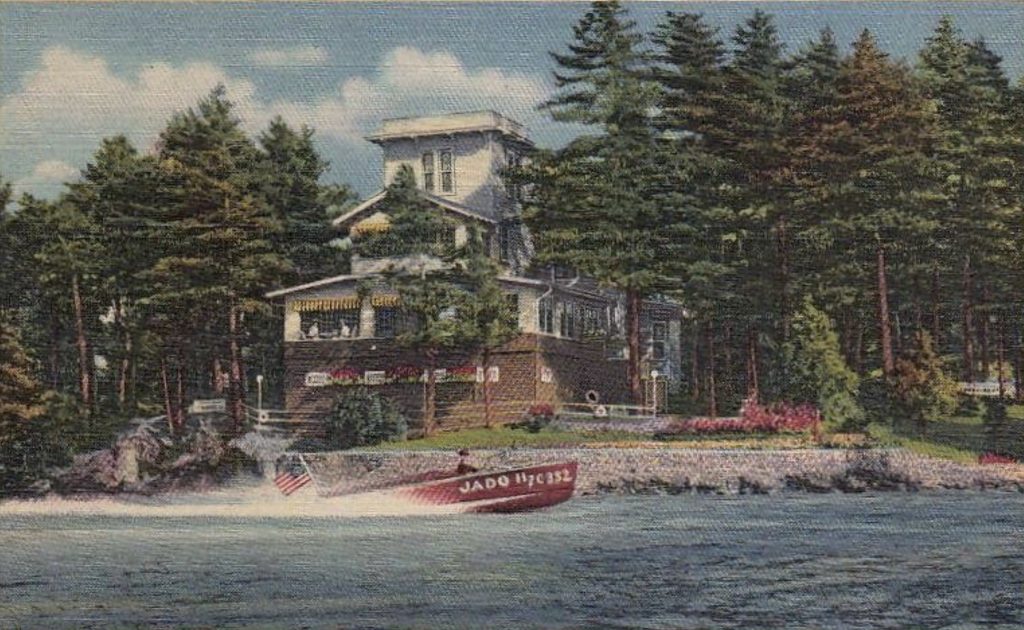 Back on Rose Island, J. Leslie Kincaid had the name changed to Idle Isle around 1922/23, the first mention of its new name in the news coming on July 14, 1923.  Kincaid served on a special committee appointed by Thousand Island Yacht Club Commodore James H. Hammond (The Ledges) for the illumination of the Thousand Islands.  Notable members include former Illinois Governor Frank Lowden from Pullman Island/Castle Rest, A. Graham Miles and J. Norris Oliphant (Neh-Mahbin), among others.  
J. Leslie Kincaid, who was chairman of the committee, planned to have the Thousand Islands illuminated from Clayton to Chippewa Bay on the evening of the Fourth of July.  His own villa on Idle Isle had already been greatly commented upon for its beauty and brilliance in both moonlight and dark night.  According to The Times—
The matter of the illumination of the different islands had been more or less neglected until the appointment of this committee by Commodore Hammond, and the improvement in Illumination since the inception of this committee, has been a source of gratification to all residents and visitors to the Thousand Islands.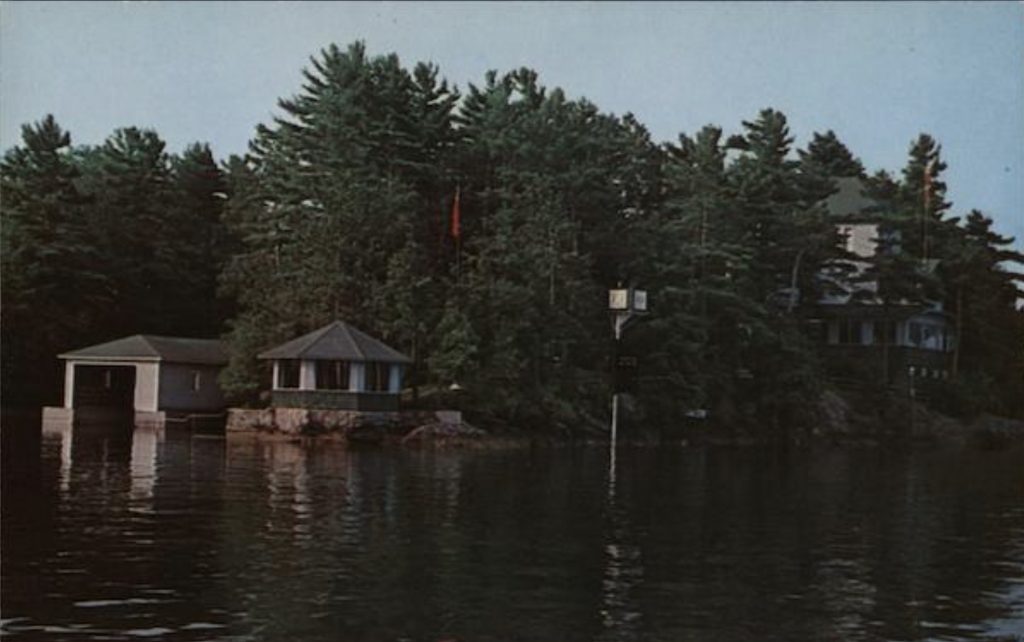 In 1924, Kincaid became president of the American Hotels Corporation, years later serving once agin in WWII in North Africa, Italy and France.  In 1947, was only the tenth person to be honored with a doctor of philosophy at the University of Santa Domingo, in Ciudad Trujillo, Dominican Republic.  
Over the years, Kincaid's high-profile brought many guests to Idle Isle, from military generals to dignitaries, artists and performers in show business.  In 1964, Brig. General Kincaid sold the one-acre island with a cottage, boathouse with living quarters overhead and garage on the mainland to Melvin C. Holm of Syracuse, an official for the Carrier Corporation.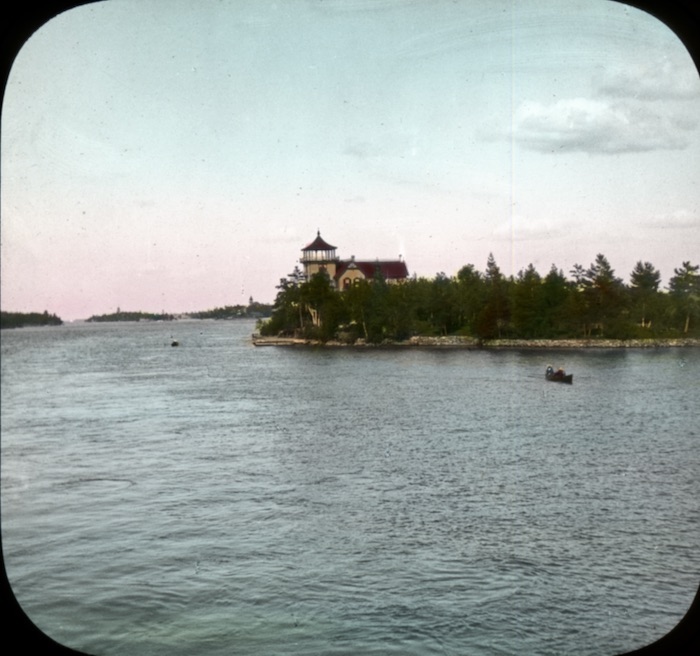 Kincaid passed away from a heart attack in his Florida home nine years later at the age of 88.  He was survived by his wife, Mary Grant Kincaid, but two daughters pre-deceased him: Frederic H. (Jane) Taylor, Jr., who was killed in a one car accident the prior fall in Watertown, and Mrs. (Dorothy) William Kopel of Syracuse who died in 1964.
Melvin and Beatrice Holm owned Idle Isle for eleven years, selling the property in June of 1975 to Dr. William Saunders, his wife, Emma Platt Saunders, their son, Attorney Michael D. Saunders and Gertrude B. Platt, for around $50,000.