The J. B. Taylor Pool at Sterling Place
Back in the 1910's, there were only two city pools: St. Mary Street and Grand Avenue Pools.  A third, unofficial location was the J. B. Taylor Pool located at Sterling Place, located off Winthrop Street, later home to Holy Family School and currently Immaculate Heart Central's Primary School.
In July of 1910, the father of John Byron Taylor, President of Northern New York Utilities, made the purchase of Sterling Place for his family after selling the Sewall property on Washington Street, which they purchased only two months prior as a family home.
J. B. Taylor, acting on behalf of his father when purchasing the property, noted in a Watertown Daily Times article
The property has been in the Sterling family for so many years and from time to time such portions have been sold, that it will require some time to make the necessary searches and the formal sale will not be made until these are completed.
Having finished the proceedings, J. B. would open the pool in Sterling Place to the public. "Every pleasant day, the pool is thrown open to the children. One hundred or more boys use the pool on 'Boy's Day,' while almost as many girls go there the three days of the week when the pool is reserved for them," another WDT article noted.
In 1914, Mr. Taylor was forced to issue
new rules
for the swimming pool as some young people using the pool abused the privilege.
I find it necessary to issue the following notice, and feel sure the same will be observed and not violated. Hereafter, our swimming pool will not be open until 9 a.m., it will be closed at 3:45 p.m., all bathers out of grounds at 4 p.m. each day.
Please note the following change in days. Girls – Monday, Wednesday and Friday. Boys – Tuesday, Thursday and Saturday.
                                                                                             J. B. Taylor

According to the article,  children were showing up early in the morning and some not leaving until nearly midnight and "keeping the neighbors disturbed the greater part of the time during these unreasonable hours."
In 1916, Taylor would gift the city two future pools to be built for serving the cities children. It is unknown which pools these resulted in, though they may have been the St. Mary Street and Grand Avenue pools.  The
Thompson Park pool
would open several years later in 1924 and the
John Q. Adams
 pool at North Junior in 1929.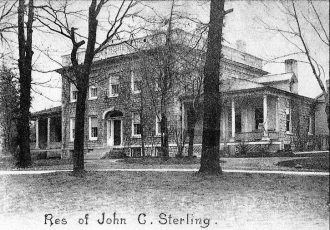 In 1922, Sterling Place, after undergoing several additions, would be sold to Holy Family Church for $50,000.