Rosette Island – Longue Vue Island Added To U.S. National Register
 

Of Historic Places In 1982

In 1901, Hudson P. Rose purchased a parcel of land, possibly what became Rosette Island, from his brother, Frederick H. Rose, in the town of Alexandria. Four years later, in May of 1905, Hudson and his wife, Molly M. Merrill Rose, were surveying their property between Point Vivian and Comfort Island, looking to build a beautiful summer home in the coming season.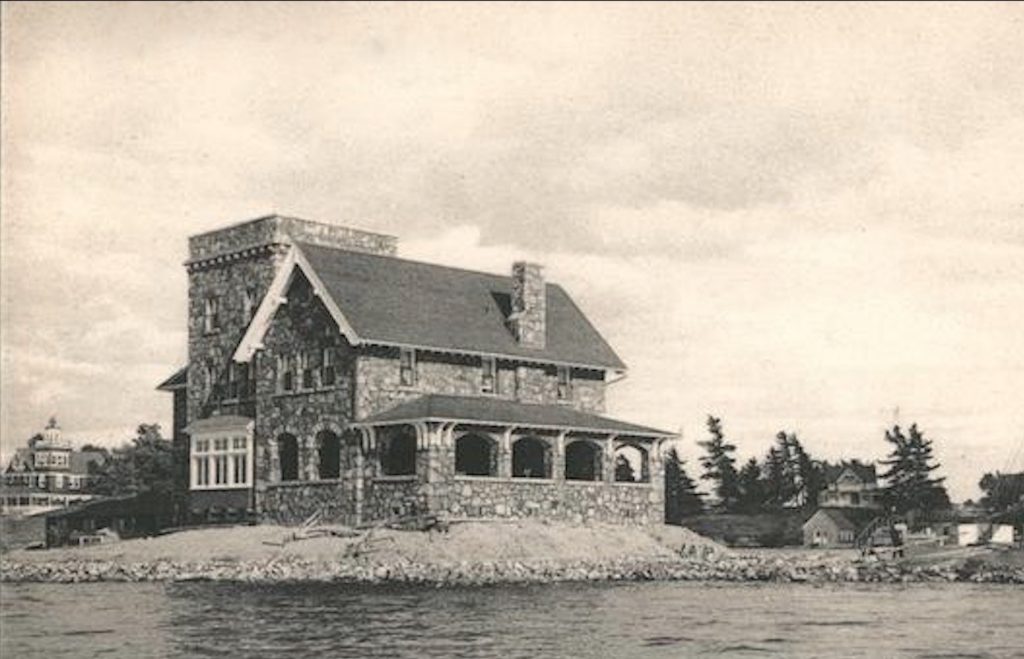 Hudson was the director and president of the Hudson P. Rose Co. of New York City, specializing in lumber. Hudson was also the son of William Gray Rose, former mayor of Cleveland, who owned the nearby Rose Island and its summer residence often shown with its bridge to neighboring Gypsy Island off Point Vivian.  
With the Rose Island name already taken, Hudson would name his island, originally called Quartette Island, Rosette Island, which is the only artificial island in the region, having been constructed on four rock shoals. A wall was built around the shoals and filled in with rocks and soil to create the island.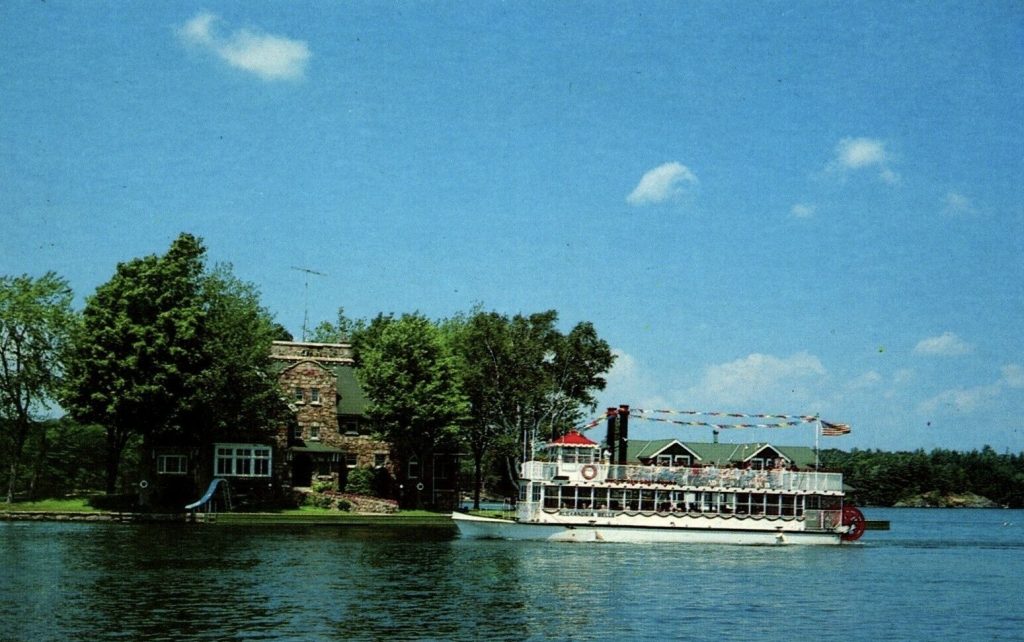 Architectural plans for the three-story, 7,000 square-foot mansion would be completed by the team of Barney and Chapman of New York City who completed a number of churches in that city as well as the historic Handley Library in Winchester, Virginia.  
Construction on the 20-room, red-granite mansion would start during the summer of 1905 and finish in 1906. When completed, it contained living quarters on the ground floor with a large living room, dining room, breakfast room, and a large porch on two sides. The two upper floors were comprised of 9 bedrooms and 7.5 bathrooms. A boathouse with three slips, a game room, a wet bar, and living quarters on the second floor was also constructed.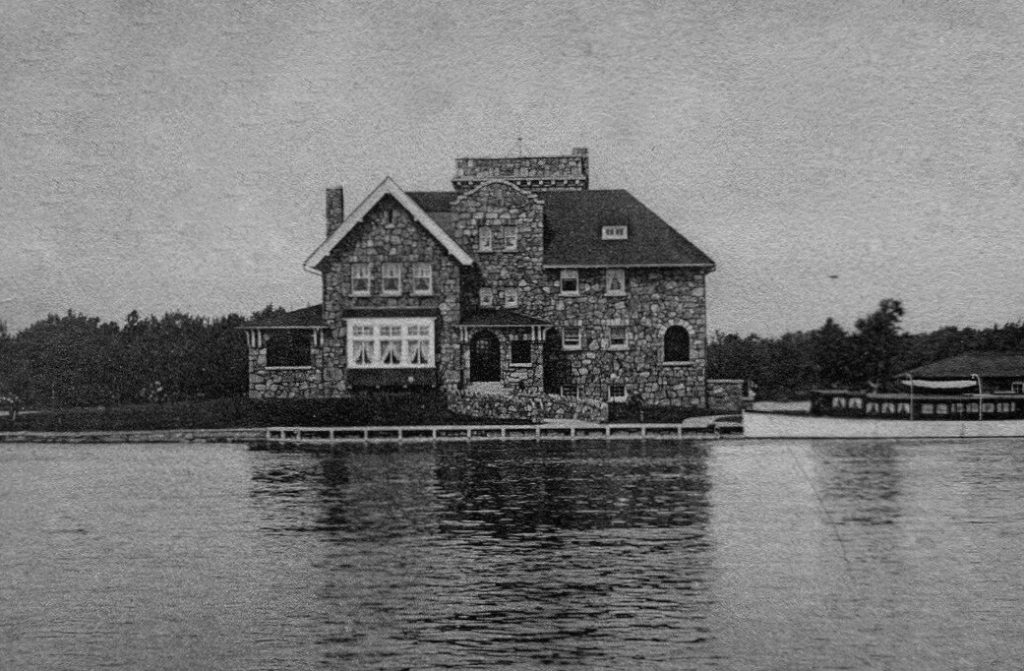 After having rented out the cottage for four consecutive summer seasons, the Rose family would return to it in 1924. Through the next few years, Hudson P. Rose and his wife would occupy Rosette Island for part of the summer and lease it to Mr. and Mrs. Frederic Lovejoy for August until the Roses sold the property in June of 1928 to Temple Taylor Berdan, a stock broker also of New York City, and his wife Mary Stone Berdan. Temple passed away in 1932, and while Mary would open the cottage up the following year, she would find herself not living much longer and passed in 1935.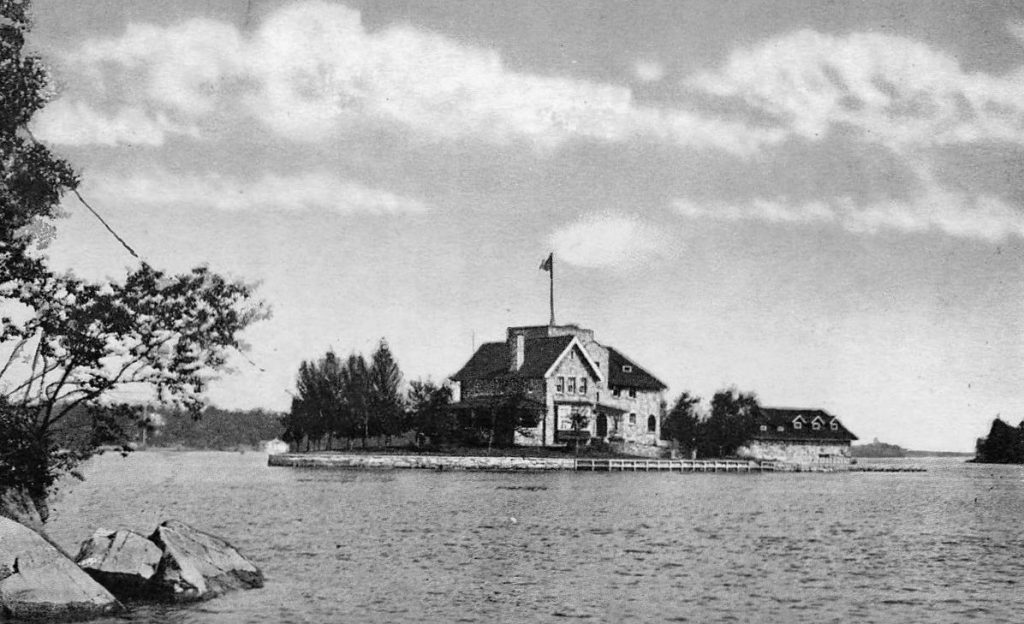 The Name Change to Longue Vue Island: The Dollinger Years
Rosette Island would sit vacant from 1933 until 1939, when it was purchased by Lewis L. Dollinger, president of the Staynew Filter Corporation, later named Dollinger Corporation, of Rochester. A former resident of nearby Clayton, Dollinger would rename Rosetta to Longue Vue Island after having acquired it from the Berdan estate. Dollinger's father, William F., was also a native of Northern New York and operated a cheese factory on the old Indian River road near the village of Rossie. 
Very little information was found in the news over the course of the Lewis L. Dollinger years with regards to Longue Vue Island, the name itself, and various iterations, showing few matches. Lewis passed away at age 78 in 1963 after suffering a heart attack on Longue Vue Island and was found deceased by his family returning from early mass at St. Cyril's Church in Alexandria Bay.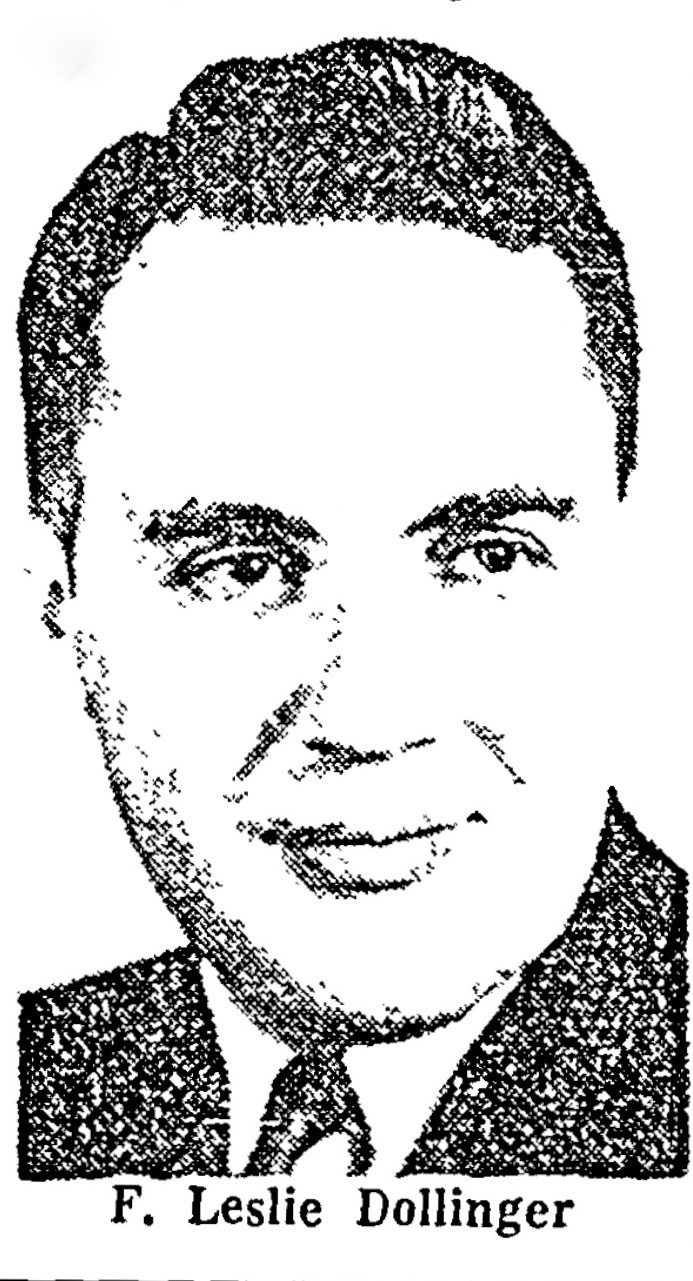 One of Dollinger's sons, F. Leslie, would inherit Longue Vue Island as well as serve as chairman of the Dollinger Corporation and Seaway National Bank. F. Leslie also owned, with his wife Peggy, Dollinger Travel which allowed him to travel the world where he collected flags to display around his island – a practice that garnered much attention.
An article regarding the flags in the Watertown Daily Times printed Oct. 14, 1971, read, in part—
Mr. Dollinger, whose summer home is on Long Vue Island (sic), has surrounded his man-made island with 52 flagstaff holders, sunk into concrete breakwater.

At various times during the summer Mr. Dollinger places 52 of the more than 200 flags he owns in the holders.  When a ship passes he salutes the ship with a large electrically controlled horn while waving the flag of the ship's country.

Mr. Dollinger recently received a letter at the Alexandria Bay Post Office from a French sailor who had passed his island, thanking him for the welcome.

The letter from Andre Dupon, a seaman aboard the Petraia of Choissy sur Siene, France, was addressed to "Postoffice Master, Alexandria Bay" with instructions, "Please send this letter to M. Champman (I think), this one staying for this summer on a small island, with many flags, near Bella Vista, and saying a good-bye to all ships up and down the river.  Many thanks."

Mr. Dupont thanked the Dollingers for their salute, mentioned he was pleased "to see your family twice this summer" and said he hoped to see them again, possibly in France.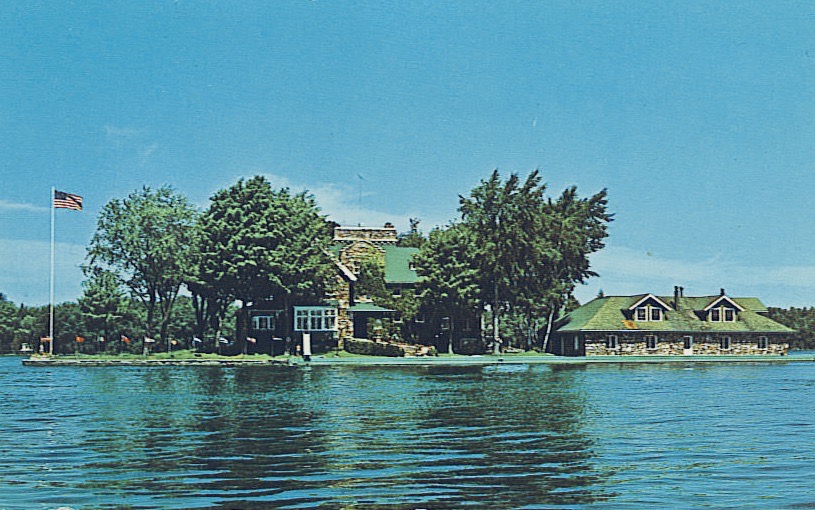 In 1982, Longue Vue Island and its small granite mansion would be added to the National Register of Historic Places, only the second summer home in the Thousand Islands to receive such recognition, with the other being Ingleside. Twelve years later, F. Leslie Dollinger sold the island to Albert Wareing, a commercial builder from Phoenix, Arizona, who decided to buy it on his first visit to the Thousand Islands.  
Albert, born in Dearborn, Michigan, graduated from Michigan University with a master's and doctorate in engineering. He began his career with GE, which took him to Syracuse and then Phoenix, where he became an entrepreneur developing commercial properties and multi-family units in Arizona, the Thousand Islands region in New York, Canada, and Mexico.
Sadly, Al passed away on May 6, 2022, at his home in Scottsdale, Arizona, at the age of 81. As of 2023, the property is for sale for $2,700,000, with four dozen photos shown via its listing here on Redfin.com.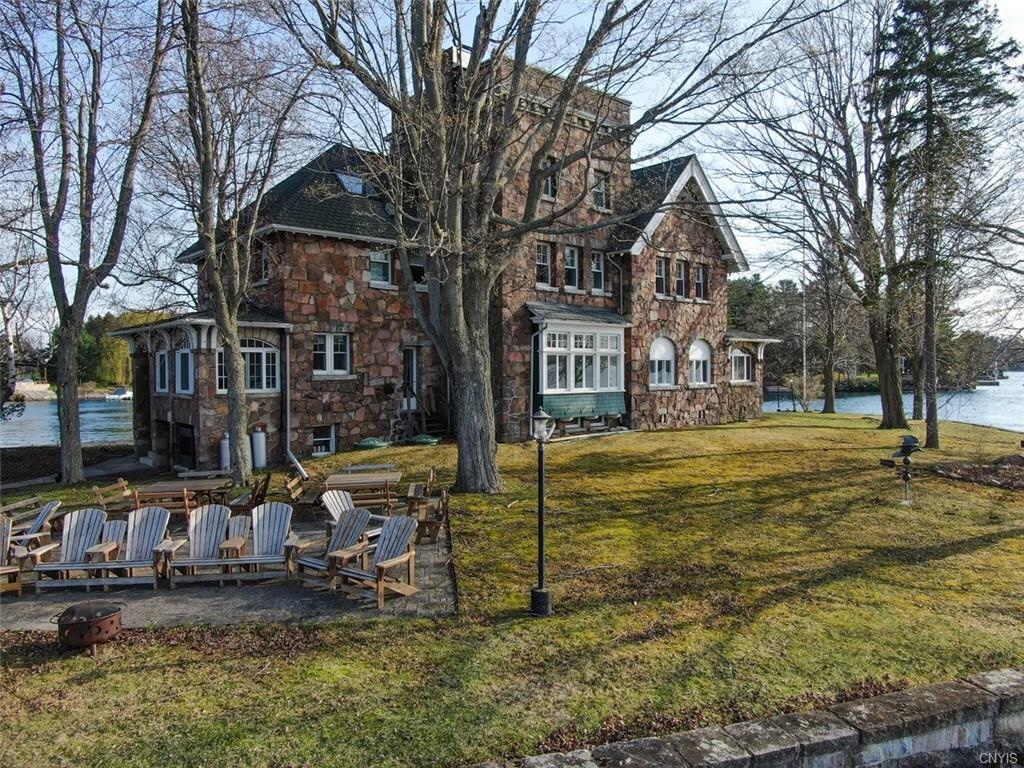 Interesting Tidbit
One never knows what they're going to run across while researching history. In this particular case, I found some information on Wikipedia, and at the end of the listing, there was a section regarding ghost stories regarding Longue Vue Island. Investigating a little further, there's an article from lite987.com posted back in 2014 discussing virtually the same information with a change in one person's eyewitness account from being F. Leslie Dollinger to his son, Doug, Doug being noted in the Wikipedia article.
After giving some brief history and transactions to Lewis Dollinger, it noted his death occurred on the island. Paraphrasing from both, the last owners have said they have seen the ghost of Lewis Dollinger roaming around the house and grounds at night time. Depending on which article, either F. Leslie or his son Doug purportedly saw a portrait of Lewis in the dining room during the 1970s "come to life" and warn them to get off the island.