George Pullman Spurs Thousand Islands Growth With Guest President Grant's Visit In 1872, Later Builds Castle Rest
Twenty-four years before building Castle Rest in 1888, George Pullman purchased what was then known as Sweet Island for a reported $25.00 from Cornwall and Walton who, eleven years earlier, bought up many of the islands for mere pennies.  There, Pullman built what was described as a spacious, but rude cottage as a summer retreat.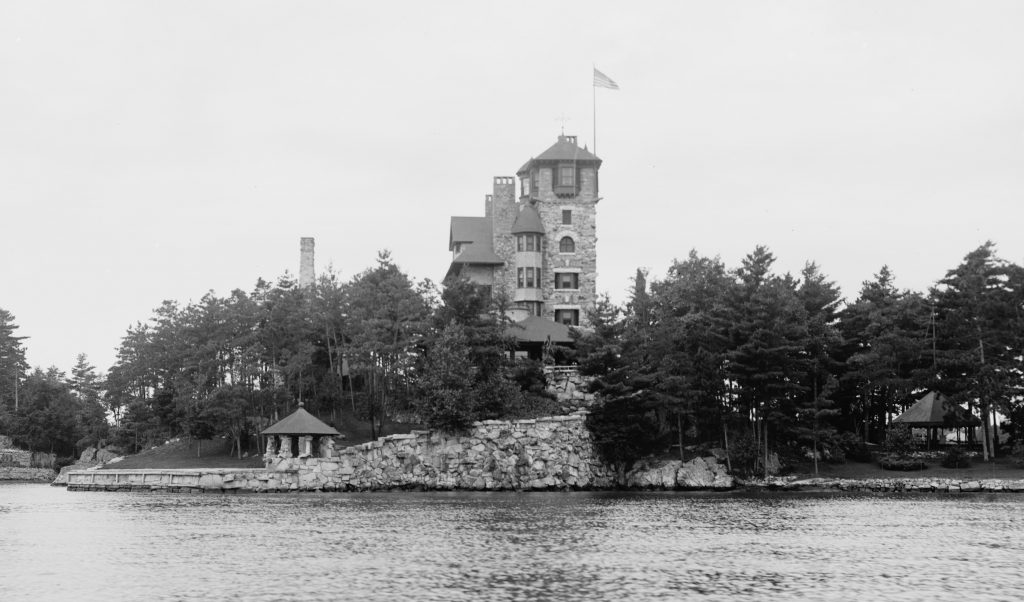 In 1872, Pullman literally put the Thousand Islands on the map when President Ulysses S. Grant accepted an invitation to spend a week on the island, at which time Charles Crossmon, proprietor of the Crossmon House in Alexandria Bay, arranged a repast for three hundred guests, many from the State Editorial Association who then spread word of the magnificent Thousand Islands.
Born on a farm in Chautauqua County, N.Y., in 1831, George Pullman was rather industrious and inventive in early life, especially with mechanics, as was his father.  When the family moved to Albion, N.Y., his father worked to relocate buildings along the Erie Canal in preparation for its widening with an invention he created using jackscrews.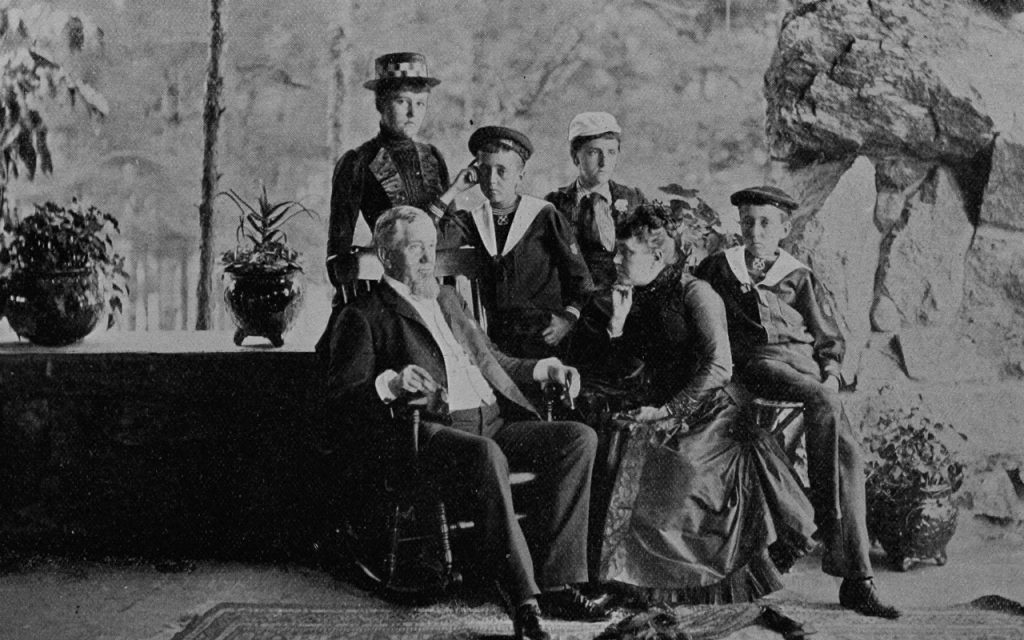 George eventually dropped out of school to help, taking over the business in 1855 after his father's passing.  The engineering experience took George to Chicago, where, in a couple of years he would strike an idea that made him rich.
As written in A Souvenir of the Thousand Islands and St. Lawrence River, by John A. Haddock and published in 1895–
During 1858 Mr. Pullman's attention had been especially drawn to the long-distance sleeping-car idea.  The sleeping accommodations afforded passengers were but enlarged copies of the bunk of the passenger packets of the Erie Canal – three tiers on each side of the car.

The following year, he began a series of preliminary experiments by remodeling two day-coaches on the Chicago and Alton road, and afterward did the same on the old Galena road.  He was a pioneer, and met with little encouragement.  The sleeping-cars were invariably the property of the road they ran on, and their trips were limited to their own rails.  No attention had been given to the idea of making long-distance railroading enjoyable.  An entirely different conception of the future of American passenger transportation had now taken possession of Mr. Pullman.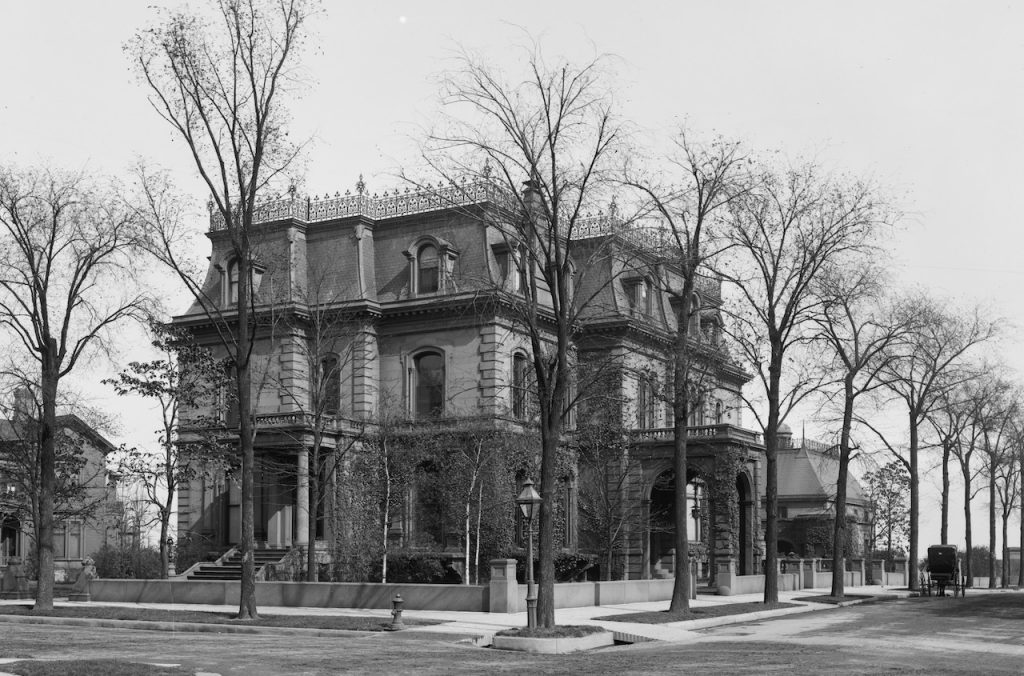 1872 was a busy year for the Pullmans.  George had construction started on his residential mansion in Illinois, but it was his summer stay at his cottage that caught the nation's attention.  As told in Sunlight Pictures of the Thousand Islands, Artotype Publishing, 1895–  
In 1872, an incident occurred which more than anything else in recent times called attention to the Thousand Islands.  On a bright day towards the close of July, a little yacht—perhaps the only one then on that part of the river—was seen steaming down the St. Lawrence.  In the neighborhood of Alexandria Bay there were unusual signs of festivity.  At Mr. Pullman's Island the steps were laid with laid with carpet.  The cottage and the Island front were gay with bunting, and everything indicated expectancy.  The little yacht bore General Grant, with his family and part of friends, who at Mr. Pullman's invitation were to spend a week among the beauties of the Thousand Islands.
Prior to President Grant's visit, the list of visitors to Pullman's island was already quite impressive.  Amongst them included Governor Seward, Martin and John Van Buren, Frank Blair, Preston King, General Dick Taylor, and Rev. George Bethune.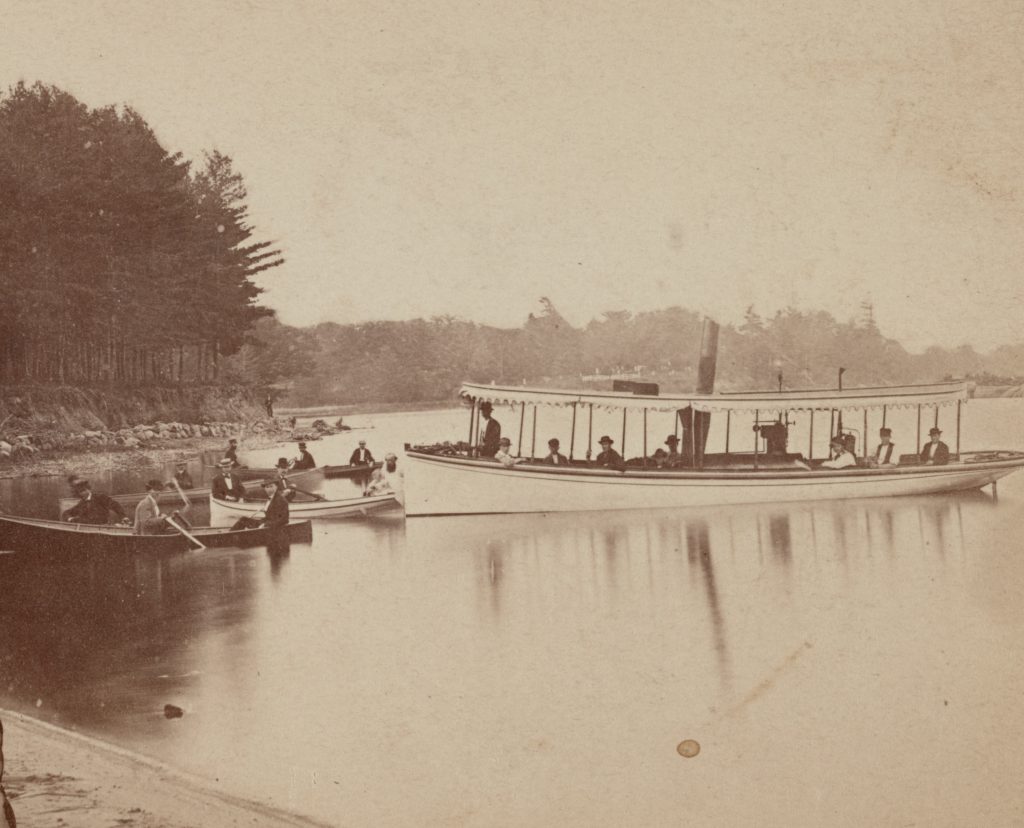 It would take a few years, but after modifications Pullman would have himself a business that the manufacturing industry could not keep up with.  As a result, a new town in the suburbs of Chicago was founded, Pullman, to manufacture Pullman cars.  Notable for sleeping and later debuting as a diner car in 1868, the cars would become staples in many communities as actual diners.  Watertown, N.Y., received its first Pullman car diner from East Aurora, an hour from Albion, in 1926 for use as the Eleanor Restaurant in its original location on Court Street.  The S&B Diner followed near the Eleanor's old location a few years later.  
1868 also mark the first child born to the Pullman family, Florence, followed by Harriet (Hattie), named after her mother Harriet Sanger Pullman, in 1869, and the twins George, Jr. (1875) and Walter Sanger (known as Sanger, 1875).  The twins, disinherited by their father, lead wild lives and would both pass away at a relatively young age, George, Jr., at 26 in 1901, and Sanger four years later.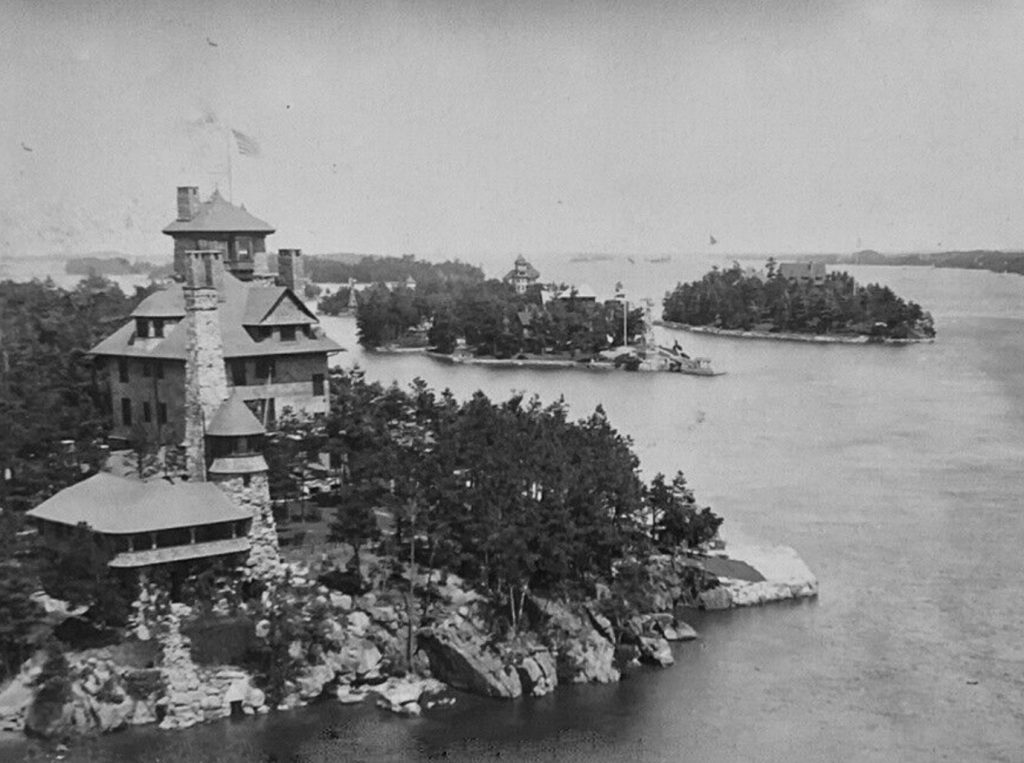 On the morning of July 26, 1872, eight passenger coaches departed Watertown's train depot where several hundred citizens had gathered to see them off to Cape Vincent.  There, they took the steamer Watertown to Alexandria Bay.  An estimated  150 or so reporters were amongst the passengers, half bringing their wives along with them, and the Thousand Islands would never be the same afterward.
The following summer, traffic on the R. W. & O. R. R. showed a large increase as many cities throughout the state began to plan excursions for a variety of groups to the Thousand Islands.  The Watertown Y.M.C.A, who made their initial get-away excursion the year prior, now made it an annual event.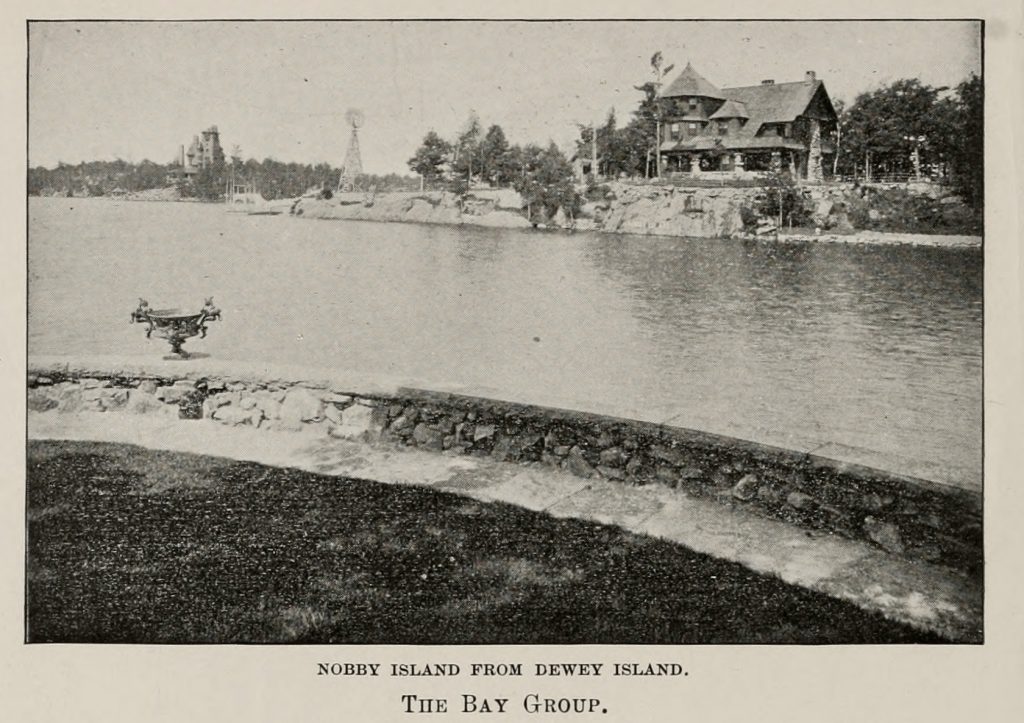 With the increase in visitors came the increased land purchases, which subsequently lead to an increase in building.  The Crossmon House, long established in Alexandria Bay having been built in 1848, substantially  increased in size before the 1873 season while the Thousand Island House was erected at the same time a short distance away.  Summer residences, like Bonniecastle, soon followed.
While he would add-on to his wooden cottage and expand it over the years, by the mid 1880s, George Pullman decided to build the Thousand Islands first palatial castle, a gift to his mother on her 80th birthday in 1888.  Seth G. Pope, of Alexandria Bay, began construction of the foundation and 80-foot tower in the fall of 1887.  The structure was to be the prettiest and most complete cottage on the river and said to be designed after a castle on the Rhine while other reports years later said the tower itself was designed to look like a railcar standing on end.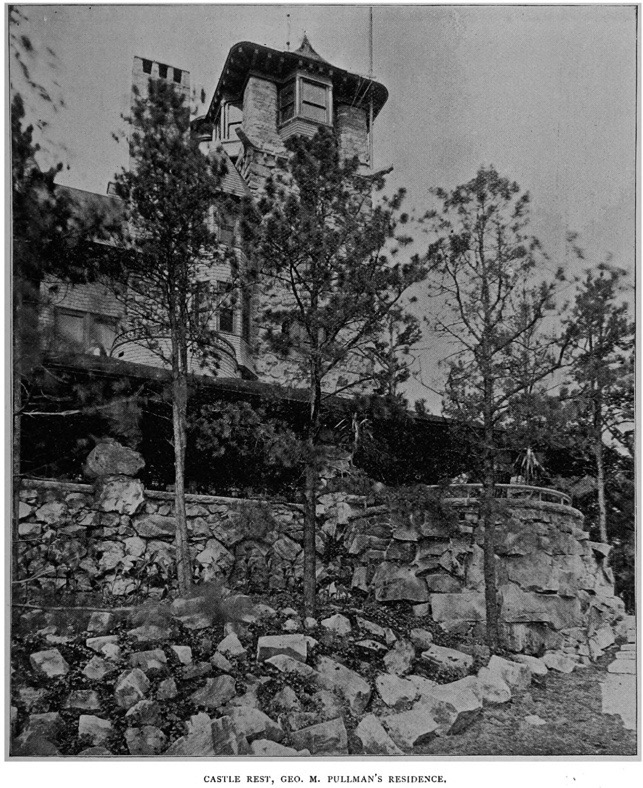 As of 1889, Castle Rest and Pullman Island were the only summer home and island on the St. Lawrence River to be illuminated by electricity.  It was said that the tower of Castle Rest had a light that would reach the mainland shore.  The cost of the castle was estimated at $150,000 and said to have been made of stone native to the island itself.  Within two years, the castle would have another neighbor, Hopewell Hall, and other castles such as Emery's on Calumet Island would be erected, followed by Boldt Castle.
1892 brought the death of George Pullman's mother, Emily, at the age of 84.  Two years later, Pullman retreated to Castle Rest during the infamous Pullman Strike that involved the American Railway Union (ARU) against the Pullman factory in Chicago in the spring of '94.  4,000 workers in Pullman, Illinois, went on strike after wages were decreased.  When it failed, the ARU launched a railroad strike nationwide against trains that carried the Pullman car.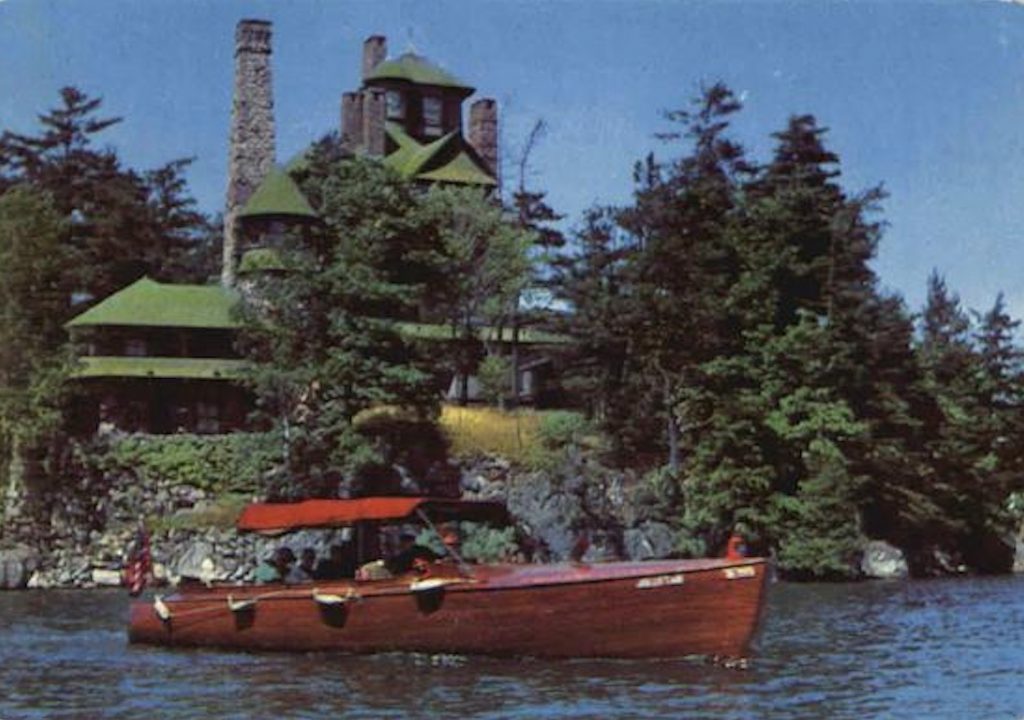 With nearly 250,000 workers on strike and riots breaking out with a reported 30 people killed in Chicago alone and nearly $80,000,000 in damages, President Grover Cleveland ordered the U.S. Army to keep strikers from interfering with the trains after an injunction against the union was ignored.  President Cleveland and Congress would later that year mark Labor Day as an official holiday in a move that was seen as conciliatory to organized labor, to which the Pullman strike ultimately marked a turning point in its movement.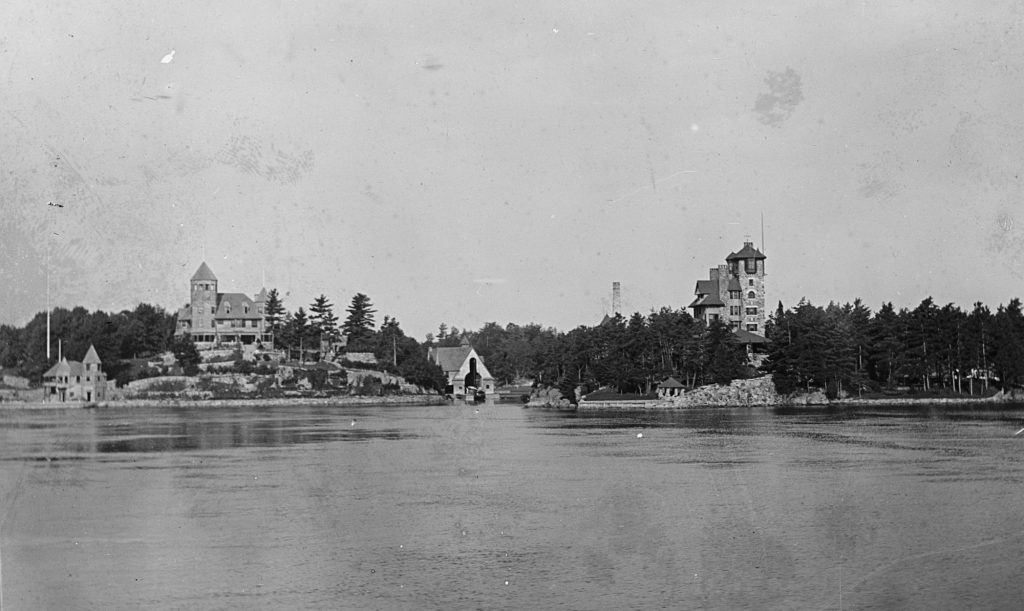 As for George, death came from a heart attack three years later at the age of 66.  Fearful that his body may be desecrated by former employees and their supporters, the family had his body placed in a lead-lined mahogany coffin that was encased in concrete and buried beneath even more concrete in a process that was said to have taken two days to complete the funeral.
Castle Rest continued to stay in the Pullman family, most notably George Pullman's son-in-law, Frank O. Lowden, who married Florence a year before George's death.  George's will had a clause that Castle Rest be used by family each summer, which the Lowden family did each and every year on the anniversary of George's mother's birthday in August.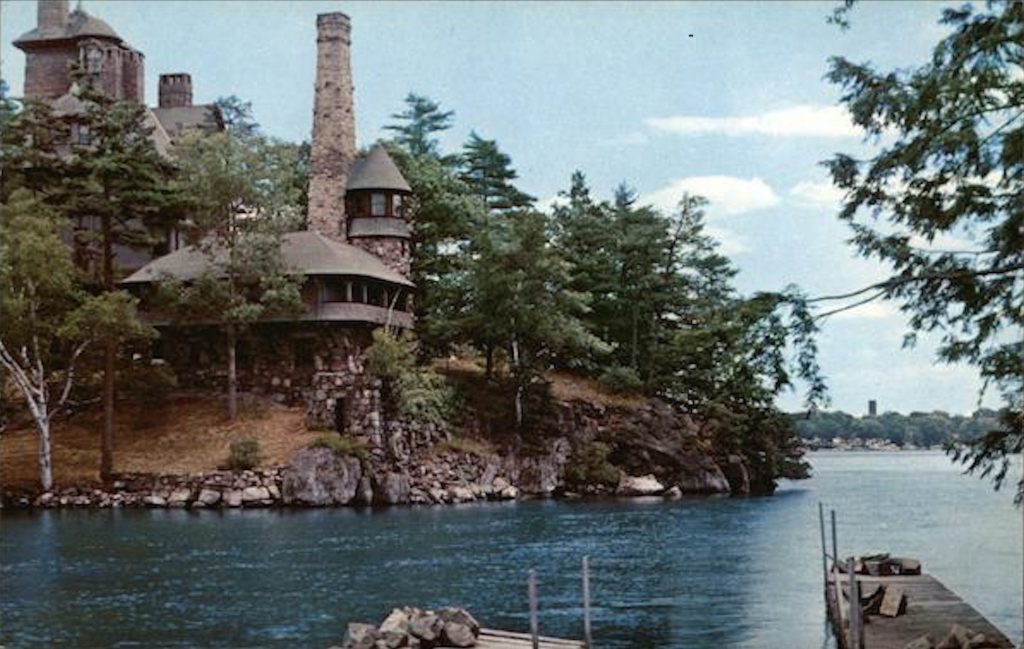 Lowden served as Governor of Illinois from 1917 to 1921 and remain a prominent figure of Republican national politics.  Twice offered the vice presidential candidacy and twice a presidential candidate himself, Lowden once had Franklin D. Roosevelt, then Governor of New York, as a guest at Castle Rest.  Lowden also continued to use the castle as a summer home after the death of Florence in 1937, and up to the summer of 1942 before his own death in March of the following year from pneumonia at the age of 82.
Castle Rest remained in the Lowden Estate after Frank's death, the property matters handled by his son-in-law, Albert F. Madlener who married Harriet Elizabeth Lowden.  In 1958, estimates were given for razing the castle, but the Watertown Daily Times in their article written on May 26th said it was unknown whether it would be razed in its entirety, or if the lower levels were to be left intact.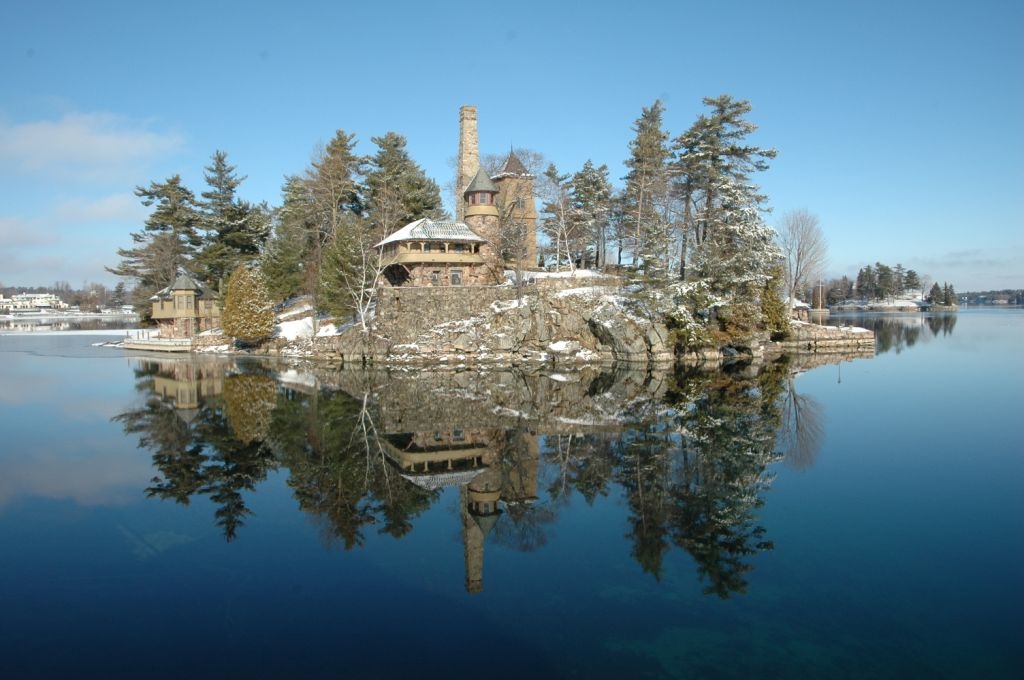 In September, furniture was donated by Mr. Madlener to the Edward John Noble hospital board to clear out Castle Rest for demolition.  The board netted $1,472 in sales from the furniture and demolition commenced soon after, ending an era that spanned seventy years.  Today, the caretaker's former residence along with some other buildings from the Pullman era have been expanded on and a new tower now resides on the location of the former castle, having been erected in the last decade and a half to make a more modern version of the old Castle Rest.