Kinney Drugs Opens Its 12th Location In 1959 At Seaway Plaza
The birth of Kinney Drugs began in 1903 with the opening of its first store, in Gouverneur, N.Y., by Burt O. Kinney. Born in 1873, the 30-year-old Kinney, a native son, would build a regional drugstore chain that continues to grow at a measured pace today. Its headquarters are still located in Gouverneur, along with a distribution center, while its chain of stores can be found throughout New York and northern Vermont in cities including Syracuse, Auburn, Burlington, Plattsburgh, and a number of other smaller towns and villages.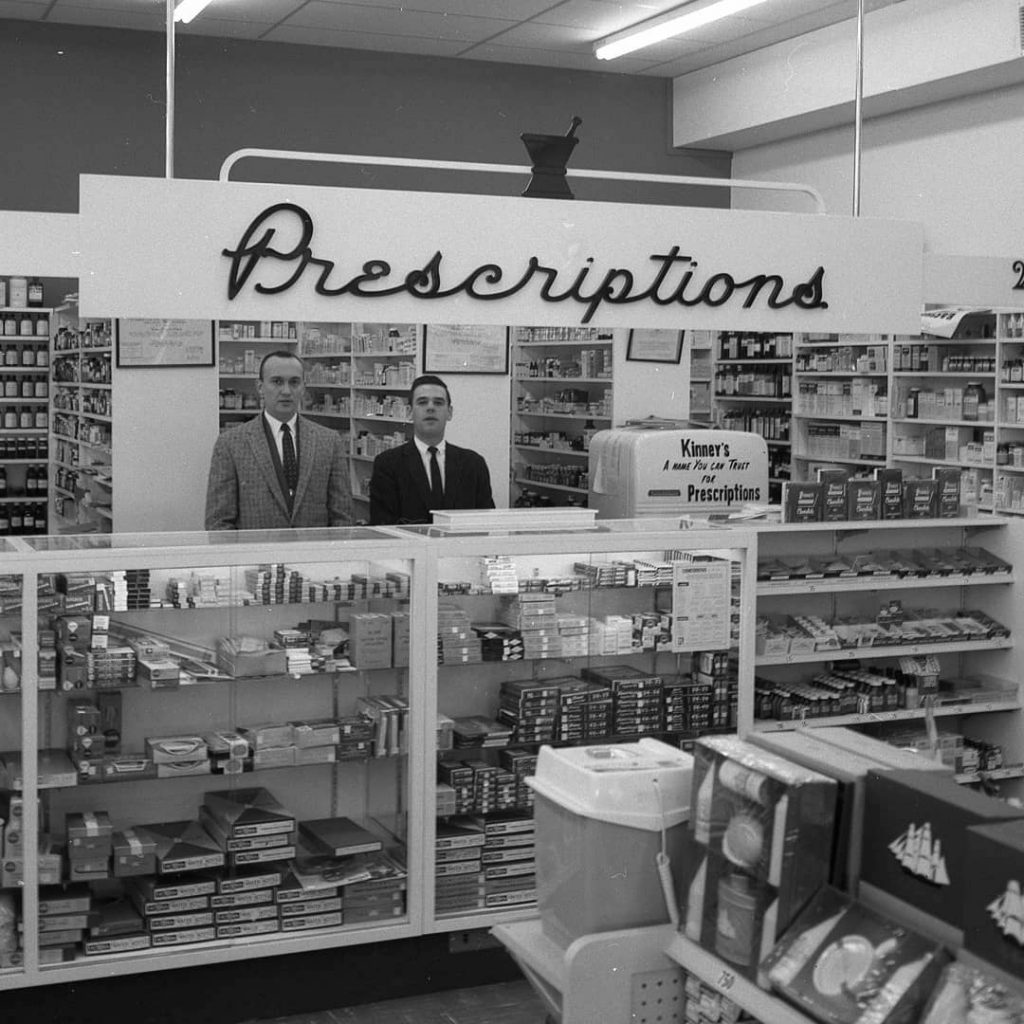 As a small chain in 1944, Kinney Drugs landed its seventh store that year by acquiring the former R. W. Shaul Drug firm in Pulaski, N.Y. 
An article in the Watertown Daily Times of the Pulaski deal would give details of Kinney Drugs' genesis over forty years earlier, some of which are incorrect—
The drug chain had its beginning in the drug store in which Burt O. Kinney, then employed as clerk by Perrin and Dewey, purchased from G. L. Van Namee about 1890. By industrious application and a pleasing personality he has built the present large drug organization.  

Mr. Kinney was employed for a time by the Dewey & Perrin drug store as a clerk. Walter R. Perrin, former employee of the H. D. Thatcher & Company, drug store in Potsdam, came to Gouverneur in 1889 and with A. W. Dewey bought the store known as the Whitney Drug Store. The late Mr. Perrin bought out the Dewey Interest in 1896 and continued operation of the store until selling to Mead Brothers in 1902.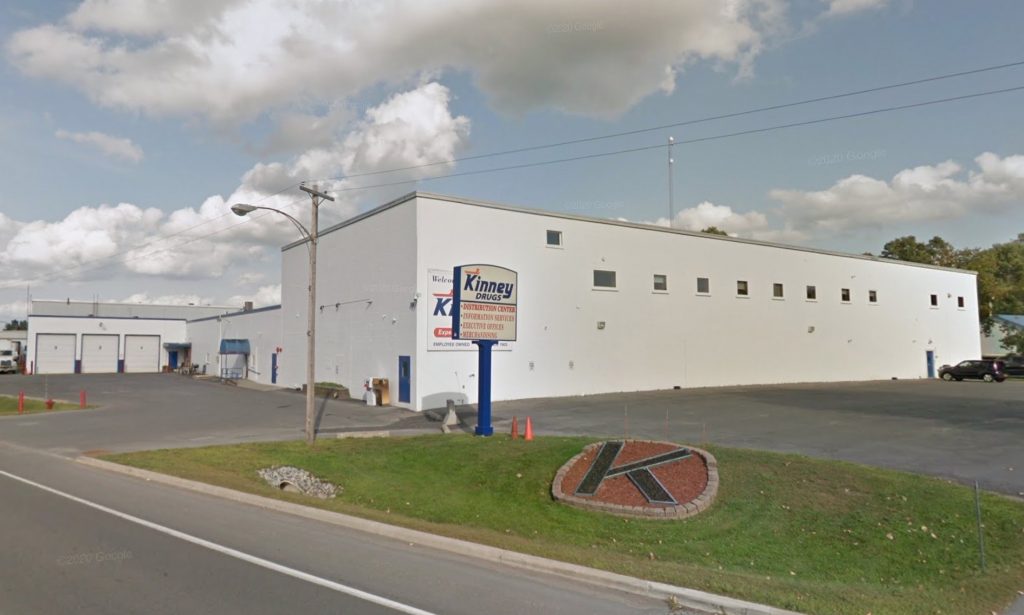 There are some discrepancies with this last bit of information, the Gouverneur Museum stating that Kinney took over the business in 1902 from an ailing A. W. Dewey. A search of articles showed Dewey still holding a business in Gouverneur c.1902 but also confirmed the Mead brothers, Charles and Fred from Canton, also had a drugstore. A 1902 article confirms that the brothers purchased the drug stock of Walter Perrin in Gouverneur in 1902 for $22,000 and would be relocating there soon after having sold their business in Canton the prior year.  
Yet another article from 1903, from Gouverneur's Northern Tribune, stated in February of 1903, "You will find Bert (sic) Kinney at Draper's drug store where he will be pleased to see all his old friends." As it turns out, the Watertown Daily Times would note that September A. W. Dewey sold his drug store to Bert Kinney, who was "at present a clerk in the Draper store," as noted, Dewey was retiring on account of health. In the end, it's not certain how, if at all, the Mead brothers factored in, or the likelihood of a 17-year-old purchasing a business in 1890.
Nevertheless, in 1903, Louis K. Liggett also started the Rexall agency plan and Burt Kinney was one of the first 50 druggists in the United States to adopt the Rexall Plan the following year. Thus began the long association of Kinney Rexall Drugs. The Rexall Co. had over 10,000 independent stores in the country by 1960 and produced their pharmaceuticals in St. Louis, Missouri. The iconic orange and blue branding came from Rexall and is still associated with Kinney Drugs to this day though Rexall itself has long since morphed into a number of entities over the years, most recently having its name licensed by Family Dollar stores in 2010 to provide Rexall-branded health related products.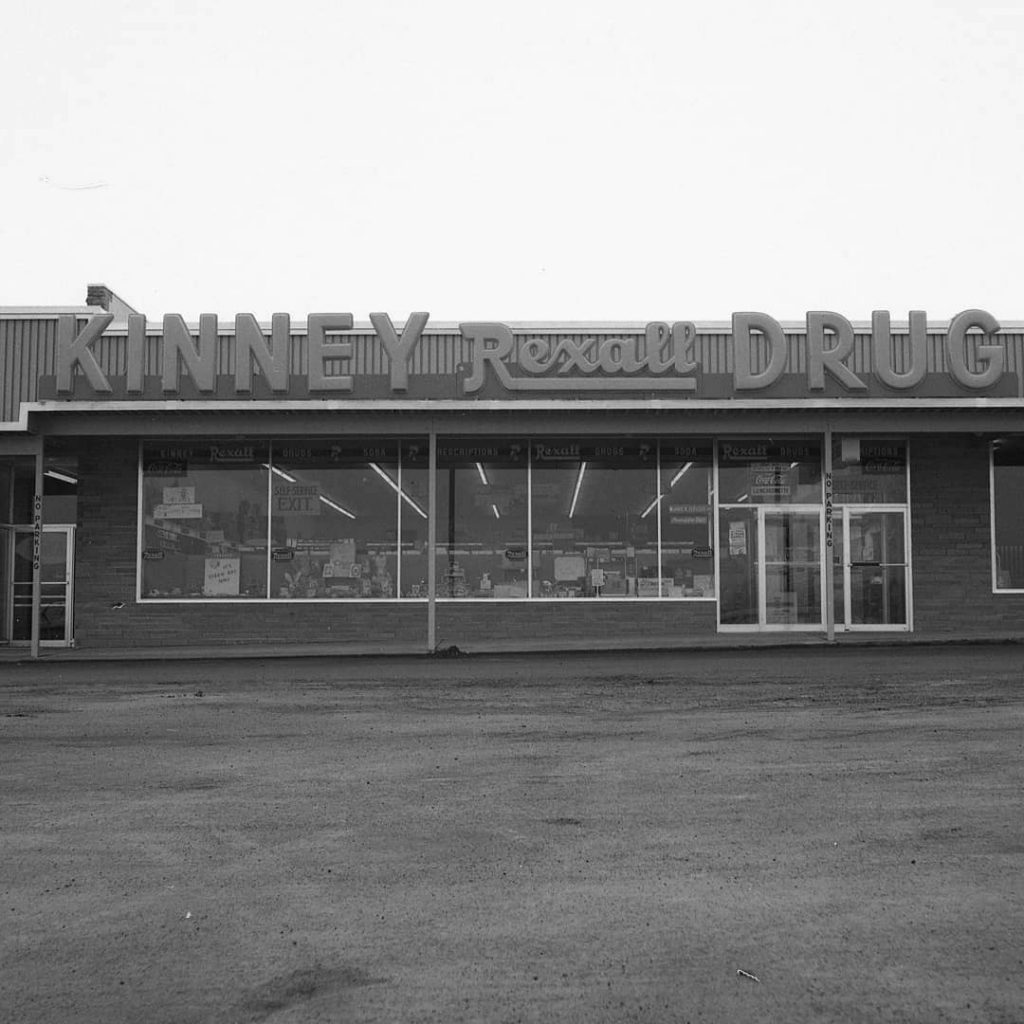 Kinney Drugs would later be incorporated in 1928 after son Harold D. Kinney, a chemist with a Cornell education, joined his father in operating the business after returning from WW1. 1959, Kinney Drugs would expand further, opening its 12th store on Mill Street Road in the Seaway Plaza with its grand opening on November 19th. Believe it or not, one of the selling points was free parking – "no tickets, no nickels and lots of room," as one would be accustomed to if having visited the location on Public Square at Hotel Woodruff.  
The new Kinney Drugs would join W. T. Grants at the new shopping plaza, which added the Acme grocery store within a few months, with P & C joining them the same day (for those who may not recall, Acme was located for many years into at least the late 70s at the left end of the plaza where Grand Union recently took over Tops location and P&C was originally on the far right.)  Crosby's Super Duper would eventually take over the Acme location, then upon vacating it, P&C moved from its original location to where it had been for many years until Tops took over, leaving the plaza with one grocery store.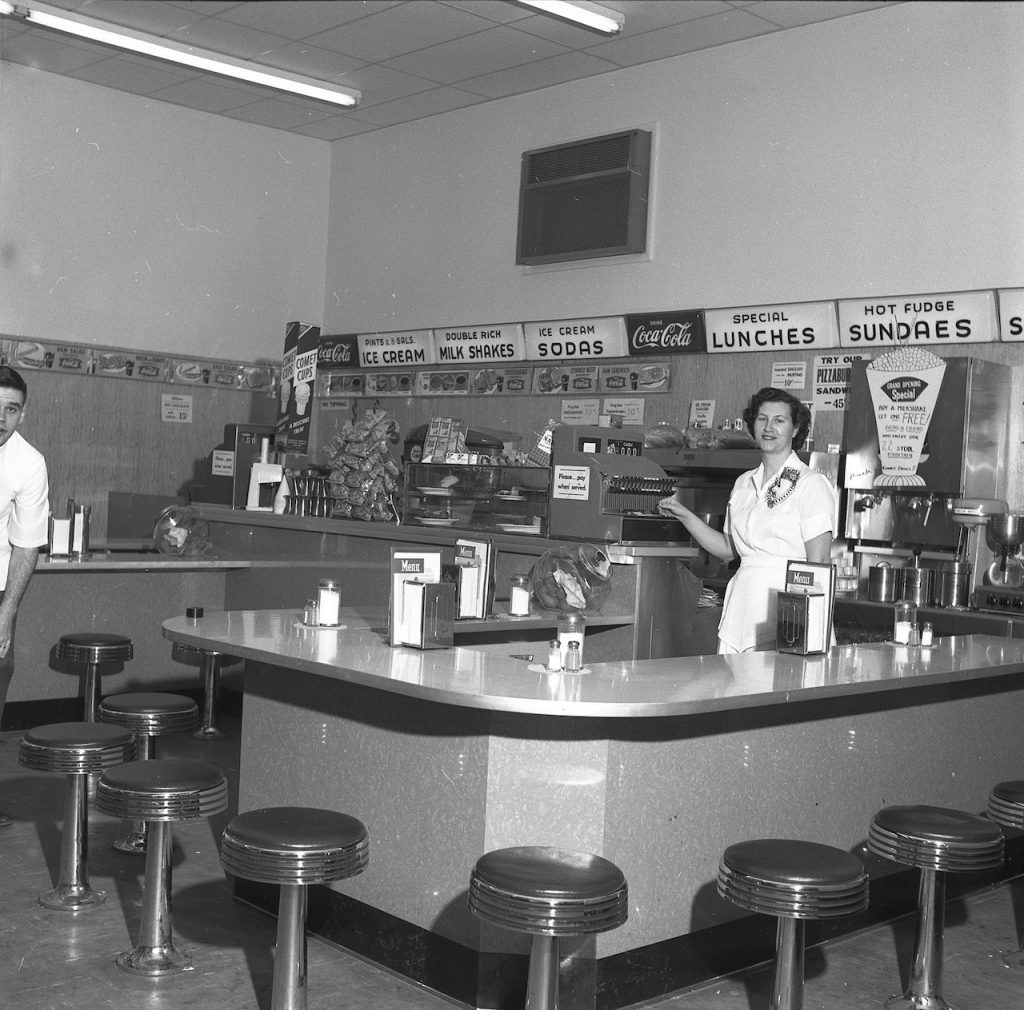 At the time, Kinney Drugs would partake in the popular luncheonette concept found in the likes of Woolworth and Newberry's.  The lunch counter would offer up daily specials like a pizzaburger sandwich for 45¢, corned beef, ham sandwich, and cheeseburgers.  If you had a craving for desserts, there was ice cream, "double rich" milkshakes, ice cream sodas, and hot fudge sundaes.  
Burt O. Kinney passed away at the age of 92 in July 1966 from complications due to pneumonia. That year, Kinney Drugs had a total of 15 stores open. Before this death, Burt served as President of the company until 1960, when his son Harold took over duties with his father in semi-retirement and worked in the original store every day until just a few months before his death. Mr. Kinney, during those last six years, was also chairman of the board of directors, a position Harold would undertake shortly after his father's death.
Over the years, Kinney Drugs would continue to expand the number of its stores. By 1980, there were 21 locations in New York and Vermont. Even existing stores, such as the one at Washington Street Plaza, expanded into adjacent vacant space. By 2003, its 100th anniversary, there were 64 stores with nearly 1,800 employees and slightly over a third of them full-time. Five years later, in 2008, Kinney Drugs became owned by its Employee Stock Option and 401K plans.  
Kinney Drugs continues to grow and has 96 pharmacies in New York and Vermont. It is part of a larger organization, KPH Healthcare, which has more than 4,500 employees across multiple states. Despite its continued growth, Kinney Drugs continues to be community-focused and locally committed, with the same values Burt instilled well over 100 years ago.