The Sugar Bowl: A Long-Standing Fixture on Public Square… And Canton, N.Y.?
The first mention of the Sugar Bowl on Public Square in Watertown was in 1918 when Nicholas D. Dusckas first formed a partnership with his son-in-law, Gus G. Athans. In 1924, Mr. Dusckas, as proprietor of the Sugar Bowl next to the First Baptist Church on Public Square, would be granted all rights for–
–cutting of an arch in the wall between two stores so that persons in the waiting room can go into the candy store without going outdoors.

Mr. Dusckas will completely remodel his place, putting in a new front, a new soda fountain, converting his back room into a kitchen and establishing a high-class tea room where light lunches will be served as ice cream and soft drinks of all kinds.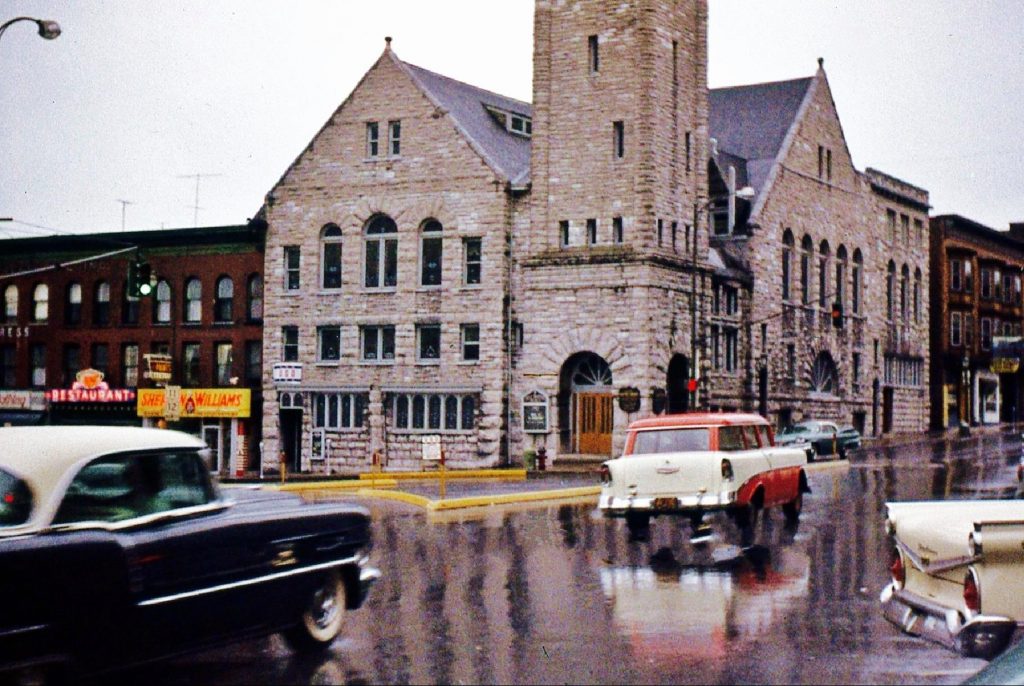 In August 1933, after a makeover, the "New" Sugar Bowl would enjoy a long run at its location that lasted just over fifty years before closing its doors in 1984. As reported in the Watertown Daily Times in 1933–
The new Sugar Bowl restaurant and soda fountain will hold its grand opening days Thursday, Friday and Saturday, it was announced today by Nicholas D. Dusckas, proprietor.

The Sugar Bowl has been refinished now and has thoroughly modern appointments.  Mr. Dusckas is a native of Sparta, Greece. He came to this city in 1903.  When he came here his brother, Gus Dusckas, was operating the Woodruff Hotel candy store and also what is now known as the Sugar Bowl.

Because of ill health, Mr. Dusckas' brother returned to Greece and he has operated the Sugar Bowl since.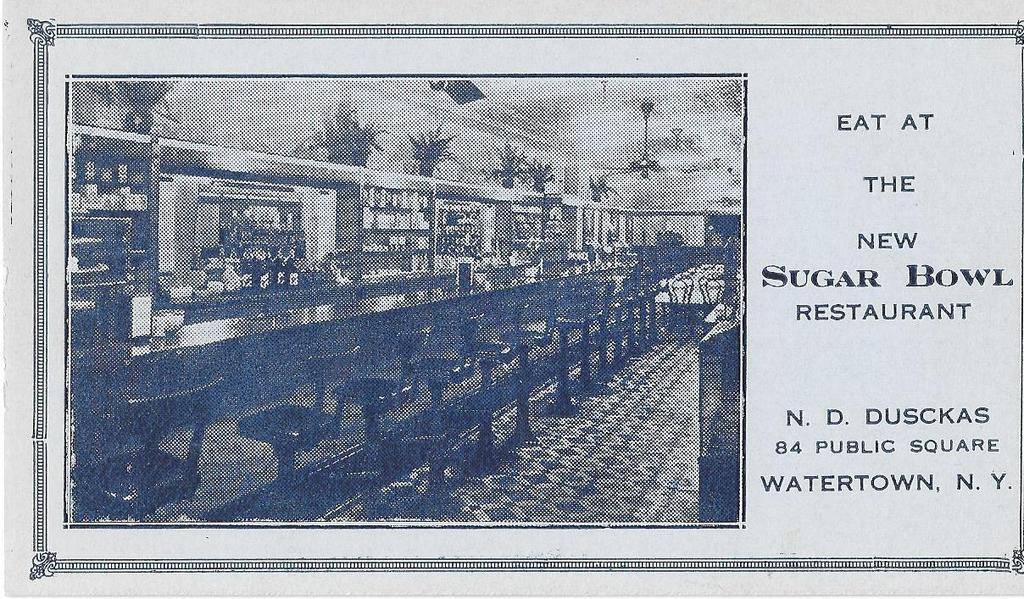 Four years later, Mr. Dusckas retired from the business altogether, leaving it to his partner and son-in-law, Gus G. Athans, to run for many years. Dusckas had a long-tenured association with the business in Watertown since his arrival in 1903 when he joined the business of his brother, Gus Dusckas, who had founded a confectionary business, the Crystal Palace store, at Hotel Woodruff. Later, he owned and operated the Bon Bon Shop near the Victoria Theater at the Streeter Block before opening the Sugar Bowl.
Mr. Dusckas went on to own and manage the Terminal Restaurant, located at 111 Terminal Place. Unfortunately, he continued to work despite health issues and passed away on May 5, 1942, at the age of 66, after suffering a coronary thrombosis.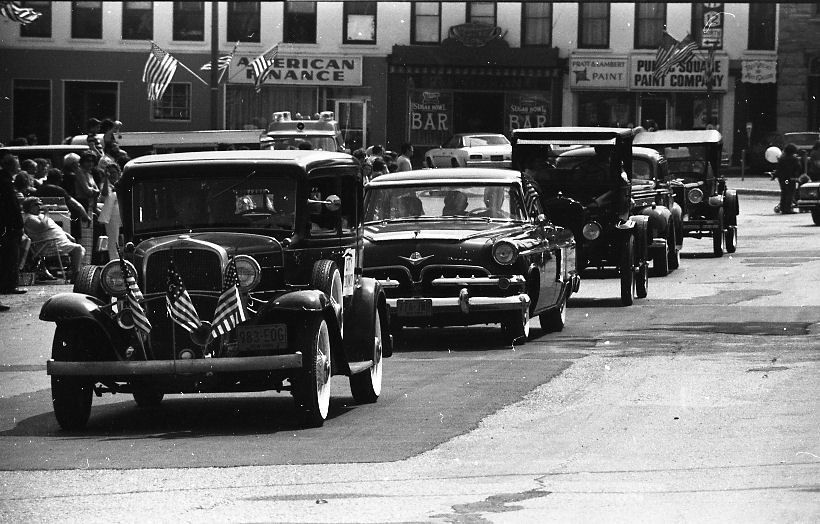 Just a few weeks later, William Duskas, also a native of Sparta, Greece, passed away at the age of 54 from a heart ailment in Canton, N.Y., where he owned and operated the Sugar Bowl Restaurant.  According to his obituary in May 29, 1942, Watertown Daily Times–
He came to Canton after the first World war and joined his brother, George, in the operation of the restaurant.  In 1921, he purchased his brother's share and became sole proprietor of the restaurant, specially patronized by students of St. Lawrence University.  The store was remodeled to its present form in 1932 and a regular restaurant business was added to the confectionary business two years ago.
While the term "Sugar Bowl" was a common namesake in that era, there is no reference to the two, with slightly different spellings of their last names, having any relation to one another.
In 1950, part owner of the Watertown Sugar Bowl, John Vedes, 50, died suddenly after suffering from high blood pressure for some time. Mr. Vedes co-owned and operated the restaurant with Constantine Athans at the time.
The restaurant was owned by Constantine Athans for a number of years but ultimately changed hands several times in the 1970s and early 80's when, in 1983, the owners were delinquent on property taxes nearing $1,000. By December of 1985, the Sugar Bowl was no more, although no specific date could be referenced for when it closed its doors permanently.