Last of The Jean's Beans Still Going Strong At Same Location Despite Difficulties Launching In 1953
Even if you've never had the opportunity to walk into Jean's Beans on Eastern Boulevard and savor the aroma on any given day, chances are you may very well be familiar with Jean's Potato Chips which were established in 1924.  In their red and blue boxes with white stars (red boxes are rippled, blue boxes are plain), the chips were manufactured in Syracuse and found throughout the region and a staple at many family picnics.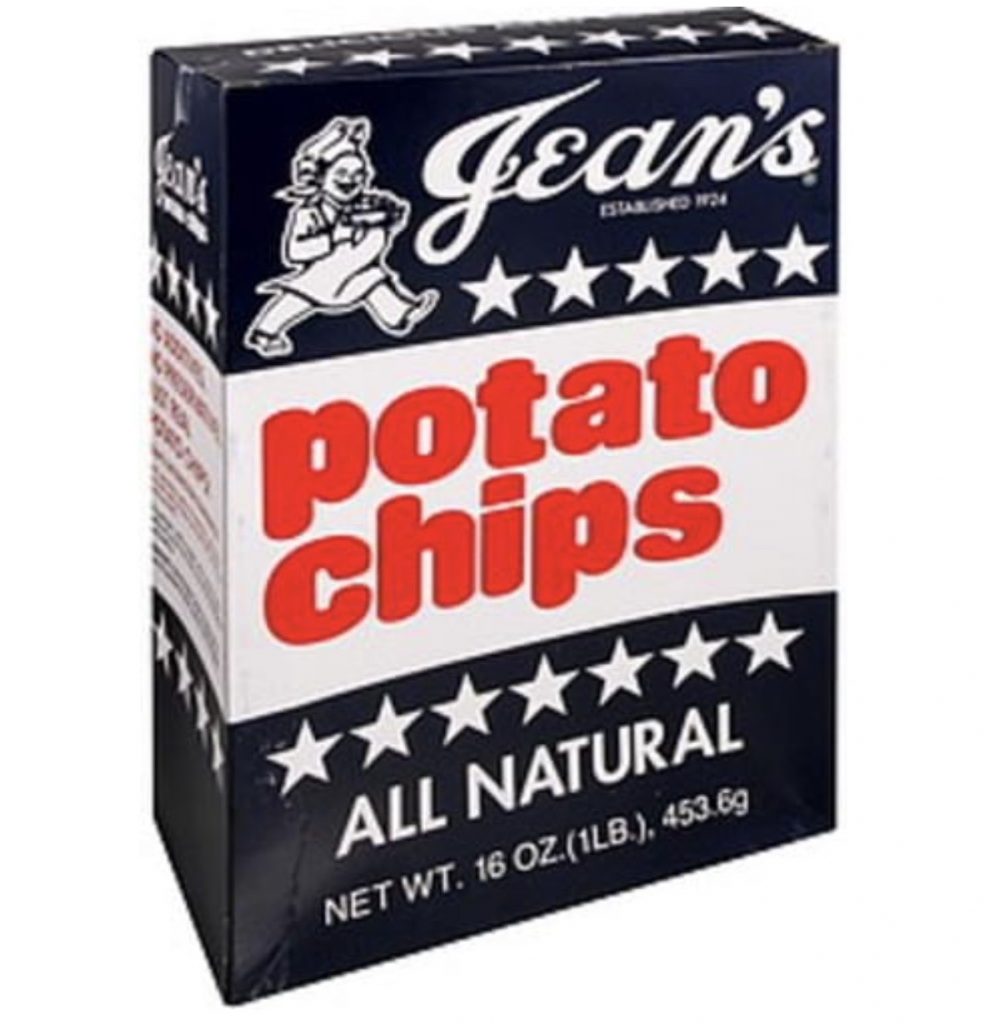 Like many things, the history of Jean's Beans may have been colored with time as different variations of its beginnings exist depending on where one looks.  According to the website for the only Jean's Beans left in Watertown, N.Y., "In the early 20th century, Jean's Beans was started by a French chef named Jean, who peddled his famous baked beans on the streets of Syracuse, N.Y." 
Another source, cnyhistory.org, states that it "began in 1924 when Frank J. Childs, 'started selling his wife's beens out of the back of his car.'"  His wife, incidentally, was named Frances Eugenie de Borger Childs. Unfortunately, the quote within-a-quote's source was not documented, but the short piece went on to state that Child's would create a subsidiary, Jean's Foods, to make and sell potato chips, fish and salads via a shop on East Fayette Street in the 1940s.  Curiously noted, the food recipes were from Frank Child's brother-in-law, "Jean," who was reportedly a chef in New York City.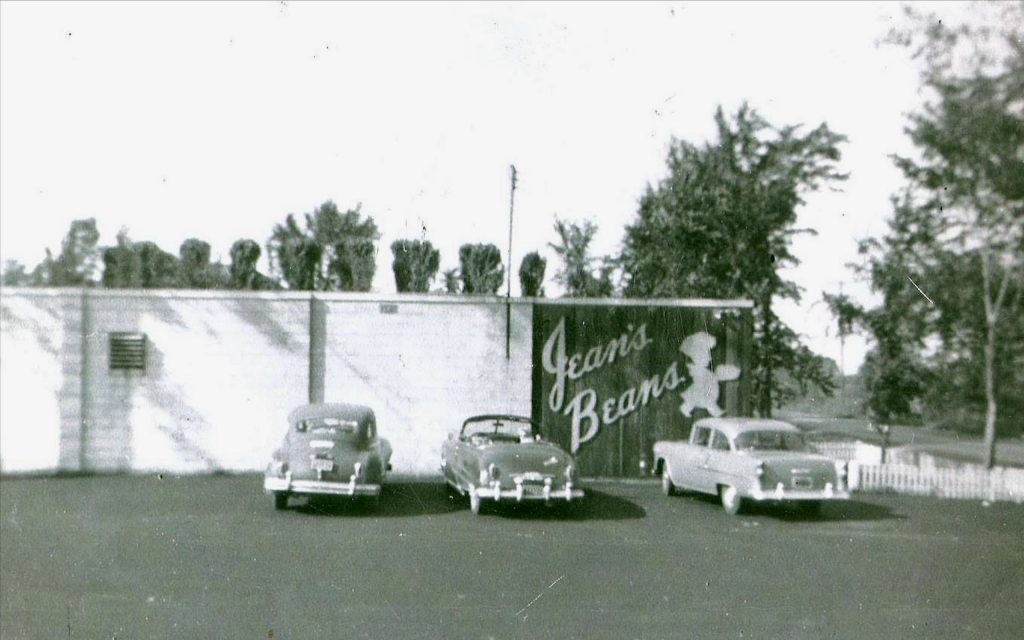 Naturally, these bits of information lead to the question: who was Jean?  Assuming his last name was de Borger, an interesting result of several searches and queries using different variations of the name showed that Eugene C. DeBorger, 37, was found dead in 1933, in Syracuse, N.Y., as a result of carbon monoxide poisoning.  The obituary would provide no direct connection to Frances, except for one vital bit of information—
Syracuse, Feb. 1—Failure to shut off the motor of his automobile while changing a tire in the garage today cost the life of Eugene C. DeBorger, 37, founder and president of a bean company.  Coroner William R. Winne said death was accidental from carbon monoxide gas.  A neighbor found the body on the floor.  

Two sisters, Mrs. W. O. Proctor and Mrs. Esther Chaintreuil, and a brother, Grover, all of Rochester, are among the survivors. 
Could Eugene be the "Jean" behind Jean's Beans who provided the recipes to Frank Childs?  If so, it's interesting, though perhaps not all that unusual, for a significant sibling to be absent from a short obituary (e.g. Benny Tufo, of Benny's Steakhouse, had his obituary missing information of several siblings.)  Nevertheless, from the name, location and type of business, it seems probable this to be the brother-in-law of Frank Childs.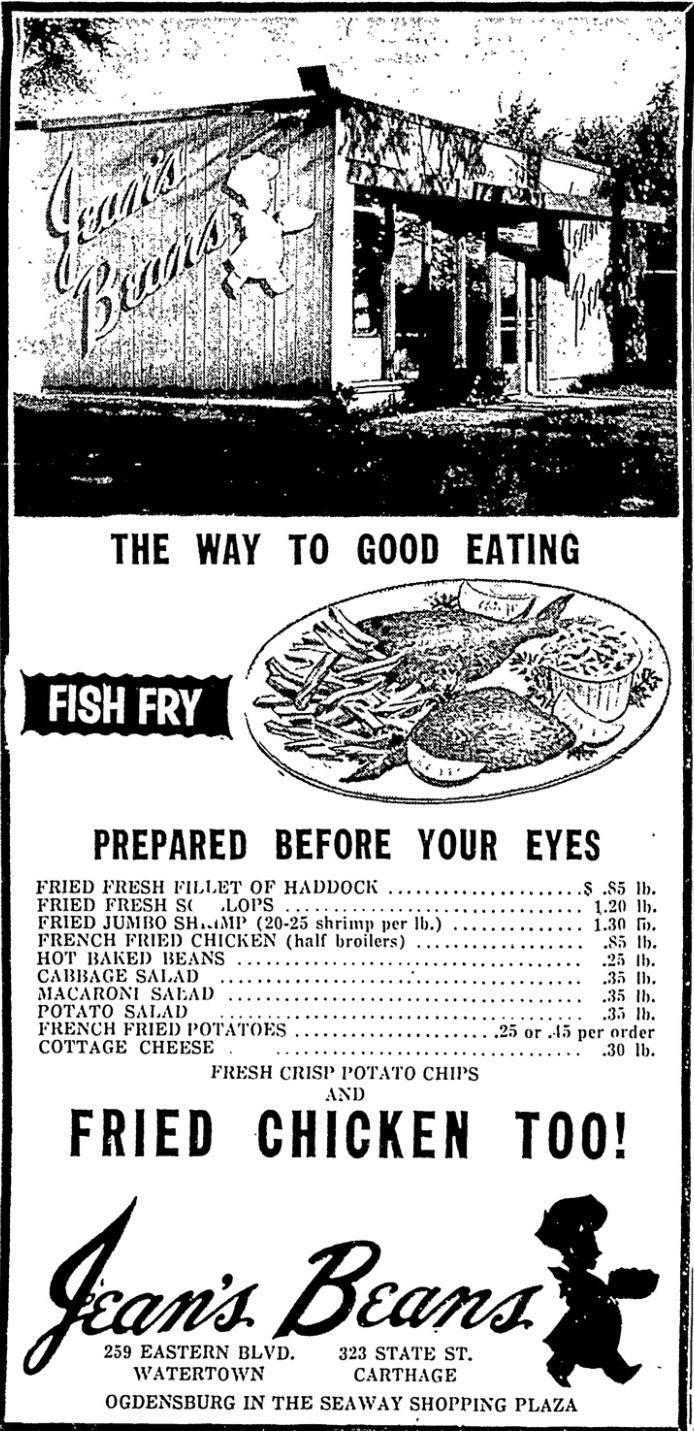 Further research found a comment on a web page, "In the 80's," where a user stated several years back that their grandfather, Eugene DeBorger, had started the beans and chips co. Evidently, some time after his death, his sister and brother-in-law carried on the business and eventually opened the store on East Fayette Street in Syracuse which became the basis for the many franchises to follow.  
In March of 1953, Syracuse-based Jean's Beans offered $1,200 for four lots on Eastern Boulevard as part of a public auction.  The intent was to build a modern, one-story building later referred to as a plant.  The city council initially introduced new ordinance two weeks prior, making it a commercial zone on the Street only to realize a mistake had been made after the bid and that the residential area should have been converted to light industrial (required for entities employing over five persons.)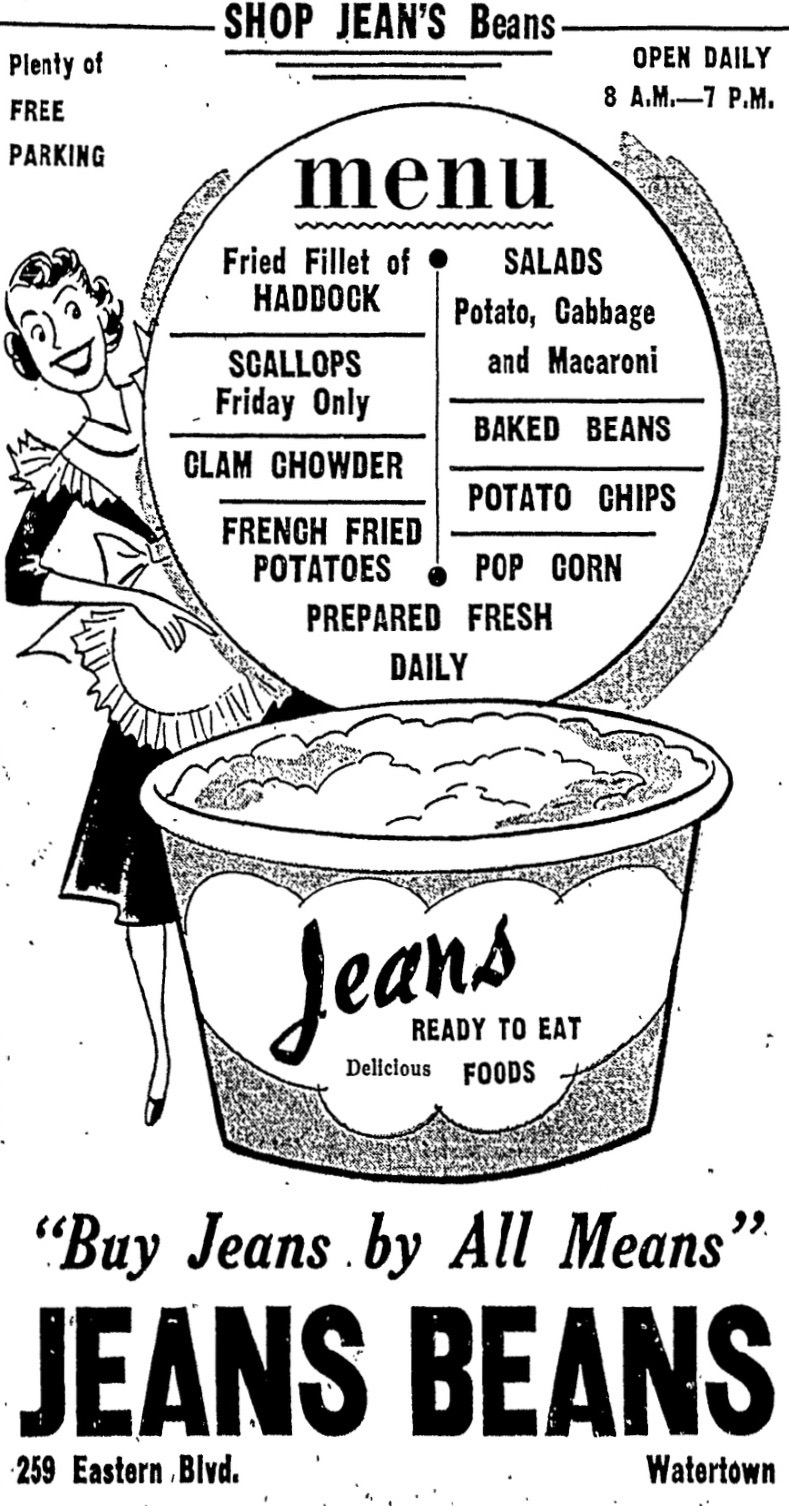 As a result, the council refrained from accepting what turned out to be the only bid until reviewing the new ordinance suggested which had been docketed for a later date.  When finally voted on, it was carried in a heated dispute, 3-2, and Jean's Beans was granted approval – but the controversy was far from over since the ordinance needed correcting.
In the April 14th edition of the Watertown Daily Times reported on the potential failure of the deal resting with the city council—
The president of the chamber of commerce, Robert A. Bond, Monday night warned the city council that the responsibility for failure to promote new business for Watertown rests squarely in its lap.  

"The chamber has done all it can," said Mr. Bond in supporting the application of Jean's Beans company, Syracuse, for re-zoning four lots on Eastern Boulevard to light industrial. "It is now up to this council now."

"The city of Watertown, which is the innocent bystander in this dispute, could be seriously hurt.  If the council refuses to allow this company to go to business here, the fact will spread throughout the state like wildfire and jeopardize new industry negotiations under way."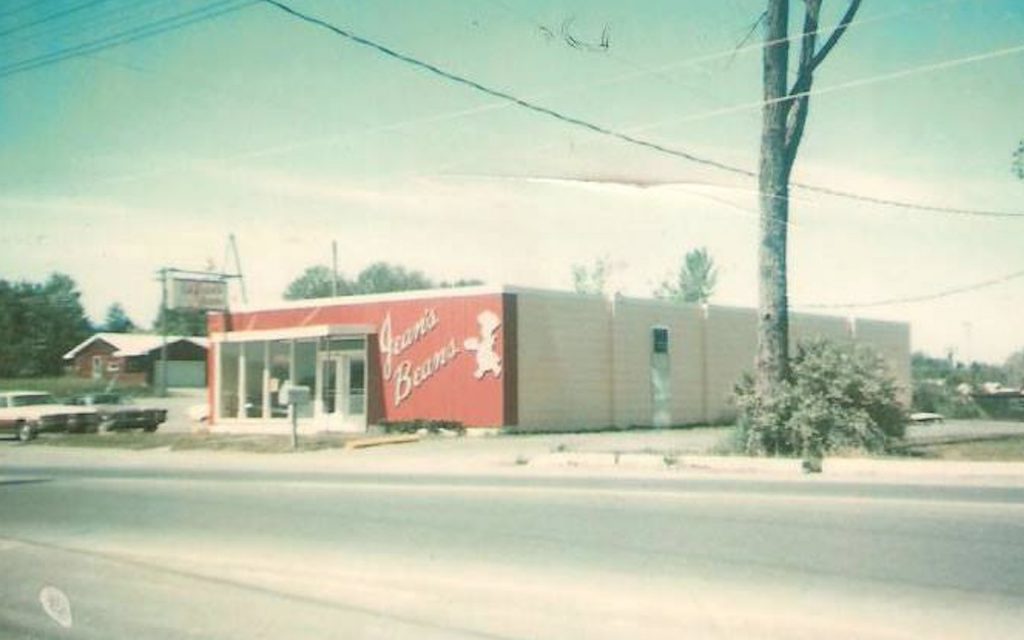 It was further noted that written objections came from Stebbins Engineering, who wanted the property for themselves, and the Watertown Housing Authority who later agreed to withdraw their objection if it could be shown that such a plant at the site proposed would have no disagreeable odors.  
The objection was ultimately withdrawn after the a housing authority representative visited the company plant in Syracuse.  On April 21st, the city council would vote to approve the zoning change to permit the construction of the Jean's Beans building.  
Neil J. Fuller worked for J. Richard Childs, son of Frank J. Childs, while attending Syracuse University in the early 1950s and would open the Watertown franchises upon graduating in 1953.  A year later, he would marry Hilda E. Christie who helped operate the store (though she helped prior as he hired her – that's how they met.)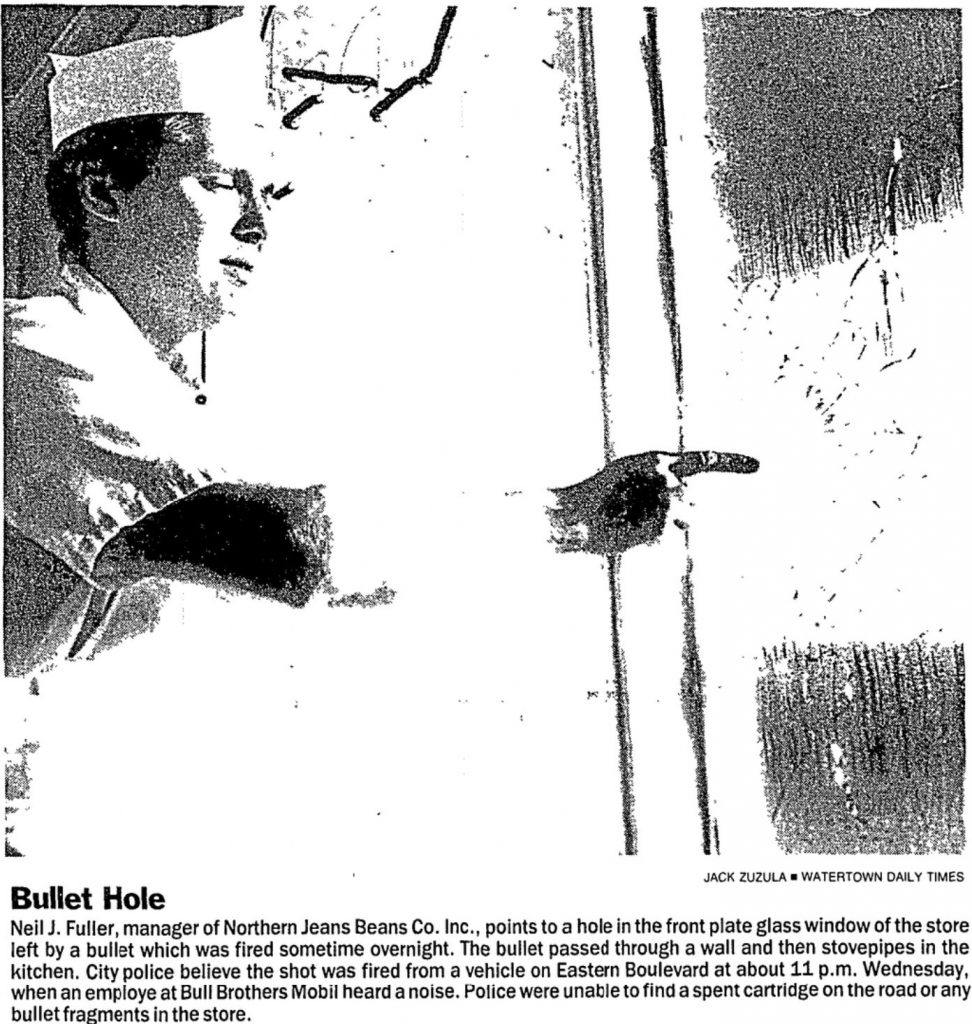 In addition to the Watertown location, Neil J. Fuller would open stores in Elmira, Carthage and Ogdensburg as well.  Carthage and Ogdensburg weren't as successful, closing by 1957, and Neil sold the Elmira store and focused solely on the Watertown location for another forty years.
Neil J. Fuller would pass away in 1997 at the age of 71 after a long illness while still owner of Jean's Beans in Watertown.  His obituary would note—
He joined the Navy on Nov. 9, 1943, and entered active service at Key West, Fla., serving aboard the USS Leonard F. Mason.  He later served aboard the USS Juneau as senior yeoman and supervised all yeoman and on-ship offices.  He was in charge of the ship's executives officers office while in the Mediterranean and was discharged in 1947.  He received American Theater, Good Conduct and World War II Victory medals.  
Neil's wife, Hilda, continued to occasionally work into her 80s and passed away in January of 2021 at the age of 91.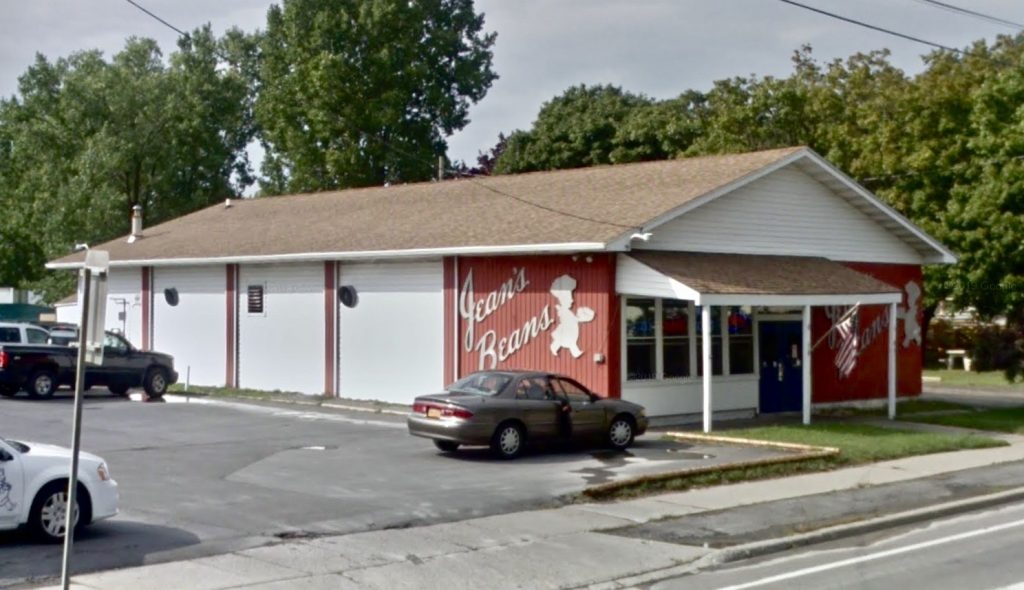 Today, Jean's Beans continues to be a family affair and is operated by owner Jane Bowman, daughter of  original owner Neil J. Fuller, along with her husband and two adult children, Mark and Heather.  Another descendent of the original owner, also named Neil J. Fuller, retired from the family business in 2000.
Next year, 2023, will mark the 70th anniversary of Jean's Beans in Watertown, N.Y., and while we look forward to many more years to come, it does bring up another burning question: how many times does one suppose Stebbin's Engineering employees next door had lunch from Jean's Beans in all those years?  Now there's some food for thought!
Below: ABC50 NNY Eats Jean's Beans segment with Alex Hazard and Mark Bowman showing how their famous fish fry, from ABC50 InformNNY's YouTube page.