The Chimes Cafe Was Located On Franklin Street For Just Shy of 50 Years
In the fickle business of restaurants, the first few months often prove to be make-or-break. For The Chimes Cafe, one might be surprised to learn it was open for nearly 50 years, from 1934 until approximately 1983. During those years, it managed to be in just two locations, both on Franklin Street, and was completely destroyed by a mysterious fire 83 years ago, on February 16, 1940. Many small businesses may never have recovered, but the Chimes Cafe managed to reopen in a matter of only a couple of months and continued for another forty-plus years.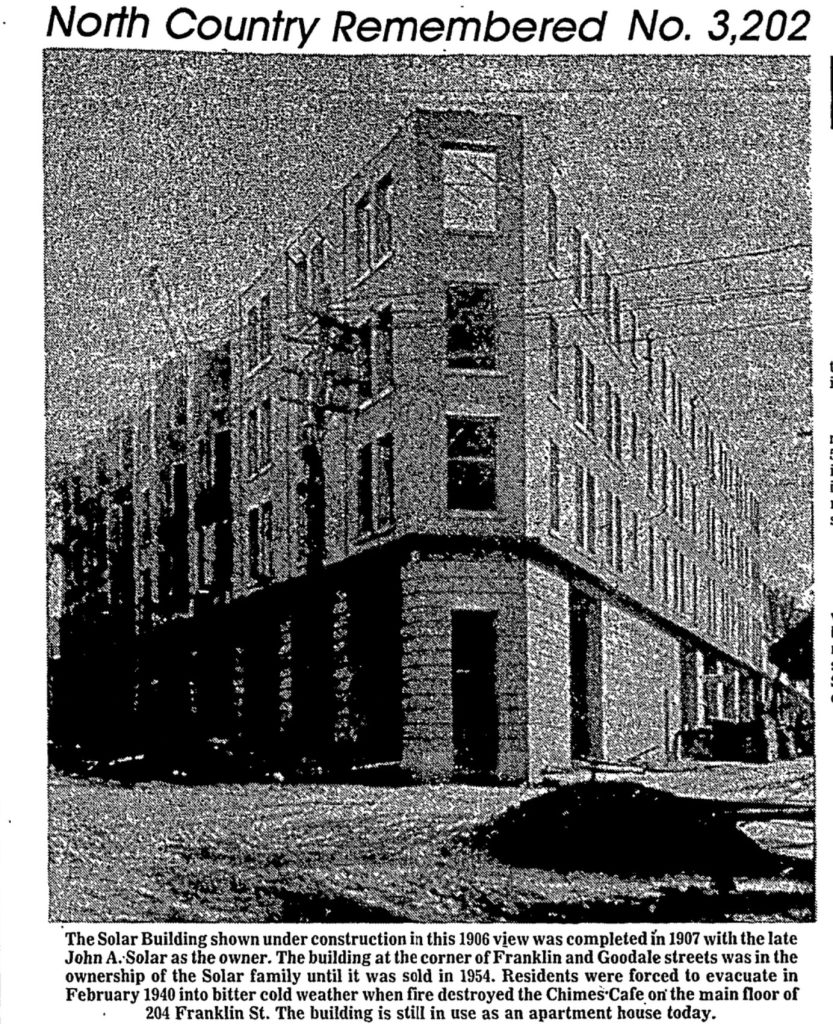 Initially located on the ground floor of the Solar Building at 204 Franklin Street, the Chimes Cafe was opened in early 1934 by businessman Lazarus Stamat of 117 Sterling Street. Born in Smyrna, now known as Izmir, Turkey, Lazarus married in Smyrna shortly before the outbreak of the Greek-Turkish war of 1922. He left Turkey with his bride in 1921, settling initially in Rochester, N.H., before coming to Watertown, N.Y., in 1928.
The Chimes Cafe, upon its opening, offered up simple fare such as steamed clams at 15¢ a dozen and pigs in a blanket, aka hot dogs or sausage wrapped in pastry dough, for the same price. Customers also had the option of a la carte service, too.
The enterprising Stamat also purchased the Vassar Building at 263-71 State Street, along with George Rochonchou (also identified as George Ronson), a confectioner from Carthage. The two later also purchased 67-69 Public Square, currently the home to Avon Shoes for many years, from Trinity Church after Anson R. Flower had conveyed it to them.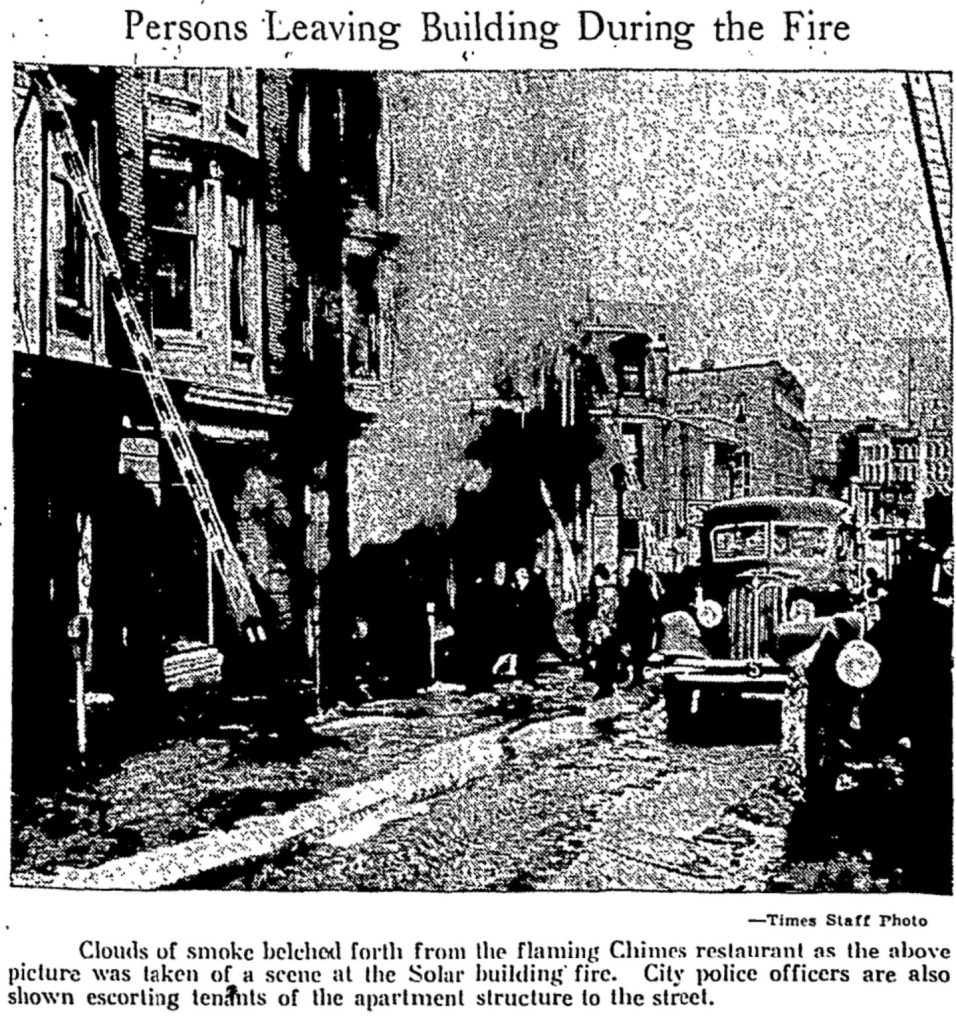 On February 16, 1940, a mysterious fire destroyed the Chimes Cafe at approximately 8 a.m. on a cold and frigid morning. The Watertown Daily Times reported–
Nearly all of the 103 occupants of 54 apartments in the six-story Solar building, corner of Franklin and Goodale Streets, were driven into near-zero weather at 8 this morning when fire destroyed the Chimes Café, located on the main floor at 204 Franklin Street, and spread to six of the apartments.  Dense smoke filled the building, the city's largest apartment house, causing most of the occupants, many of them clad only in night clothing, to evacuate. 
It was also reported that two explosions inside the Chimes Cafe occurred shortly after the fire broke out, blowing out the front of the store on the Franklin side and its rear on Goodale Street. Large glass windows were shattered with pieces of glass hurled for hundreds of feet.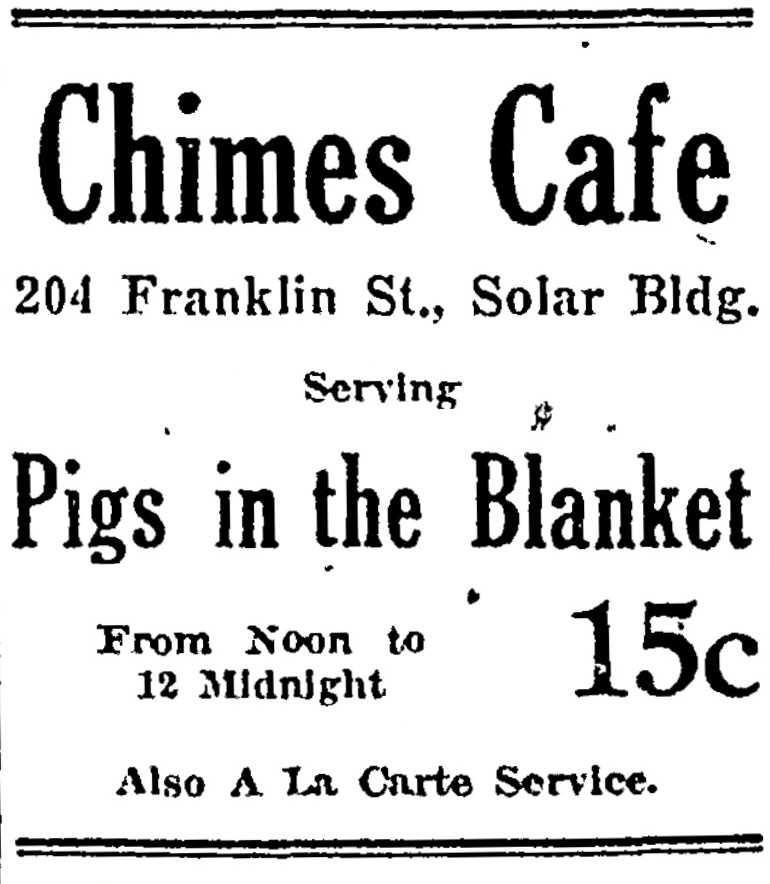 Fire chief William E. Gaffney reported the cause of the fire remained a mystery and may never be known as the Chimes Cafe was completely destroyed with a total loss expected to be around $25,000. Despite Chief Gaffney and Captain Roberts interviewing all persons employed at the cafe and others who knew about the fire, they could not learn the cause of the blaze. The Chimes Cafe was rebuilt and re-opened two months later in the same location.
Lazarus Stamat eventually sold his interest in the Chimes Cafe to Peter Andrews, George Melonous, and Lambros Markesines in 1945. He would continue to reside in Watertown until a few years before his death on August 4, 1958. At the time, he had moved to Miami, Florida, and built a home there, but he also kept a residence in Watertown on Bowers Ave., for when he made trips back to visit. He was about 70 at the time of his death.
George Melonous, of 720 Gotham Street, eventually became the sole proprietor of the Chimes Cafe in 1951. Melonous, born in Clara Samos, Greece, on April 22, 1892, came to the United States in 1912 and served during WWI. After the war, he lived in several smaller cities until coming to Watertown in 1942.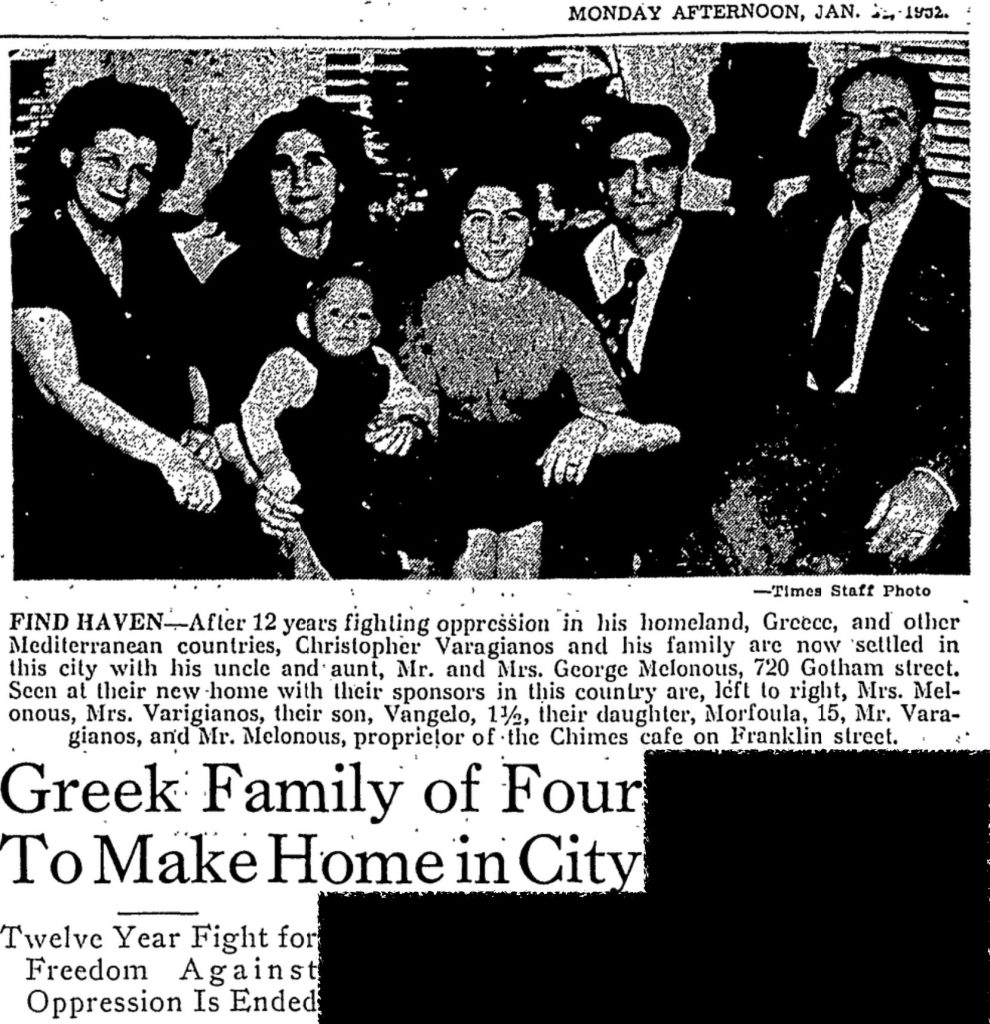 In 1951, George discovered he had a nephew he never knew who had fled his native Greece. The Watertown Daily Times reported of George's helping his then unknown nephew, who had been fleeing fascist and communist oppression for over a decade–
Greek Family of Four to Make Home in City
A twelve-year fight for freedom against both fascist and Communist oppression that took him throughout his homeland, Greece, and much of the perimeter of the Mediterranean has ended for Christopher Varagianos and his family.

With his wife, a daughter, Morfoula, 15, and son, Vangelo, 1.5, he is now living with his uncle and aunt, Mr. and Mrs. George Melonous, 720 Gotham Street. He arrived here first, and was joined later by his family when they arrived from their former home on the Island of Samos, some 50 miles north of the Island of Rhodes in the Aegean Sea.

The plight of the Varagianos family was first learned by Mrs. Melonous during a trip to Greece. When she returned she told her husband of his nephew he didn't know existed. He took immediate steps through the government D. P. act to bring the family to this country.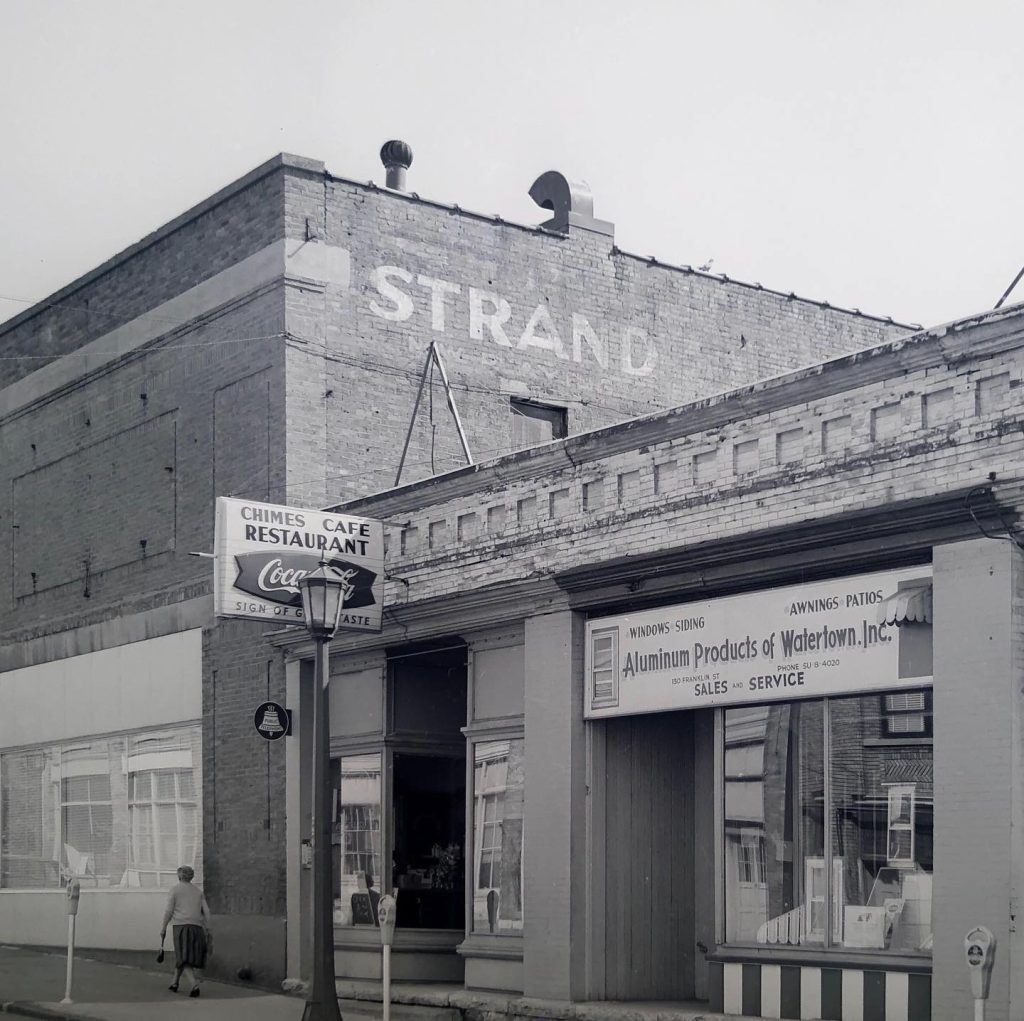 By the end of 1952, George Melonous decided to retire and sold the Chimes Cafe business to Evangelist J. King, a former city policeman, 264 Seymour Street, and Louis A. Zando, 268 Seymour Street, proprietors of the King's Restaurant on Mill Street. Melonous passed away nine years later at the age of 69 on July 26, 1961.
Louis A. Zando apparently became the sole owner of Chimes Cafe at some point and relocated it to 132 Franklin Street, next to The Strand, in November of 1962. Born on September 3, 1916, in the town of Wilna, Zando graduated from Carthage High School and served in the United States Coast Guard from 1937 until 1942, when he was honorably discharged.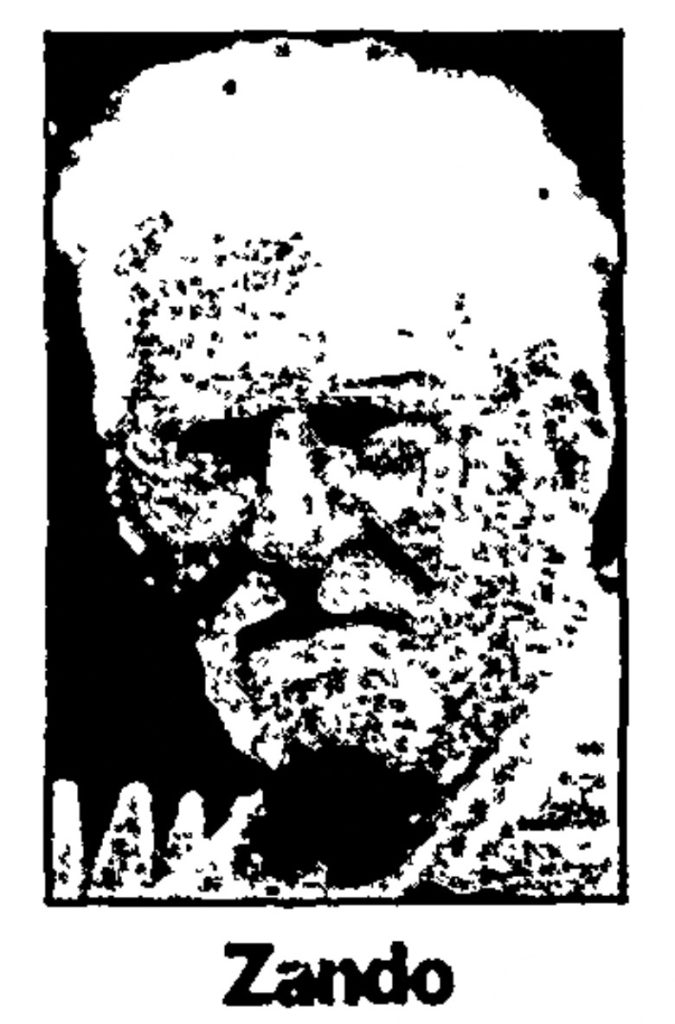 Zando then joined the Navy, graduated from the Naval Air Training Center, and was commissioned an ensign in the Naval Reserve, serving as a political in the American, European, and Asaitic-Pacific Theaters. He was honorably discharged as a lieutenant in the Air Corps on Jan. 3, 1956, and received an American Defense-One Star Medal and a World War II Victory Medal.
Lous A. Zando sold Chimes Cafe sometime near the end of its existence to the Durham family and passed away on April 4, 2004. Unfortunately, the Chimes Cafe closed sometime short of its 50th year in operation, and the goods and equipment were listed for sale in late 1983.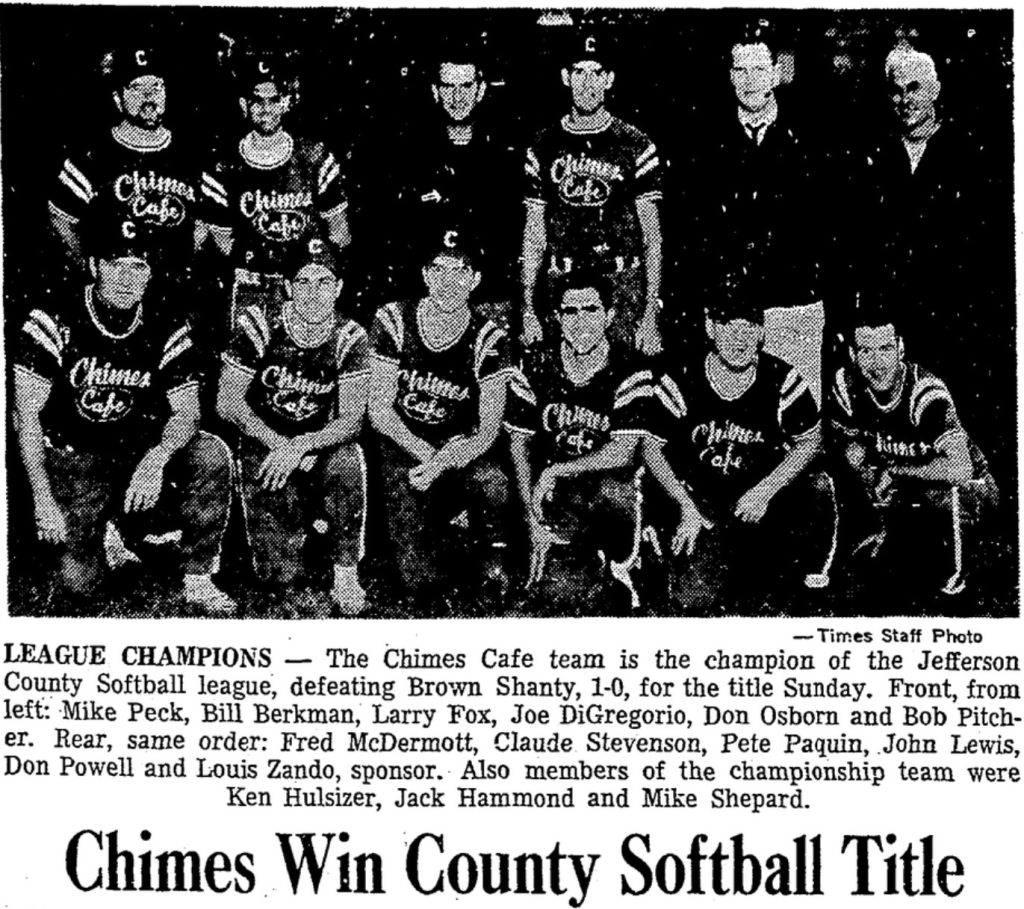 Chimes Cafe, A Sponsor of Sports Teams In NNY
Like many other bars and cafes during the era, the Chimes Cafe was a staunch supporter of team athletics throughout its existence under multiple ownerships. The cafe proudly sponsored many a competitive team, from bowling to basketball and softball teams, perhaps none brighter than the 1967 JeffCo Softball League.
That year, the Chimes Cafe softball team was made up of players from the previous year's champion team sponsored by the Brown Shanty. The team remained undefeated until mid-July, when their record stood at 16-1 after their first loss.
The county league then included the following teams: Brown Shanty-Derrigo, Omar Hotel, Auto Dealers, 655th Radar Squadron from Dry Hill, Jeff Savers, Philadelphia, Air Brake, and Crowleys.
The team eventually won the County Softball title at the end of September against the Brown Shanty-Derrigo Nine, 1-0. Both teams entered the game with identical 22-2 records.