Honk Your Horn For The Arch Street Tunnel!
The Arch Street tunnel was constructed sometime in the mid-to-later 1800's as part of the Rome, Watertown and Ogdensburg Rail Road (R. W. & O.)  The Arch Street tunnel allows for traffic to go between Court and Newell (formerly River) Streets, back when both saw considerably more traffic than they do today.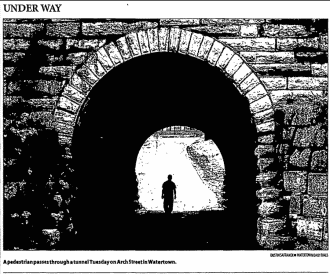 Trains going to and from the Watertown Rail Road Station behind the Woodruff Hotel passed over the structure on a regular basis until c.1960 when the passenger trains stopped coming to Watertown. Even then, trains would continue operating down Factory Street and over to Coffeen Street and beyond until the c. 1984.
Most recently, the stone archway underwent $200,000 worth of repairs in 2014. The work took three months to complete, necessitating the excavation of the Black River Parkway above it so crews could access the top portion of the Arch Street tunnel to conduct repairs on the stones comprising the top of the archway. Water had been seeping through the stones for some time, causing the historic archway to deteriorate.
In 1895, the then named Board of Public Works was noted for "doing good work" on the steep hill leading from Court Street to what was then referred to as the R. W. & O.  stone arch, grading and covering it "with a substance that gives horses a good foothold."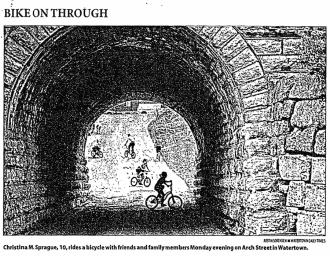 Today, Arch Street mainly serves as quick access to the Veteran's Memorial Riverwalk Park which begins at the barricaded, former right entrance onto Newell Street, though vehicles are still permitted to make left turns.
The decrease in traffic was virtually assured back in the late 1980's when the idea of the park was first floated, city leaders envisioned Arch Street to  essentially become used mainly for pedestrian foot-traffic to the park.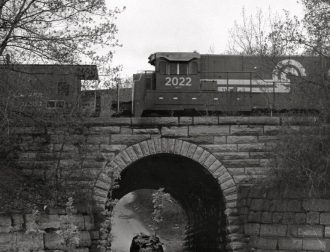 In 2019, an estimated $200,000 was spent repairing the stonework and arch as the street itself provides access to the city's Veterans Memorial Parkway along the river.