Solving a mystery: Barneys Place – Factory Street, across from the New York Air Brake
Anywhere there's hard work to be had, there's a place nearby for a drink.  Barneys Place.  Well, at least circa 1917.  Factory street, during its heyday, had many well-established watering holes over the years, but placing "Barneys Place" wasn't exactly easy.
First off, the number on the back of the photograph was illegible, but "Factory Street" was easily decipherable.  With little information to go on and nothing showing up on internet search results, the initial thought was perhaps it was what became known as "Smokey's" in later years.
Nope!
A little more detective work proved to be fateful:  always look at the reflections in the windows.  Surely it had to be across from one of the manufacturers, the lettering in the window providing the initial guess of Smokey's as it was located across from Factory Square.
Though it had been a couple of years since trying to solve this mystery, opening up the photo in a software program recently spurned the idea that lead to its answer: reversing the image so that the lettering read from left to right instead of backwards.  The result was the image below which provided the big clue: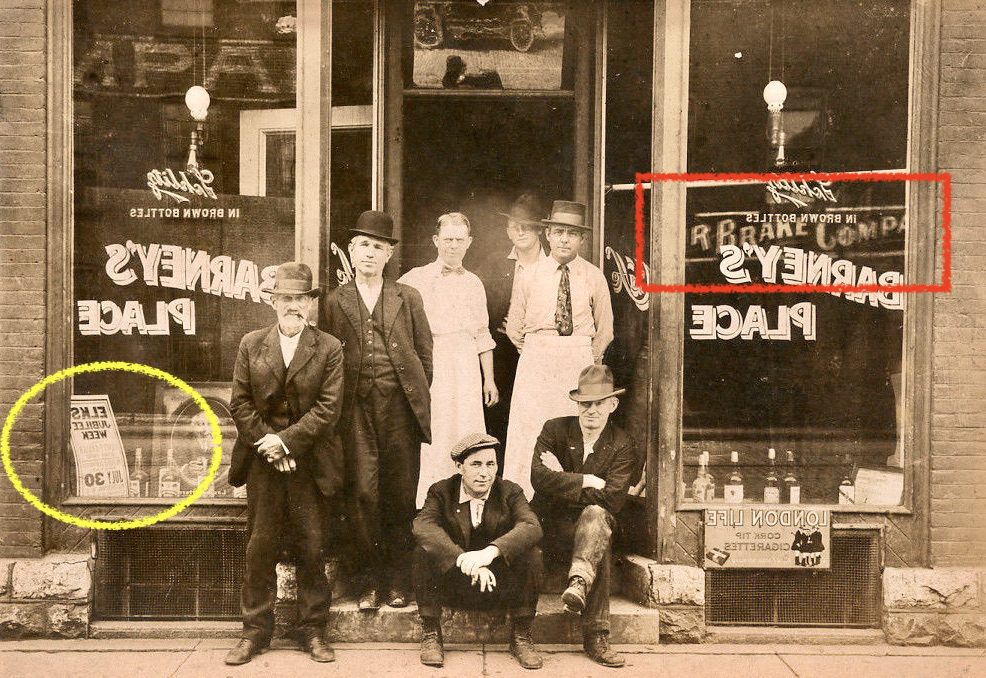 As can be clearly seen in reverse, "..R Brake Company," none other than the New York Air Brake Company.  By this time, the NYAB had relocated from Beebee Island to the corner of Starbuck Ave and Pear Street, opposite the Pearl Street School.  But, digging through early 1900's city directories showed its located as being in the 30-40 range of Factory Street.
Fortunately, another search for "Barneys Place" proved fruitful: a 1917 brief advertisement for a fish fry in the Watertown Daily Times… but the street number was illegible.  Turning the attention to the Elks Jubilee on July 30th poster in the window, a search affirmed the photo was taken in 1917.
With that information in hand, turning to the City Directory the year prior showed the numbering of Factory Street had indeed changed by then and that the New York Air Brake address was now 211 – 223 on the north side of Factory Street.  That would finally lead us to determine that Barneys Place is, or was, in most recent years, became Mick's Place.  Mystery solved!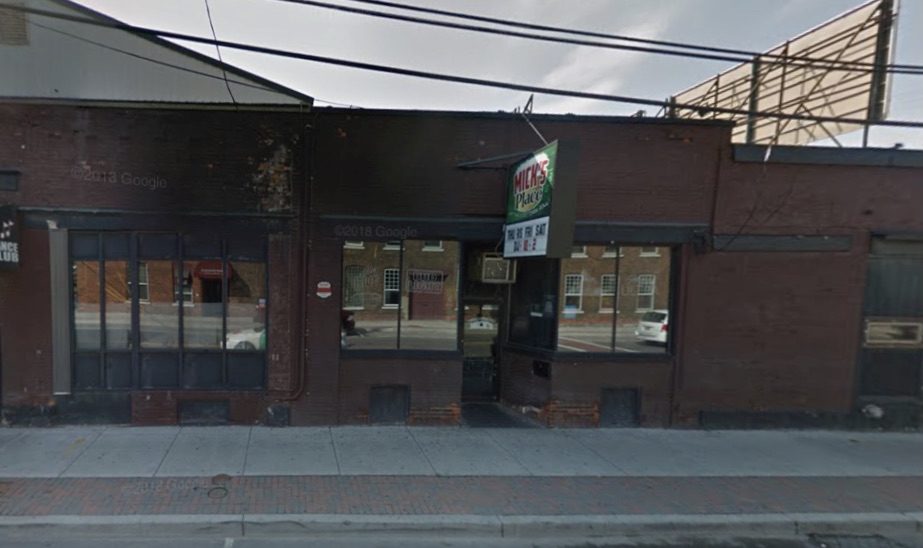 It's not known how long Barneys Place lasted.  It's address in 1917 was confirmed to be 210 Factory street, but subsequent searches in following years showed Morrison's Furniture as the business listed at the address as perhaps the result of another street re-numbering effort, which wasn't unusual during the era.  Nevertheless, we'll always have this cool photo!
Note:  Barneys Place, correctly spelled as Barney's Space, is written as such because the use of apostrophes, periods, etc. in urls and SEO practices causes numerous errors.  We went to skool, promise!