James F. Starbuck, Prominent Attorney, and Later State Senator, Builds Starbuck Mansion At 253 Clinton Street
The Starbuck mansion at 253 Clinton Street, once declared by Watertown Daily Times writer David F. Lane to be "One of the Watertown's most imposing mansions," was completed in 1866, nearly 40 years before its arguably more imposing neighbor, the Emma Flower Taylor mansion.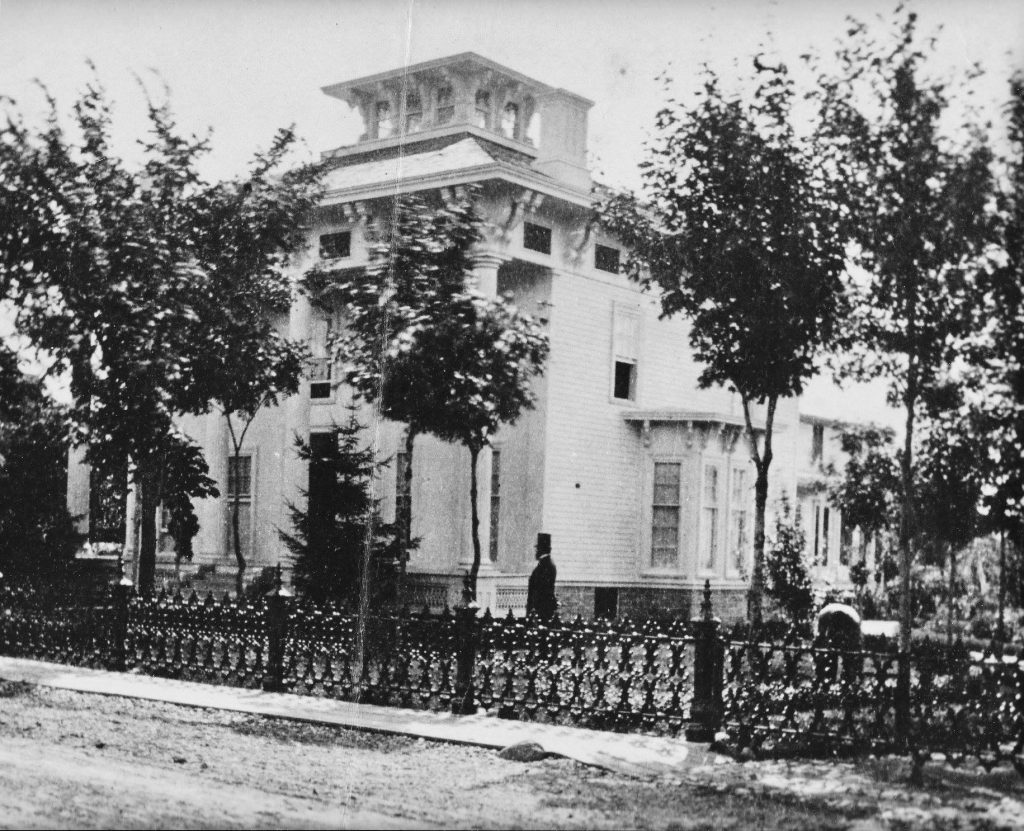 James F. Starbuck was born in 1815 in the town of Scipio, New York, part of a central New York military tract of land in Cayuga County reserved as payments for veterans of the Revolutionary War.  He would find himself in Watertown at the age of 23, where he entered the law office of Robert Lansing and George C. Sherman (aka Lansing and Sherman), later opening an office of his own and beginning a storied career as one of the best attorneys in the region.
In 1846, Starbuck was elected Secretary of the Constitutional Convention, which was held that same year.  In 1848, at the age of 33, Starbuck married his first wife, Sarah M. Burchard, daughter of Peleg Burchard.  They would have one daughter in 1856, Mrs. E. S. (Mary Starbuck) Goodale, who was long prominent in Watertown civic, social, and philanthropic affairs and heavily involved with Trinity Church until her passing in 1946.  James F. Starbuck's first wife passed away in 1857, and he would remarry in 1861 to Mrs. Roxania Boyer, widow of Judge Joseph Boyer.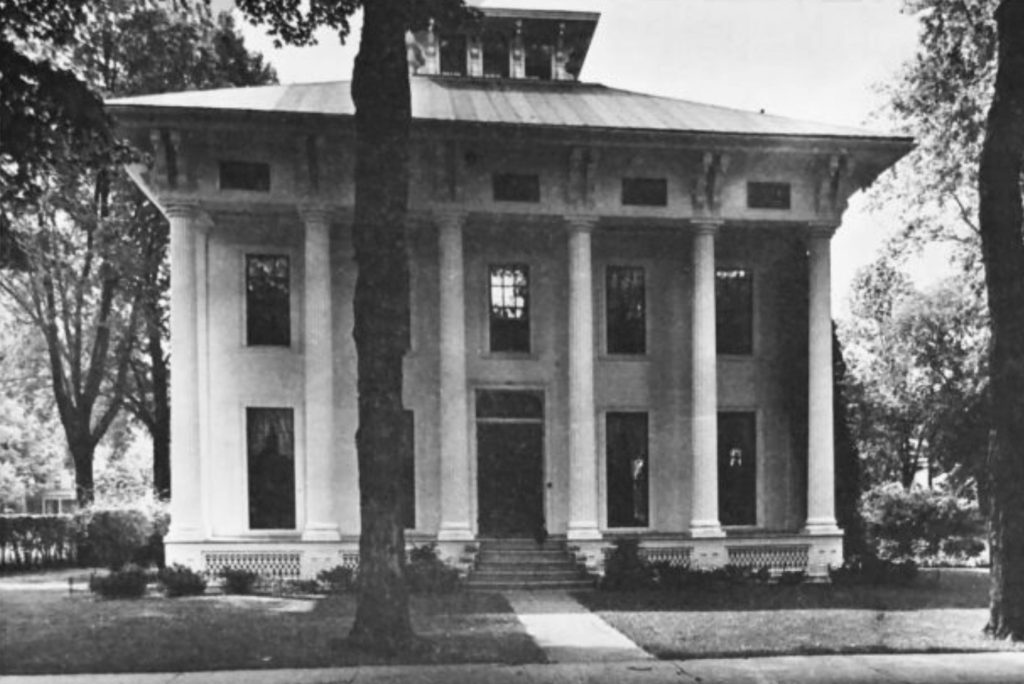 In 1865-66, James F. Starbuck would have what would become known as the Starbuck mansion erected at 253 Clinton Street.  In his 1943 article in the Watertown Daily Times for his column, Old Houses of the North Country, David Lane described the history of its construction–
Of wooden construction, the large house with two-story portico supported by tall, fluted columns, smacks of the Southern Colonial in type and was constructed for Senator Starbuck nearly 75 years ago by Clement Colburn, a local contractor, who took an "extended trip" to Syracuse and Utica to view their mansions and gather ideas.

On March 21, 1859, Senator Starbuck, prominent Democrat, friend of Silas Wright, Samuel J. Tilden, Martin Van Buren, Stephen A. Douglass, Franklin Pierce, General George B. McClellan and Horatio Seymour, paid Alexander Campbell $4,000 for a lot and small white house and on the south side of Clinton Street.  Five days before he bought an adjoining lot from Sawens & Anderson for $1,250.  The little house was torn down to make room for the big one with its dozen or more large rooms, its two fireplaces, one with white marble mantle and the other of black marble, its long drawing room and huge attic leading to a broad cupola.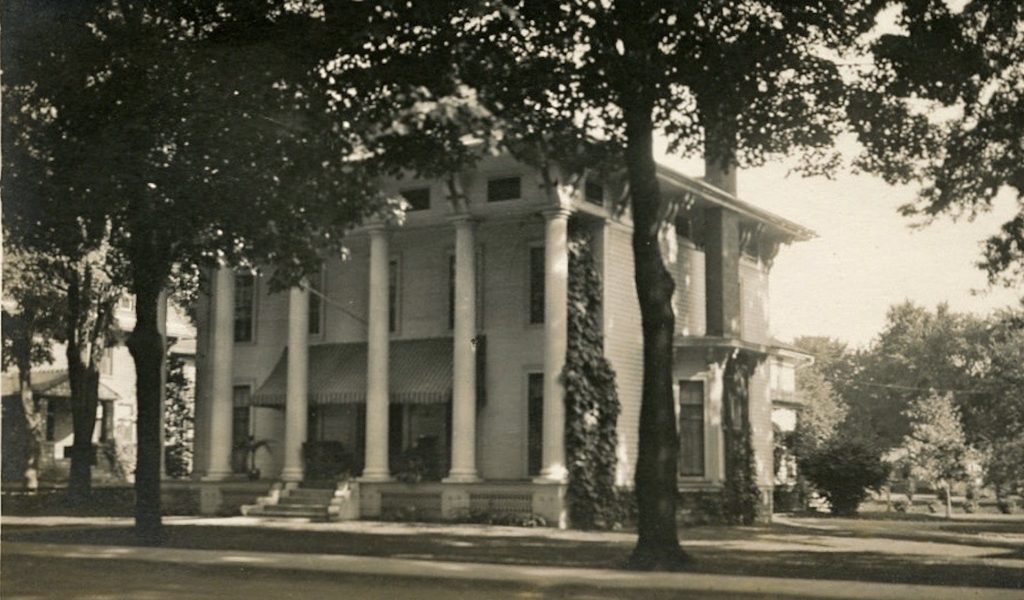 James F. Starbuck would pass away in mid-December of 1880 at the age of 65.  The New York Times noted in his obituary–
James F. Starbuck, the ex-Senator, and for a long time one of the most distinguished lawyers in Northern New-York, is dead.  At 8 o'clock on Friday evening he was suddenly attacked by bleeding of the liver, and he died at 5 o'clock yesterday morning.

In his early childhood his family removed to Niagara, and his education was chiefly obtained in the common schools of that county.  In 1836, he attended the Western Reserve College, at Hudson, Ohio, and in 1840 commenced the study of law.  He progressed rapidly, and in 1844 passed a most satisfactory examination and was admitted to the Bar.

In the later years of his life he acted with the Tilden branch of the Democracy, and at State conventions and other party caucuses did much in a quiet way to further the cause of the ex-Governor (Samuel J. Tilden).
After James F. Starbuck's death, the Starbuck mansion was passed to his widow, Roxania Boyer Starbuck.  After her death in 1893, the property would be passed to her son, Henry W. Boyer, from her first marriage to Judge Joseph Boyer.  Henry was at one time general manager of the New York Air Brake for many years until his retirement in 1909.  He was brother-in-law to John C. Thompson after his sister, Julia Boyer, married the NYAB founder and Thompson Park benefactor.  Both John and Julia would pass away in 1924 within months of one another.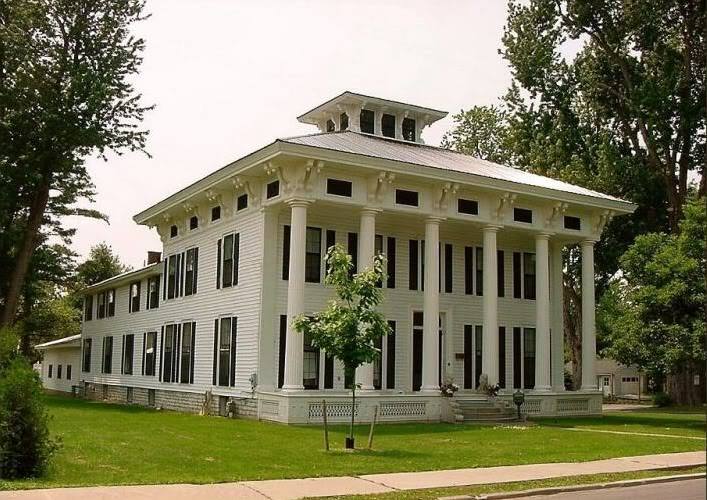 Upon Henry's death in 1931, the Starbuck mansion would pass to his step-sister, Mrs. Mary Starbuck Goodale.  That's quite a route to get back to James F. Starbuck's only daughter, who, incidentally, now lived next door at 263 Clinton Street.  Mrs. Goodale would then sell the Starbuck mansion to Robert G. Horr, vice president of the Brownville Board Company, who lived directly across the street at 250 Clinton Street.  The former Horr house at 250 would be purchased and razed by Frederick Taylor and made into a garden for his neighboring property he had constructed across from the Emma Flower Taylor mansion in 1931.
Robert Horr served as a director at the Agricultural and Empire State Insurance for some years before becoming vice president in 1949 and president in 1952.  Four years later, Horr was elected president of the Hungerford-Holbrook company in addition to his Agricultural Insurance role.  Not to be outdone, Robert's wife, Agnes Gamble Horr, would be elected trustee of the Henry Keep Home in 1962.  Agnes's father, John Gamble, once owned the house at 216 Keyes Ave and started the Brownsville Board Company, which is how her husband Robert came to be a vice president there.  Robert, at one point, would also serve as president of the Jefferson Historical Society.
Robert Horr passed away at the age of 89 on November 23, 1987.  His wife Agnes, with health failing for some time, would pass away only ten days later on December 3.  They were both buried at Brookside Cemetery.  The Starbuck mansion would be sold to William F. and Marsha E. Brown the following year, who would turn the landmark into a bed and breakfast known as the Starbuck House Bed and Breakfast.  The Horrs, who lived at the residence for decades, had accumulated many items that were put up for auction, raising about $50,000.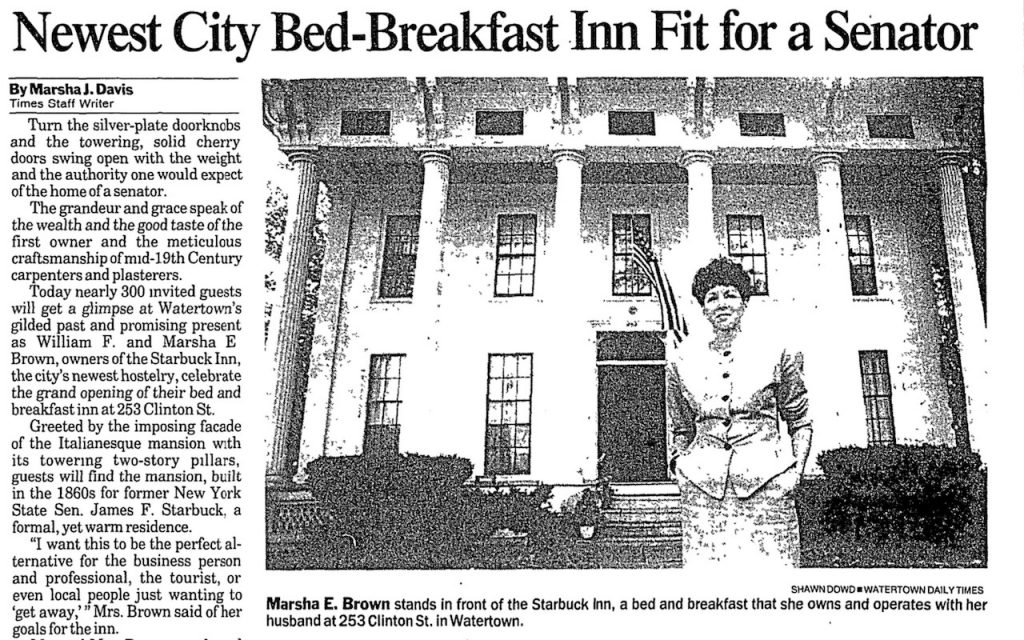 The Starbuck House Bed and Breakfast would win consecutive awards for being one of America's best small inns in 1991 and again in 1992.  In 1993, the owners would hold a "lottery" contest with hopes of getting 5,000 written entries at $100 apiece, with the best-written essay winning the Starbuck mansion.  The contest was ultimately called off due to uncertainty regarding New York State's future regarding "lottery" type contests.  Some confusion concerning ownership, the Times listed Marsha E. and Gary Saal as owners, despite other articles still referring to Marsha E. Brown as the owner.
Nevertheless, the couple would discontinue operation of the bed and breakfast in 1994 and the Starbuck mansion would once again be on the market.  The house would sell in 1998 to Kendra Tooley of Evans Mills for $100,000, less than half the initial asking price.  Within a few years, the mansion property would become owned by Kenneth Granger.  In 2009, the "meticulously renovated" and restored mansion would be back on the market.
Most recently, the Starbuck mansion, with 8 bedrooms, 6 bathrooms, 6,016 square feet of space and an indoor pool sold in 2018 for just over $300,000.  Photos, presumably from that listing which include many of its interior, can be found here on Zillow.