Judge Sawyer Mansion at 141 Ten Eyck Street
One of the large, old homes in the city is located at 141 Ten Eyck Street and was the Judge Sawyer mansion back around the turn of the 20th century.  The only construction date located, its address changing at least three times from 5, to 111, to 141 Ten Eyck Street over the years, stated 1840 as being the year built with a number of improvements made in 1869.  At one time, it may have possibly been the home of a Dr. John Mortimer Crawe. Nevertheless, Azariah Hall Sawyer, one of Watertown's prominent citizens of the era, would make it his residence for a number of years before his death in 1904.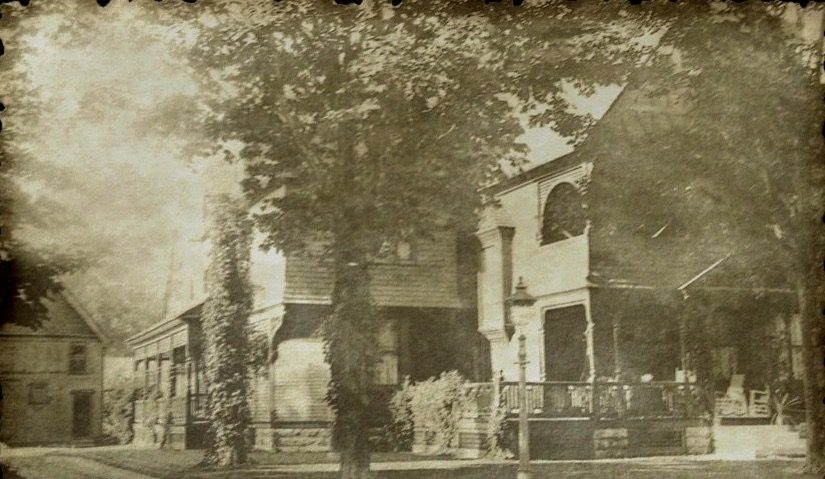 Born in Potsdam, N.Y., Azariah would, upon the completion of his formal eduction, study law with Hon. Amos G. Hull, of Fulton, N.Y.  In April of 1857, he came to Watertown as a law student to take his exam.  As written by John A. Haddock in The Growth of a Century—
Mr. James F. Starbuck was chairman of the committee appointed by the court to conduct the examination, and his attention was especially attracted to young Sawyer by the character of the examination passed by him, and a partnership was the result, which continued for 23 years, or until Mr. Starbuck's death, in 1880. 

The firm was one of the oldest and most prominent in this part of the State, and earned a reputation which extended far beyond the limits of the county and its vicinity.  Indeed, their practice was almost as large from outside the county as within. 
At the beginning of the Civil War, Judge Sawyer would offer his services to the Union and was elected to the first Union State Convention in 1861 and served as chairman of the county committee.  In 1862, Judge Sawyer would be made president of the 500-strong Union League of Jefferson County which would have a room in Washington Hall (later, a nearby where the Black River Valley Club would reside.)  Judge Sawyer's leadership qualities would garner him an unanimous nomination as Republican candidate for county judge.
Over his distinguished career, Judge Sawyer, an advocate of education and church, would be heavily involved with both the school board of Watertown and Trinity Episcopal Church serving as its warden for a number of years.  As a one time president of the Watertown National Union Bank, he also served as its director, as he did for other entities such as Eames Vaccum Brake Co., the forerunner of the New York Air Brake Co. and the Davis Sewing Machine Company.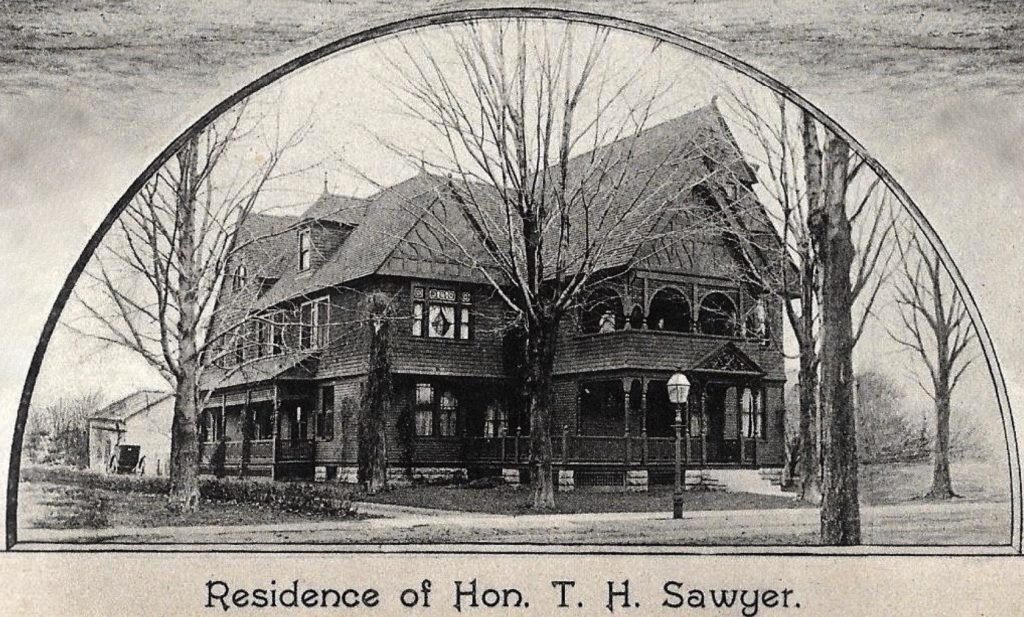 In addition, Judge Sawyer also served as Past Master of Watertown Masonic Lodge No. 49, and past Commander of Watertown Commandery, Knights Templar; member of the Diocese of Central New York; and elected as vice president of the Agricultural Insurance Company from 1893 to 1898 after being the establishment's attorney for a number of years, and subsequently served as president until his death in 1904.    
Always looking out for his neighbor's best interests, Judge Sawyer would approach the county's board in 1884 to consider taking action upon the old canal which was being used as a sewer according to the Watertown Daily Times, complaining "of the malarial properties emanating from it during the heated term, which, he held, caused much sickness in his locality."
Judge Azariah H. Sawyer would pass away on the 1st of November, 1904, at the age of 70.  The Watertown Daily Times would write in his obituary—
Judge Sawyer will be greatly missed in all the activities of this city, both in business, educational and religious work.  He was a kind man, a charitable man, one of those men who are an inspiration to the younger men.  Perhaps this is the best quality of good citizenship.  

Fortunately, in this community, there always has been, there is now, and it is hoped there always will be, a large number of men who are worthy ideals for youth to copy, who are an inspiration to successful lives in the best significance of the word success.  Judge Sawyer was one of these.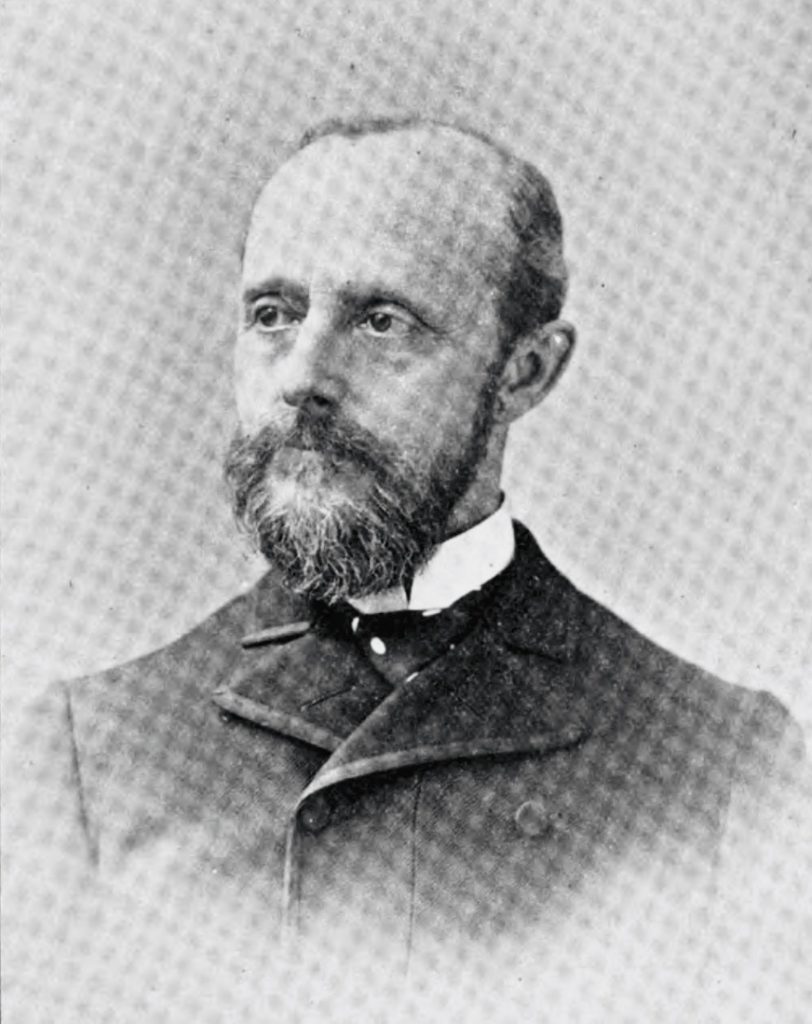 The Elliot K. Harroun Years Owning Former Judge Sawyer Mansion
Some time shortly afterward, the Judge Sawyer mansion would be owned by George E. Hall.  It would prove to be a short ownership as Hall would dispose of it in June of 1907 after taking a position in Boston, selling it to Elliot K. Harroun, head of J. E. Harroun & Son, Inc., wholesale lumber merchants.
The property at this time was still noted as 5 Ten Eyck Street, but sometime after the city adopted the "block" numbering and it was changed to 111 Ten Eyck Street and then apparently 141 Ten Eyck with some confusion with the numbers overlapping some years.
Harroun and his wife, Vera, were heavily involved with the First Presbyterian Church, Elliot being the superintendent of its school.  In 1921, Mr. Harroun would be elected to the Chamber of Commerce board of directors, receiving the most votes of any other person. 
Mrs. Harroun served as the president of the board of directors for the Y.W.C.A, as would Mr. Harroun for the Y.M.C.A., both for a number of years and often host large social gatherings at her home.   In 1942, she would accept chairmanship of the Minute Maids for the Women's Division of the War Savings Staff for Watertown.  
When the Harroun's daughters, Vera Louise, Ida and Helen, married, the weddings were all to officers stationed at Madison Barracks with the ceremonies taking place at 141 Ten Eyck.  All three officers, William H. Richardson, Jr., George McKnight Williamson, Jr., and Giles R. Carpenter, would retire reaching the rank of Colonel.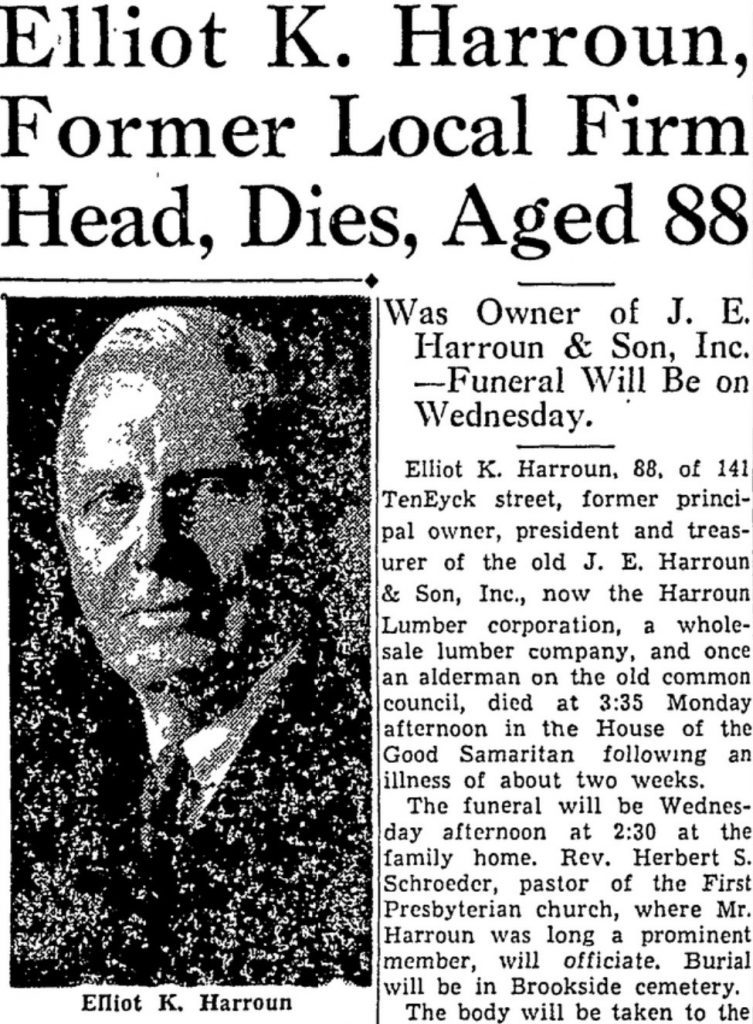 Mr. Harroun would pass away in May of 1959.  His obituary would note, in part—
Mr. Harroun, who, as a member of the old common council, was responsible for the city's first traffic ordinance and for the original mechanization of the city's fire department, had been a patient in the hospital since May 4 and undergone a major operation May 8 for an intestinal ailment.  

Although retired from business since the J. E. Harroun Company was sold in December, 1949, Mr. Harroun was still identified with its successor, the Harroun Lumber corporation, serving in an advisory capacity.  
Mrs. Harroun would pass away two years later in 1961 and the contents of, and the house itself, would go equally to two surviving daughters, Mrs. (Helen Harroun) George McKnight Williamson and Mrs. (Ida Harroun) Carpenter.  
Anne & John Keenan Take Ownership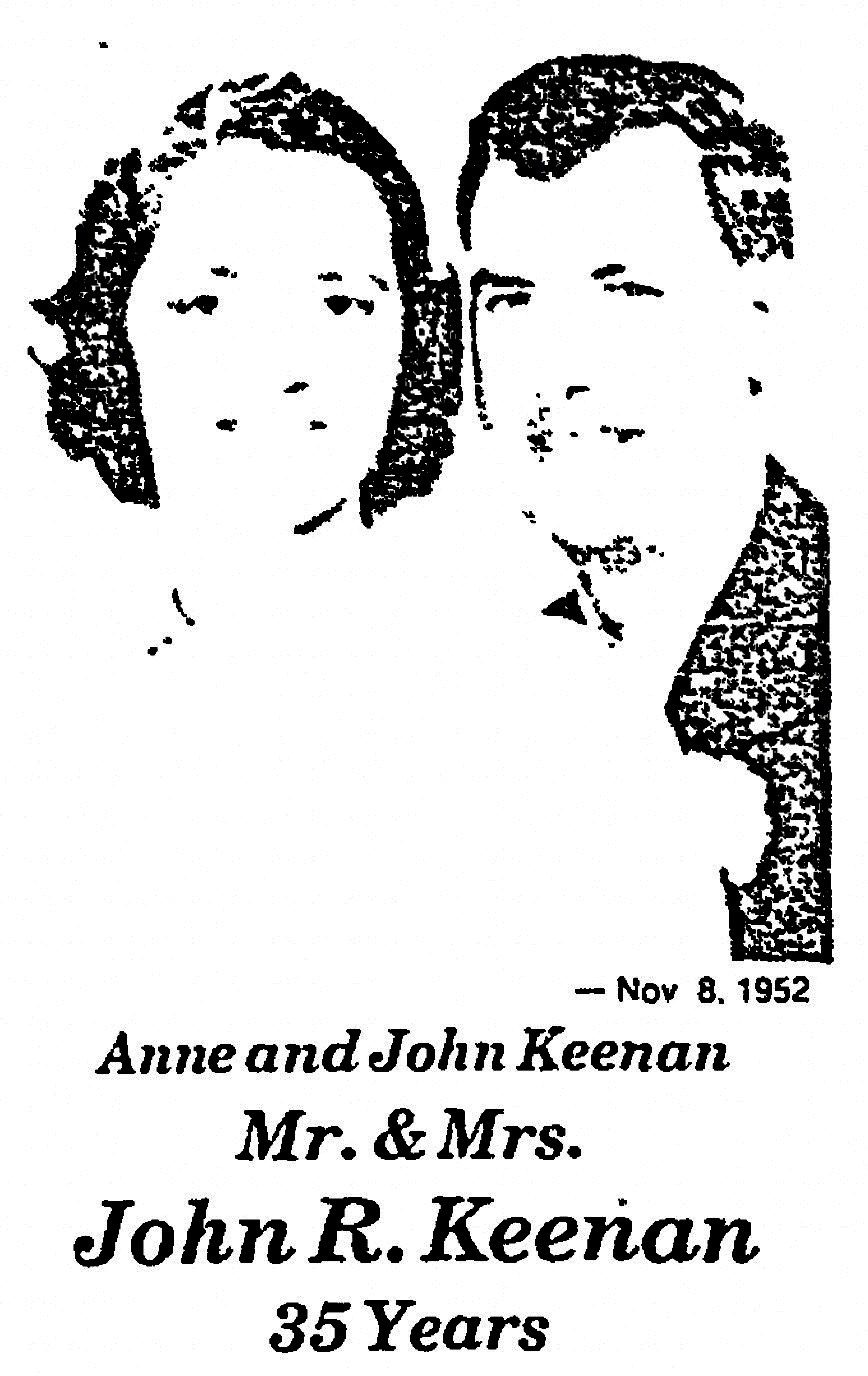 At some point thereafter, the former Judge Sawyer mansion would become home to John "Jack" & Anne Keenan who married in 1952 at Sacred Heart Church.  They passed away in 2015 and 2018, respectively.
Mr. Keenan's obituary noted—
After high school Jack Keenan began his lifelong career at the NY Air Brake, initially as a toolmaker apprenticed to his father. In 1943 he joined the US Army Corps of Engineers, serving in the Philippines and New Guinea, and was honorably discharged as a Staff Sergeant. After serving his country, Jack Keenan resumed working at the NY Air Brake. He graduated from Clarkson University in 1954 with a degree in Mechanical Engineering. As a Design Engineer for the Air Brake, Jack was awarded numerous patents. He retired from "the shop" in 1990. 
Mrs. Keenan's obituary noted—
She was a daughter of Lloyd Augustus Riley and Anna O'Brien Riley. She attended Sacred Heart School and graduated from Watertown High School in 1942. She then attended the Watertown branch of the Rochester Business Institute and worked as an office manager for Faichney Instruments for a number of years. 
The former Judge Sawyer mansion remains in the Keenan family as of 2022.