Edwin Paddock Mansion Becomes Jefferson County Historical Society
The Paddock Mansion on Washington Street in Watertown, N. Y., for nearly a century now home to the Jefferson County Historical Society, was built in 1876 for Edwin L. Paddock four years after the death of his influential father, Loveland Paddock. Edwin had his home, a mixture of Swiss Chalet and Tuscan Villa with Eastlake styling, built next to eldest brother Oscar Paddock's mansion.  Further down Washington Street, brother George Paddock had greatly improved upon another mansion that, in later years, would be known as the Herring Mansion, U.S.O. Club and American Legion.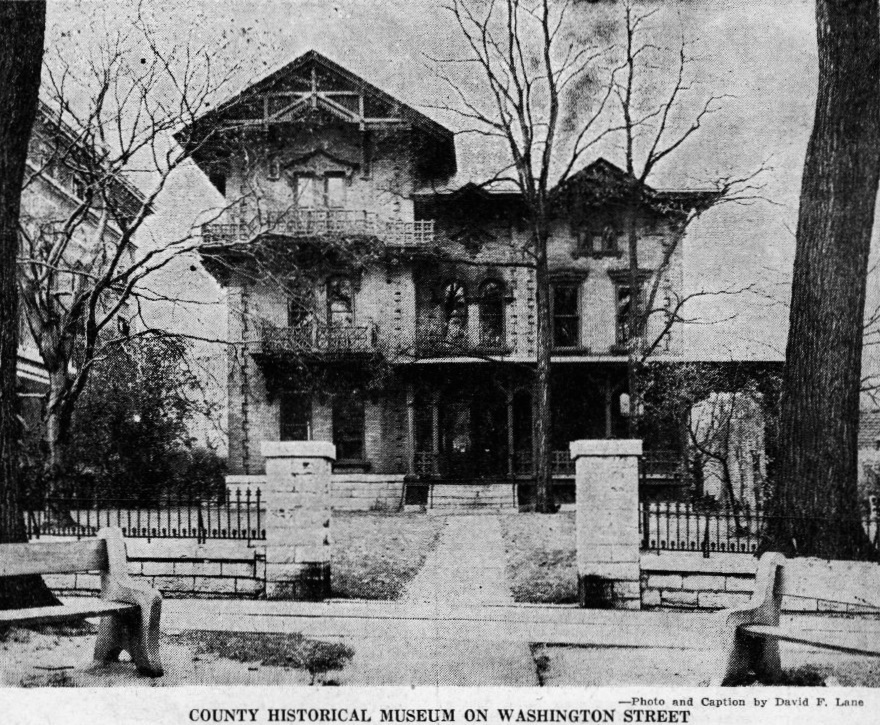 Loveland Paddock was involved with starting a number of banks in and around the village of Watertown, beginning his financial career as a stockholder and director in both the Jefferson County Bank and Sackets Harbor Bank.  In 1842, he established the Black River Bank in Watertown and later built the Paddock Arcade building in 1850 known as the "glass-ceiling street."  At the time of his death in 1872, Loveland had amassed an estate worth between $1.5 – $2.0 million dollars (in the neighborhood of $42,000,000 in 2022.)  
While his sons benefited from Loveland's accomplishments, they, too, were heavily involved with banking though George's luck with money ran foul with bad investments that bankrupted him. Edwin, on the other hand, literally followed in his father's footsteps.  In Joel Monroe's Through Eleven Decades of History, it was noted of Edwin—
Mr. Paddock was born in Watertown, March 19, 1824, prepared for college in public schools and graduated from Hamilton College.  Immediately after his graduation he entered the old Black River Bank and soon became its vice-president and finally, at the death of his father, he became president of the bank.

He was a well balanced banker, an able financier who conducted business always within the bounds of honor and honesty. The old Black River Bank, in 1863, secured a new charter as the First National Bank of Watertown.  This was continued till 1880, when it went into voluntary liquidation.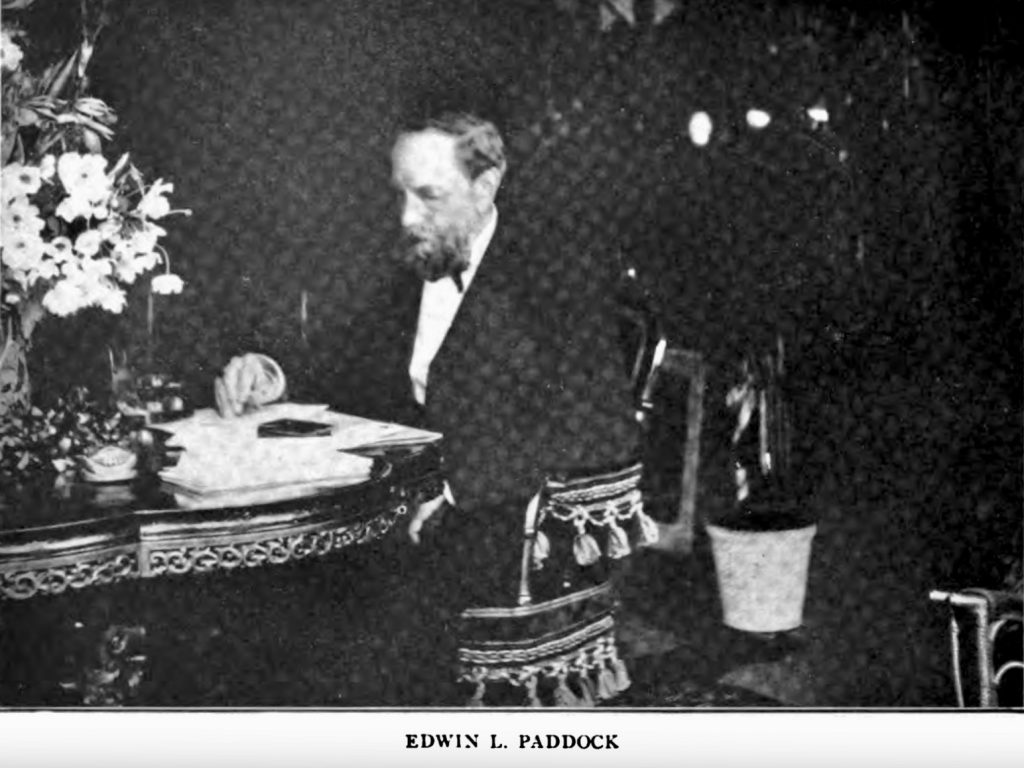 Edwin Paddock married Miss Olive A. Wheeler, daughter of Thomas Wilson Wheeler and Emma Andrus Wheeler, in 1852 and traveled throughout the world after Edwin's retirement.  During the construction of the Paddock Mansion, the Watertown Daily Times mentioned some of the site's history in a July 18, 1876 article—
The first and only child born to the (Hart) family in that house was Hart Massey, Jr., in September 1802, and now living in Blue Island, Ill.  From that house Mr. Massey removed to a frame house which he built on the site where Mr. Edward Paddock is now building, which he afterward sold to Erastus Baker, the father of Thomas Baker, Esq., and he again to Judge Foster.  In that house was born Edward Swain Massey, Oct. 18, 1806.  Edwin was 10 months old when the family removed into a frame house on the site of the stone part of the old family mansion on Massey Avenue.  
That house is currently still standing and believed to be the first frame house in the Watertown area.  It has been moved twice throughout its history and had, through the 1940s at least, occupied by the Historical Society's caretaker according to David Lane's article in his series Old Houses of the North Country.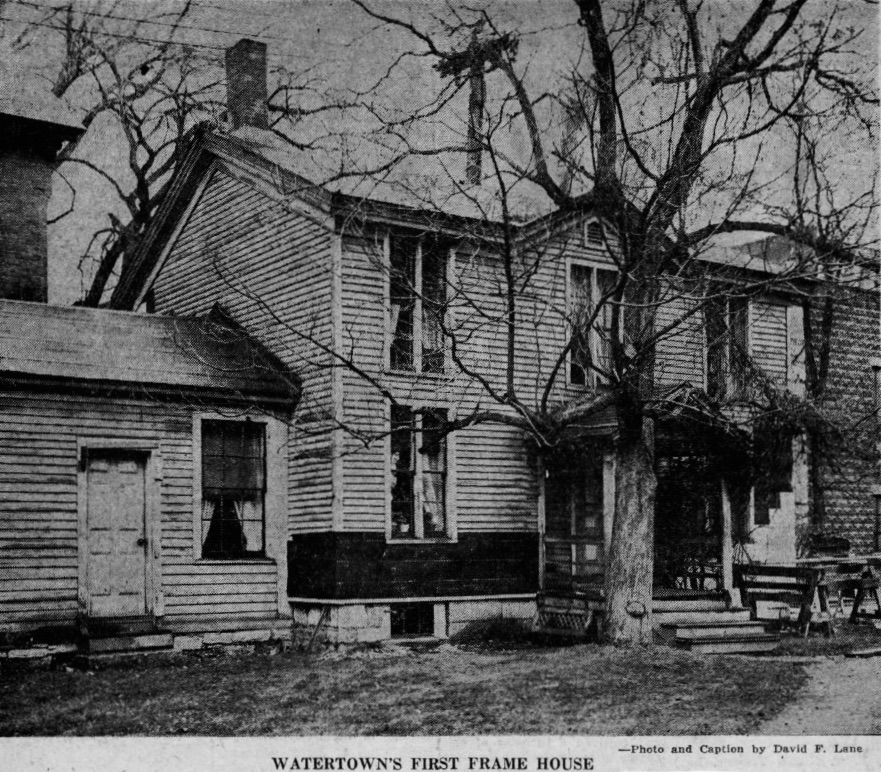 David Lane also wrote of the Paddock Mansion in his series for the Watertown Daily Times, noting—
At 228 Washington Street, across the road from the Roswell P. Flower Memorial Library, is the museum of the Jefferson County Historical society. It is a building of red brick that is an architectural mixture of Queen Anne and Swiss chalet and was once the mansion of the late Edwin L. and Olive A. Paddock. It was probably constructed about 1874 of locally manufactured brick, finished interiorally in black walnut, ash and woods said to have been cut from Paddock lands. It is on the site of the Judge Jabez Foster limestone mansion, understood to have been acquired by Mr. Paddock's father, Loveland Paddock some time after December 10, 1847, when Jabez Foster died.

Loveland Paddock lived some years after that and apparently his three sons, Oscar V., Edwin L., and George F., came into possession of his lands on the west side of Washington Street and upper Stone Street. On October 25, 1873, Oscar V., and Charlotte F. Paddock sold their one-third interest to Edwin L. Paddock.  On the same day George F. and Kate Paddock likewise conveyed their one-third interest to Edwin L. Paddock.

It is likely that shortly after that the latter razed the Foster mansion and caused this red brick mansion to be constructed for his residence.  Both he and his wife had traveled extensively abroad and acquired many objects of art and valuable pieces of furniture with which they furnished this house.  Many of these things are still there and the property of the museum, which is said to have some of the finest collections of any small museum in America.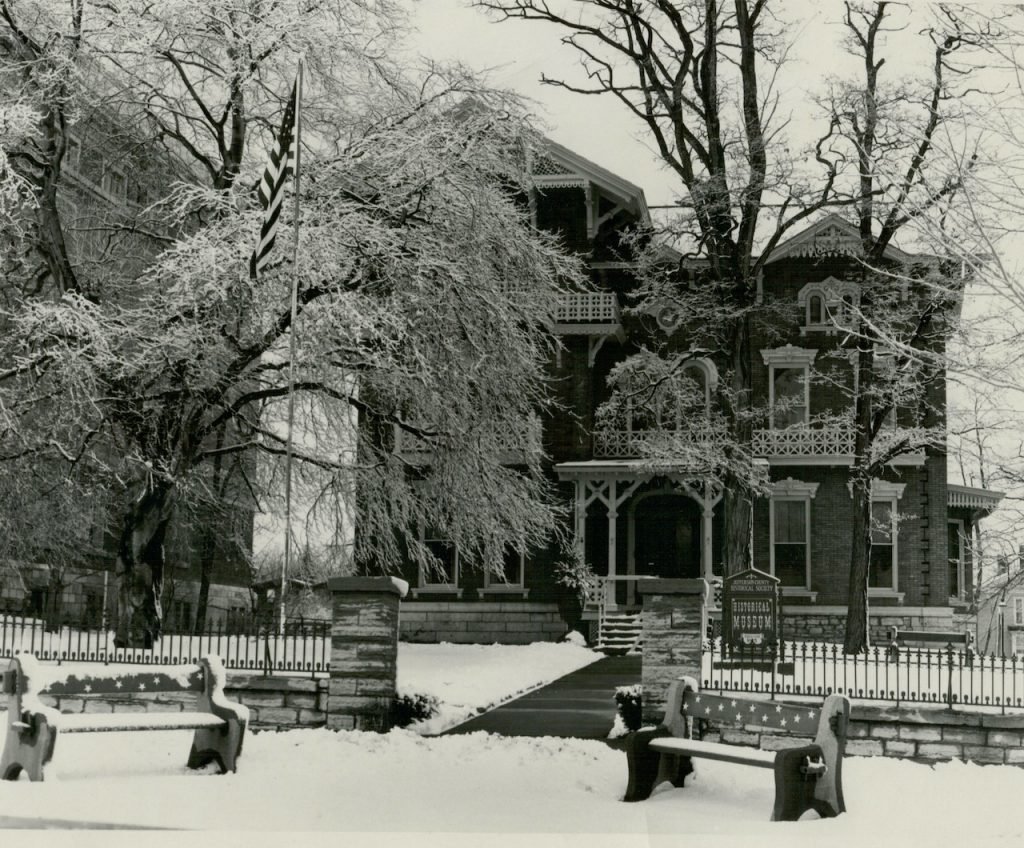 Edwin Paddock passed away unexpectedly in July of 1909 from acute indigestion at the age of 85.  His obituary in the Watertown Daily Times filled in some of his legacy—
With his brother Oscar, Mr. Paddock purchased the site of the famous old Arsenal on Arsenal Street near Benedict Street, when it was sold in 1850.  They leased the building as a tobacco factory, but later sold the property.  They also conducted a general store for some time.  Mr. Paddock retired  from the business about 25 years ago.

Mr. Paddock had large realty holdings in this city.  He was the owner of the Paddock Building in Public Square, the Paddock Block in Court Street, together with interests in other business property in that thoroughfare and the Paddock Block on Stone Street.  
Edwin and Olive Paddock had no children and, upon Edwin's passing, the estate was called into question due to the inability to produce a will.  Edwin, believing in his own judgement and capabilities, never procured the services from a lawyer and though it was believed he had written a will, one could not be found amongst his papers.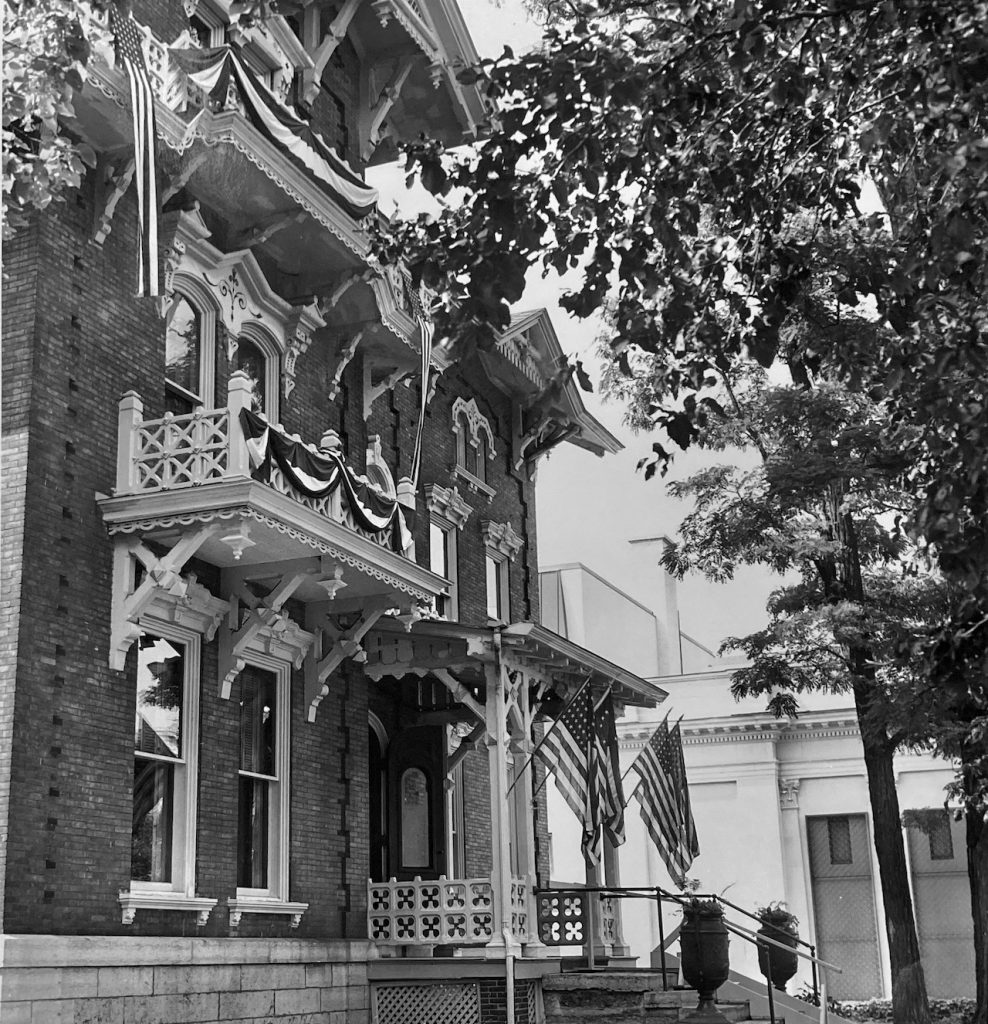 Several lawsuits would come from Edwin's death where Olive contested her brother-in-law George's competency to receive half of the estate's $800,000 value.  George had long ago relocated to Chicago and been supported in part by Edwin's $100 monthly stipend after having squandered his own fortune (it was said that George had often sold family gifts in order to purchase alcohol.)  
After three-plus years in court, the cases finally inched their way toward conclusion.  As reported in The Times on Nov. 5, 1912—
The disposition of the estate will end with partition action now pending between the heirs, and which with the accounting proceedings in surrogate's court, is the final chapter in the fight now pending.  Referee John N. Carlisle, before whom Mrs. Olive A. Paddock and Sam Child presented their accounting as administrators of the estate, recently found in favor of the administration.  The confirmation of his report will be argued before Surrogate Joseph Atwell next Monday.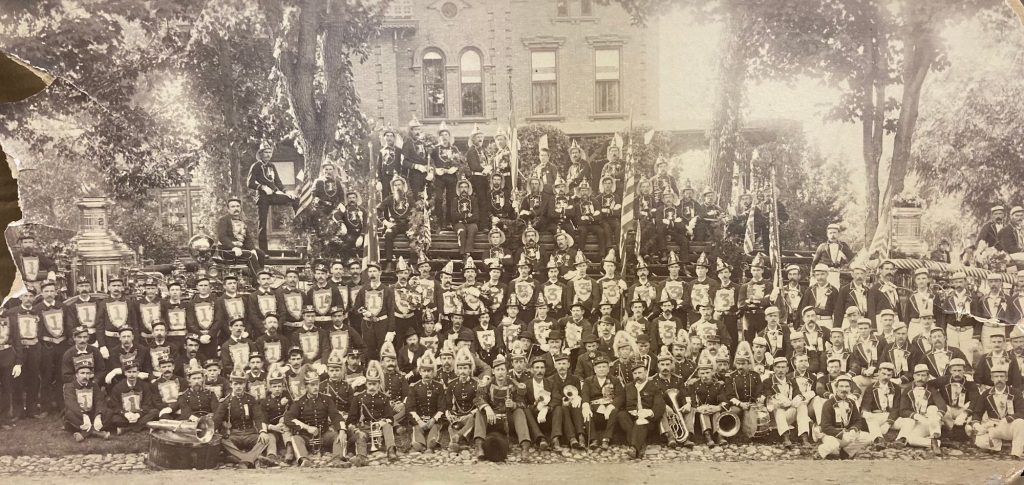 Olive retained the Paddock mansion at 228 Washington Street and reside there until her death in May of 1922.  Olive bequeathed the mansion to the Jefferson County Historical Society for use as a museum and the large lot in the rear of the house to be converted into a public park.  The society was given six months to accept the offer.  
In early December of 1922, Watertown Superintendent of Schools Frank S. Tisdale proposed another, additional usage for the Paddock Mansion—
It is the suggestion of Mr. Tisdale that the building not only become a home for the historical relics of the county, but that it serve also as a vocational college for the education of the youth of this section desiring training in the trades, as a museum of fine arts for the housing and displaying of fine pictures, paintings and works of sculpture and that it also serve as a museum of natural history.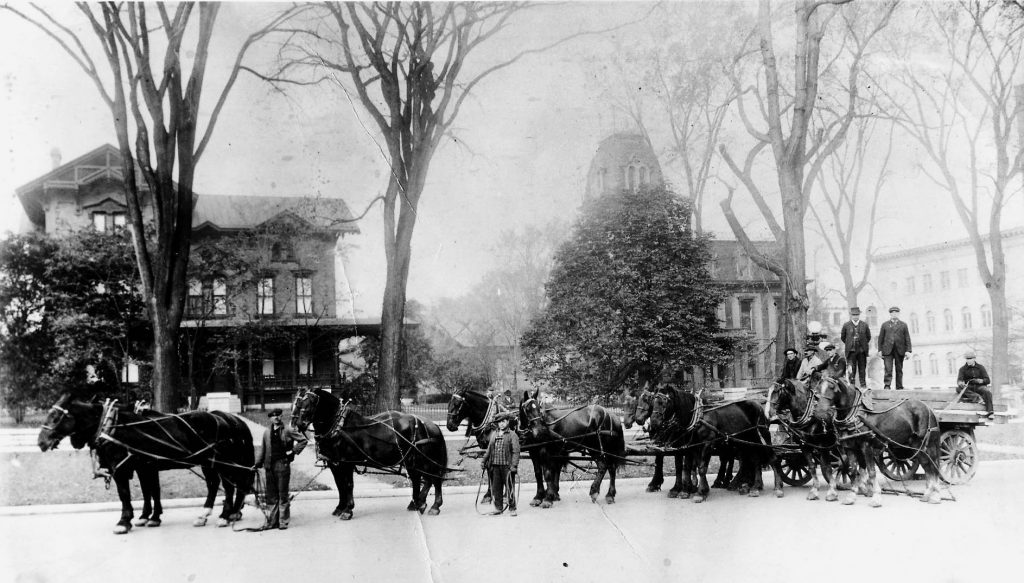 The Remington Mansion, later the Remington Institute, was used by the city school district for a number of years.  Later abandoned by the board of education when the current Watertown High School was built, it ultimately became a parking lot. The Paddock Mansion, however, was added to the National Register of Historical Places in 1979 and remains home to the Jefferson County Historical Society.