Ward P Smith Studebaker Motor Cars, located at 556 State Street, Watertown, N.Y.
In the 1910s and 1920s, a stroll down State Street in the vicinity of Winthrop Flats would have you passing Ward Smith's Studebaker Motor Cars.  Ward would start out in 1909 and soon find himself as the Jefferson County distributor of E-M-F automobiles, made in Detroit, but the company would fold in 1912.  It was that year that Ward became the official distributor for the Maxwell and Studebaker automobiles.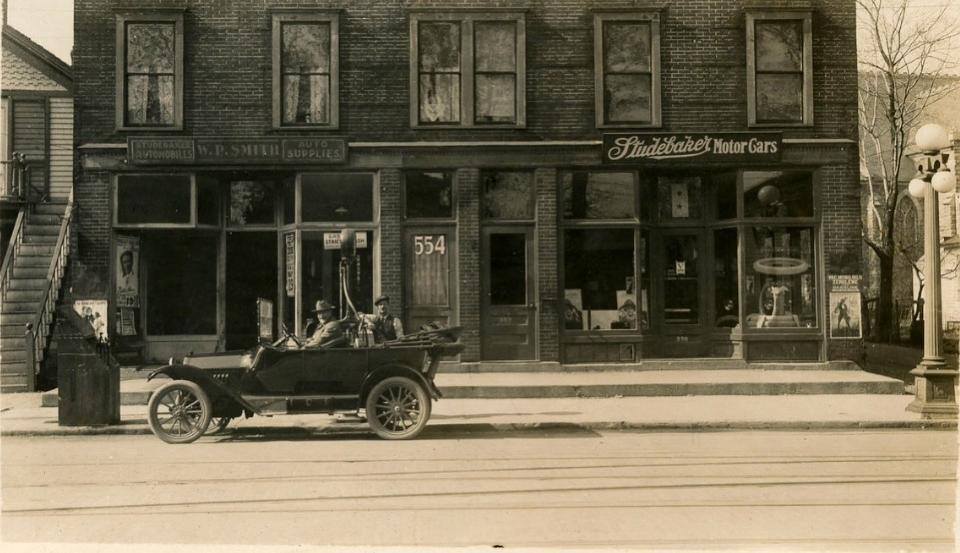 The first Studebakers were actually electric vehicles, but two years later, in 1904, they would transition their focus to gasoline engines and by 1912 be fully independent manufacturers.
Meanwhile, Ward P. Smith also had a grocery store at 550 State Street, which was located right next door.  The Oct. 7, 1912 Watertown Daily Times would report of the sale–
Edward Herkimer and H. P. Davis have purchased the grocery and meat business of Ward P. Smith at 550 State Street near the corner of State and William.  They purchased the stock, fixtures and good will of the Smith grocery and meat market and took possession this morning.  They will conduct the store at its present location for a brief time and will then move into one of the stores now in the new Ganter block at the corner of William and State Streets.

Mr. Smith will devote all of his time to his automobile sales business, which has grown rapidly during the past two years.
In fact, Ward P. Smith would sell automobiles on the weeknights and Sundays while he worked his grocery store during the day, but having them located that close together most likely gave him the ability to partake in both activities as he desired.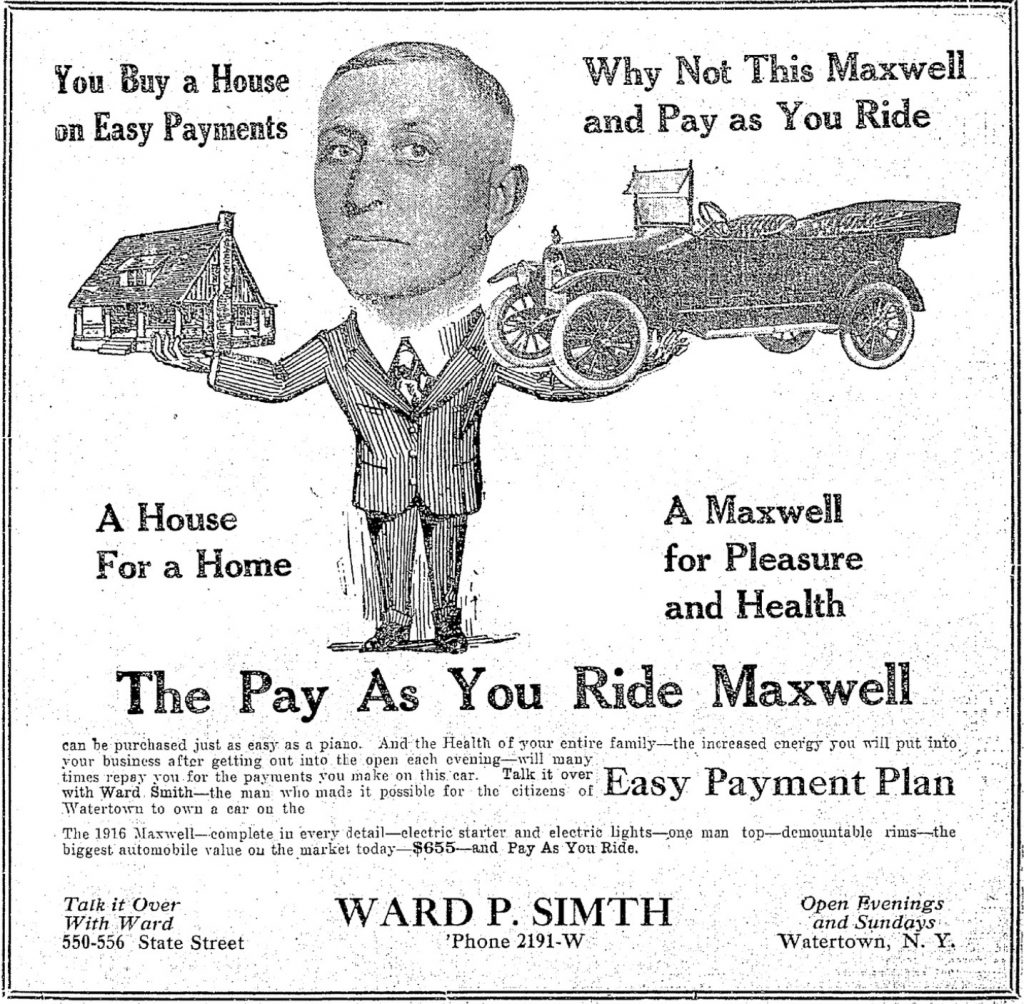 1916 Advertisement for Ward P. Smith, er, Simth (D'oh!) selling Maxwell cars. Photo: Watertown Daily Times.
In 1912, Ward P. Smith would be the first dealer within his district to oversell his allotment of cars, having sold 47 in the past season.  As a result, he would look to double sales in 1913 as his popularity grew, allowing him to expand sales into Lewis County.  This would also allow him to establish one of the most modern garages in the area. At one point in 1913, he sold five Studebaker automobiles in five days.
Mr. Smith, along with other local vendors, would showcase their goods in local car showings, most notably at the State Armory on Arsenal Street.  If a person wasn't strolling by on State Street or able to visit the Armory, Smith would often advertise in local newspapers.
Smith would also showcase films of 5 reels in length at the Antique Theater on Court Street, later renamed the Liberty Theater.  "The $40,000 feature film sensation," ads would tout, "This fascinating educational production of the Maxwell Motor Co. has been seen and praised by thousands in many parts of the country.  Secure your tickets to-day."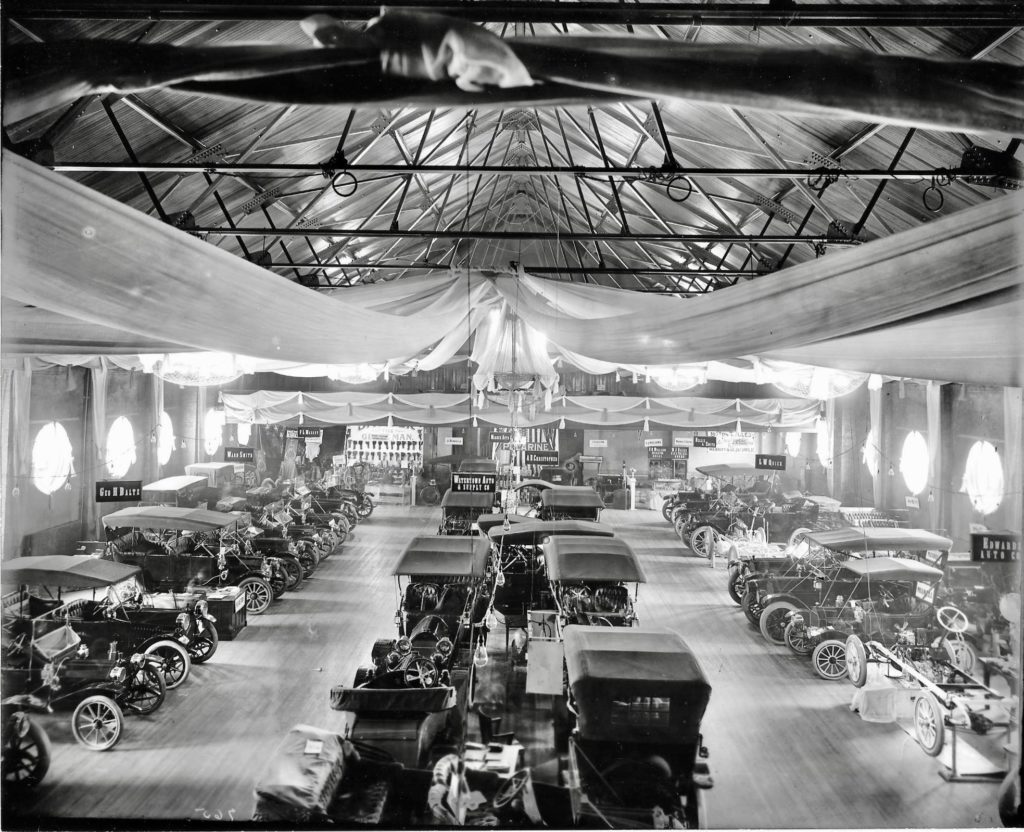 Around 1927, Ward P. Smith would relocate his growing dealership and garage to 230 Factory Street, where Morrison's Furniture is, where he would continue to sell, and service, Studebaker automobiles.  By 1930, in addition to Studebaker, Mr. Smith was also selling used cars from the likes of Ford, Chevrolet, Chrysler and Oldsmobile.
In the early 1930s, Ward P. Smith would relocate his garage to 332 High Street.  He would retire in 1932, relocating to Smithville for the remainder of his long life, having passed away at the age of 84 after a long illness and Parkinson's disease in 1952, and was buried in North Watertown Cemetery.