Watertown, New York's Armory On Arsenal Street
The State Armory on Arsenal Street built in 1879 was constructed on the former site of the old J. M. Fairbanks residence which had to be razed in order for construction to begin by George Flower and Patrick Phillips.  Once completed, the building would serve as the second Armory in Watertown's history.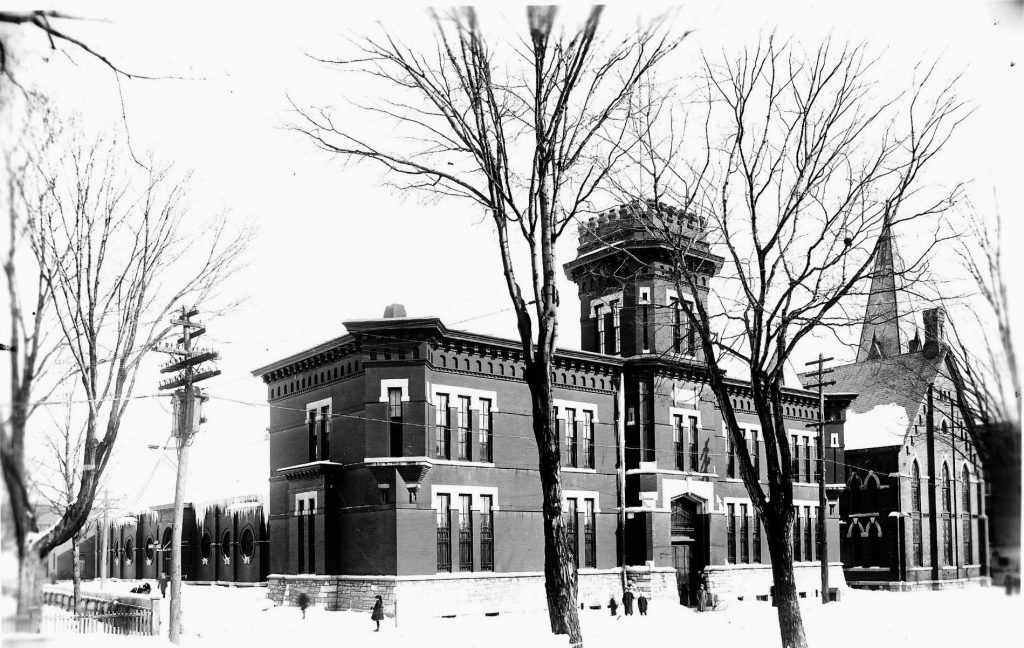 As noted in Through Eleven Decades of History, by Joel H. Monroe–
By an act of legislature in 1808, five hundred stand of arms were ordered to be stored or deposited at Champion, but in a little time these arms were ordered to Watertown, and also an Arsenal was planned and was soon in process of construction on the east side of Arsenal Street.

This Arsenal was built under the direct supervision of Hart Massey, who was then collector of customs for the district of Sackets Harbor.  It was a modest building and not very expensive, but it served the purpose for the time.  The Arsenal was of brick material put up at a cost of a little less than two thousand dollars.
It was further said in the book that the building of the first Armory lead to the organization of the first militia company in the county known as the Watertown Rifles.  With its influence growing, Watertown would become  the target of a supposed jealous Irish bard of Sackets Harbor who vented with–
North Adams with its deacon face,

And Brownville with its modest grace,

And Watertown, a leetle place,

Just back of Sackets Harbor.
Oddly enough, the Watertown Daily Times noted in the 1870's that the old Armory was on Court Street, with a "warlike character" and that the R. W. & O. R. R. ran behind it. The description from the book noted in the quote above, "east side of Arsenal Street," is a bit perplexing, though possible if the function of the Armory was moved after 1850 to a different building.
Looking at the 1836 map of Watertown, one can see the original location, on Arsenal Street, when Court Street itself is where Coffeen Street is currently and State Street was where Court Street is now.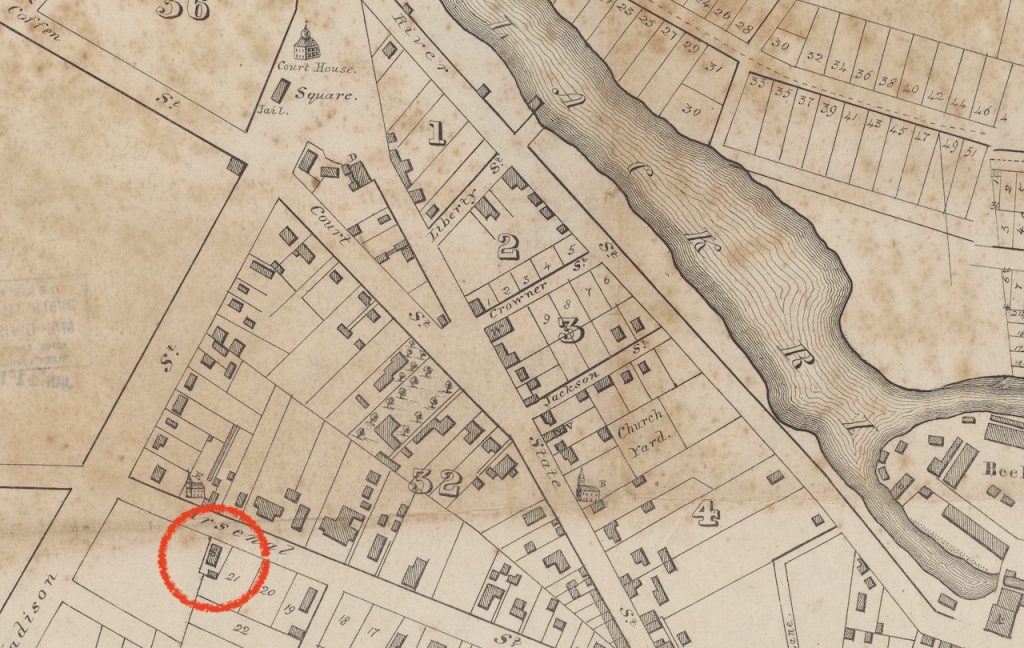 Nevertheless, the building in question would be used as an Armory until 1850 when it was purchased by Oscar and Edwin L. Paddock for a tobacco warehouse.  Later, C. A. Holden bought the building and used it as a storehouse. 
In 1878, plans to build a new State Armory resulted in a search for a new location.  Somebody recommended a cemetery lot as a possible location in the Watertown Daily Times, noting "There the band could practice and alternate with the drum corps to their heart's content and no one would be disturbed."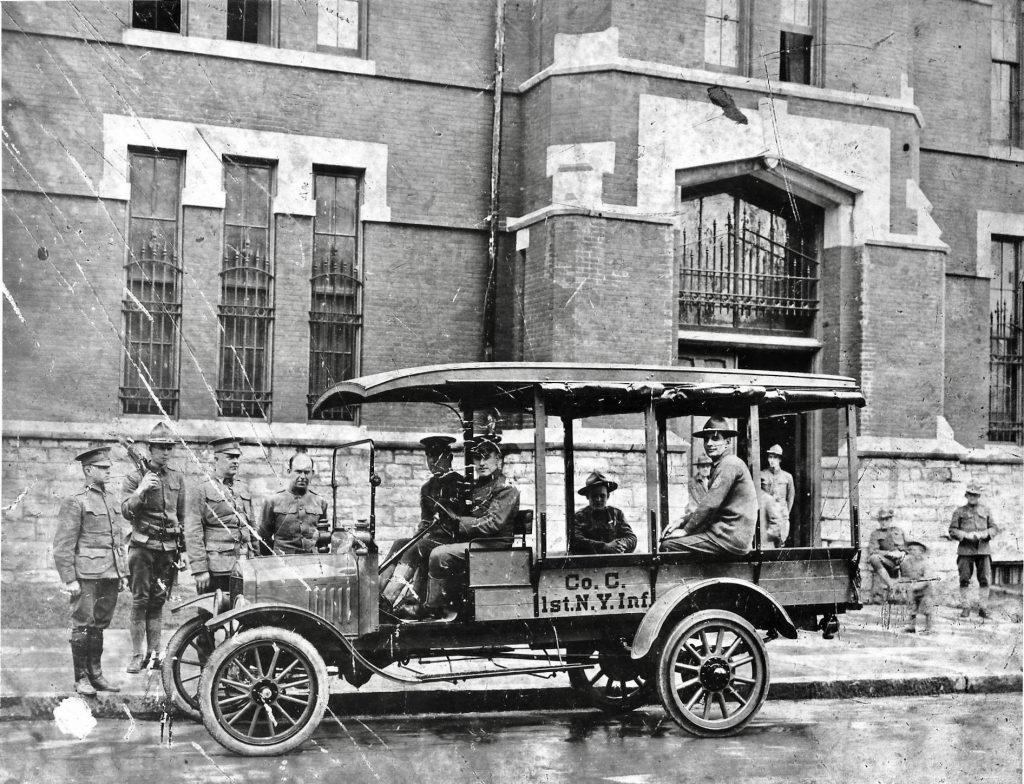 Another suggestion was the open lot between Pratt and Woodruff Streets where the House of the Good Samaritan would eventually be built.  As mentioned previously, it would end up on Arsenal Street at the location of the old Fairbanks homestead.
The new Armory wouldn't a unique building, either.  In fact, the building's architect, John Wood, also designed an almost exact building in Newburgh, NY, built in the same exact year.  Unlike its Watertown counterpart, the Newburgh version is still in use.  After it sat vacant for over two decades, from 1975 – 1996 and despite a fire gutting its interior, in 1980, it was added to the National Register of Historic Places in 1981.  In 1996-1997, it was restored and is currently used for Orange County government offices.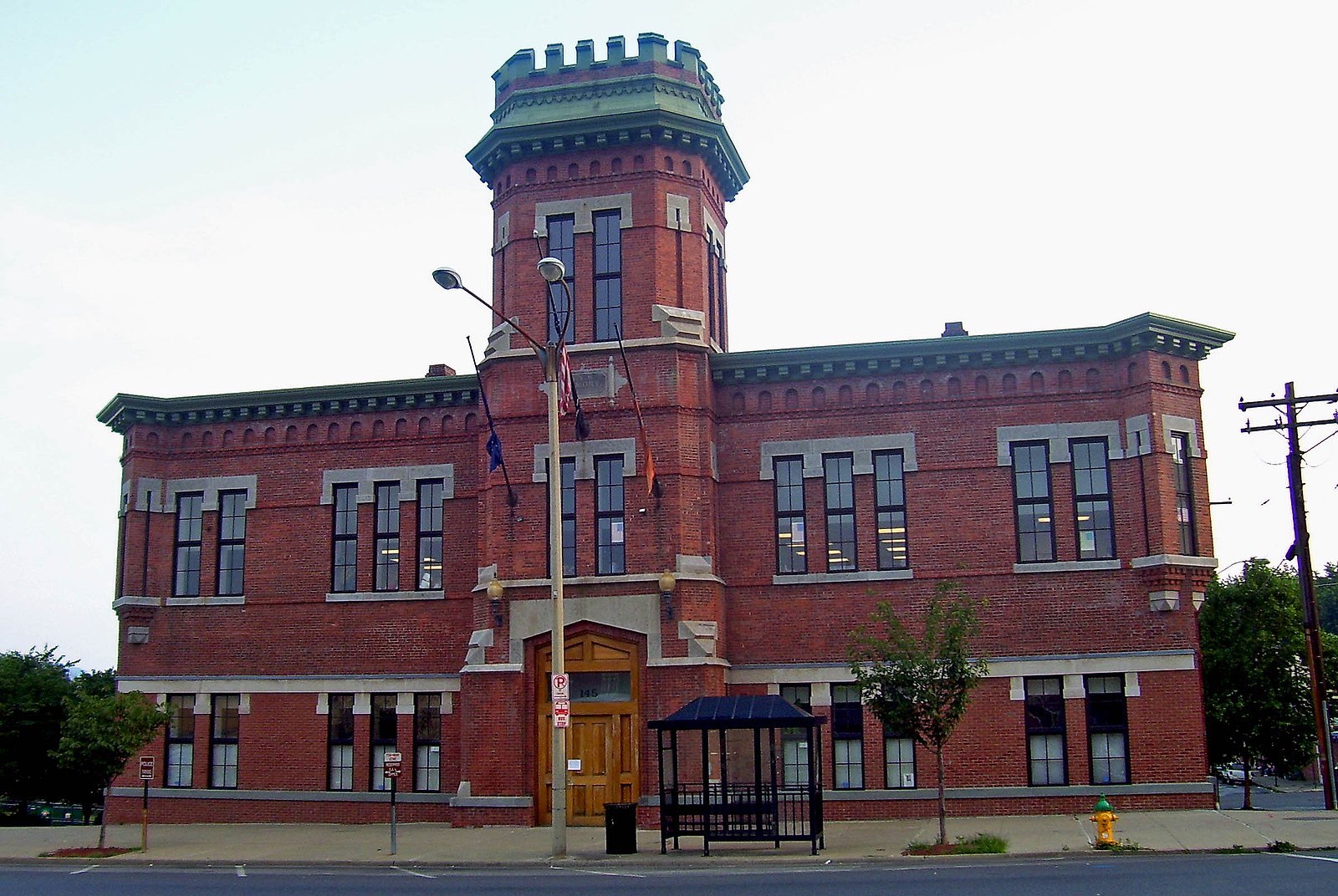 That being said, it's fairly easy to see that the building was designed to last the test of time.  In the case of Watertown's behalf, only "Urban Renewal" could topple it.  Upon its completion, the Armory would have a tablet made of stone and arched at the top placed over the door that read:
NEW YORK STATE ARMORY, 
Erected 1879.
LUCIUS ROBINSON, GOVERNOR.
Commissioners: 
MAJ. GENERAL JOHN WOODWARD,
Adjutant General, 
BRIG. GENERAL DANIEL G. WILEY, 
Chief of Ordinance,
M. E. Degan, Superintendent 
J. W. Wood, Architect
Geo. W. Flower, Builder
N. Dillenbeck, Local Architect.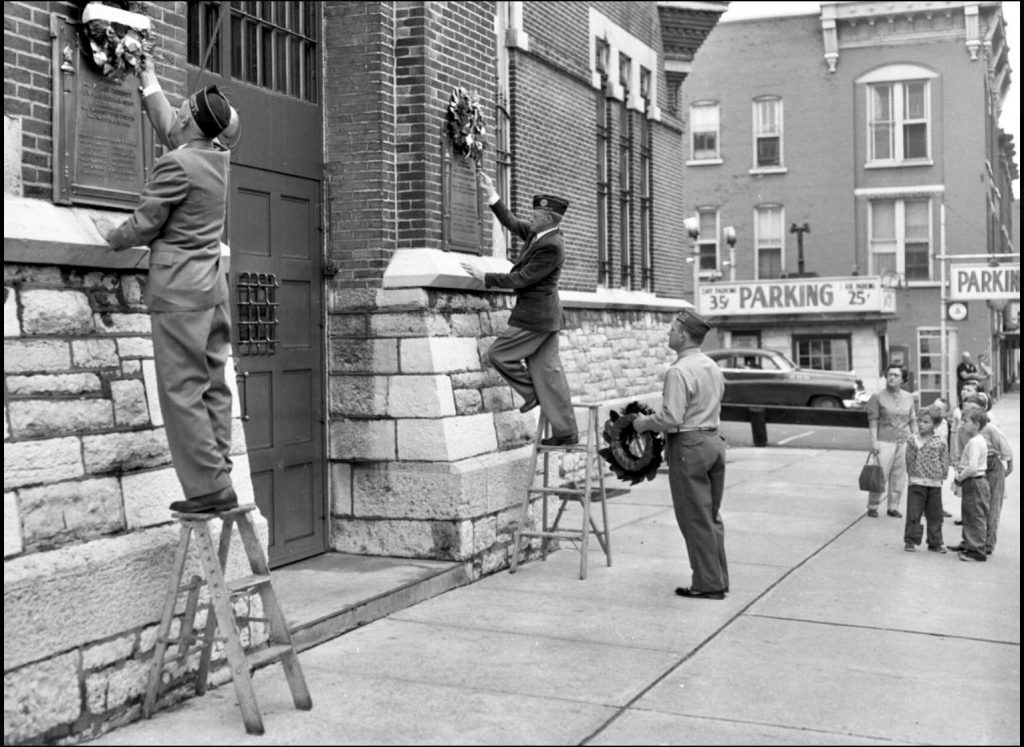 Over the course of Armory's existence from 1877 onward, it was home to the following, via the New York State Military Museum and Veterans Research Center:
35th Infantry Battalion:    1879 – 1881
39th Separate Company:    1881 – 1897
Nucleus of Co. E, 203rd New York Volunteers:    Spanish American War
Co. C, 4th Infantry Battalion:    1899 – 1904
Co. C, 1st Infantry Regiment:    1905 – ????
127th Ordinance:    1961 – 1964
The Armory also served numerous civil functions going back to the early 1900's, including car shows, food exhibits, dances and sporting events, many of which were held right up until the building's closure as local high school and Jefferson Community College basketball games were held there.
Alas, the building would close in 1964 and lie in wait of the wrecking ball which came two years later in 1966.