The Liberty Theater on Court Street
The Liberty Theater was located on the corner of Court and Jackman Streets, Jackman being the corner street the Armory was located on with Arsenal Street.  Next to the theater was the S&B Diner and Montgomery Ward.
One of the many movie theaters to be found in the Downtown Watertown area at the time, The Liberty began as the Antique Theater and may have changed in 1928 when live shows still played.  An advertisement announced it as "The New Liberty Theater" that year, featuring live music from an orchestra as "Nightlife on the street that never sleeps!"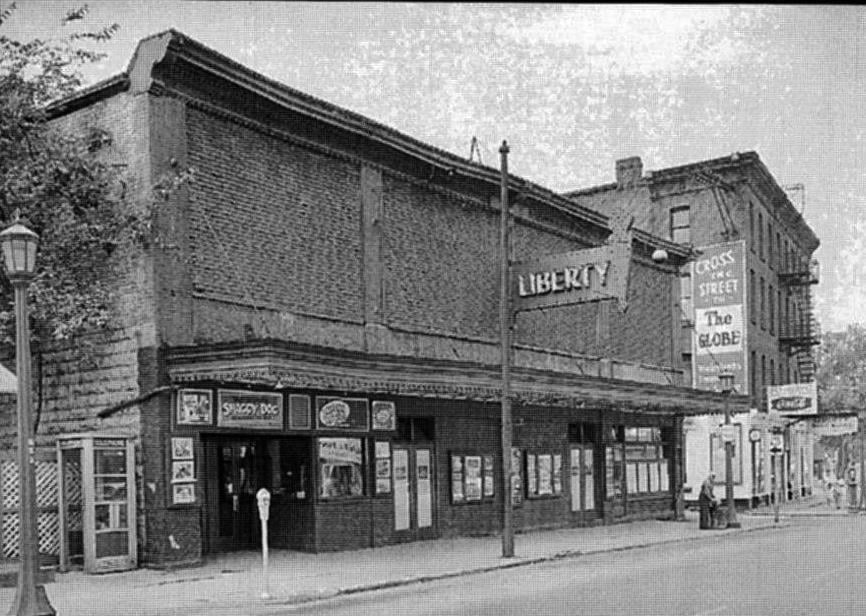 From an article in the Watertown Daily Times, July 3, 1976:
The Liberty Theater, Court Street, was established in 1908 as The Antique by the Mullins Film Service of New York.  It offered combined vaudeville and motion picture entertainment.  In 1911, it was leased to the Papayanakos Brothers, at the time owners of the Lyric and Wonderland.  The brothers sold their entire holdings to Robbins Amusements in 1921, and the Miralste Theater Corp. took over from Robbins on Oct. 10, 1925.  The Liberty was then leased to the Fox Metropolitan playhouses on Sept. 22, 1929.  Peter C. Vournakis purchased the theater in 1933 and operated it until 1959, when it was torn down to make way for a parking lot.
The theater's curtain call was on September 3, 1959.