Twin Island – Two Little Islands With Two Big Stars
Not too far from Castle Francis and the Thousand Island Park is Twin Island, an unassuming little slice of paradise on the St. Lawrence with wonderful views and once the summer home to a well-known comedian and future Hollywood star.  The island's close proximity to others, it's slightly less than a 1,000 feet from Castle Francis and less than a mile to Murray Island, and its shoals may have also contributed to some tragedies and near misses throughout its history, too.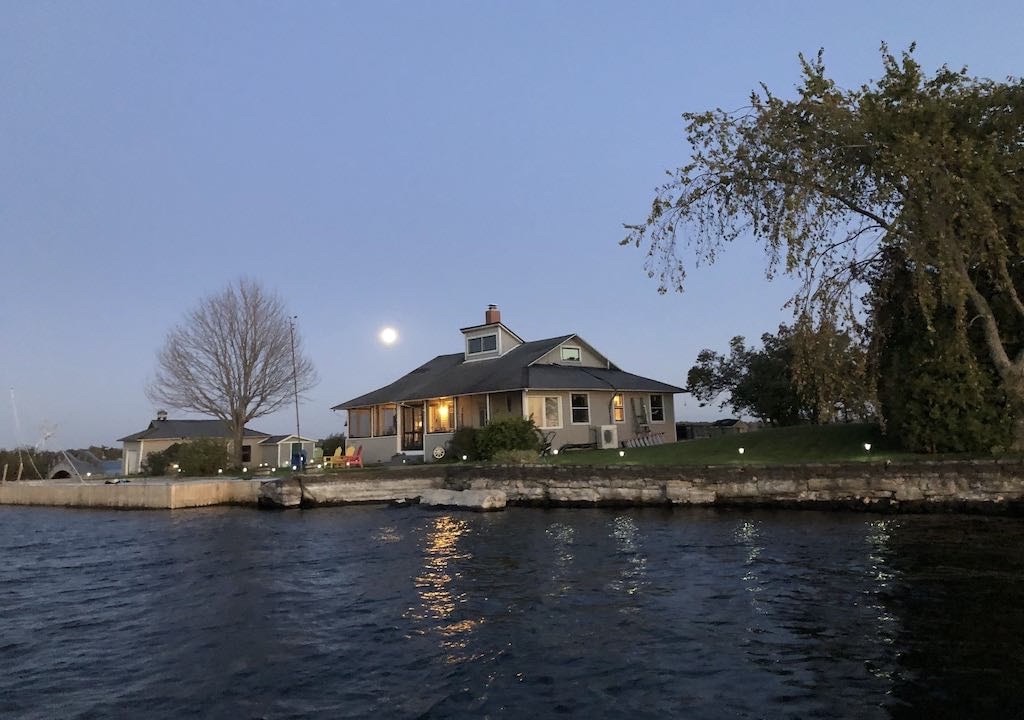 In the early 1880s onward for a number of years, the island was owned by Mr. Issac L. and Mrs. Mary Barber Huntington of Watertown.  In 1885, it was reported that a very "novel" streamer graced the flagpole on Twin Island, "an immense fish maid of cloth and when inflated by the wind resembles a king of the deep."
In 1895, three men drowned mid-November trying to go from Clayton to Murray Hill Park.  The last body, that of William Keene, wasn't found until the found until July of the following summer as it floating on its back near Twin Island.  The other two victims, Frank Baker and John Kinch, were accompanying Keene with a skiff load of provisions for Murray Hill Park at 5 p.m.
The following afternoon, the skiff was found near Twin Island with the body of Kinch entangled in the sheet-rope.  All three were employees of the new Murray Hill Park hotel.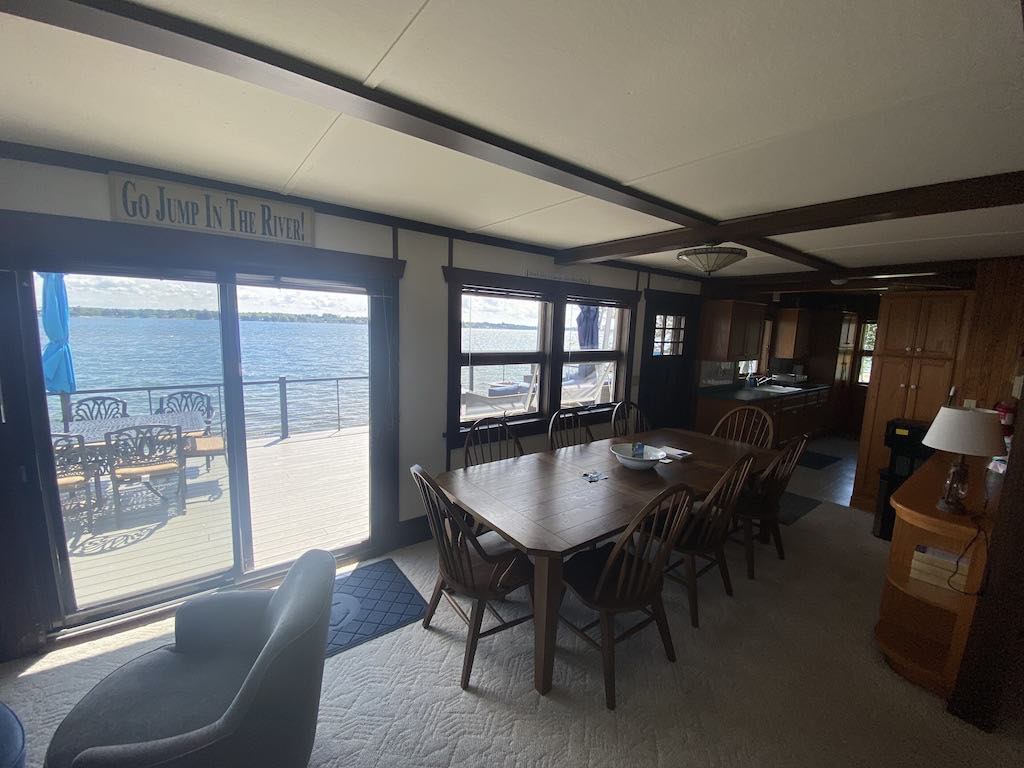 According to current Twin Island owner James Ledger, the house presently there was built in 1922.  It was in the 1920s that famous comedian Ken Murray owned it while part of the Keith-Albee comedy circuit named after vaudeville tycoons B. F. Keith and Edward Albee.  The Watertown Daily Times reported on August 20, 1928–
Clayton, Aug. 20 – "Ken" Murray, famous comedian, is entertaining several guests at his summer home on Twin Island, four miles down the river from this village. Among those spending a few days at the Murray summer home are Helen and Milton Charleston of New York, Martin Sands, Miss Mildred Doone and Mr. and Mrs. Albert Shepard, all well known comedians.

Mr. Murray arrived at his summer home about the middle of July and will remain until Sept. 6. He is one of the best known comedians on the Keith Albee Circuit, making the winter tour on the major circuit.
Below: Ken Murray as the drunk Doc Willoughby in John Ford's "The Man Who Shot Liberty Valance."
Ken Murray, by far the most well-known of the above names, was born in New York City in 1903 and came from a family known for vaudeville performances.  Growing up, Murray learned his older brother was actually his father, Joseph Doncourt, who had him at a young age and the couple Ken believed to be his parents were actually his grandparents. 
Ken, not wanting to ride his father's coattails for success in the business, would change his name to "Ken Murray" and would appear in over 40 features as a character actor while also working as a producer.  Perhaps his most notable role was in John Ford's "The Man Who Shot Liberty Valance" in which he played the drunk Doc Willoughby. Ken would also host his own TV show, the Ken Murray Show, a variety show that ran from 1950 – 1953 and appeared on the Jack Benney Show, Judy Garland Show and numerous others.
Below: Ken as a guest on the Judy Garland Show with his home movies of Clark Gable, Charles Chaplin, Bob Hope, Bing Crosby, Mickey Rooney, Carole Lombard, Jean Harlow, Joan Crawford, Spencer Tracy and many more.
It's unknown how long Ken Murray owned the island as the same year he was mentioned in the Watertown Daily Times he made the move to Hollywood.
Six years later, in March of 1934, another tragedy nearly occurred  near the island when two men from Thousand Island Park, Deputy Sheriff William Cuppernall and Joseph Patterson, were in a touring car riding from on the frozen river and broke through the ice near Twin Island.  The car sank in about 30 feet of water forcing the two to swim about 40 feet in ice cold waters before reaching solid ice.  Both were said to have been exhausted and suffering from exposure as they managed to walk two miles back to their homes.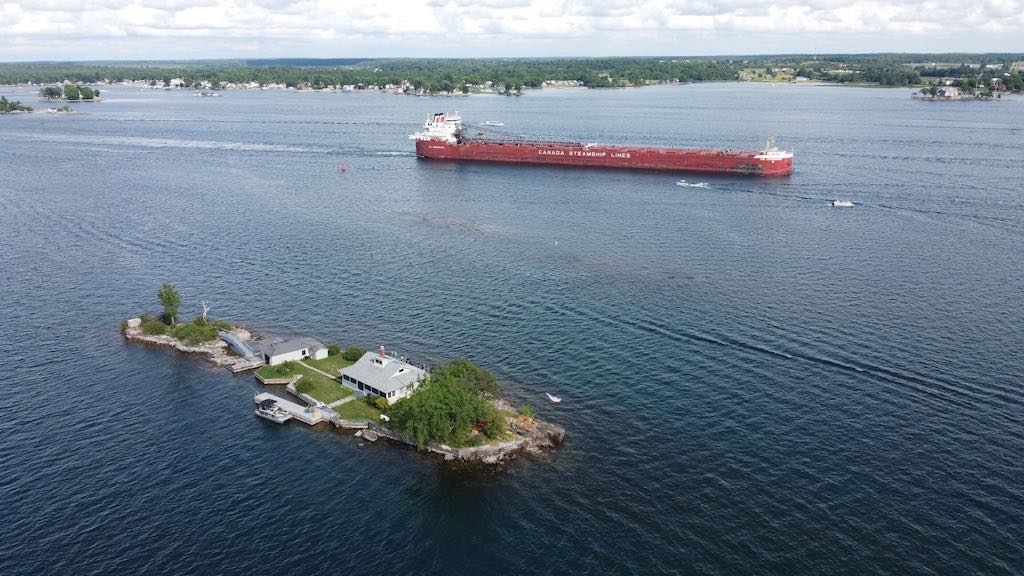 According to the Watertown Daily Times—
The two men had driven from T. I. Park to Fishers Landing Thursday afternoon to get groceries. They left Fishers Landing to return about 6 p.m.  They  were riding in a touring car with the top down. 

Arriving about the middle of the channel near Twin Island, they heard the ice giving way and the car commenced to settle.  

Realizing their danger, both jumped. Mr. Patterson went over the windshield, instead of out the side. In doing this he suffered a bad cut on his neck and abrasions about his face from the windshield.  

Both men said today that their exertions in swimming and trying to climb out kept them from succumbing to the cold water. As they walked to their homes a cold wind and driving snow buffeted them.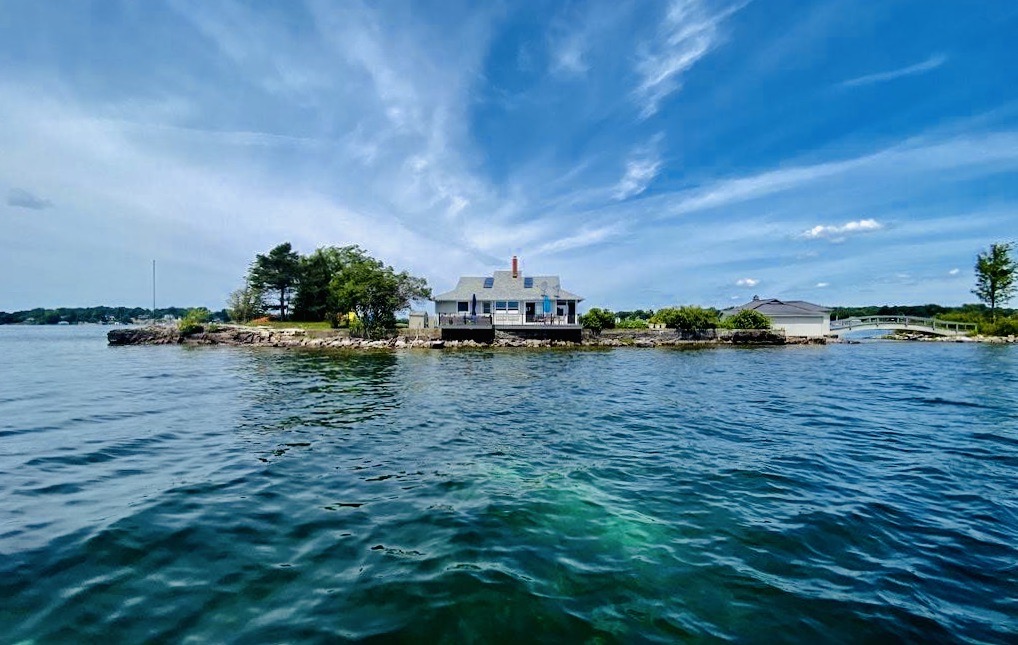 In 1951, Twin Island was purchased in a tax sale by Willard J. Thornton and Ralph Scarabino for $99.27 owed by the previous owner, Mortimer J. (Jack) Norton who was another Hollywood star.  Born in 1882, six years before Ken Murray, Jack Norton also was a vaudeville star who transitioned to Hollywood where he performed in over 120 films in his twenty-five year career from 1923 – 1948.  Like Murray, Norton was also known for playing drunkards, though he personally abstained from alcohol in real life.
In the 1940s, Norton was part of Preston Sturges' unofficial stock company and performed in five of the director's films in the decade which included Hail the Conquering Hero, The Miracle of Morgan's Creek and The Palm Beach Story which are amongst Sturges' most famous films and widely considered some of the best comedies of all time.
Below: A short clip of Jack Norton playing a legendary drunk in 1940s "The Bank Dick," directed by Edward F. Cline.
No other information was found regarding the island since other than being part of the shoal blasting operations performed by the Great Lakes Dredge and Dock Company in the mid-1950s. When current owner James Ledger purchased it in 2018, a photo had been left behind that is of particular interest in that it states Lottie Pierce as having owned it at one point.  The photo, believed to have been from c. 1950, shows Rita Chalk, Lady Mountbatten, Harry Chalk and Lottie Pierce.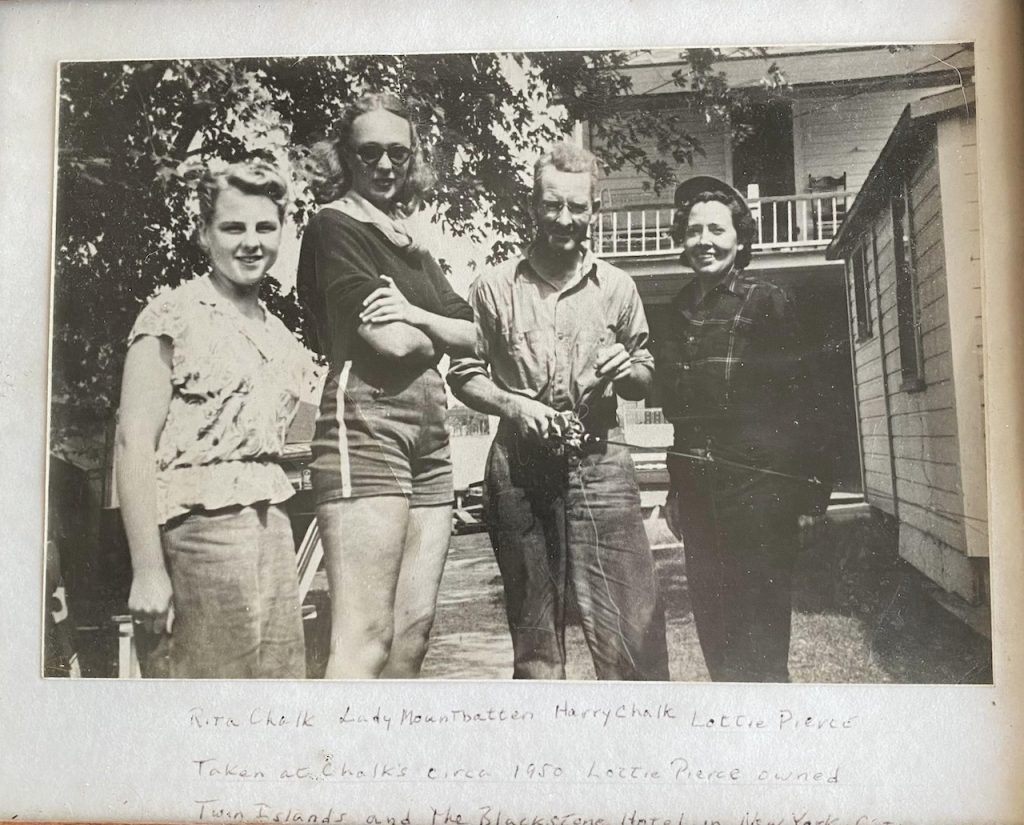 Lady Mountbatten was the former Edwina Ashley who became an English heiress, socialite, relief worker and last vicereine of India.  She lived from 1901 to 1960, which means she would have been approximately 48 in this photo which, compared to other photos of her, doesn't appear to share the same likeness.  It very well could have been taken years earlier there was a Harry Chalk with a daughter, Rita, in Watertown in the 1930s as well as a mentioning of a Lottie Pierce who, as noted in the photo, owned the Blackstone Hotel in New York City, a 12-story hotel completed in 1913.  Without any further information found, an intriguing mystery it remains…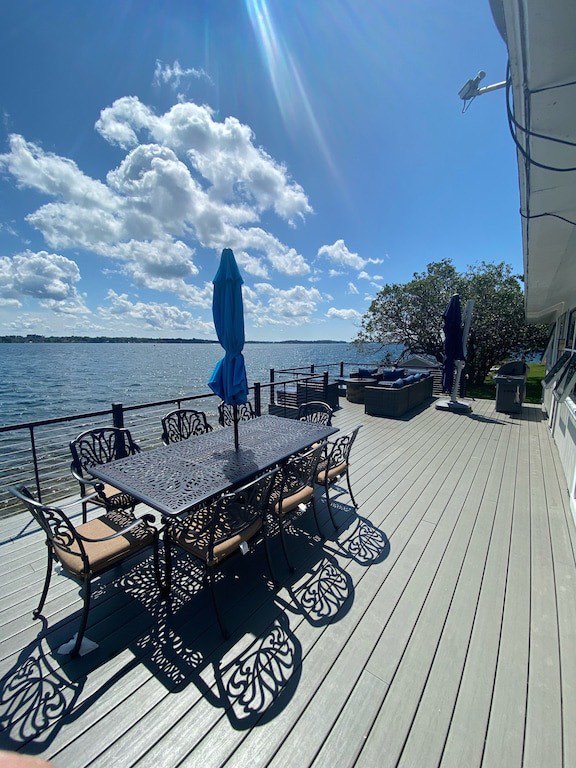 "Twin" Twin Islands?
During research of Twin Island, a second Twin Island on the St. Lawrence River kept being referenced.  As it turns out, it was (and still is) located near Ogdensburg – a confusing matter that eventually was resolved, to some extent, in 1967 (unfortunately, references to the same name still exist in old publications… as well as a host of other names as well.)  So what happened?
In 1967, the board of geographic names officially renamed the other Twin Island to Galop Island.  Located about five miles northeast of Ogdensburg, the island had been apparently been referenced by a number of names over the years including, but not limited to, Butternut, Dillingham, Dixon, Gallop, Galoup, Lalone, Lotus, Sears, Tick, Ile aux Galops, Isle au Gallop, Isle au Galop in addition to the frequently named "Twin Island."