Joel Sherwood Builds 18-Room Mansion On Iroquois Island In 1898
The Joel Sherwood summer home on Iroquois Island was erected in 1898 on what was then called Sherwood Island for a number of years.  The property was also referred to as "The Willows" due to the numerous Weeping Willow trees on its premises.  The summer home had 18-20 rooms, 15 of which were bedrooms, a huge living room with "an unusually large and beautiful fireplace, the mantel of which is made of stalactites" according to a Watertown Daily Times article dated October 25, 1944 when the property went through one of its many transfers of ownership.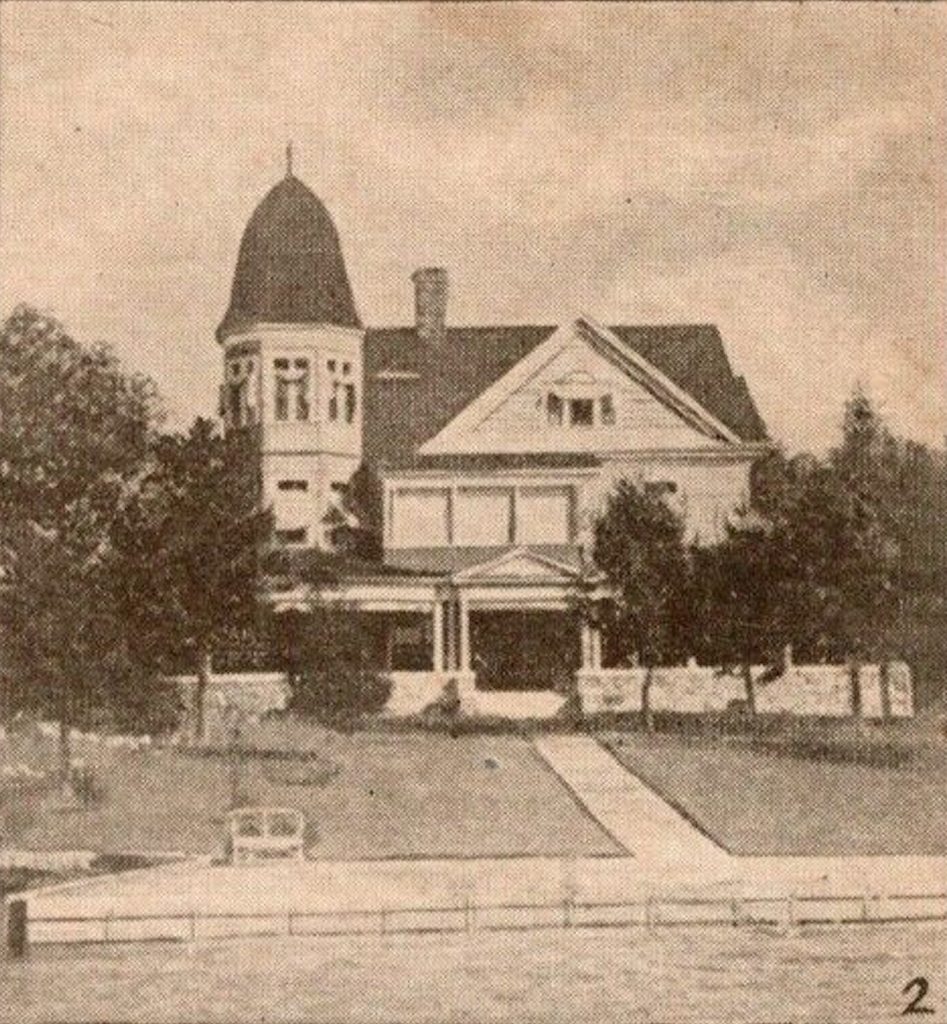 Sherwood, of Brooklyn, launched his new steam yacht, the Wave Crest, around 1902.  A short time later, he purchased the yacht 'Nella,' formerly owned by the late Samuel Sondheim, also of New York.  Nella was outfitted with a cannon on board (canons, not just for island homes anymore!).  Unfortunately, it lead to its captain, Dan Duclou, losing his arm in July of 1903. 
Duclou was about to leave the dock in Alexandria Bay for Iroquois Island and was examining the cannon when his foot managed to touch the cord leading to the hammer.  Three doctors amputated his arm below the elbow as a result of the unfortunate mishap.  
Joel Sherwood died in 1911 but the property remained in the family until 1927 after an action was taken to foreclose a $6,000 mortgage, dated May 25, 1923, against Arabella Sherwood Cook and Mabel Sherwood Hawson.  Action was taken by Purcell, Cullen, & Pitcher, a law firm located in Watertown's historic Woolworth Building.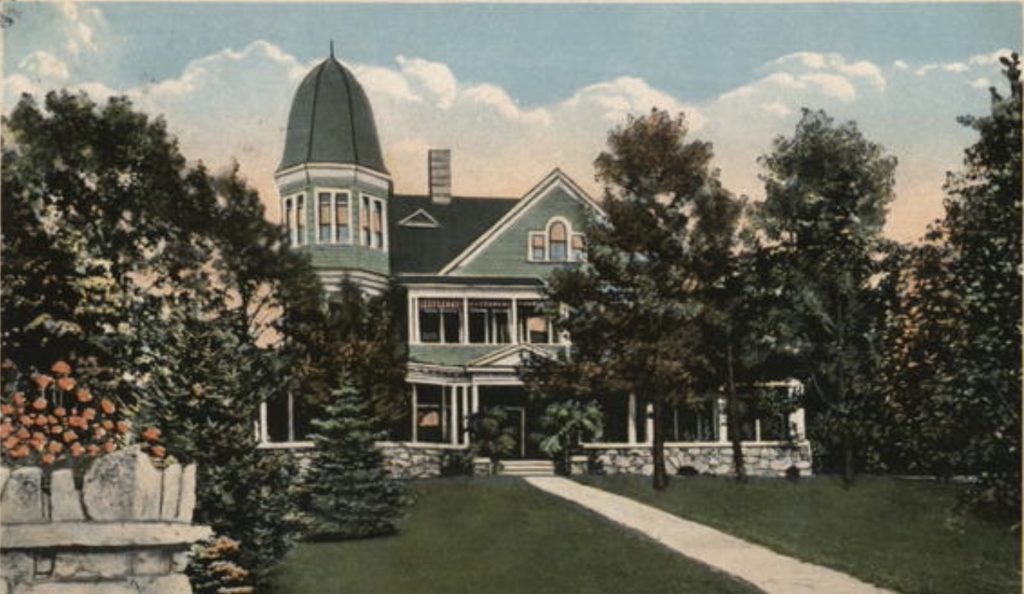 In 1927, the Sherwood estate sold the property to Harold E. Witteman, from Brooklyn and one of its largest builders at one point though is ownership didn't last very long.  Witteman's wife filed a lawsuit against another New York City woman, asking $100,000 for alienation of her husband's affections.  In turn, Mr. Witteman filed proceedings to have his wife committed to an institution and to gain possession of their two children.  
The drama played out in the local newspapers, coupled with Witteman having a $4,000+ mechanical lien placed against corporation which owned the property for work completed the prior year.  In August of 1928, Harold received custody of his eldest daughter, Elizabeth Patricia, 4, as a result of court order from Supreme Court Justice Edward N. Smith.  
The marital and property troubles were just the tip of the iceberg for Harold Witteman who, by 1932, owed $3,184,239.98 and was forced into bankruptcy.  In 1933, the property sold to Aaron L. Palmer, also of Brooklyn.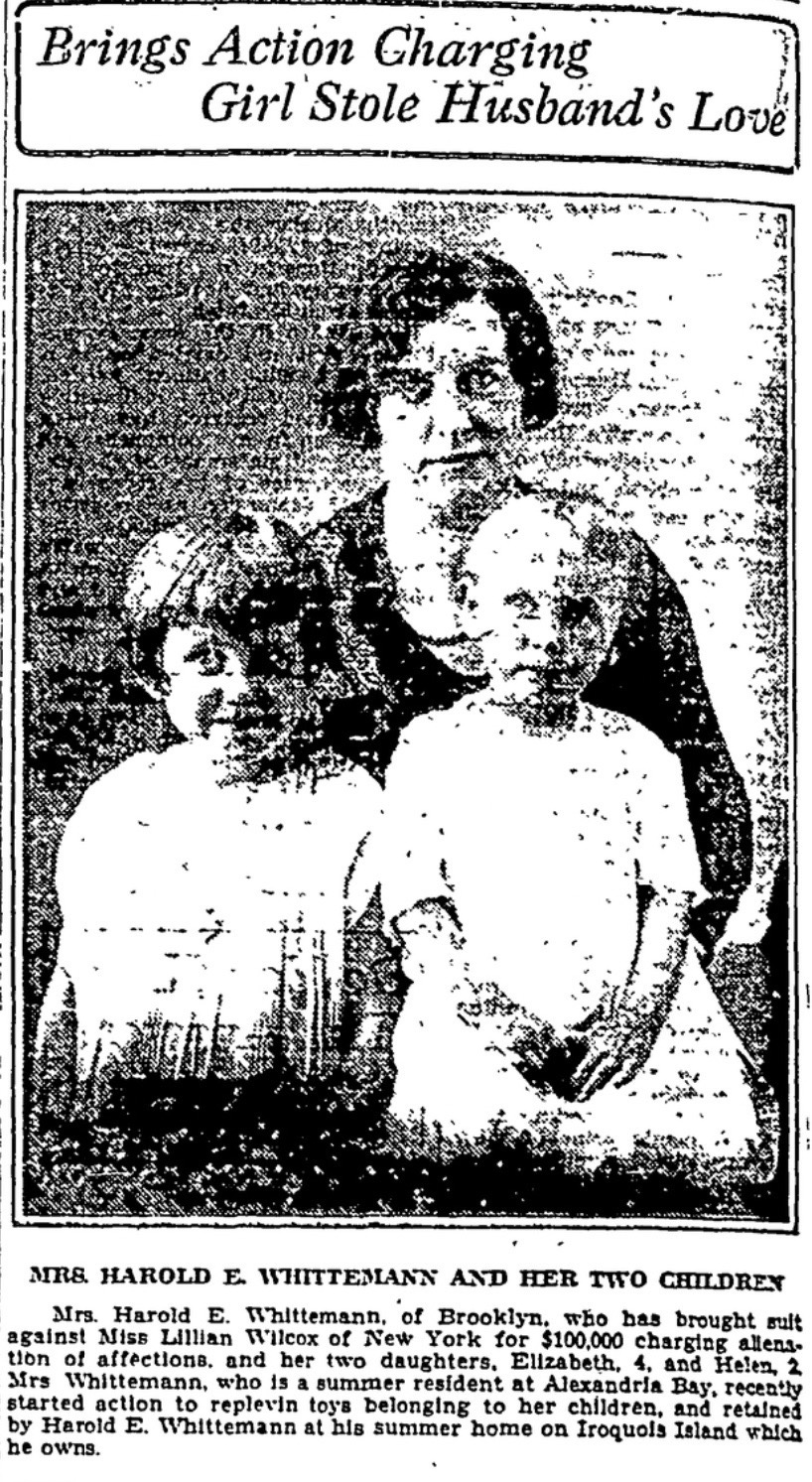 In 1934, there was talk of establishing a nudist colony on Iroquois Island but the property ultimately stayed under the ownership of Aaron L. Palmer who, in 1939-1940, became the victim of "River Pirates."  A $7,200 burglary was discovered in November, but believed to have happened months prior.  According to a Watertown Daily Times article dated November 7—
A $7,200 burglary at the Aaron L. Palmer showplace on Iroquois Island in the St. Lawrence River just below Alexandria Bay is being investigated by state police today and suspicion is directed towards what officials feel must be a well-organized gang of river pirates. 

The Palmer estate, owned by Harold E. Whitteman until 1933, was completely ransacked and the burglars removed everything of value before smashing valuable glassware and dishes inside the 17-room stone mansion.  

The crime, just discovered and reported to Sergeant H. Michael McCann and Trooper John P. Nohlen, state police B. C. I. is believed to have occurred sometime between September 15, 1939, and June 8.  However, the estate has not been occupied during the summer season.
A $300 reward for information leading to the arrest and conviction of the party, or parties, responsible for the burglary was offered by Palmer's insurance company.  Four months later, James Parker, 19, and Lyman Peck, 25, both of Alexandria Bay, were held on charges made in connection to the burglary and later confessed (Parker was the son of the former Palmer caretaker and admitted to entering the property on three separate occasions.)  It was the first such arrest made after a series of crimes occurred since the river policing was eliminated in 1937.  
In 1944, Aaron Palmer sold the property to James C. Wemyss of Gouverneur (also spelled as Weems) who was an executive officer of the Rushmore Paper Mills, Inc., of Natural Dam.  Wemyss had previously purchased the palatial summer home of the late George D. Morgan, "Pontiente," on Morgan Island in Goose Bay.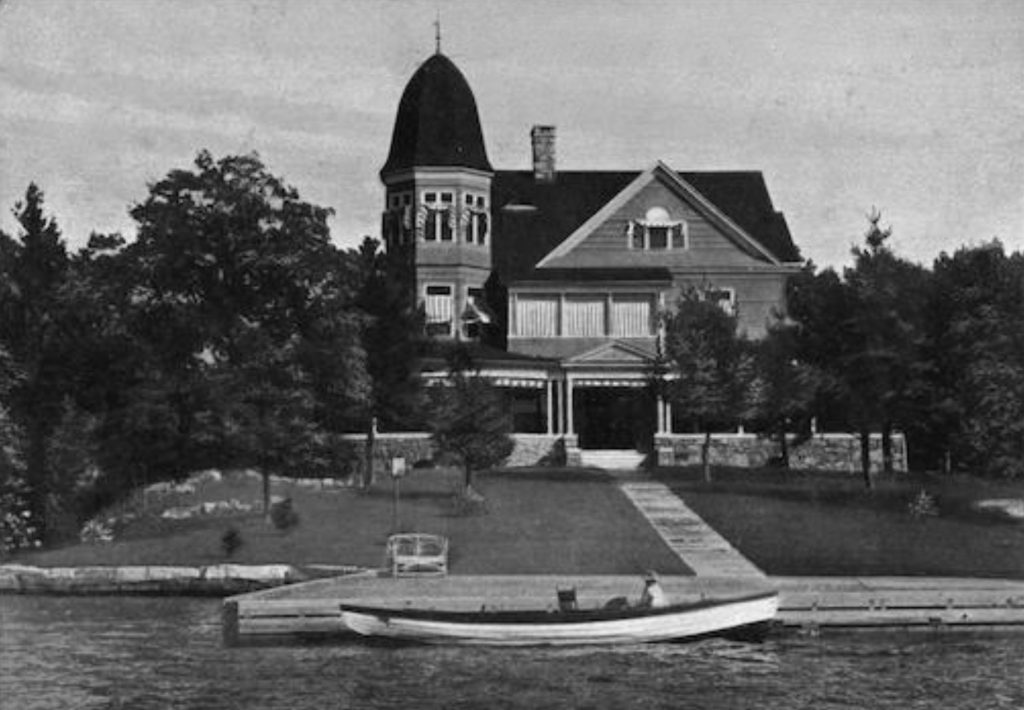 Not much information exists during Wemyss ownership other than the property was destroyed by a fire of unknown origin during the summer of 1959 and had been unoccupied for the prior 20 years dating back to the vandals first striking in 1939. 
The Times noted—
Over the last 10 to 15 years the property had become a "Playhouse" for children because of its easy access from the mainland.  It was also a mecca for picnickers.  According to reports the once richly furnished interior of the building had been ruined with heavy doors being stolen, windows smashed and even some of the woodwork being appropriated.  
After the fire ripped through the summer, home, only the first story stone walls and chimney remained standing.