Michael Chauncey of New York City Erects A Thousand Islands Showcase Property On Cuba Island
Michael Chauncey, one of the largest real estate dealers in Brooklyn, purchased Cuba Island from the Cornwall Brothers in 1890.  The one-acre island, formerly the property of W. E. Story of Buffalo, was purchased by the Cornwall Brothers just two years prior and sold to Chauncey for $2,500.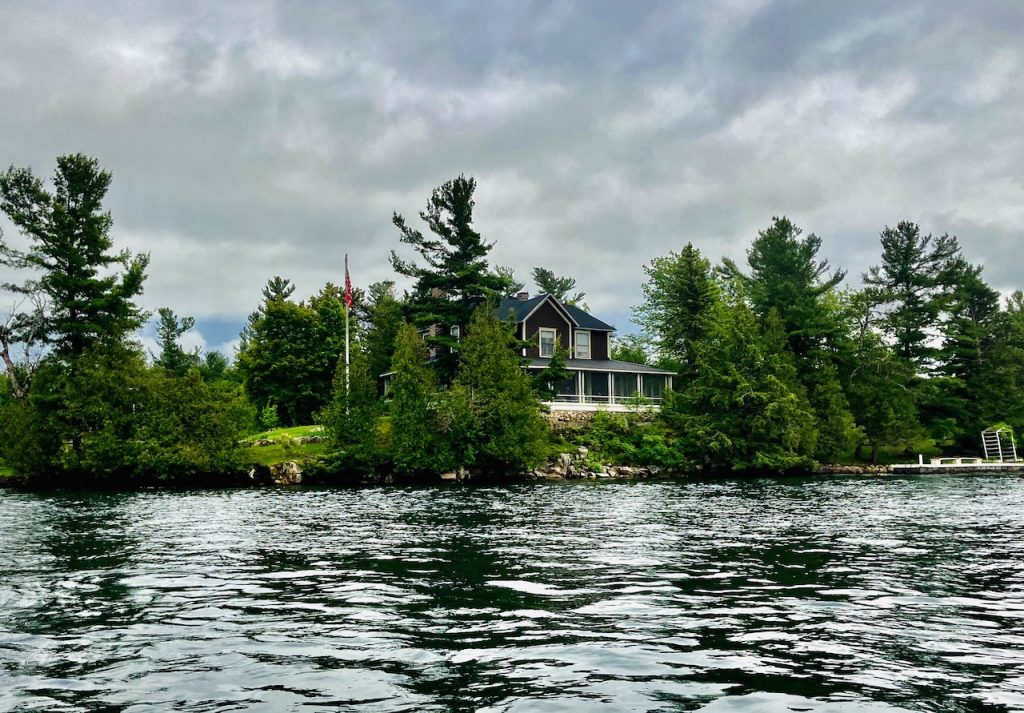 By the last week of November of 1890, the building season in the Thousand Islands was drawing to a close and two of the finest cottages having been erected in the past fall was said by the Watertown Daily Times to have been W. C. Browning's Hopewell Hall on "West Point" of Wells Island and Chauncey's on Cuba Island. 
Chauncey would enjoy six seasons on his island before passing away September 1, 1897 at approximately 5 a.m. there from a stroke at the age of 76.  Flags throughout the Thousand Islands, as well as the Thousand Islands Club House where he was a member, would be flown at half-mast. The Watertown Daily Times would note in their announcement—
Chauncey was one of the best known summer dwellers on the river.  His island home is a model for elegance and luxury, and for a long time he has spent the hot season here.  He was a director of the Brooklyn benefit life insurance company and also of the Brooklyn National Bank, besides being interested in a large number of outside business enterprises.  He leaves a widow (Catherine Sinclair Chauncey) considerably younger than he.  
Catherine, Michael's second wife, would inherit the property and occupy it during the summer season through at least 1907.  In 1910, the island appeared to be rented out and and in ensuing years, including James H. Dawes who would later purchase the Abraham summer home on Cherry Island.  Also amongst the renters was Frederick Conde of Oswego (later New York City) would occupy it until Mrs. Chauncey eventually sold the property to him for $10,000 after it had been recently renamed "Enchanted Island."
Conde, a manufacturer who owned knitting mills, would pass away in 1924 and his will would become the subject of a lawsuit by his nephew, Swits "Tom" Conde, who claimed "undue influence" was exerted over his uncle at the time the will was prepared.  Mr. Conde gave 1/2 of his estimated $1,000,000 estimate to his widow; a large share to his son, Frederick Conde, Jr., and smaller amounts to several relatives.  Frederick Jr. died during WWI in France after the will was prepared, but the clause was altered.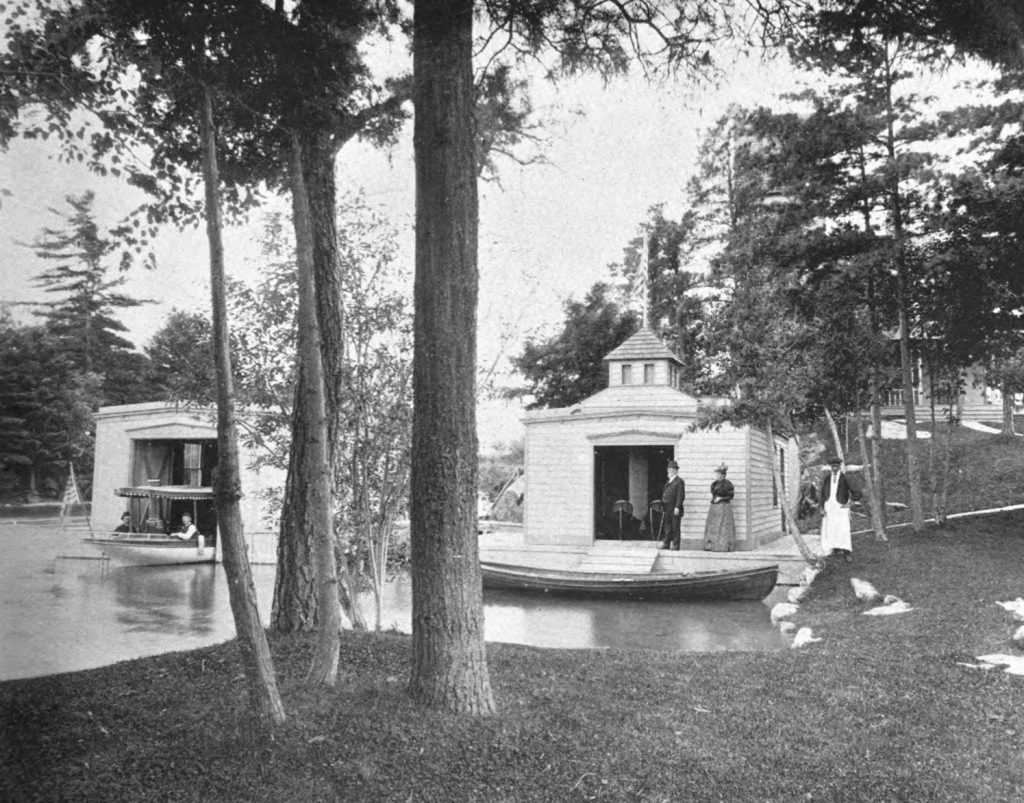 Frederick Conde also owned the Conde Farms and Gardens on the main land which was sold in 1929 William T. Dewart whose property, Keewaydin, adjoined it.  That same year, Cuba Island from Conde's estate sold to Aubert J. Fay of Lowell, Mass.  Fay, who made his first trip to the region the previous summer, planned many improvements including remodeling the house, adding an oval terrace, reconstructing the front porch and tearing down several small buildings.  
The following year, Aubert J. Fay added Neh-Mahbin to his portfolio having purchased it from the Charles Lipe estate… or so he thought.  Charles and his wife, Eloise Estelle Hoyt Lipe, both perished in a boating accident the previous year.  In November of 1930, the court would decide how the Lipes died and who died first which may have implications as to whether Fay could purchase the property with a clear title. 
As it was, the court's decision would determine whether the deed will be given by the First Trust and Deposit as executors of Lipe's will, or whether Dr. Gordon W. Hoyt, administrator of Mrs. Lipe's estate would have a say.  Mr. Fay would ultimately end up owning it and renting it out.  
Harold D. Cornwall would acquire Cuba Island along with his wife, Grace Edna Lewis Cornwall, in 1930.  The son of former Alexandria Bay mayor Harvey Ansel Cornwall, Harold was born there in 1881 but, at the time of purchasing the island, manufactured pulp and fibre board containers in Glenfield, Lewis County before moving operations to Utica.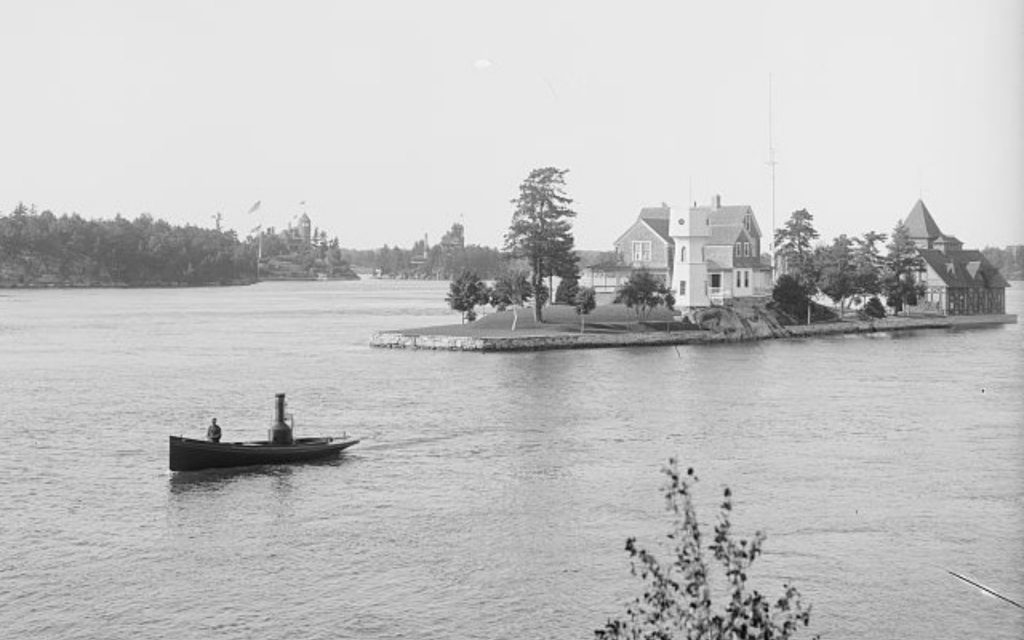 Harold passed away at the age of 52 in 1933, but Grace would continue to visit their island home where she would hosts guests including Neal Brewster, public service commissioner of Albany who had frequented Cuba Island for a number of years.  Another prominent guest from Toronto, Canada, Arthur F. White, president of the Crown Trust company, suffered a heart attack after being stricken at the summer home and died at the then Noble Foundation hospital in 1949.  
Mrs. Cornwall herself would pass away at the age of 81 in 1957.  In her later years, she was best known for the role she played along with her brother and sister-in-law, Mr. and Mrs. (Mary Frances Pitcher Lewis) Harry S. Lewis of Beaver Falls, with the acquisition and restoration of the Constable Hall into a museum near Constableville.  The manor, home to the pioneer Constable family, is a noted landmark in Lewis County and on the National Register of Historic Places.  
Mrs. Cornwall would continue to maintain Cuba Island up until a few years from her death, at which time she had spent the last few summers of her life at the Thousand Islands Club.  In her will, she would name her niece, Mary L. Groat, and nephew, James P. Lewis, as co-executors as well as co-inheritors of her Cuba Island cottage.  Later that year, the property, including the main cottage, two boat slips and a boathouse with living quarters was sold to Dr. Ralph W. Reynolds along with the nearby "Devil's Oven."  
In following decades, the property was for sale for several years in the 1960s and purchased by John McCullough, vice president of Chase Manhattan Bank, Boston, Mass., in 1979.  He was elected as Save the River's vice president in 1989 after having served on its board of directors for six years and still spends his late springs to fall on the island to this day.