George C. Boldt Builds Mansion On Belle Island, Sells It To Former Carnegie Vice President Alexander R. Peacock
One of the lost treasures of the Thousand Islands was built on Belle Island, oft-referenced to as Belle Isle, by none other than George C. Boldt.  Sometime prior to the summer of 1902 and during the construction of his nearby castle, Boldt would have the large mansion built on the island which was also close to his other estate on Wellesley Island.  After spending a couple of summer seasons on Belle, Boldt would sell the property to Alexander R. Peacock who was at the time still a business associate of Andrew Carnegie, serving as one of the vice presidents of the Carnegie Company.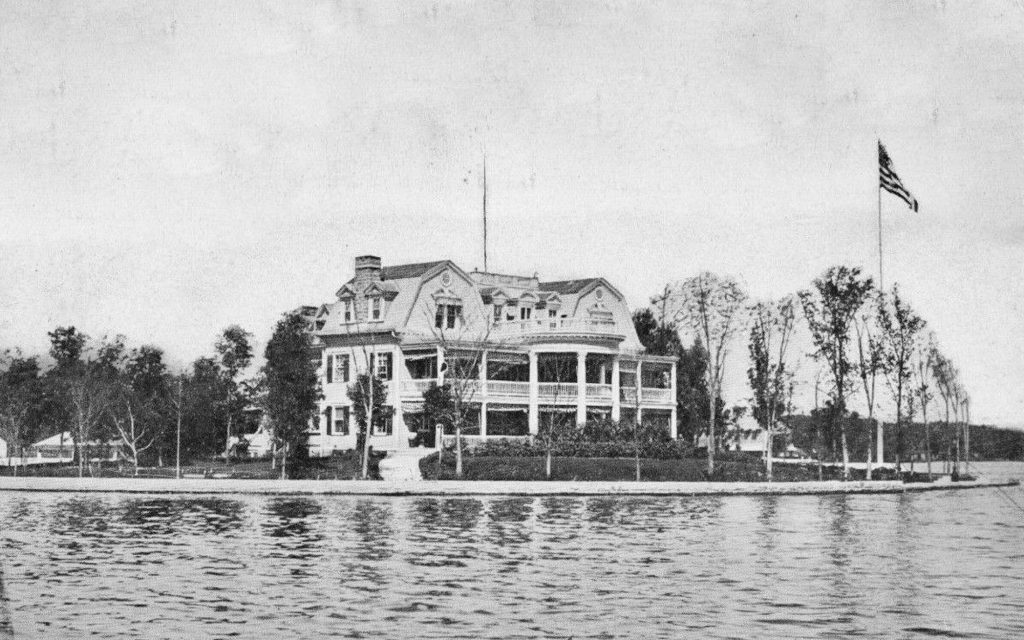 Years later, after Peacock's death at the age of 67 in 1928, his obituary would tell of his practically becoming a millionaire overnight–
Mrs. Carnegie while shopping in New York one day was highly impressed by the polite attention given to her at the handkerchief department of E. S. Jaffray and Co. store by the young Scotch clerk.  She wanted a particular make of lace handkerchiefs and he expressed regret at not having it in stock, but said he would see that some would be made for her. 

In the conversation she learned that he was born in the same town in Scotland as her husband, Dunfermline.  She persuaded Mr. Carnegie to obtain his services, which promptly was done.  

He proved a lucky find and, within a year, was able to sell 65,000 tons of steel rails to the Canadian Pacific railway and 75,000 tons of structural steel to the New York Interborough Transit Company, as readily as he sold lace handkerhiefs at the New York store counter.  
Eventually, Peacock became a vice president in charge of sales of the Carnegie Company without having to go through typical apprenticeship most of the other vice presidents were required to partake in.  The 1899 passing of former Governor and Wall Street wizard Roswell P. Flower who, at the time of his death, was working on a deal to purchase the steel-related holdings of Andrew Carnegie, would open the door for Charles Schwab to convince J. P. Morgan to make the purchase, thus forming U. S. Steel.  The sale ended up making Carnegie, and Peacock to a lessor extent, very wealthy men.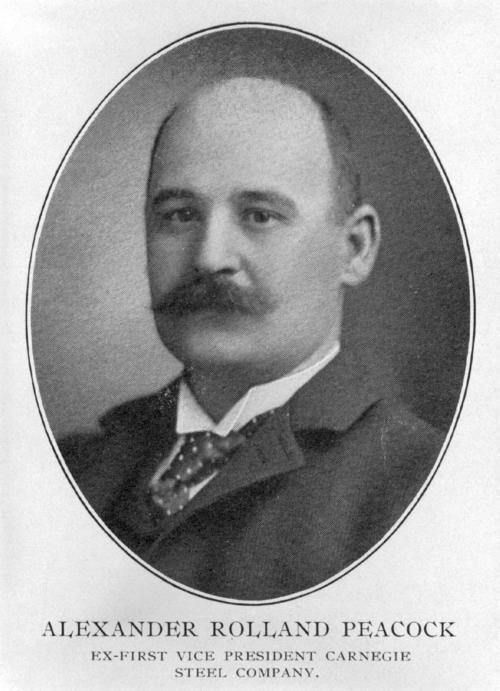 In 1902, the wealthy Peacock would be subjected to a ransom/murder plot that captured the headlines of the nation's press–
Pittsburg, Pa., March 17 – Repeated threats to abduct his three children unless a ransom of $25,000 was left in a certain spot and a warning that murder would follow the placing of detectives on the case, have caused Alexander R. Peacock, former first vice-president and general sales agent of the Carnegie Company, to remove his little family temporarily from his Lexington Avenue home to the Holland House, New York.  

A letter had been received at the Lexington home some two months prior warning that his three children, aged 14, 10 and 3, would be kidnapped unless $25,000 was deposited at a specified drop point on North Highland Ave. 

Not long afterward, a second letter was received from the anonymous perpetrator who then stated their awareness that detectives were working on the case.  Rather than threatening to abduct the children, the writer now said they would murder them instead if the money wasn't deposited.  
No word was ever found as to whether or not the perpetrator was captured, but more trouble would be on the horizon for Peacock, who, in 1904, commissioned J. B. Reid to build him a large yacht house near Wellesley Island.  100 feet or so of the land was donated to Peacock by fellow Pittsburgh millionaire and Thousand Island neighbor on Imperial Island, Gilbert T. Rafferty, who also owned nearby Bonnie Castle in Alexandria Bay.
In 1899, Rafferty had sold part of the land to George Boldt who would build a canal through it as part of his Wellesley Island farm and cottage, visible in the photo below to the very left on the far shore.

In 1906, Peacock, an avid boat collector and racer, needed to enlarge his yacht house to accommodate his growing hobby.  He expressed interest in purchasing a second strip from Rafferty.  Rafferty, noting Peacock had been the recipient of a freebie the first time around, proposed the flip of a coin: if Rafferty won the coin toss, Peacock would pay him $1,500.  If he lost, he would give the land to Peacock for nothing. 
Rafferty not only lost the coin toss, but apparently made the agreement in front of Boldt who would later serve as a key witness to what would become a bitter and infamous dispute dragged through the courts over the following decade.  Rafferty would lose the initial case, but file an appeal.  
In 1916, the several-year-long legal battle would result in "three satisfactions of judgement" in the amounts of $148.24, $319.87 and $149.19.  One can only question whether the two millionaires were merely amusing one another; had nothing better to do with their money; or if there's merely no limit to the cost of being principled.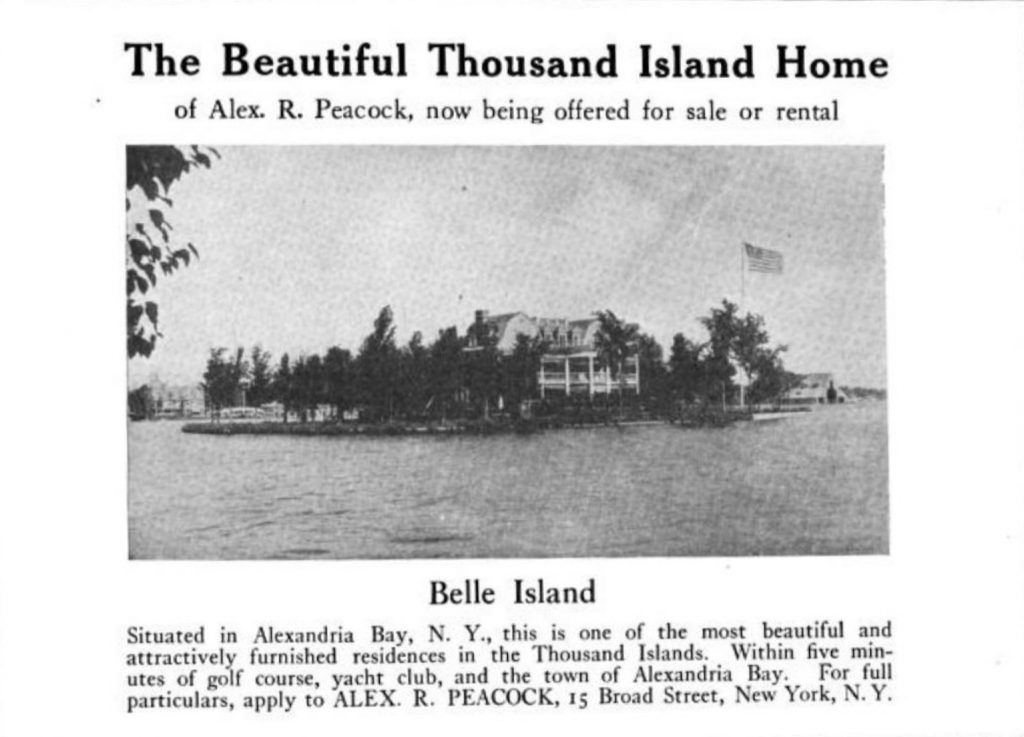 Alexander R. Peacock would put the summer home up for sale (or rent) in the summer of 1921.  The Watertown Daily Times would print of the news and the advertisement would be found throughout publications—
Belle Isle and the summer palace upon it owned by Alexander R. Peacock, Pittsburg millionaire steel manufacturer, has been placed upon the market either for sale or rent.  Located by a short distance from Alexandria Bay, this is one of the finest summer homes at the Thousand Islands and was built at a cost of many thousands of dollars.  

With the island and buildings go the costly furnishings.  The location is within five minutes of one of the best golf courses in the east and it is also but a short distance from the Thousand Island Yacht Club.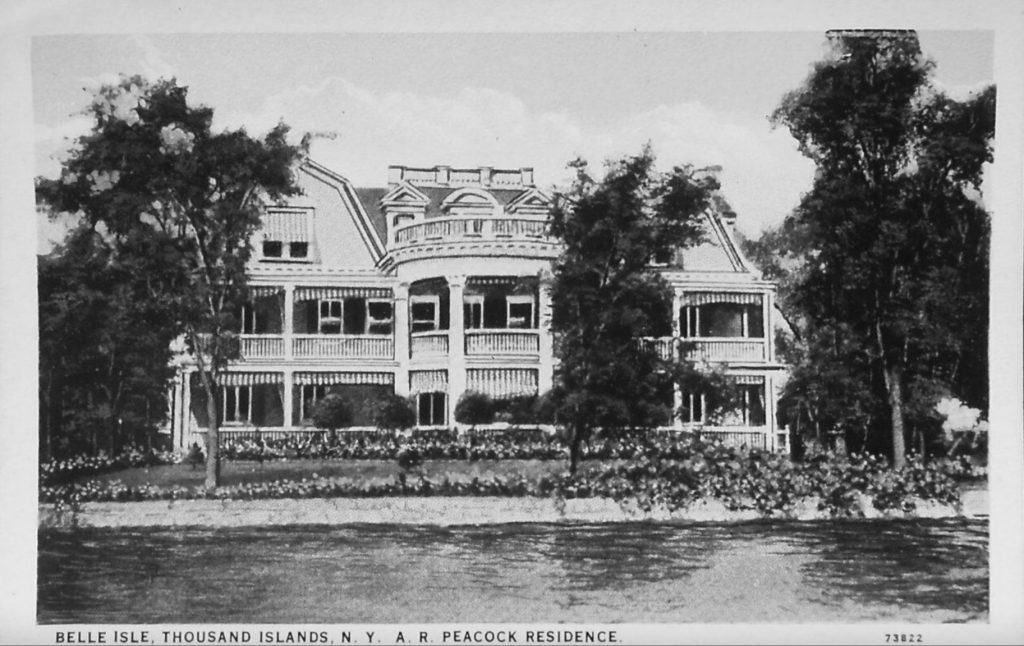 Alexander R. Peacock would pass away in New York City from pneumonia in 1928.  He would be survived by his wife, Irene May Affleck Peacock, and children Clarence, Rolland, and Jean Alexander Peacock Eldridge.
One of the things Mr. Peacock most enjoyed about the Thousand Islands was his collection of boats and being on the water.  In 1905, he would become Commodore to the St. Lawrence River Club and would often enter his fast motor boat "Radium" into races.  In 1910, he would have "Irene II" built, one of the finest crafts on the river.  The Watertown Daily Times would note of it–
Clayton, April 28—Among the new pleasure craft that will be seen at the Thousand Islands this season will be the steam yacht Irene II, which has just been launched at City Island for Alexander R. Peacock, the noted Pittsburg steel man.  She measures 122 feet over all, 115 on the water line, 17 feet beam and 6 feet draft.  The hull is of steel with four watertight bulkheads.  The machinery is amidships, the crew's quarters forward and the owner's and guest's rooms aft.  A 500 horsepower triple expansion engine will supply a speed of 18 miles per hour.  
After his death in 1928, Belle Island, the cottage and its furnishings would be purchased by Edward J. Noble, President of Life Savers, Inc. and later Under Secretary of Commerce, who would go about buying much of Boldt's former estates.  Not much news was found afterward with regards to the property other than Syracuse.com reported that the property became neglected and was torn down in 1939 and remained without another cottage until 1988.
Today, a smaller, modern cottage is on Belle Island which is another property owned by Vladi Private Islands who rents the island out seasonally.  Below is a short video they produced several years ago showcasing the property on their YouTube channel.