Mitch Ryder and The Detroit Wheels At The Watertown Armory & Ronnie James Dio And The Prophets
The following was written by Frank "Butch" Lamica recounting Mitch Ryder and the Detroit Wheels playing at the Watertown Armory in what was essentially the first big rock and roll act in Watertown.  Mitch Ryder and the Detroit Wheels had a number of hits, one being Devil With a Blue Dress On, co-written and recorded by Shorty Long in 1964.  Mitch Ryder and the Detroit Wheels recorded their version two years later and it peaked at #4 on the Billboard Hot 100.
Below: video of the single Devil With a Blue Dress On via YouTube user RobertLove's page:
Butch also recounts Ronnie James Dio playing in Watertown, billed as Ronnie Dio and the Prophets. Dio grew up in Cortland, N.Y., and toured extensively across the state with his band in his early years.  The band's name evolved over time to Ronnie Dio and the Elves, The Electric Elves and finally Elf.  The various incarnations played throughout northern New York from 1965 – 1969 at locations including, of all places, St. Anthony's School gym, the Gaslight Tavern at the Seaway Shopping Plaza, Odd Fellows Hall on Stone Street and New Gene's Inn at Glen Park.
Dio's early years with catchy pop tunes were far different than his heavy metal days fronting Rainbow, Black Sabbath, his eponymous band Dio and Heaven & Hell.  Ronnie James Dio was inducted into the Rock Walk of Fame on Sunset Blvd. in Los Angeles in 2007.  The diminutive Dio, a musical giant at 5'4″, sadly passed away from cancer in 2010 at the age of 67.
Enjoy the recollections from Butch below!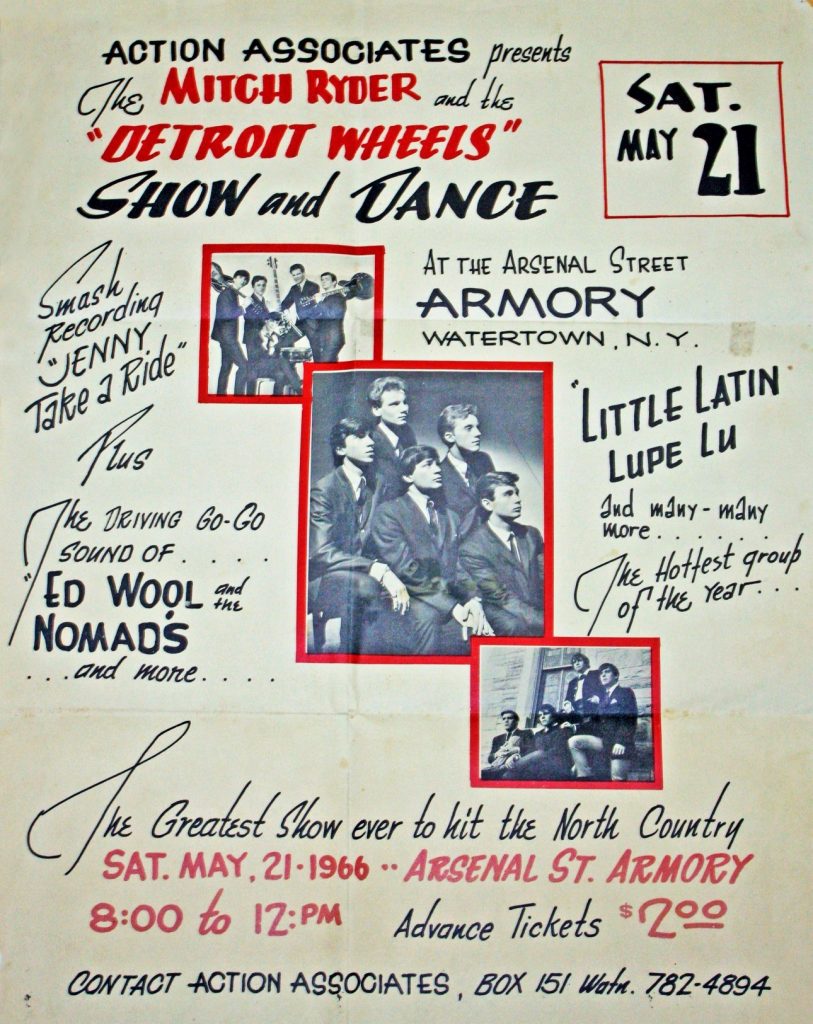 It was May 21, 1966, and for the first time in Watertown, a major Rock and Roll act was coming to Watertown.  The dance was sponsored By Action Associates and Bob & Larry Lawlor.
Prior to this they had run dances at the Odd Fellows Hall on Stone Street and Convention Hall in Alexandria Bay.  This was a huge group that was coming to our very own Watertown.  Ed Wool and the Nomads were a local group that was the opening act.  Ed would go on to sign with RCA Records and record about 7 or 8 albums.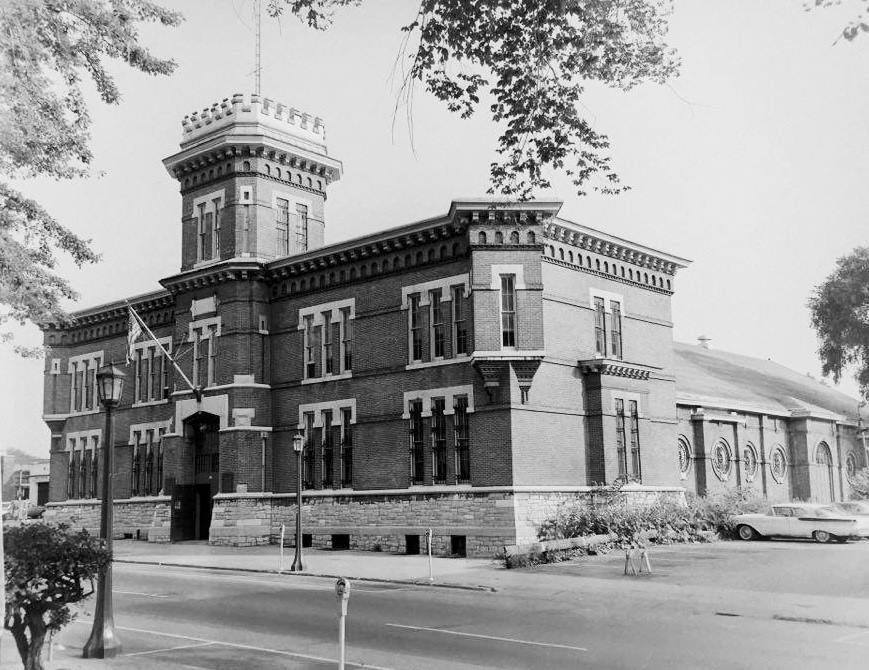 That night the lead guitarist for Mitch Ryder and the Detroit Wheels became sick and was taken to Mercy Hospital on Stone Street so Ed Wool sat in and played lead guitar with The Detroit Wheels.  Mitch Ryder did two sets that night and had to change shirts between sets as he was completely covered in sweat.  He was all over that stage that night and put on one hell of a show the likes of which had never been seen before locally. 
After the show Mitch Ryder and his road manager, Bob and Larry Lawlor, Bob Eamer, a city councilman who had been elected at age 27, Sgt. John Patterson from the Watertown Police Department, and yours truly, Frank "Butch" Lamica all went down to Greco's Brass Rail, located just before you went over the Arsenal St. bridge for pizza.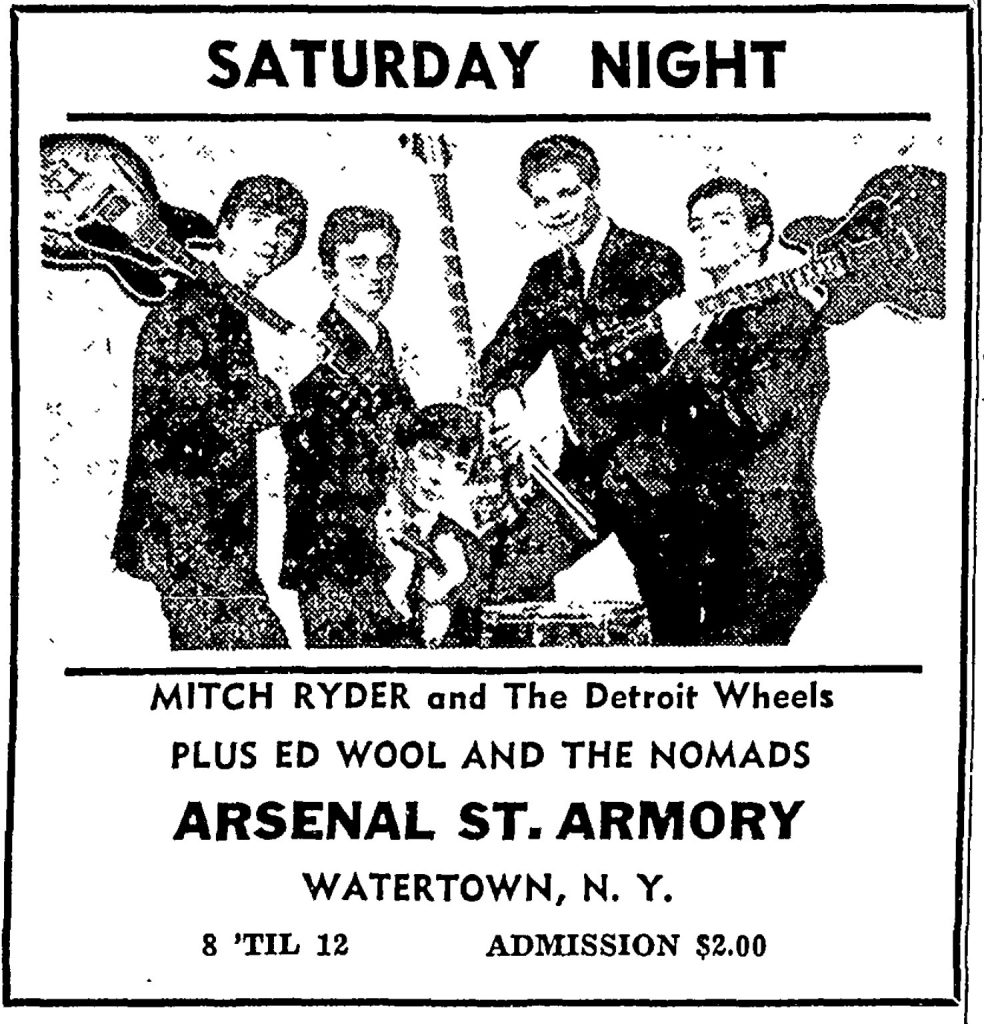 Mitch Ryder's road manager had requested that they were to be paid in cash.  So, at some point Larry asked Ryder's manager if he wanted an escort to the Arsenal St. Motel for protection and pulled his sport coat open to reveal his gun in a shoulder holster. What followed was Ryder's manger, Bob and Larry, Bob Eamer, and Sgt. Patterson all pulling out their guns as well at the table.  It was like Mitch Ryder and I had come to a gun fight armed only with our forks…
Within the next twelve months Mitch Ryder and the Detroit Wheels would go on to record their biggest hit, Devil with a Blue Dress On!
Below: Ronnie Dio and the Prophets in 1967 (when they were actually known as the Electric Elves.)  The audio for Hey Look Me Over was dubbed over the performance by YouTube user "vicctornight" but seems to fit (in more ways than one.)  As one commenter pointed out, "Hard to believe that just 8 years later he'd be singing 'Man on the Silver Mountain'."  The video itself looks like it very well may have been shot in Central or Northern New York.
Ronnie Dio And The Prophets 
Another Rock and Roll act that also appeared often at the Armory was Ronnie Dio and The Prophets.  I remember him signing the song Yummy Yummy Yummy I Got Love In My Tummy, which is really funny when you know what he went on to become…
From Wikipedia, the free encyclopedia–
Ronald James Padavona (July 10, 1942 – May 16, 2010), known professionally as Ronnie James Dio, was an American heavy metal singer, songwriter and composer. He fronted or founded numerous groups throughout his career, including Elf, Rainbow, Black Sabbath, Dio, and Heaven & Hell. Dio is regarded as one of the greatest and most influential heavy metal artists of all time.  He is known for popularizing the "Metal Horns" hand gesture in metal culture and his medieval-themed song lyrics.

According to a version provided by the singer himself, the act derives directly from the classic Italian apotropaic gesture, which his grandmother usually did. Dio had a powerful, versatile vocal range and was capable of singing both hard rock and lighter ballads. He was awarded the "Metal Guru Award" by Classic Rock Magazine in 2006. He was also named the "Best Metal singer" at the Revolver Golden Gods Awards in 2010 and ranked as the genre's best vocalist in 2013 by music journalist Sacha Jenkins.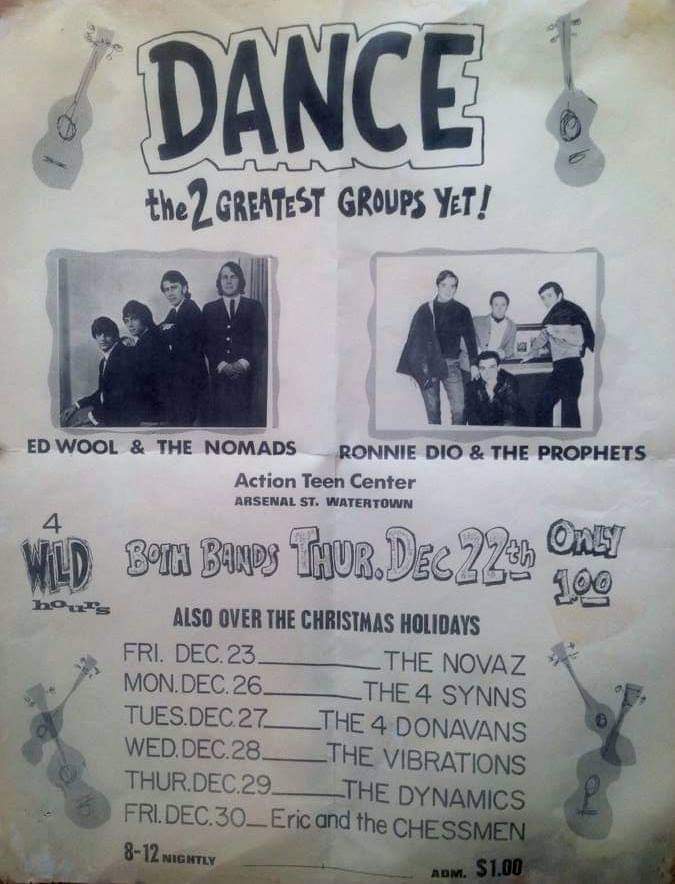 In late 1967, Ronnie Dio and the Prophets transformed into a new band called The Electric Elves and added a keyboard player. In February 1968, the band were involved in a fatal car accident which killed guitarist Nick Pantas and briefly put Dio and the other band members in hospital. Following the accident, the group shortened its name to The Elves and used that name until mid-1972, when it released its first proper album under the name Elf.
Over the next few years, the group went on to become a regular opening act for Deep Purple. Elf recorded three albums until the members' involvement recording the first Rainbow album in early 1975 resulted in Elf disbanding. From there he went on to the band Rainbow and in 1979 joined Black Sabbath replacing Ossy Osbourne. He achieved his greatest glory in rock and roll as simply the great heavy metal artist known simply as "Dio!"
Below: Look out!  Ronnie James Dio performs Rainbow in the Dark off of Dio's 1983 debut album Holy Diver.  The song reached #12 on Billboard's Album Rock Tracks that year.  Video from Rhino's YouTube page.