The Disappearance Of Sean Evans On May 17 1984 From 910 Water Street
The disappearance of Sean Evans occurred in the late afternoon of March 17, 1984  when the two-year-old's mother mother, Connie Evans, went into the house to answer a phone call.  When she returned a few minutes later, a younger sibling left in a playpen was still in the yard of their 910 Water Street home, but there was no sign of Sean.
A large search by neighbors, volunteers, firemen and police took place that Saturday evening, the Watertown Daily Times reporting–
Firemen and search and rescue officials this morning were stringing safety lines across the Black River at Diamond Island to aid divers entering the swift river in search of a missing two-year old boy.

Authorities resumed their efforts to locate Sean W. Evans, 2, son of Mr. and Mrs. Francis W. Evans, who disappeared from the yard of their home, 910 Water St., shortly before 6 p.m. Thursday.

The boy is believed to have fallen into the river behind his home next to the Pearson and Timmerman Inc. building, 914 Water St., after he had been left outside for a few minutes by his mother, Connie.

City police and fire officials, search and rescue volunteers, and neighbors conducted a house-to-house search and combed the woods and shoreline of the Water and Huntington Street riverbanks until darkness forced them to call off the search.

Sean is about three-feet tall, weighs 40 pounds and has green eyes.  He was wearing a yellow jacket, red pants and blue sneakers with a white stripe.
Of note, the search found sneaker tracks leading to the river's edge but it wasn't clarified whether they were fresh tracks or not.  Evidently, Sean had previously been caught near the river's edge and forbidden to go near it again.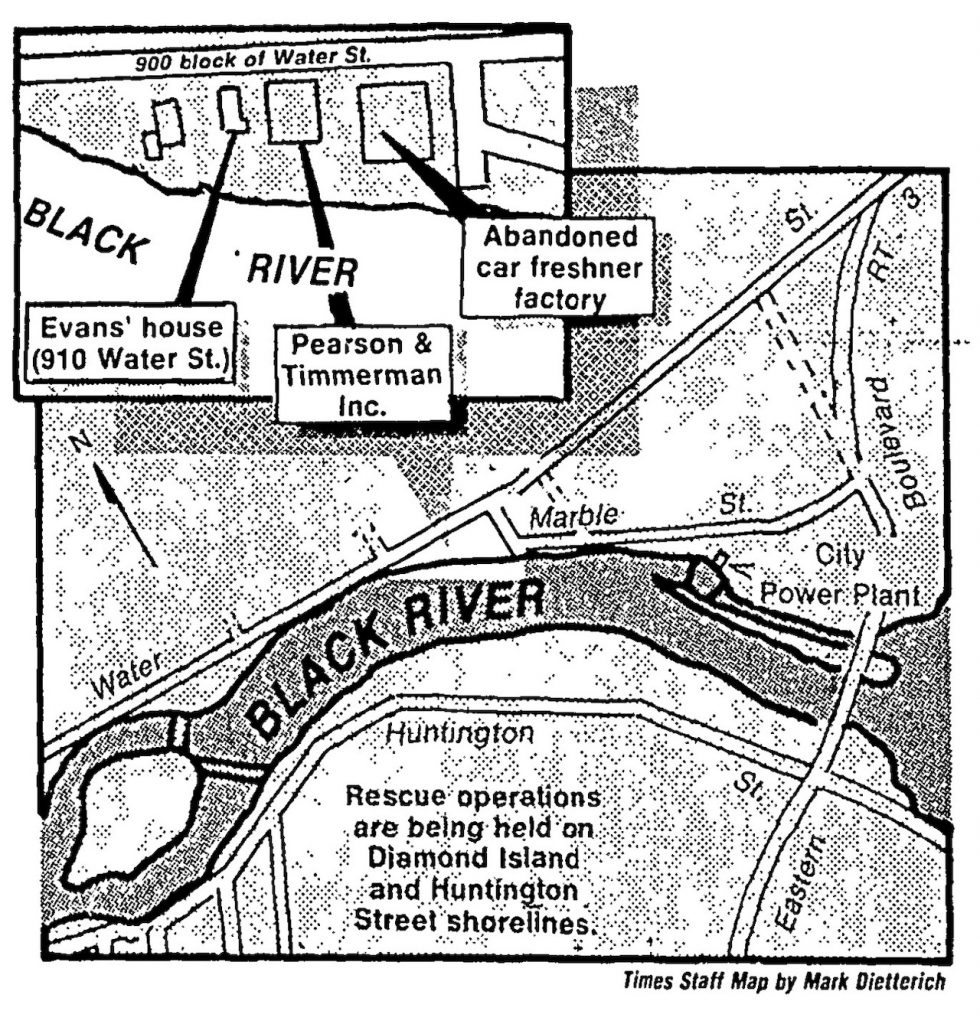 That same day, according to a Watertown Daily Times article several days later on March 21st, two possible attempts to pick up young children on Gotham Street were reported to the police.  A man in a car stopped as two young girls were playing in their front yard and asked if they wanted a ride home.  That same Saturday, police also received a similar complaint after a five-year-old boy told his mother that someone in a red car approached him while playing in the yard of his Emerson Street residence and asked if his parents were home. 
In both instances the men left after questioning the children, though the police had said they had no reason to believe there was any connection to the disappearance of Sean W. Evans who, at that point, was believed to have drowned.  The family, however, continued searching when a clairvoyant in New Jersey claimed to have had a vision.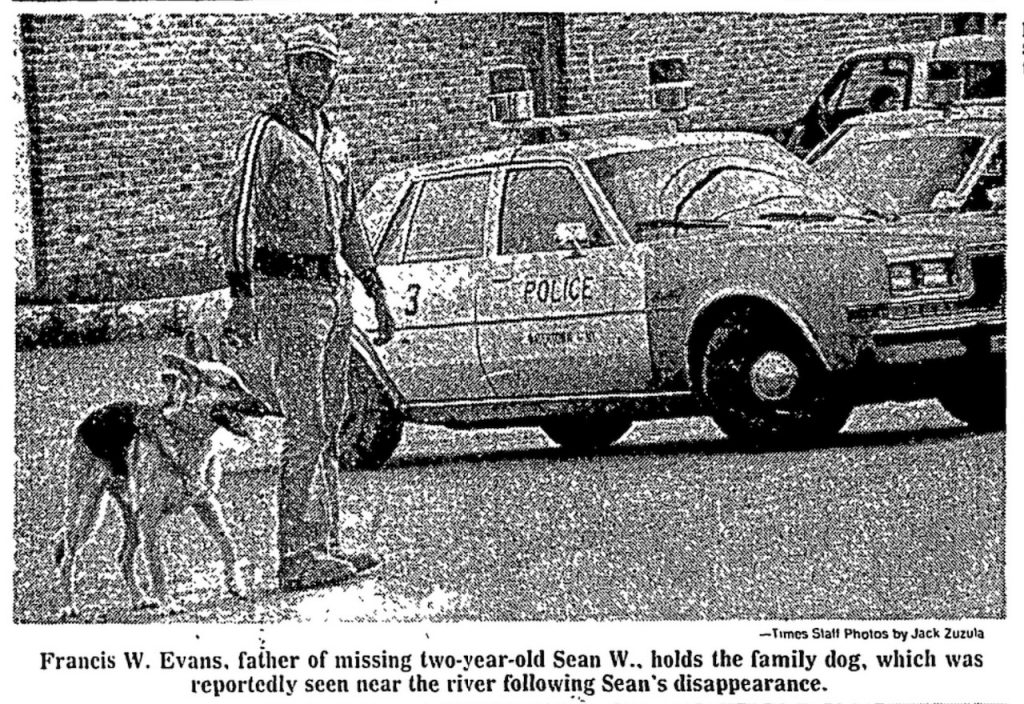 Mrs. Sharon Lewin of Sickleville, N.J., was brought to Watertown by the Police chief John R. Cascanette who, in an attempt to everything possible to find a missing child, paid her way with city-approved funds.  The Times reported—
Watertown Police Chief John R. Cascanette today defended his decision to bring Mrs. Sharon Lewin, Sickleville, N.J., to Watertown, at a city expense of $373.44, explaining, "I felt she was very convinced of what she was saying."  

Mrs. Lewin, he said, was "very anxious" to come north, at no fee other than payment of her expenses.  

Police searched an area of about 15 miles for eight hours Tuesday without her, went through it again with her for about eight hours Thursday, and again this morning.  Nothing was found and Mrs. Lewin was to fly home this afternoon.

If her "vision" was accurate, the two-year-old son of Mrs. Francis Evans, 910 Water St., did not drown on May 17, Chief Cascanette said.  He was unwilling to discuss the possibility of homicide.
The police department received criticism for resorting to "witchcraft," but the chief said psychics have often been successfully used in police investigations throughout the country.  Mrs. Lewin was recommended by the East Coast Regional Office, Hide and Seek Foundation, Gibbsboro, N.J.  Mrs. Lewin received the ball that Sean was reportedly playing with prior to his disappearance and subsequently had a vision placing the child in a wooded area at the bottom of a hill near the family home.  Despite her strong convictions, nothing was found.  
After three weeks of searching with no signs and a suspended effort by authorities, the family believed their son had been kidnapped.  In early 1985, they would receive some support with a photograph and description of Sean W. Evans placed on 100,000 soft drink bottles in the Buffalo Region.  Coca-Cola, Diet Coke, Tab, Sprite and Diet Sprite, bottled by Abarta Inc. of Pittsburgh, Pa., also featured several other missing children from Ohio, Pennsylvania and Niagara Falls.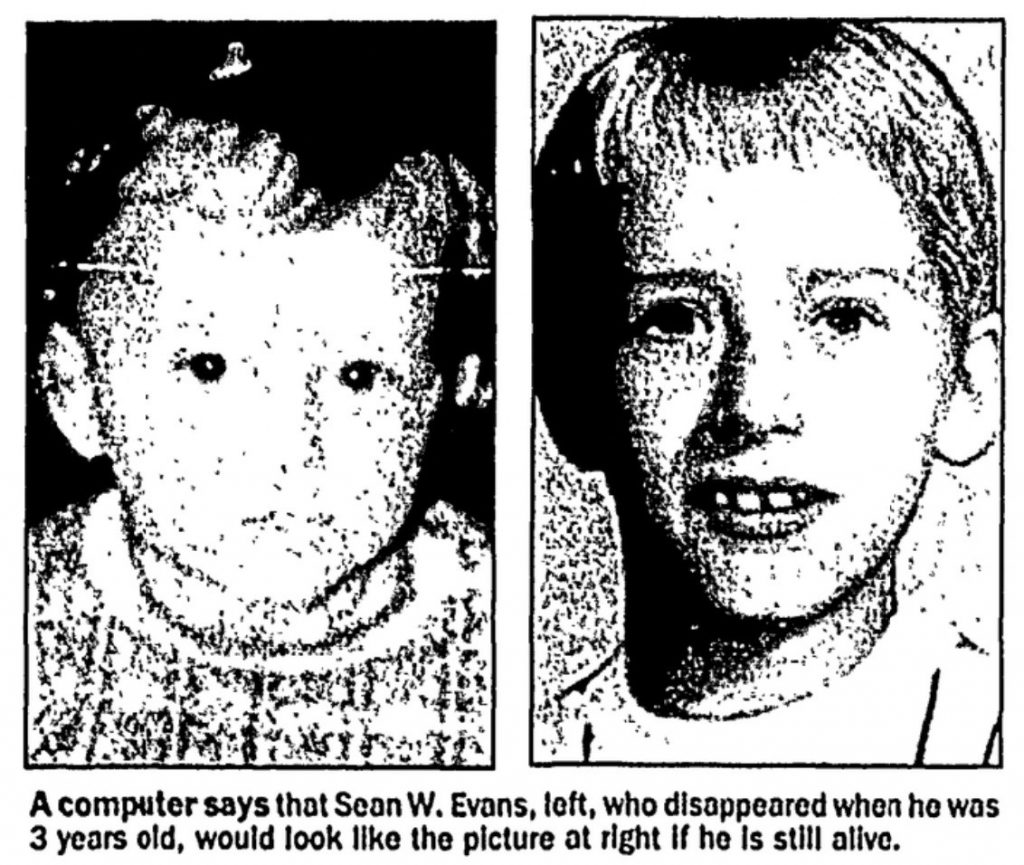 In the years that followed, several large poster initiatives were taken.  In April of 1985, 24,000 posters were sent throughout the country by New York-based  Playhouse Video.  The company, working with the National Center for Missing and Exploited Children based in Washington, D.C., estimated more than 24 million persons would see the posters over the course of two-months.  
Later that same year, a Fort Drum soldier was arrested for kidnapping and sodomy having followed a school bus on Pearl Street road, picking up a six-year-old boy as he got off the bus and taken him to a gravel pit past the old Pearl Street School.  The soldier, Timothy J. Skinner, had been stationed at Fort Drum just months prior to Sean Evans disappearance.   The timing and location, Pearl Street being what Water Street runs into, inevitably raised questions of a possible connection, nothing ever came of it.  
In early 1986, a photograph of Sean W. Evans appeared on CNN while the boy's grandmother, Barbara A. Holder, continued to work tirelessly placing and handing out posters wherever possible, from local hospitals to county fair workers.  
A year later, Senator Daniel P. Moynihan, as part of his regular newsletters to his constituents, included Sean W. Evans photograph and asked anyone with information to contact the National Center for Missing and Exploited Children.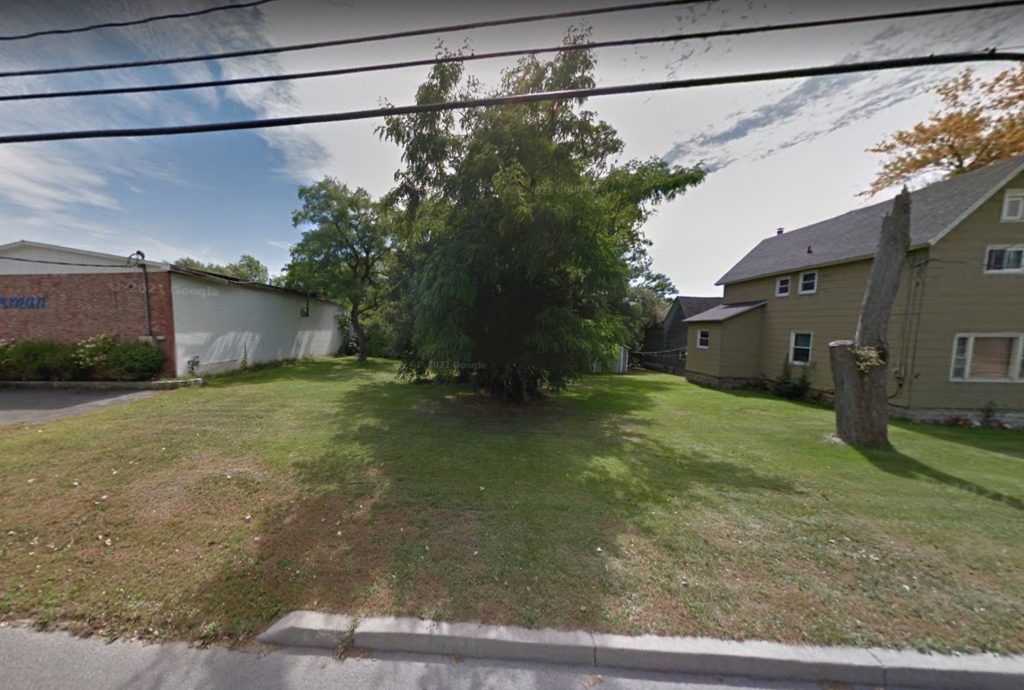 In 1992, a cardboard box containing children's bones was found in a garage.  The remains includes portions of two skulls and, at the time, police only had one unexplained case of a child missing in recent years: the disappearance of Sean Evans.  Unfortunately, it was another false lead that went nowhere as the county medical examiner noted there was no foul play and the bones were most likely used for medical purposes.
A year later, a direct-mail campaign turned up nearly 90 possible leads only two weeks after it began.  The mail campaign contained a computer-enhanced age-progression likeness of Sean Evans as he might look at the age of 12.  The photographs were mailed to more than 54 million addresses across the country.  The missing boy's mother was told not to get hopes too high as, once again, each lead only brought more resolve for a resolution.  
110 Tips came by November 21, 1993, including one of particular interest that The Times' David Shampine, who had covered the disappearance of Sean Evans for years, reported on—
One call came from Mesa, Ariz., where a child's background appeared suspicious. 

The boy was born in New York 11 years ago and had been home-educated until last year, when he entered Mesa's school systems.  

His name is Sean Evans.
The boy turned out to have been born in Newburgh 96 days after Sean Evans of Watertown.  Some of the other tips included:
Richmond, Calif. — An exact look-alike was seen in July in a hospital emergency room;

Aurora, Colo. — Another match, his mother is on welfare;

Dover, Del. — A look-alike was at a hair salon, with a woman who appeared to be nervous;

North Fort Myers, Fla. — There is an exact look-alike here who is treated like a servant.They moved here about a year ago, and the woman guardian said the boy's mother, her sister, dies years ago;

Lawrenceburg, Ky. — There is a man here who can't have children, yet he has two, including a hyperactive boy who looks just like the boy in the enhanced photo;

Cambridge, Mass. — A child was with a 6-foot-tall man on a mass-transit train;

Lynn, Mass. — A child resembling the Sean Evans photo was here with a nervous man who put his arms around the boy's neck and shoulders.

Kalamazoo, Mich. — Two sightings in July, including one caller who knows, and fears, the suspect family.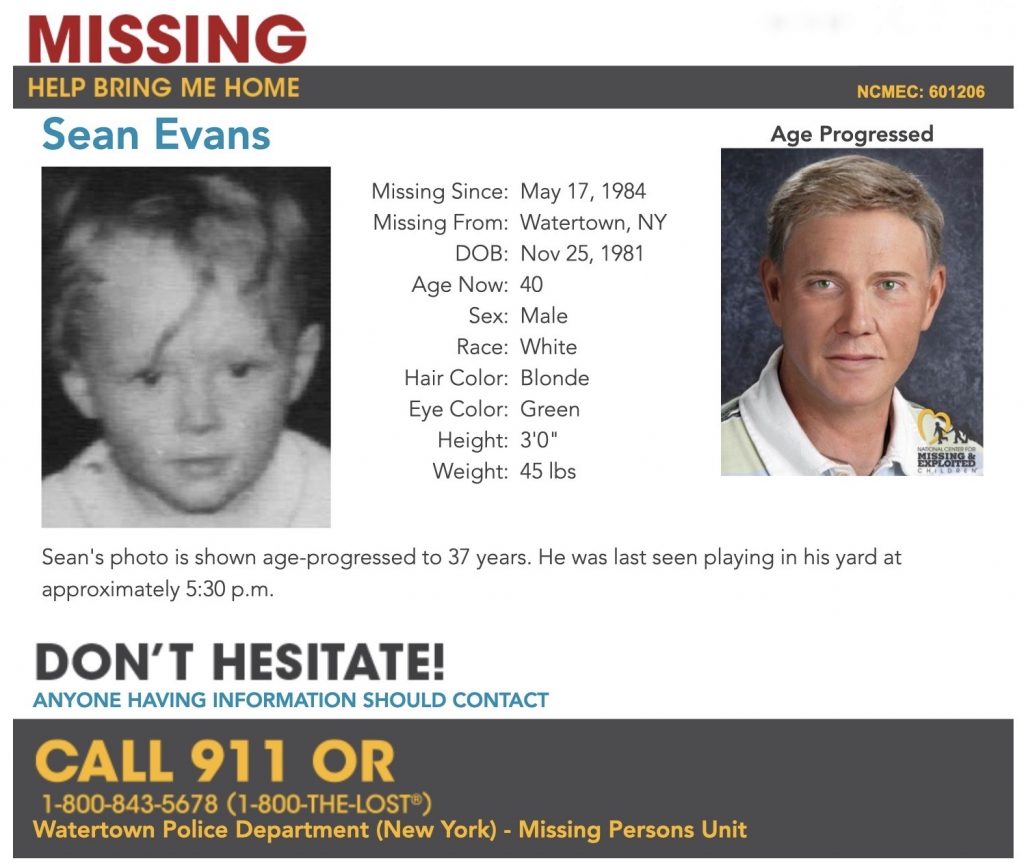 Over the years, the family has refused to give up hope.  Several years ago, a new, updated computer-enhanced age progression photo was provided showing what Sean Evans may look like as of age 37, c.2018.  
The Charley Project which profiles over 14,000 "cold case" missing people lists Sean as having a birthmark, one inch in length, between his shoulder blades, and a scar and another birthmark on his forehead.  
The Watertown Police Department is listed as the investigating agency and can be reached at (315) 782-2233.  If you have any information on the disappearance of Sean Evans, please call.
The latest Missing Poster for Sean Evans on the National Center For Missing & Exploited Children can be found here.  
There is also a Facebook page for Sean Wayne Evans.