Frank Sinatra's Concept Album Watertown Was A Flop Upon Release, But Now Regarded As One Of His Best Works
Released in 1970, approximately one year after his album My Way, Frank Sinatra's concept album Watertown was a commercial flop at a time when his popularity was at, if not past, the crossing roads. With popular music long turning to rock and roll and subsequently growing heavier, Sinatra approached Watertown producer Bob Gaudio of The Four Seasons to do something "different."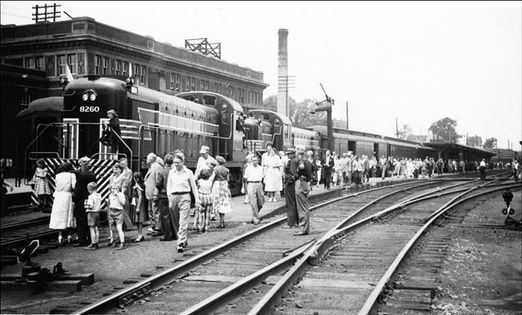 The resulting effort, Watertown, often referred to with the subtitle A Love Store, was his most rock-oriented album, which isn't saying much in an era where Elvis Presley, Chicago, Bad Finger, Creedence Clearwater Revival, and the Beatles, still, were topping the charts and music was evolving yet again with the cultural changes. The acid and psychedelic rock movement of the 60s was giving way to 70s and progressive, art, and glam rock, heavy metal, punk, and new wave.
Obviously, not fitting any of the above categories, Sinatra's Watertown, particularly its thematic content, seemed to fit squarely into adult contemporary. In a time when music reflected societal issues and counter-culture, Watertown was more introspective and represented the bleak look of an American male's life which was unraveling due to his wife suddenly abandoning him and their two kids for the big city.
Below: Frank Sinatra's title track from the concept album Watertown set the tone for the rest of the album. The track sounds like a companion to Harry Chapin's "A Better Place to Be," inspired by a trip to Watertown, N.Y. 
No reason was ever given for her departing her family, nor was any cause ever specified on the husband's behalf, which may have contributed to the album's gaining approval over the decades since its release; rather than it being about a specific reason or incident that may have been imprinted or colored by the era's socio-political issues, it has allowed listeners to come to their own conclusions, allowing it to escape its time-period trappings and become timeless as a result.
That isn't to say the album's producer Bob Gaudio and lyricist, Jake Holmes, didn't have their own take on what led to the events chronicled in Watertown, essentially dealing with was explained concisely in a Watertown Daily Times article on February 9, 2006–
The collection of songs, titled "Watertown," is a concept album released in 1970.  it tells the story of a small-town, middle-aged man whose wife has left him with his three children.  Its lyrics reflect a series of snapshots in his life. According to the Album's liner notes, its composer/producer, Bob Gaudino, got the name for the album off a map of New York State.
That map of New York State led to the random act of throwing darts, one landing on Watertown, N.Y, a place considered rural and far away from the bright lights of the big city, yet, ironically, seven years removed, as of its recording in 1969, from having a train station which featured prominently in the album.
Below: Bob Gaudio discusses the origin of the title Watertown, and its biggest fan, via Frank Sinatra's official artist's YouTube page: 
Nevertheless, the location, particularly in hindsight of the loss of the train station and urban renewal, was a perfect setting for what allmusic.com stated as Sinatra's "most ambitious concept album, as well as his most difficult record," going on to describe further, "the culminating effect of the songs is an atmosphere of loneliness, but is a loneliness without much hope or romance–it is the sound of a broken man."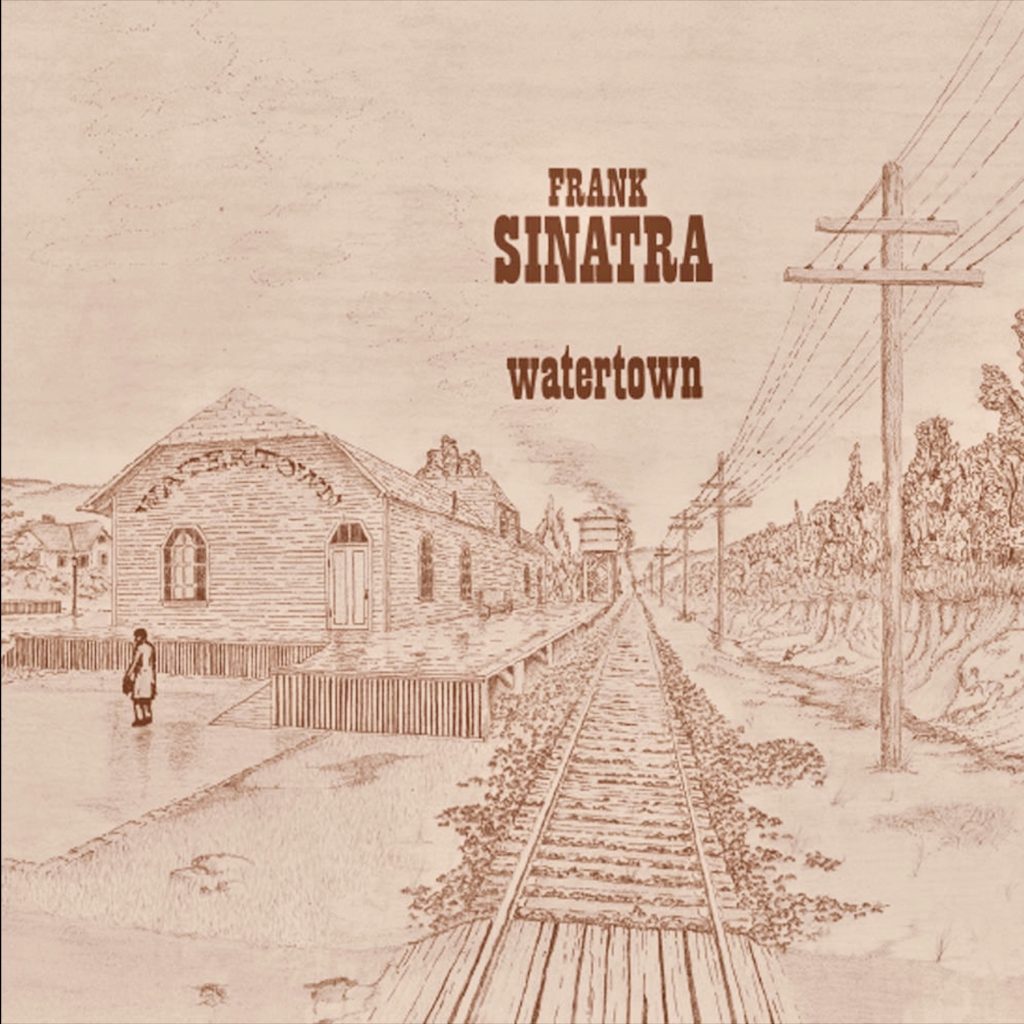 Observer.com's Tim Sommer wrote an article in December of 2015 lauding the album on what would have been Frank Sinatra's 100th birthday, noting–
But on the extraordinary Watertown, Frank Sinatra is singing from a point of view that is recognizably not Frank Sinatra; he plays the role of a middle-aged working stiff who lives, loves, and loses far, far away from the Big City Lights, in a slightly on-its-heels heartland town. The concept of Watertown is relatively simple: A woman leaves. Kids are involved. Spoiler alert: There's no happy ending. To quote Wikipedia at its most effectively dry, "…tracks 1-5 tell the story of the main character's disbelief in his wife leaving…tracks 6-10 tell of the main character's desperation.
As the appreciation for the album grew over the years, it was remastered and provided a new mix in 2022. It was subsequently released on vinyl, digital, and compact disc, some formats including a bonus of eight songs. The re-release gave Bob Gaudino the opportunity to discuss a bit of each track, to which he provided some of his own beliefs as to the causation of Watertown's drama, viewing the album's protagonist as being someone who found a safety net in Watertown from the horrors of Vietnam but couldn't leave.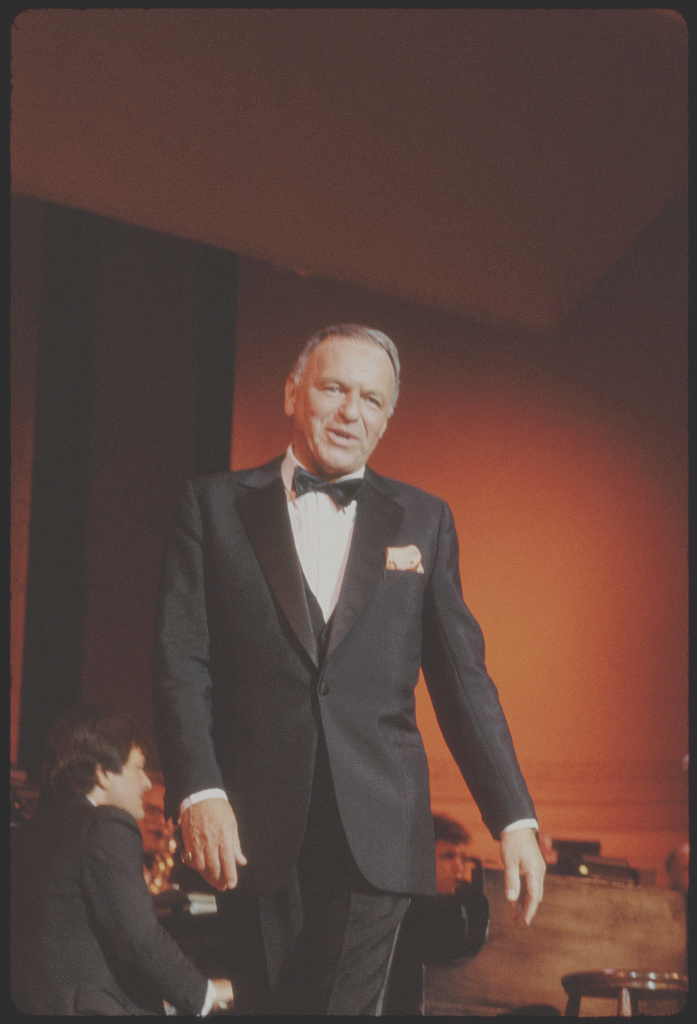 "He blames himself because he can't get on that train. He can't leave what his safety zone," which Gaudio called a "fox hole" in an interview with SiriusXM. "His mind won't let him leave the security of a town that he grew up in, that he's comfortable in, that his father, everyone around him, baseball star or whatever, and I don't think he can leave. Does he feel guilt for that? He may." 
Of the songs on Watertown, "I Would Be in Love (Anyway)" was written with a bigger hook than other songs on the album, giving a single on multiple charts, including #77 on the Canadian Pop Charts and #39 on the Adult Contemporary chart. The album, however, failed to crack the top 100, peaking at 101.
Below: The song "For a While" via Frank Sinatra's official artist's YouTube page: 
"For a While" is arguably one of the fans' favorites from the album, a song that gives a momentary sense of reprieve from the dark side of life. Lyricist Jake Holmes further explained in the 1994 CD release's liner notes–
 I've always felt that there is that moment in your life when you forget about something that is really terrible. For five minutes the sun is shining and everything is beautiful. Then all of a sudden you realize that the person you cared about is gone, and it all comes back. It is one of those horrible things about grief – one of those little holes in grief when it becomes even more painful.
The songs "Michael & Peter" and "Elizabeth" detail the other family members, all of the names generated from the same randomness as the album's title.  "Elizabeth" has an interesting story regarding an acetate (one-off) recording of it: the song had yet to be mastered when Bob Gaudio received word that they needed to cut a recording for Frank, recording his vocals on the other side of the country, soon. When asked how soon, Bob was told the next day and that it would be a gift to Elizabeth Taylor on her birthday. Despite it being 7 p.m., he managed to complete it, and somehow it made it across the country in time.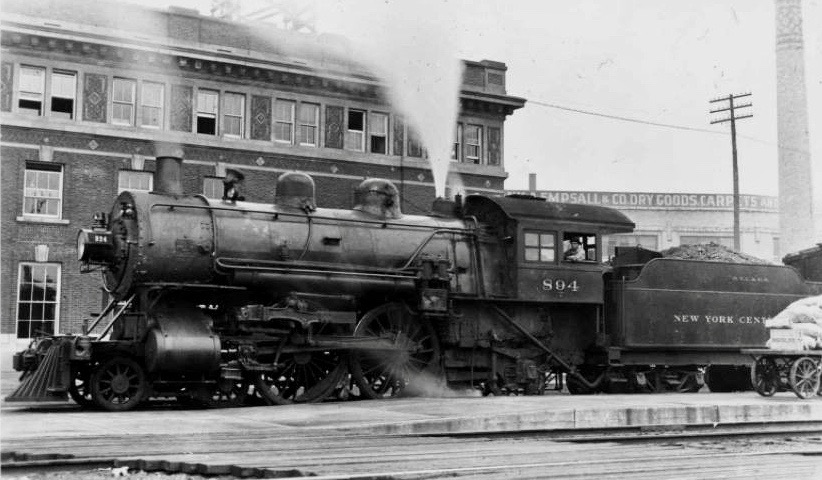 Another popular song on Watertown is "What's Now is Now," which found its way to a new generation of fans when the rock band Cake covered it on their 2011 album, Showroom of Compassion. Incidentally, the band wrote a song titled "Frank Sinatra," the lead song on their breakthrough 1996 album, Fashion Nugget. The song "What's Now is Now" is very much in the vein of "I Would be in Love (Anyway)," with the wife leaving but the husband offering his unconditional love, according to Gaudio.
When it came time for the ending, Gaudio believed they had left it somewhat open with the last track, "The Train." The wife boards a train, having told her husband she was returning, but, according to Gaudio, having her come back would be something of a copout. So, somewhere between the halfway point and arriving in Watertown, she decides never to get off the train, leading to the album's downbeat conclusion.
In the 2022 interviews, the full playlist consisted of short, minutes-long segments between each song, which may be found here, Gaudio hinted at a follow-up album to be in the works. The thought of a follow-up must have seemed alien on its initial release, but now it seems inevitable with the number of fans the album has garnered over the years.
Tim Sommer concluded his article on Observer.com with the following, which seems fitting here: "And there you have it. Sitting somewhere between Lou Reed's Berlin and Springsteen's Nebraska, Watertown details an ordinary life split apart and the ordinary extraordinary pain of trying to go on."