The 1986 Gale Street Murders Haunted Community For One Long Week Before Charles Fedora Was Arrested
If you happened to live anywhere on Watertown's North Side in early 1986 when the Gale Street murders occurred, you're most likely very well aware of the fear, anxiety and unease the double-homicide of elderly Paul Willams, 69, and his sister Beatrice Percy, 74, caused in the community.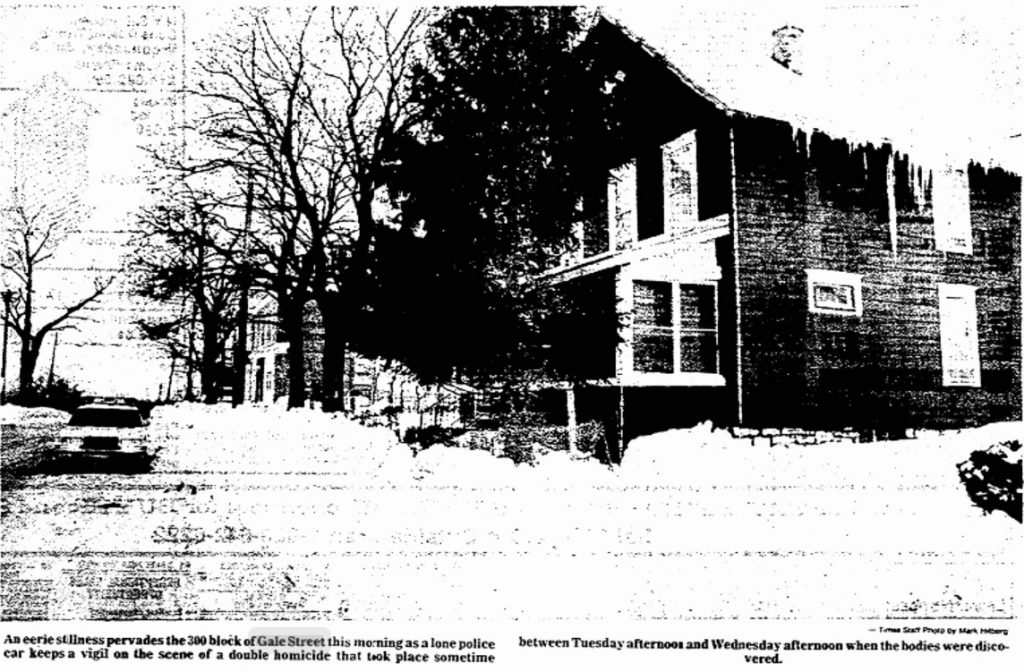 The festivities and warm spirits of the holidays had just passed and Watertown was  settling itself down for the winter, wrapped up in a layer of snow as the bone-chilling cold of January was upon the North Country barely the second week into the new year.  The low temperature on January 8th was -23°F.   Within the next 24 hrs, the temperatures would rise but the chilling discovery made at 306 Gale Street would leave people feeling a lot colder.
Concern For Neighbors
The concern began with Beatrice having missed an engagement Wednesday afternoon.  As the Watertown Daily Times reported on January 9th–
When Beatrice Williams Percy failed to show up for a delayed Christmas party at the Seaway Lanes Wednesday afternoon, her teammates and other bowlers who had enjoyed her companionship for several years became concerned.

The women in the afternoon bowling league, the Gems, thought it was out of character for Mrs. Percy not to notify them that she would bot be bowling.

"That isn't like Bea," they said.

"Do you supposed she could be sick?"

"What do you suppose could have happened to her?"
Police were first notified at 12:14pm by Mrs. Arthur E. Wilcox of 302 Gale Street after Mrs. Irene Best, 228 W. Lynde St., had stopped by to pick Bea up for their bowling trip to Seaway Lanes.
"I waited about 10 minutes, and went to the door, and rapped on the door and rapped on the door," Mrs. Best said.
A patrolman, Charlon F. Berry, was dispatched, but after finding all three entrances to the house locked, decided not to break in and cleared the scene at 12:45p.m.  After checking local hospitals and relatives, Officer Berry and Sgt. Gary A. Pastor returned to the house at 6p.m upon Mrs. Wilcox's repeated urging.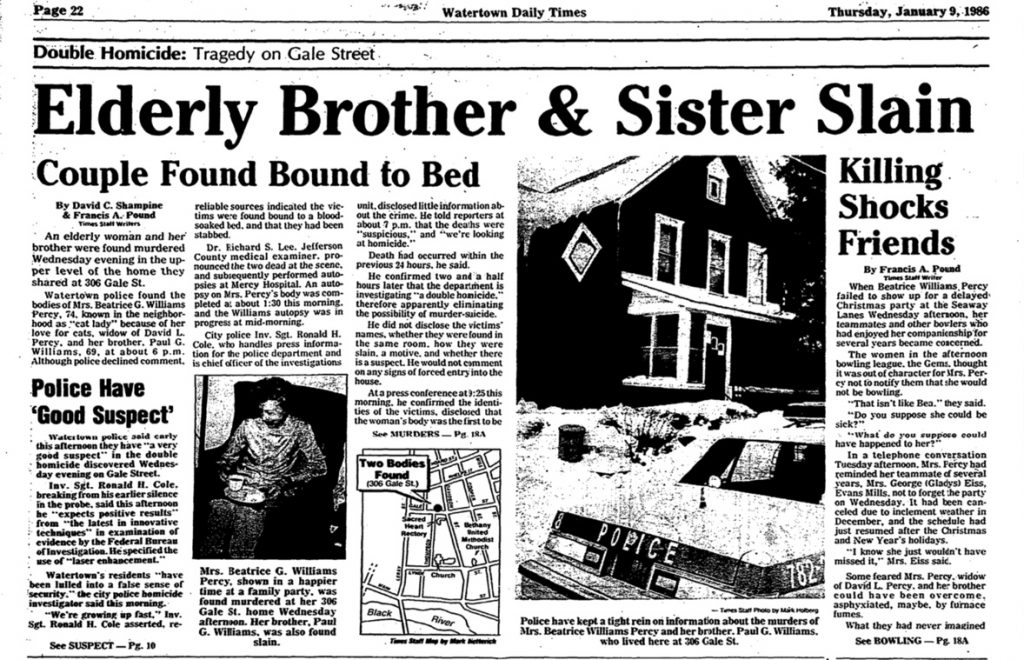 That's when the horrible discovery was made of the Gale Street murders.  As reported by David C. Shampine and Francis A. Pound–
An elderly woman and her brother were found murdered Wednesday evening in the upper level of the home they shared at 306 Gale St.

Watertown police found the bodies of Mrs. Beatrice G. Williams Percy, 74, known in the neighborhood as "cat lady" because of her love for cats, widow of David L. Percy, and her brother, Paul G. Williams, 69, at about 6 p.m.  Although police declined comment, reliable sources indicated the victims were found bound to a blood-soaked bed, and that they had been stabbed.
City police, headed by Inv. Sgt. Ronald H. Cole, were fairly time-lipped in not naming the victims and initially stating the deaths were "suspicious" and "we're looking at homicide."  Two hours later, they would clarify that they were investigating "a double homicide."
Later the following morning, Cole would say they had a "very good suspect" and said they were being assisted by the Federal Bureau of Investigation and the "latest in innovative techniques."  He would go on to say that Watertown's residents "have been lulled into a false sense of security," reminding citizens to keep their doors locked.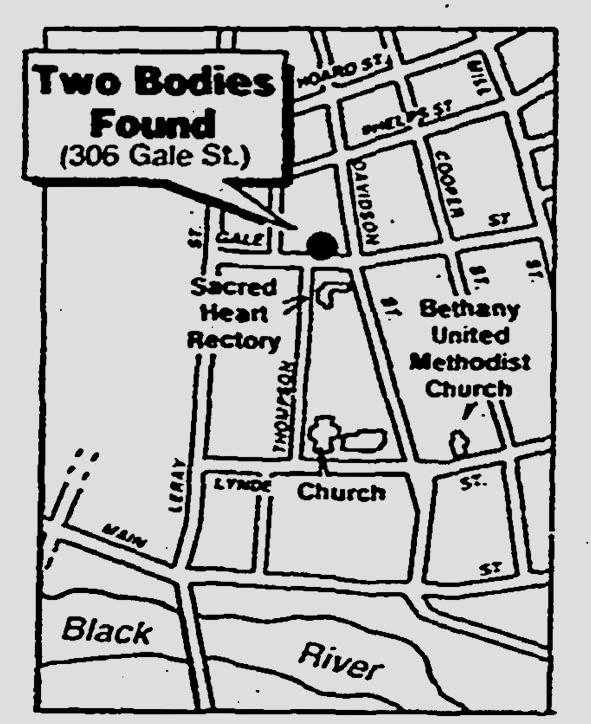 The Watertown Daily Times would question the Cole during the press briefing–
–whether it might be better for the welfare of the city residents if they were told more about what had occurred.

"It probably would be," he admitted, "but I can't discuss anything of an evidentiary nature."

He claimed he was under orders of Dist. Atty. Lee Clary, who could not be reached this morning for comment.

Several reporters felt this morning, however, that Mr. Cole has carried that philosophy to an extreme.

He was even evasive when asked if he thought the killer might strike again.

"We've got to take normal precautions," he said.  He urged utilization of "neighborhood watch" programs. "We need to look out for each other."
The events of the following day would do little to quell the sense of unease growing in the community.  Reporters would further question Cole after he publicly doubted whether any arrests would be made for the Gale Street murders until test results were received.
Questioned whether the suspect is in custody, Sergeant Cole said, "No, not necessarily, but we know where he is."

However, he could not reassure city residents the murderer would not strike again.

"I have no way of knowing that, that's speculation.  I don't think he has done it before," Mr. Cole said, declining to comment on whether the suspect is a transient or a local person.
Meanwhile, the Watertown Daily Times coverage of the Gale Street Murders itself would continue to alarm the public.
Neighbor: Death Threat.  Cats, Dogs Harassed
A woman on Gale Street abandoned her residence Thursday night after receiving a telephoned death threat.

The woman, too frightened to be interviewed this morning resided not far from the house where Mrs. Beatrice Percy and her brother, Paul G. Willams, were found murdered Wednesday evening.

A male caller told the woman, "I'm watching you, and you're next."

City police were notified at 9:36 p.m., and the woman was taken to another home for protection.

While not discounting the threat as a possible link to the double-homicide, police noted the woman has been harassed in the past by her former husband
The Daily Times would further report that residents on Davidson Street had concerns of animal cruelty dating over the previous decade ranging from two pet rabbits beaten to death, a dog having its tail cut off and a dead cat found on a picket fence.
Meanwhile, the FBI had provided a psychological profile to city police who wouldn't release any specific information other than to say it "tells us the type of personality, type of location in which he may live and what type of employment he might hold."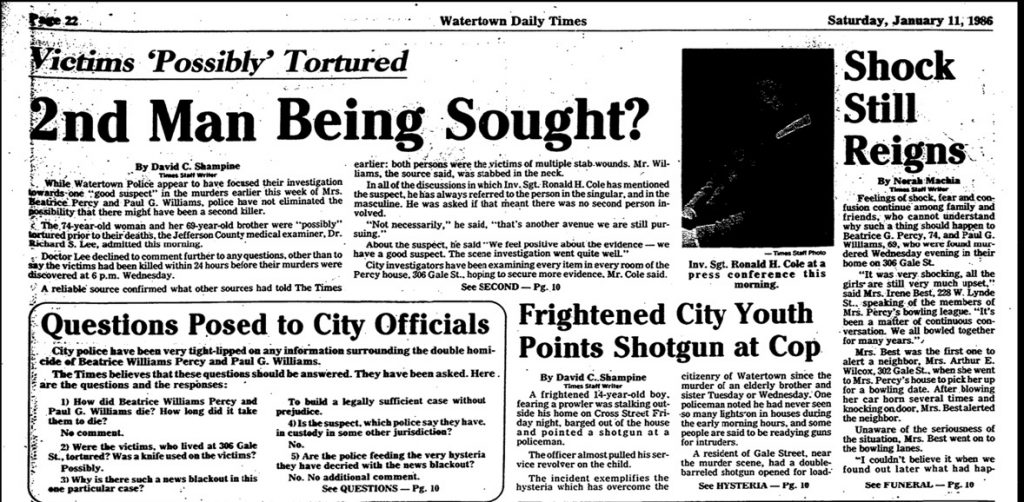 On Saturday, January 11th, the local news section of the Watertown Daily Times highlighted the lack of answers from questions posed to city officials.  Headlines such as "2nd Man Being Sought?," "Victims Possibly Tortured," "Shock Still Reigns," and the potentially tragic occurrence of a 14-year-old boy, fearing a prowler was stalking outside his home while he was babysitting his younger siblings at night, rushed out of his house and pointed a shotgun at what turned out to be a policeman.
In another incident, a reporter visited a Gale Street residence near the scene of the murder, only to find the person had a double-barreled shotgun opened for loading.
The city of Watertown was on edge, to say the least, or as the one column pointed out: Hysteria.  The Daily Times would further report–
The issue of police withholding information about the Gale Street murders was mentioned briefly during Friday's executive committee meeting of the Fort Drum Steering Council.

City Manager Karl R. Amylon, however, refused to comment on the issue when it was pointed out by member John B. Johnson Jr., Times managing editor, that by withholding information, police may be creating more fear among residents.

Recent police accusations that residents of the area have been "lulled into a false sense of security" did not agree with some members.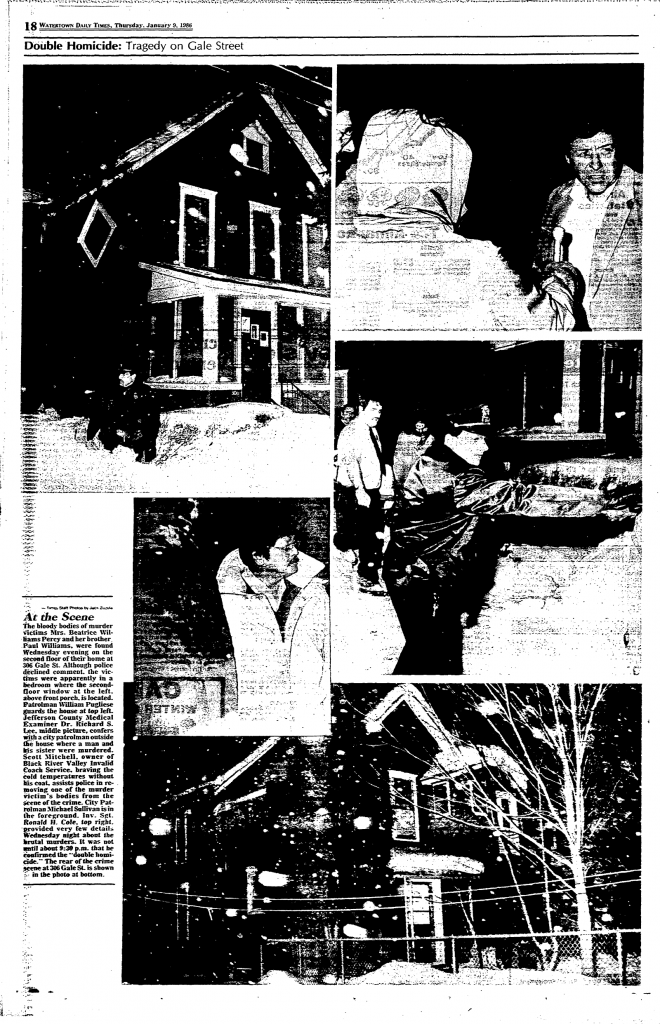 Day Four After Discovery Of Victims' Bodies: Families Fleeing Area Of Murder
David C. Shampine would continue his Daily Times reporting on the local events involving the Gale Street murders, noting that–
At least four families in the neighborhood of last week's double homicide abandoned their homes during the weekend out of fear that the killer might strike again, according to a neighbor.

One woman, unable to sleep at night, moved, along with her husband and son, to a relative's home for two days.

Also staying with relatives are three other area residents, including the woman who last Thursday night is said to have received a telephoned death threat.

"Everybody is scared over here," Mrs. Arthur E. Wilcox, the neighbor, said this morning.  She declined to name the four families.

Inv. Sgt. Ronald H. Cole, city police spokesman, was planning a press briefing on the case at 9:30 a.m. today.

Friday, he said no arrest will be made until results of tests on evidence is completed.  He also has not eliminated the possibility that a second person may have been involved in what he termed "brutal" murders.

The fear which is centered on Gale Street is actually city-wide, and best exemplified in an incident Friday night on Cross Street (involving the 14-year-old boy with a shotgun.)
Media Blackout Called On Gale Street Murders
The next day, the Watertown Police Department would place a media blackout on the Gale Street murders probe, Mr. Cole accusing the print media of "fueling the hysteria which has become evident in Watertown since the murders."
This, of course, was an interesting dichotomy of beliefs between the two: was the lack of information from the police department that fueled unease, confusion and fear with regards to the aftermath of the department, or was the press to blame for with its coverage and daily dose of details?  Or, perhaps, and most likely, a combination of both?
The Times would note that–
In a vacuum of official information, rumors are rampant.  Apparently baseless stories of how the murders were committed have spread throughout the city, and have been heard even in Lewis County — stories which have not been reported by any local news agencies.

Decapitation has been rumored, and denied, although not by the police.  The woman was stabbed as many as 38 times, the stories go, and perhaps coat hangers were used.  The figure of a cross on the man's body, some say.
Acting police Chief Don Pastor would counter–
"I can sympathize with the people being upset and scared," he said, "but if I say something which hinders our investigation, I will be doing them a bigger disservice."

He explained, "If we were to take a negative view of any of these rumors, we would be putting our stamp of approval on other versions.  So, to quell these rumors, I would be giving the suspect knowledge of what we know."
At the end of the day, perhaps there is no simple right or wrong – just two different occupations trying to do their jobs, one charged with the responsibility to protect and serve, the other with the purpose of informing and educating the public.
Police Arrest Suspect
After a couple of days of silence and a full week after the discovery of the double-homicide, city police would arrest 21-year-old Charles Fedora, who lived with his parents at 308 Gale Street, with the murders of his next door neighbors Beatrice Percy and Paul G. Williams.
Ironically, the suspect's photo was featured prominently in the initial news reports, watching as his victims' remains were removed from their house, and subsequently re-published upon his arrest.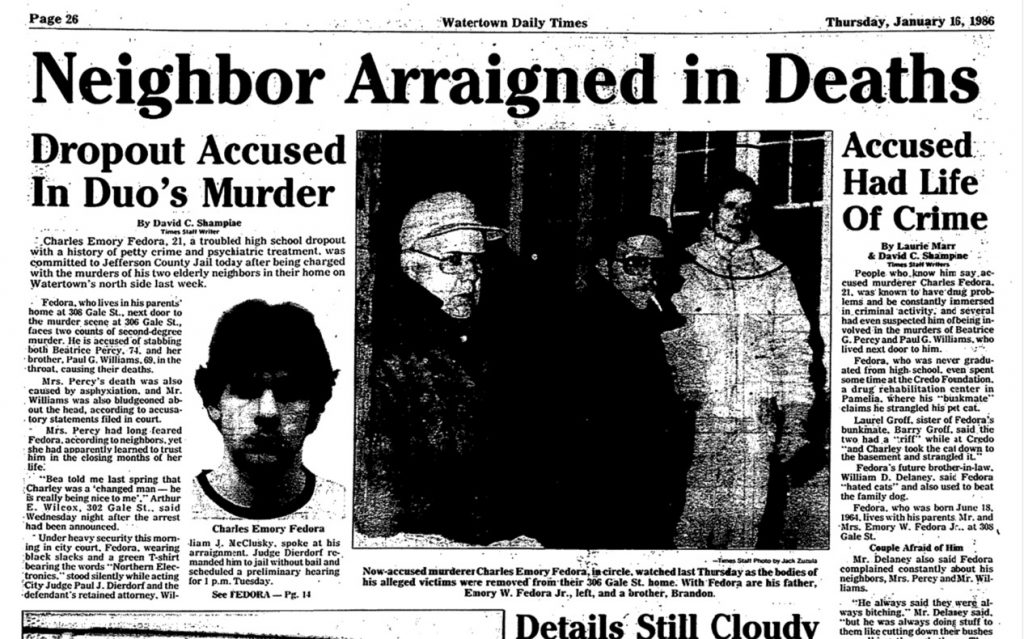 Charles Fedora a Dropout, Had a Troubled Past
Reactions to the arrest of Charles Fedora ran the gamut from disbelief, surprise and in some cases, not surprised at all by some friends who suspected him.  He was known to have drug problems and "constantly immersed in criminal activity."  A high school drop out, Charles Fedora had never graduated high school.  According to the Watertown Daily Times, he had spent time at the Credo Foundation's rehab center in Pamelia, where his "bunkmate" claims he strangled his pet cat.
Laurel Groff, sister of Fedora's bunkmate, Barry Groff, she the show had a "riff" while at Credo "and Charley took the cat down to the basement and strangled it."

Fedora's future brother-in-law, William D. Delaney, said Fedora "hated cats" and also used to beat the family dog.
Charles Fedora would quit rehab, which was part of his probation terms and was subsequently sentenced to a year in jail.  At the time of his arrest, Fedora was already under indictment in Jefferson County Court by a grand jury on second degree counts of burglary and possession of stolen property, as well as third-degree grand larceny in connection with thefts of goods from his future brother-in-law.
A partial listing of other offenses and incidents over the preceding years from 1980 include:
Burglary at 312 Gale St.
Convicted of third-degree grand larceny and sentenced to five years probation.
Noted "history" in juvenile Family Court.
Had undergone psychiatric treatment.
Trespassing.
Breaking and entering a neighbor's business on outer Coffeen St., resulting in two felonies and six misdemeanors.  Sentenced to five years' probation and ordered to attend Credo Foundation farm for rehabilitation.
Probation revoked for leaving rehab, subsequently sentenced to eight months in jail.  Term ended in August 1985 with credit given for "good time."
Charged with burglary at brother-in-law's property and recommitted to jail in November of 1985, released on bond six days later.
Fedora would plead innocent to the murders on Feb. 19, 1986 and bail was set to $100,000 – a figure District Attorney Gary Miles vehemently opposed, noting the nature of the crimes, Fedora's history and that the Gale Street murders occurred while Fedora was out on bail for multiple felonies.
On May 28, 1986, Fedora would confess to the Gale Street murders through his attorney, William McClusky.  Despite the FBI's involvement, the results of their testing turned up no evidence as Fedora had worn gloves.  It was Fedora's boasting of the crimes and his belief that he would get away with them to another inmate that helped to seal his fate.  Though he apparently tried to cover up his crimes, he left the residence with five rings worth $1,200 and apparently sold them for $30 – an issue that also further implicated himself of the murders.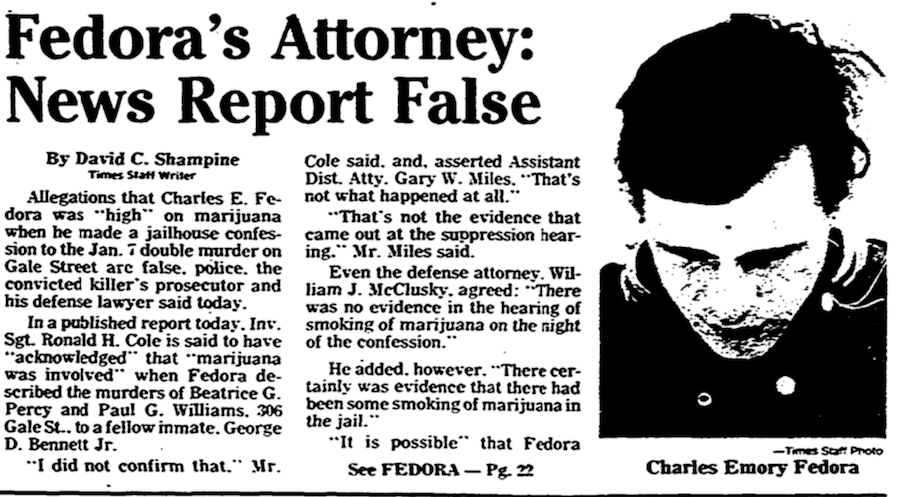 After the Syracuse Post-Standard questioned Charles Fedora's attorney McClusky, an article discussing the possibility of Fedora having been high on marijuana while in jail when confessing to the Gale Street murders was printed in their newspaper.  The news was quickly picked up by the Watertown Daily Times who investigated further, with even McClusky refuting the notion.
Fedora was facing a minimum of 33 years to a maximum of life and sent to the Clinton Correctional Facility in Dannemora.  A State Appellate Court in Rochester would throw out the confession later, stating that Fedora did not admit to details of the crime as required.
In 1990, another ruling was made after another trial: 50 years to life.  District Attorney Gary Miles and family members of Beatrice Percy and Paul Williams had called for the death penalty, Miles stating Fedora was a "'predator' who threw the Gale Street neighborhood and the City of Watertown into "fear and rage."