Shaughnessy Knitting Mill Weaves A Spin-Off: Olga Knitting Mills Located In Factory Square
Olga Knitting Mills began in the early 1920s after the success of the Watertown Silk Manufacturing Company in 1904 and the Shaughnessy Knitting Mill opening on Moulton Street in 1909. According to a Feb 28, 1931 article in the Watertown Daily Times, the Olga Knitting Mills, Inc., was organized with Martin J. Shaughnessy, president; Mrs. Olga Neumann, vice-president; and her husband, John C. Neumann, the designer for Shaughnessy Knitting Mill, as treasurer, and general manager, in 1925. Both Olga and John were immigrants from Czechoslovakia.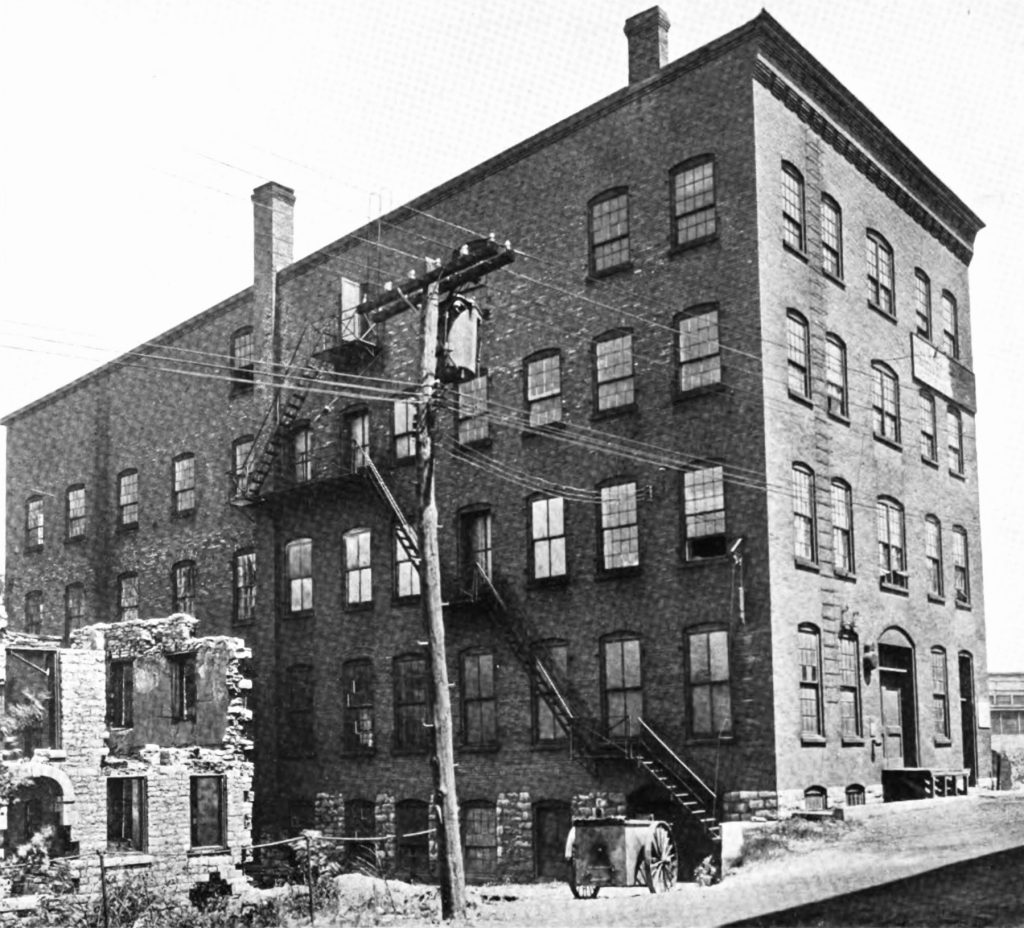 Olga Knitting Mills, leasing space on the fourth floor of the building in Factory Square owned by the Nill & Jess Company,  was located across the Black River from the Shaughnessy plant by a distance of approximately 1,500 feet. The building was previously used by the Watertown Silk Manufacturing Company before they built their own plant on North Hamilton Street.
One of the products the Olga Knitting Mills manufactured was swimsuits, which proved to be a profitable venture which demanded more space. Already occupying two floors of the building in its first year, an expansion occurred in March of 1927 in which the Watertown Daily Times reported–
New floors, stairs and new and improved machinery have been installed and every department has been enlarged.  The employees now number 82, ten having been added to the payroll during the past week.  The company, which manufactures wool and rayon dresses and sweaters, has added women's bathing suits to its line and expects to work at capacity at turning out this last named article for the summer trade.  
By 1930, the plant employed about 100 young women, but the ebb and flow of seasonal production and varying sale orders resulted in the mill's temporary closure. It would be a problem that besieged the company in the early 1930s as the Great Depression wreaked havoc on the economy and employees.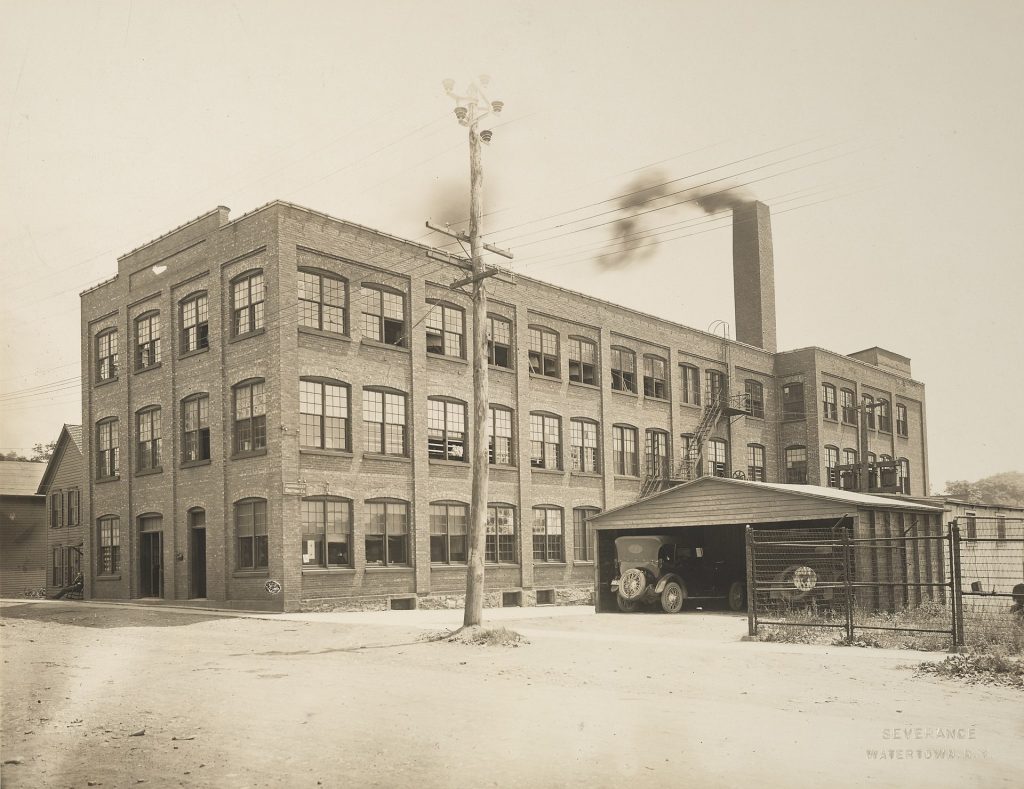 Fortunately, Mr. Neumann was able to design new clothing styles, like a new Polo shirt for young men and women, which met with a favorable reception from the trades. The new garment was described as "similar to a polo shirt being made in either wool, cotton or rayon as preferred with short sleeves and buttoning in front with three buttons."
By mid-1931, Olga Knitting Mills, Inc. had expanded its workforce to 125.  Orders for 10,000 dozen two-piece ladies' gowns and the third order for 36,000 bathing suits kept the plant busy fulfilling orders with 70 machines in operation with more needed to meet deadlines. "You would not believe it, but I am having trouble in getting experienced help," said Mr. Neumann. "I've run an advertisement in the paper for experienced operators but have been unable to get them.  If we cannot get them here, we will have to bring them here."  
Less than a year later, the number of employees reached 180 as the Olga Knitting Mill added another department on the top floor, adding 50 new machines to manufacture wash goods.  The project was delayed due to the unavailability to obtain raw materials.  While the plant continued operating at 75 percent through the some, there was no lack of work; orders for 480,000 wool dresses had been ordered for the fall season.  
Not everything was all roses for the company, however.  Olga Knitting Mills, Inc. was found guilty of violating the state labor law by having women employees work longer than prescribed, resulting in a $20.00 fine assessed to President and treasurer John C. Neumann in October of 1932.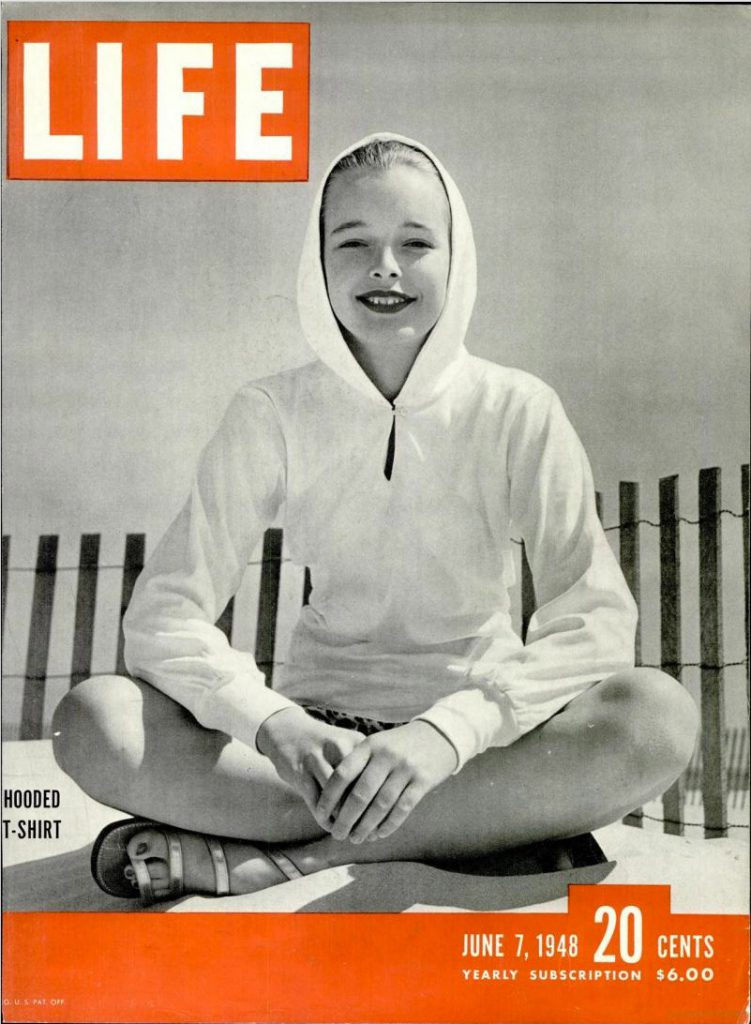 At the start of 1933, was running full-time to keep pace with orders, with an estimated 200 employees required for fulfillment.  The labor shortage for experienced workers, particularly operators, continued, resulting in the company increasing employee salary on average between 15 and 20 percent while adding bonuses worth ten cents for every dollar's worth of work turned out.  
With greater supply and demand came higher prices, and by July of 1933, Olga Knitting Mills was forced to close for at least a week due to the increase in material costs, some as much as 50 to 75 percent.  The mill would open the following week under the national recovery administration program, allowing for a minimum wage of 35 and 50 cents per hour and working hours of 40 weekly.  
Another labor violation resulted in a trial in December of 1933, with many employees coming to the aid of John C. Neumann and signing a statement that he had done everything he could to keep the mill running so that work could be finished for about 90 persons.  The statement, published in the Watertown Daily Times, said—
"We noticed on two occasions within the last two weeks where Mr. Neumann has been charged with violating the labor law by employing a supervisor on one Saturday for one hour and 15 minutes after closing time in order to rush out some samples that resulted in large orders for many weeks to provide work for us all. 

Had it not been for the efforts of Mr. Neumann during the depression time there would have been many of us asking for help elsewhere and where could we have obtained it in Watertown?

We believe the Olga Knitting Mills, Inc., has been criticized too much and at this time wish to express our appreciation to Mr. Neumann for all of his efforts in obtaining employment and keeping us in our positions where other factories of similar type are shut down." 
The trial resulted in Olga Knitting Mills receiving a suspended sentence and a warning about observing the labor laws in the future…. as in 1934, as it once again found itself on the wrong side of the labor law argument with a lawsuit in January 1935 after an employee was seen working 50 minutes past 4 p.m. in April of 1934.  In that particular case, a jury cleared Olga Knitting Mills of the state's charges, the employee(s) in question were not working; rather, they were waiting for paychecks.

The Olga Knitting Mills continued with success for many more years, but on July 4, 1948, both John and Olga, along with Dr. Miloslav Neumann, John's brother, were killed in a tragic automobile accident outside of Prague where John and Olga were visiting.  A fourth passenger in the vehicle driven by Dr. Neumann, his wife, was critically injured but survived after their car was struck by a passenger bus. After the accident, John Neumann was only alive long enough to advise authorities of the other passengers in the vehicle.
A memorial was held at the Neumann's 330 W. Flower Ave. home in Watertown (their ashes would be buried in Prague), and Rev. Youngs, officiating over the proceedings, remarked, in part–
We, the friends of John and Olga Neumann, are gathered in their home this morning, and in their memory.  They came to us some years ago from beyond the seas.  They brought with them something of the quiet dignity and elegant culture of the old country.  They quickly adjusted themselves to the impatient demands and restless energy of America.  They contributed the best of Europe to our social life without offending us or asking us to accommodate ourselves to them.

They loved America.  They served unselfishly her cause in an hour of crisis.  Their business helped to provide for the needs of our land, gave employment to many of our people, and will continue to thrive for many years as their memorial.  
Ogla Knitting Mills continued on for another three decades with steady success. In 1974, a factory outlet store at the mill was opened, selling woman's garments and materials directly to consumers.
In 1977, the outlet store moved to Public Square in the Lincoln Building as big changes were in the making. In an article dated July 11, 1977, Olga Knitting Mills was combing with a Canadian firm, Robin Sportswear LTD, from Montreal.  The Times reported–
Involved in the arrangement are Sheldon Hershon of Robin Sportswear, makers of ski and leisure winter outerwear; Robert and Sandra Hartz, owners of Olga Knitting Mills, manufacturers of dresses and pant suits.  Olga has been in business here for about 50 years.

The principals were brought together by Kenneth W. Steblen, executivemanager of Jefferson County Industries, Inc., working in conjunction with Harold Thompson of the Montreal Office of the New York State Department of Commerce.

Under the agreement, Olga will phase out its product line by October and then begin the manufacture of ski and leisure winter outerwear under the Robin Sportswear label.  Mr. Hartz will continue as plant manager.  The present 34 employees will form the nucleus of the work force in the new product line, said Mr. Hartz, with employment to be gradually increased to a maximum 100, starting in October.
It marked the end of Olga Knitting Mills 50+ year legacy in Watertown, and, unfortunately, Robin Sportswear and another manufacturer failed to find the same level of success over the next four or five years.