H. H. Babcock Co., Makers of Fine Carriages And Automobiles In Watertown, N.Y.
The H. H. Babcock Co. is mostly credited with having its start in 1845, though it wouldn't start building carriages until the 1870s. In its early days, the company would manufacture wooden pumps in a building located on Factory Square. By 1871, it would change to iron pipes, but later in the decade converted its factory to produce carriages in 1879 after a short-stint producing flour as well.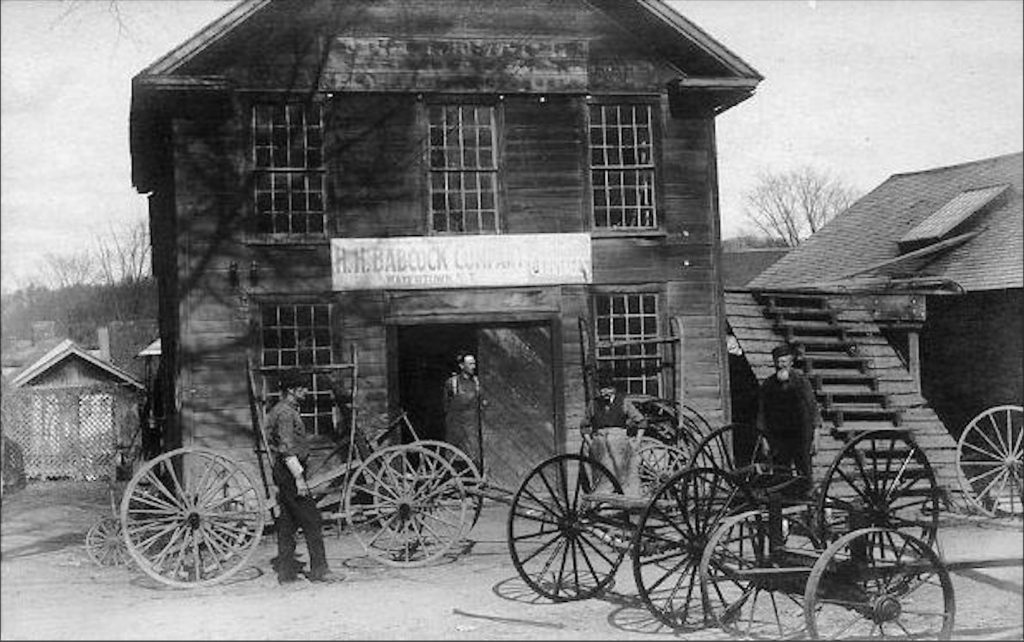 Born in 1821 in Hamilton, N.Y., Henry Holmes Babcock would spend the vast majority of his life in Watertown, where he raised a family of four sons and four daughters, one of which would marry a Woodruff, two to Anson Flower (one having died at the early age of 25) and another to a Hungerford. As his sons grew older, they would join their father in the business, which was known as H. H. Babcock and Sons at one point.
In addition to the H. H. Babcock Co., Mr. Babcock would serve as the town supervisor in 1859-1860 and again in 1863-1864. He would be one of the last presidents of the village of Watertown before it became a city in 1869 and also one of the original officers of the House of the Good Samaritan's meager beginnings in a rented house on the corner of Holcomb and Ten Eyck Streets in 1881.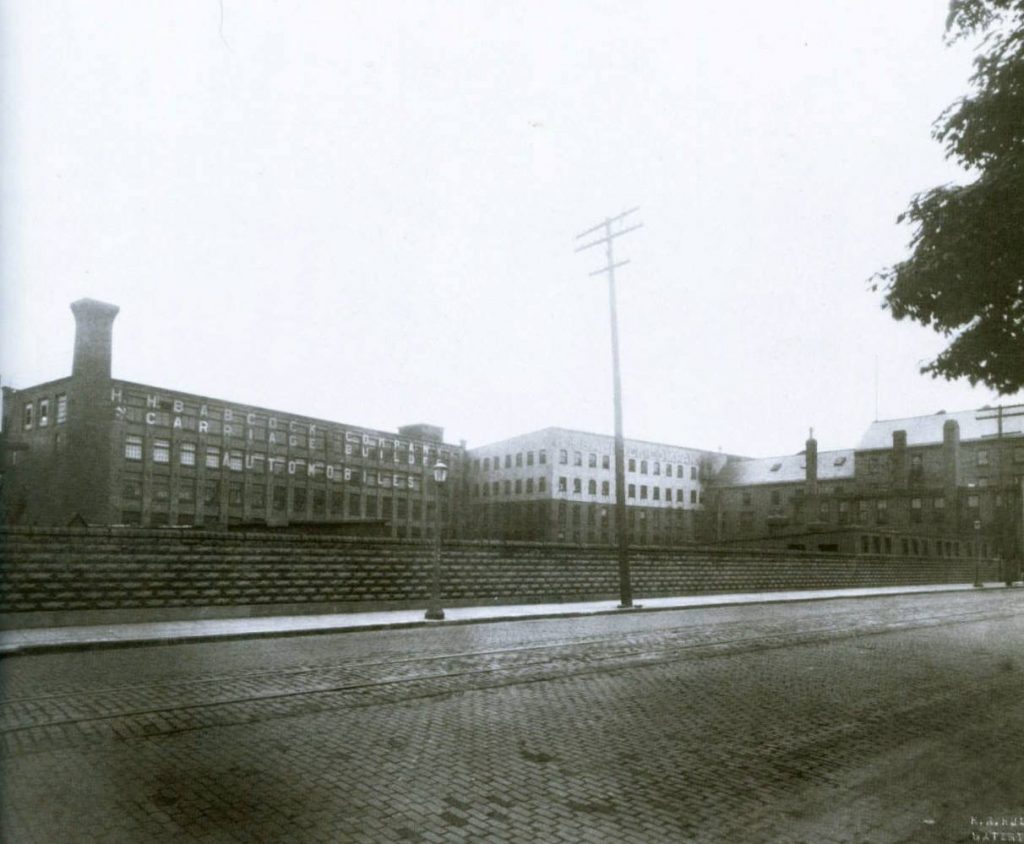 The following year, per Growth of a Century by John A. Haddock–
In 1882 the business was merged into a stock company composed of H. H. Babcock, G. H. Babcock, J. W. Babcock, F. E. Babcock, Roswell P. Flower and Anson R. Flower, since which time they have erected buildings with floor-space amounting to over ten acres. The business employs nearly 350 hands.

Mr. H. H. Babcock was the originator of the now important carriage industry in Watertown, where he has been for many years a respected and honored citizen.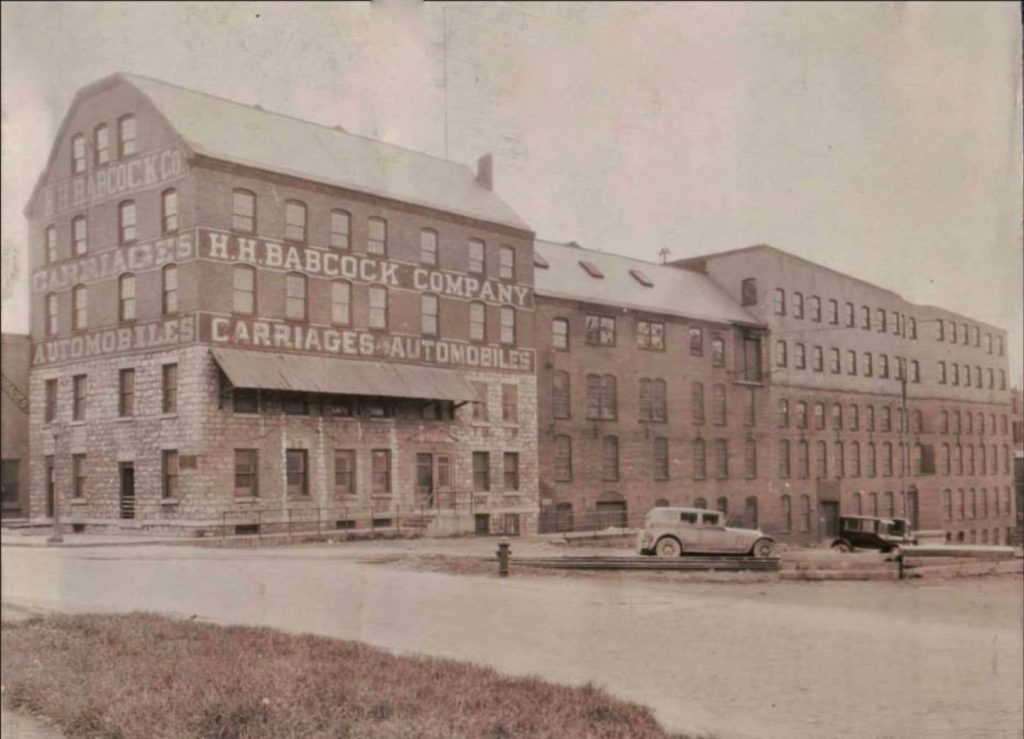 In its inception, the H. H. Babcock Co. had a capital of $100,000, soon to grow to $300,000. Before long, the annual output was reported to be between 4,000 – 5,000 carriages with nearly a half million dollars in sales a year, though they wouldn't be without competition.
Per a recent Watertown Daily Times article by reporter Chris Brock–
The four local companies engaged in the mass production of carriages and buggies at the turn of the century were Watertown Spring Wagon Co., H.H. Babcock Co., which had plants on Factory Street, Union Carriage & Gear Co. on Newell Street and Excelsior Carriage Co. on Sewall Island.
By the late 1890s, H. H. Babcock Co. would take over one of the competitors, the Watertown Spring Wagon Co., which led to an increase in business.
On November 30, 1903, H. H. Babcock passed away at the home of his son-in-law Anson R. Flower in New York City. It was said he had failing health for three or four years and was spending winters in the south.  He had been in New York City for about a month when he was stricken ill with a severe cold that grew fatal a few days later. He would be buried in Brookside Cemetery.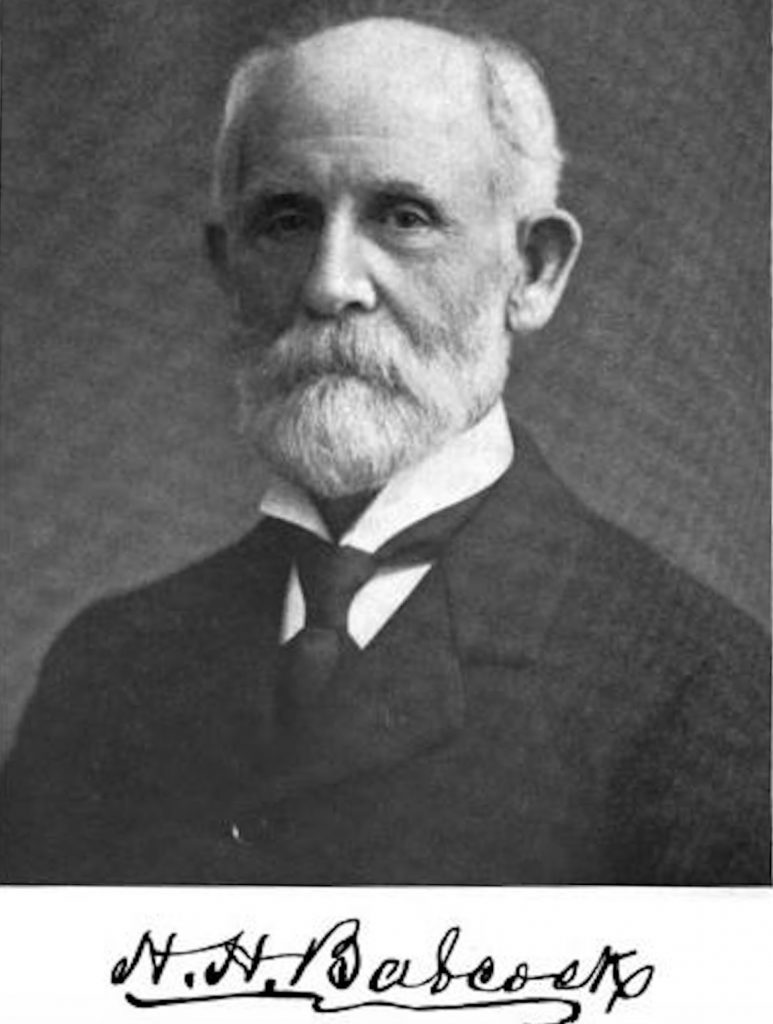 In November of 1905, the Watertown Daily Times reported–
The H. H. Babcock Co. has just closed another year which has proved to be the largest in its history. Its officers report a decided falling off in eastern sales, which is due principally to the increased use this year of automobiles, yet the extension and new construction of trolley lines has had some effect. The western sales have, however, counterbalanced the decrease in the east, and the year has rounded up with a big increase in output.
The quote would pretty much prophesize the changes coming for the company. Though carriages would still be popular for a while and the H. H. Babcock Co. would continue to manufacture them, by the early 1900s, under son George H. Babcock's leadership, the company would manufacture bodies for automobiles, ranging from omnibus to ambulances which, during WWI, were deemed far superior to others. In great demand from the War Department, they continued after the war as a popular design built on the Model T, TT, and Dodge light truck chassis and would be used locally by the likes of Elk Horn Markets, amongst others, for deliveries.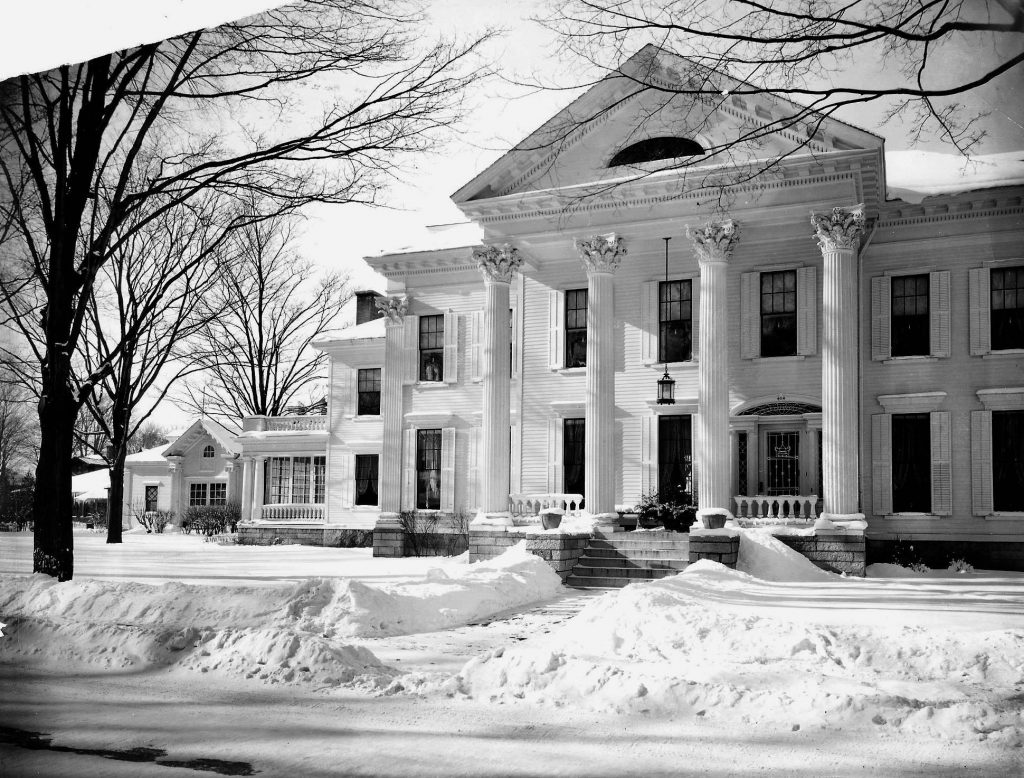 George H. Babcock would pass away in 1916, and H. H. Babcock's grandson, Henry H. Babcock, son of Herbert Perley Babcock, who himself died at a relatively young age of 38 in 1884, would become president.
In May of 1920, one of the Babcock buildings, purchased from the Charlebois Brothers just the prior year, would be destroyed by fire. Fortunately, the Factory Street Fire House was only a few yards away, but they would have trouble fighting the blaze. Much like the Taggart Mill fire of 1972 on W. Main Street, a side of the structure was on the bank of the river and inaccessible to firefighters, and the building lacked a sprinkler system. The estimate of the loss to the H. H. Babcock Co. was $8,000, which was covered by insurance.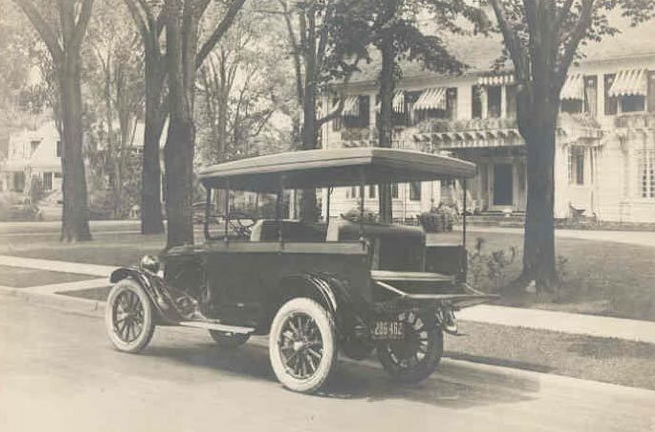 On January 19, 1921, the factory would be hit by another fire, this one at a three-story brick building used as a warehouse that caused $35,000 worth of damage. Two frozen fire hydrants hindered the firefighters, not to mention a thief who reportedly stole one of the firemen's protective gear from a rig before he arrived at the scene in what the Watertown Daily Times termed "The Meanest Thief In Watertown At Babcock Blaze."
Henry H. Babcock, grandson to H. H. Babcock, would take over as president of the company in 1917 after the death of George.  In 1922, the H. H. Babcock Co. would see an increase in production and contracts, one with the likes of Lincoln Motor Car Co. of Detroit as well as Franklin Automobile Co. of Syracuse.  Despite the success, the business would start to diminish and struggle come 1925.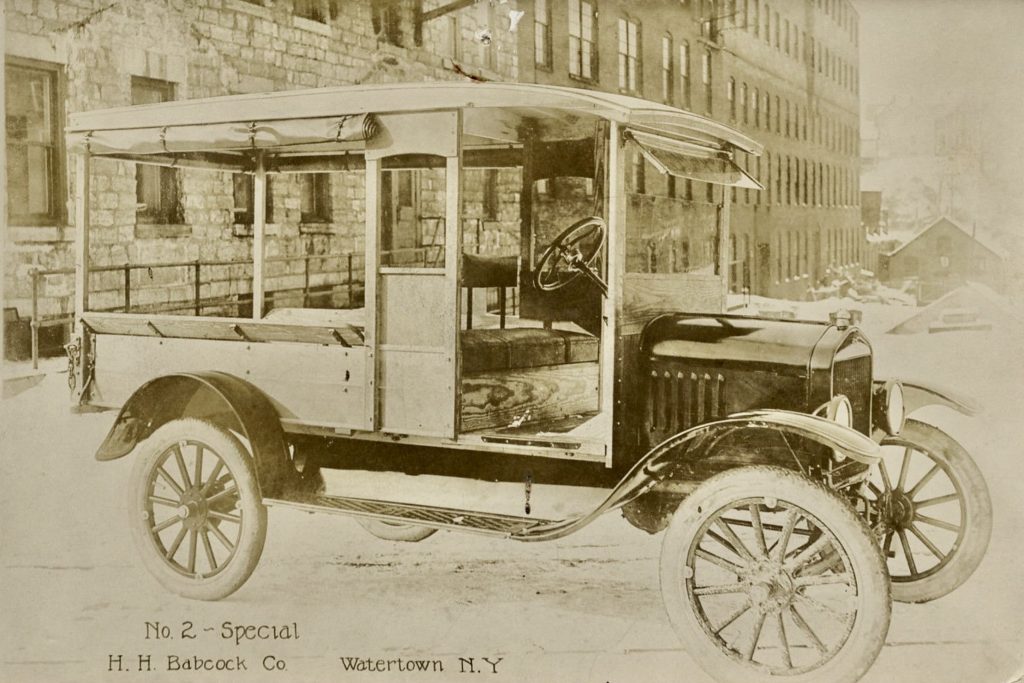 By 1926, models that were previously in large demand were now limited and built only on demand. The H. H. Babcock Co. would attempt to find another means of manufacturing, but nothing manifested. In debt over $600,000 to hundreds of creditors with a little over a third of it unsecured, the firm would be sold to C. Wesley Gamble, head of the newly organized H.H. Babcock Equipment Corporation made up of the firm's creditors.
The newly formed organization would have little luck as the giants of the automobile world had already been established at that point and the Babcock Co. could no longer compete with them. After fulfilling what contractual orders remained in 1928, the remains of the business and property would eventually be sold to Abe Cooper and his Watertown Corporation in 1930. The building would be used as a warehouse and ultimately razed in June of 1979, seven years after Cooper's death.