Originally Built As The Winslow Block, The Taggart Block Was Lost In A Fire
Built as the Winslow Block in 1873, what was to eventually become The Taggart Block was noted during early construction to  show what a fine building it would be and a credit to the city of Watertown.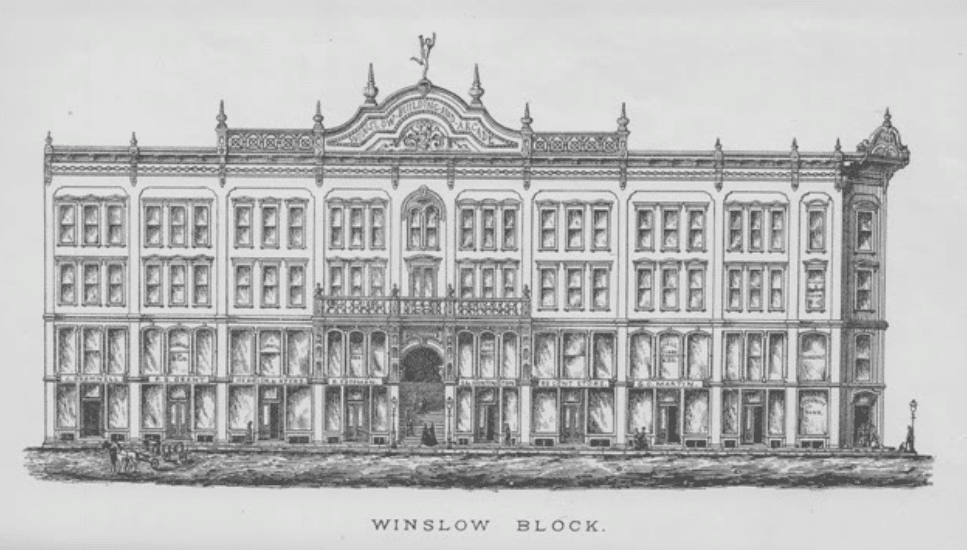 Early designs of the four story brick and wooden partition walls showed an elaborate cornice and other, various enrichments that made the building quite an eyesight for any era.  How much of the original design made it to production or whether it was removed at some point is not known, but early photos show it was a nevertheless a grand structure.
Sometime in the 1880's (1888 was the earliest date noted) the name of the block changed from Winslow to Taggart.  Being a block building, the first floor was home to a number of businesses and groceries while a good number of the upper floors were tenant apartments.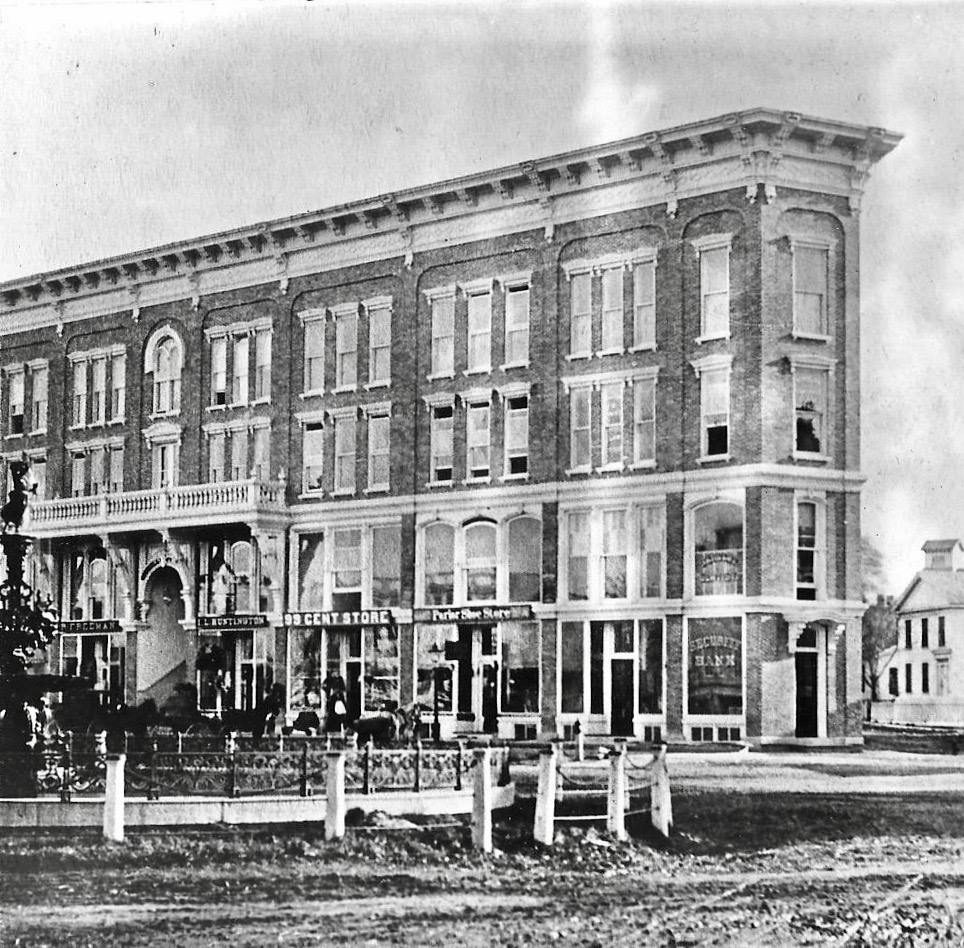 In the early morning hours of July 10, 1919, the Taggart Block caught fire, starting in the top floor, from waste papers and stored items, it is thought, and was first observed when smoke was issuing from the roof, about 3:50am.  
A box alarm was pulled at 3:54am, and the department responded with its usual promptitude, but found the roof involved to the extent of fully two-thirds, down to the cornice.  Chief Bundy was in command of the 30 firemen engaged and employed a Metropolitan steam fire engine in addition to the American-LaFrance apparatus which comprised 900-gallon pumping engine and three triple combination of 1,000, 750 and 350 gallons capacity, respectively.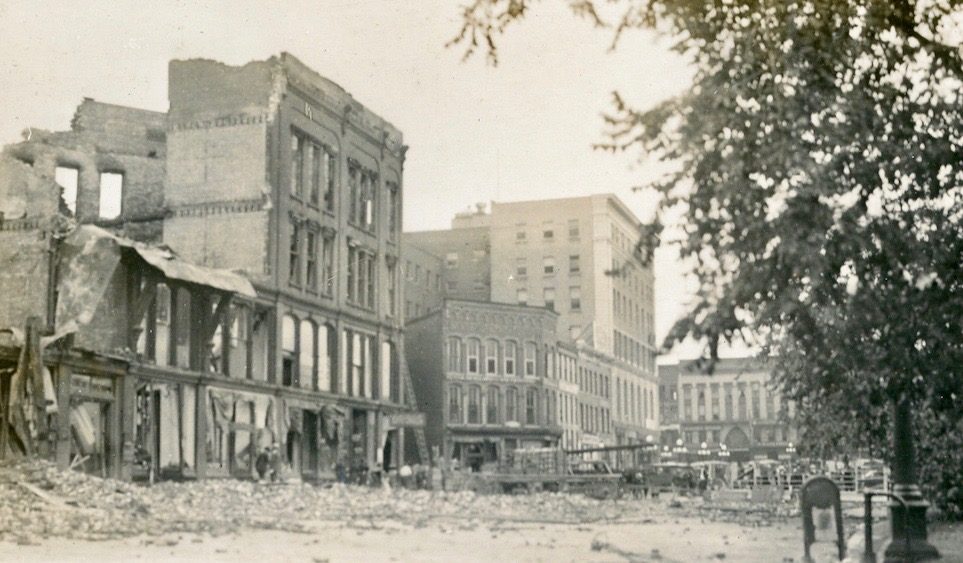 Merchants in the Franklin Building next door would move items out into the street fearing the fire may spread.  In eight hours the fire was completely under control.  It was the biggest fire in Watertown at the time since the Otis Hotel was destroyed in 1903. 
Amazingly, all of the 75 or so tenants in the building were rescued as police broke down doors and the elevator man continued to run the car until the last person was out.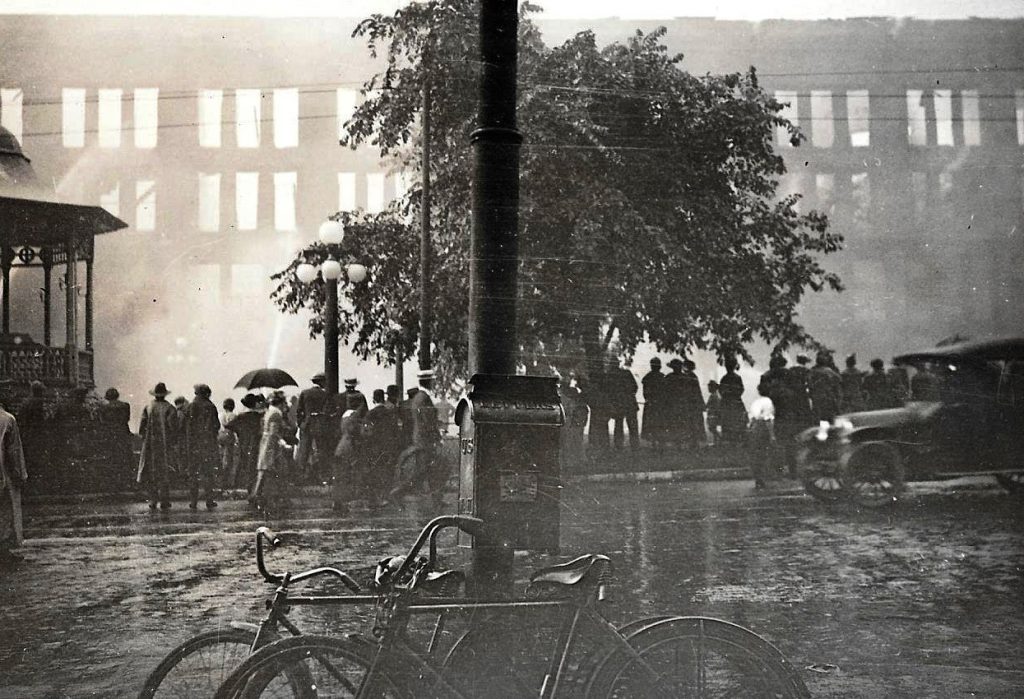 A crowd gathers before the smoldering remains of the Taggart Block in 1919. Photo: Watertown Daily Times.[/caption]
It was believed that a total of 80 pianos were lost in the fire, as well.
A complete account of the event, including first-person interviews, can be found in the July 10, 1919 edition of the Watertown Daily Times.
After the Taggart Building fire in 1919, there was a big gap on the corner of Public Square and Franklin Street until the current Commerce Building was constructed.