Sport Island and its short-bridged neighbor, Little Lehigh
The history of Sport Island and Little Lehigh begins with the Packer and Wilbur families in 1872 when Cornwall & Walton would sell an unnamed island to Harry E. Packer for $100.  Harry was all of 22 years old at the time and lived a relatively short life having passed away in 1884 at the age of 33.  His father, Asa Packer, was one of the more esteemed individuals of his time.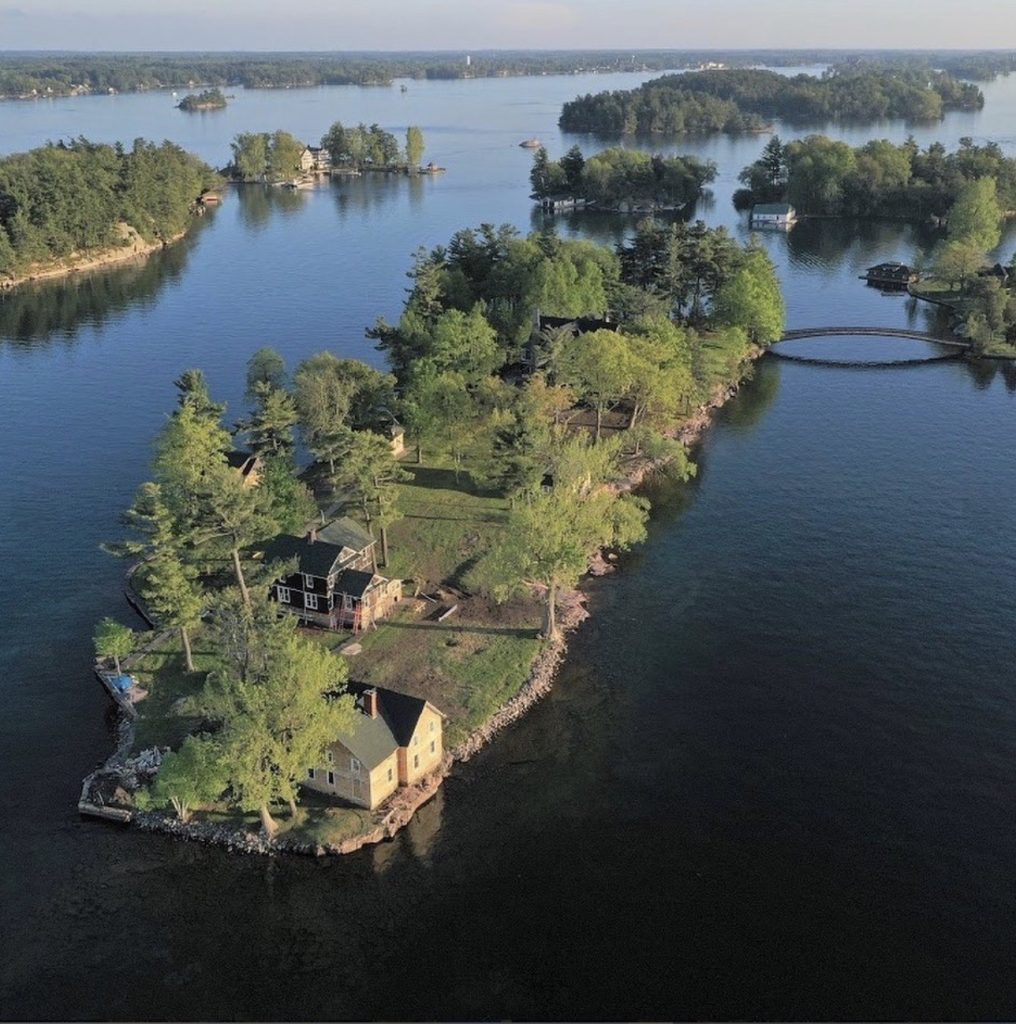 Asa Packer founded both the Lehigh Valley Railroad and Lehigh University.  Active in politics, Asa would also serve as a member of both the Pennsylvania and United States House of Representatives while also having made an unsuccessful bids for the Democratic Party's Presidential nomination in 1868.  The following year, he would run for Governor of Pennsylvania.  Upon his death in 1879, his estate was worth an estimated $20,000,000 ($540,000,000+ in 2022 currency.)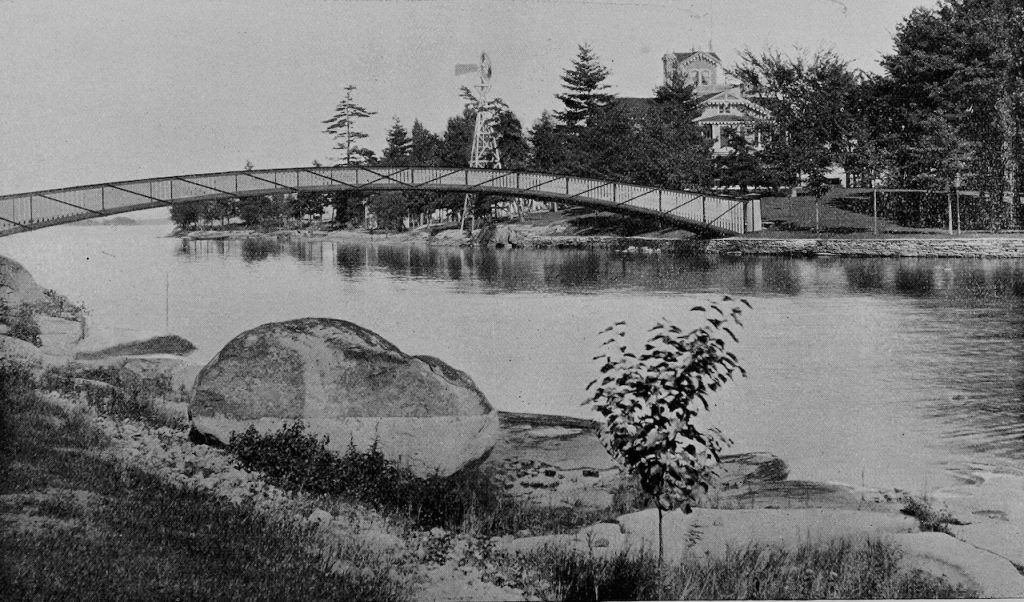 Elisha Packer Wilbur was a nephew to Asa Packer who took him under his wing at an early age and became a trusted associate.  After Packer's death in 1879, Elisha would serve as president of the Lehigh Valley Railroad until 1893 when J. P. Morgan agreed to fund it and move its headquarters to New York City (incidentally, Elisha was also a director of Bethlehem Iron Company at one point which would later be consolidated as part of the acquisition from Andrew Carnegie by J. P. Morgan and become U.S. Steel with Charles Schwab as its first president.)
Now that the table has been set… In June of 1880, the Packers built an iron bridge to extend from Sport Island to the small neighboring island, Little Lehigh, for a cost of $5,000.  No information could be gathered on  what structures existed on the island prior to that, but it's believed to be around this time the main cottage on Sport Island was built.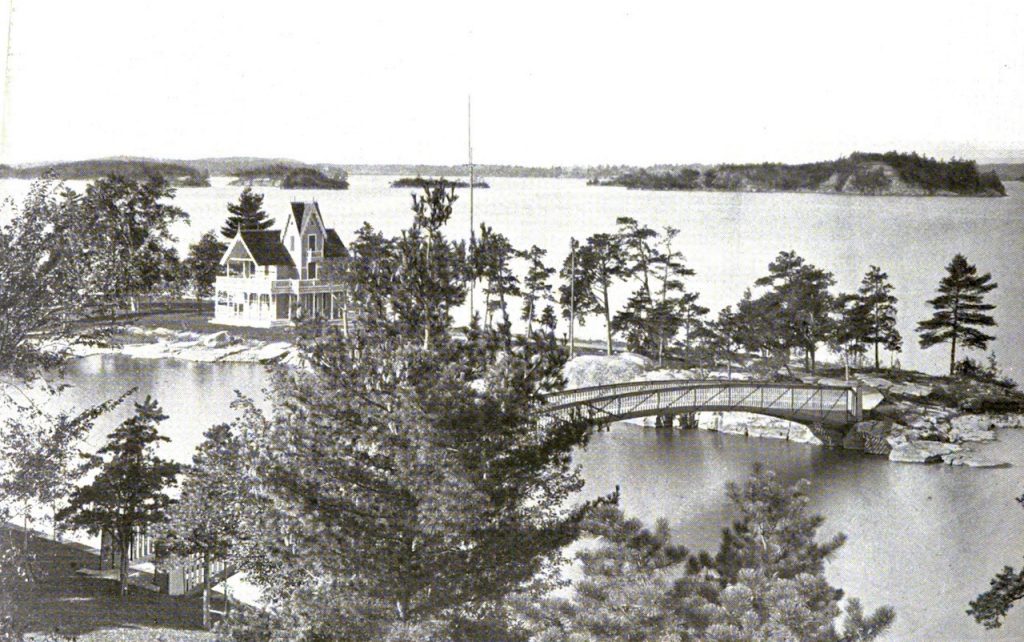 When Harry Packer passed away on February 1, 1884, his widow, Mary Augusta, Elisha Wilbur and Robert A. Lamberton became executors of his estate.  Sport Island and Little Lehigh would be conveyed to R. Morris Chunk of Pennsylvania who would sell it to both Elisha and Mary on March 9, 1885.  Mary would then convey her interest of the island to Elisha Wilbur.
It is during Elisha Wilbur's ownership that the much of the improvements to the main cottage were made.  The Watertown Daily Times would note in June of 1888 (1), then in 1890 (2)–
(1) On Sport Island improvements have been going on and the Packer building is being refitted. E. P. Wilbur will have a beautiful place when repairs have been completed on his cottage.
(2) Proctor & Ellis have had a force of men at work on Sport Island about about two months, enclosing a large addition to the main building, and will resume work in the early spring.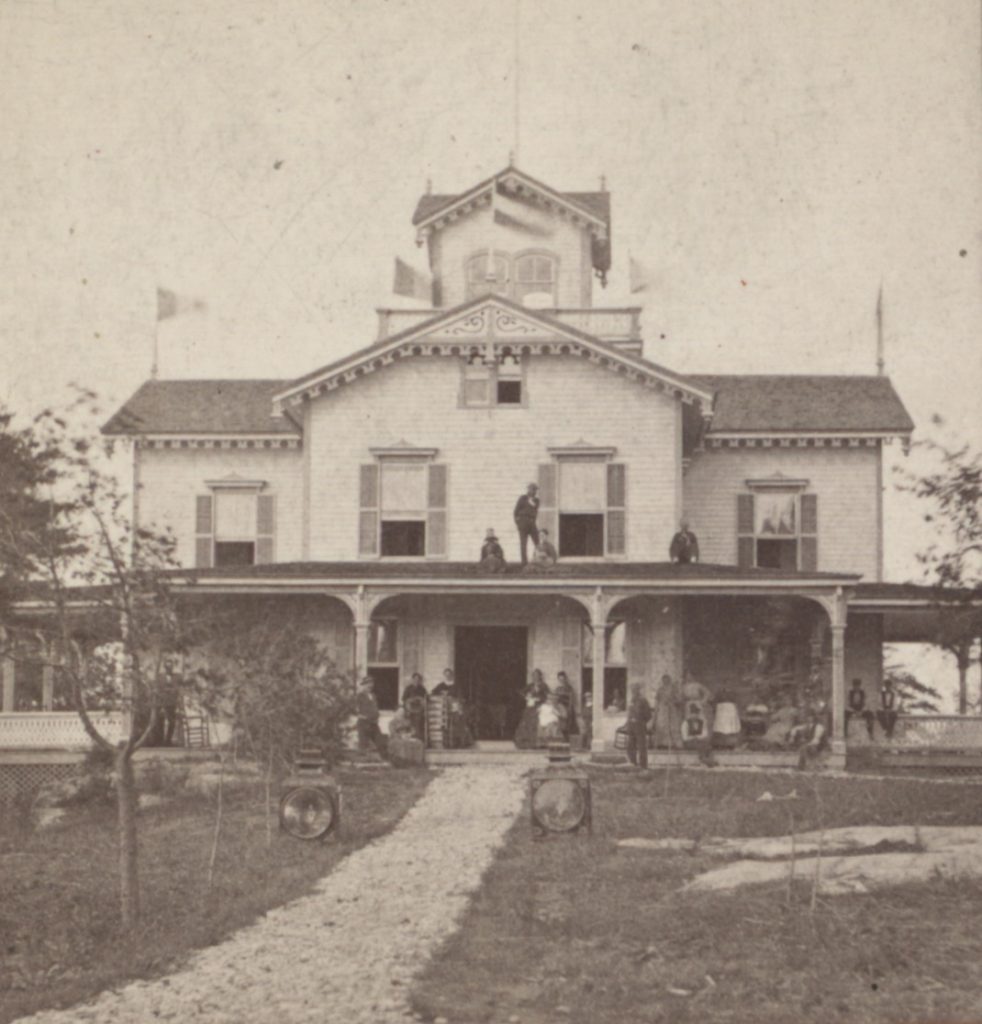 There is not much documentation in the newspapers from then other than these two bits of information, along with the addition of "Many improvements underway on Sport Island, including a completed electric light plant for the island" in 1900.  Nonetheless, the changes are evident when comparing the older photos to the postcard view shown below that, while not quite as dramatic as the Frontenac Hotel makeover, were very impressive appearing to substantially added to the original structure.
The story was, the current structure was actually built around the older structure.  This proved to be true from those involved with the renovations that started in 2019.  As the interior was gutted, one could see the remnants of the older structure vs the newer portion built around it.  More on the renovation a bit later.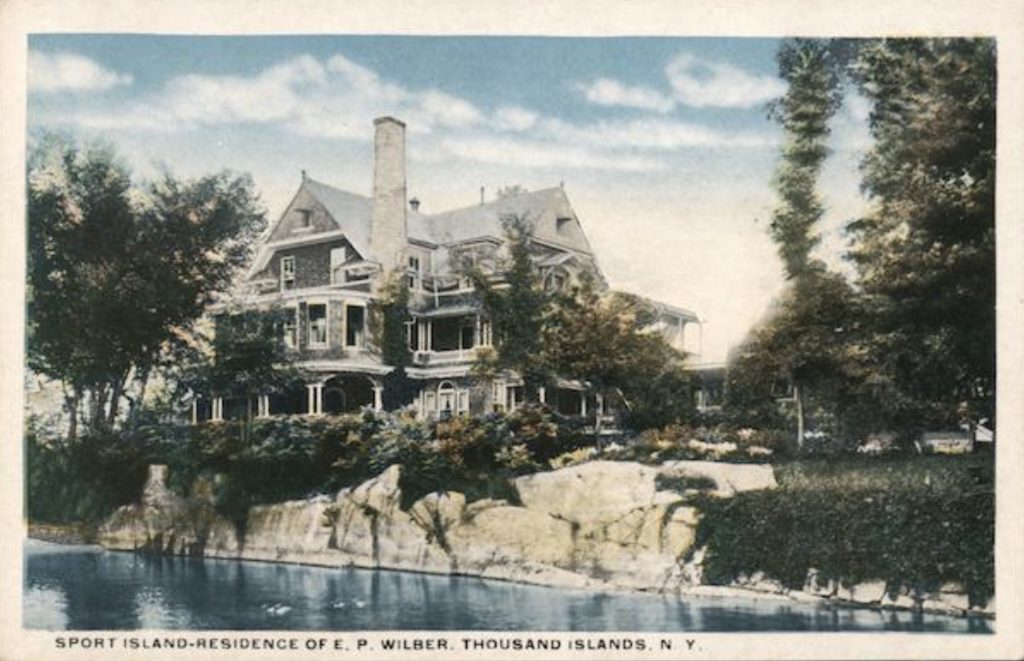 In June of 1910, Elisha P. Wilbur, would pass away at the age of 76.  His obituary in the local Watertown Daily Times would report–
Alexandria Bay, June 15 — Elisha P. Wilbur, Sr., of South Bethlehem, Pa., former president of the Lehigh Valley Railroad, died Tuesday afternoon at his summer home on Sport Island, near this resort.  Mr. Wilbur had passed peacefully away at 5:15 o'clock.  With their father were his sons, Elisha P. Wilbur, Jr., and Kenneth.  Mr. Wilbur had been an invalid for several years and had suffered several strokes of paralysis.
Elisha Wilbur's will would be read in Bethlehem, Pa., on June 25th and it was found that he had left an estate of $17,000,000, $498,900,000+ in 2022 dollars, to his family (his wife lived another 10 years and he had 10 children.)
The Wilburs would continue their family summers there for a number of years, inviting prominent guests over the years such as Quincy Bent, Vice President of Bethlehem Steel, in 1920.  Quincy would have a 42′ boat built by the Hutchinson Bros. for his visit.  I would be remiss if I didn't mention the Packers/Wilburs now side-wheel yacht, "Sport," that had a legendary history all its own on the St. Lawrence River which will be mentioned here again shortly.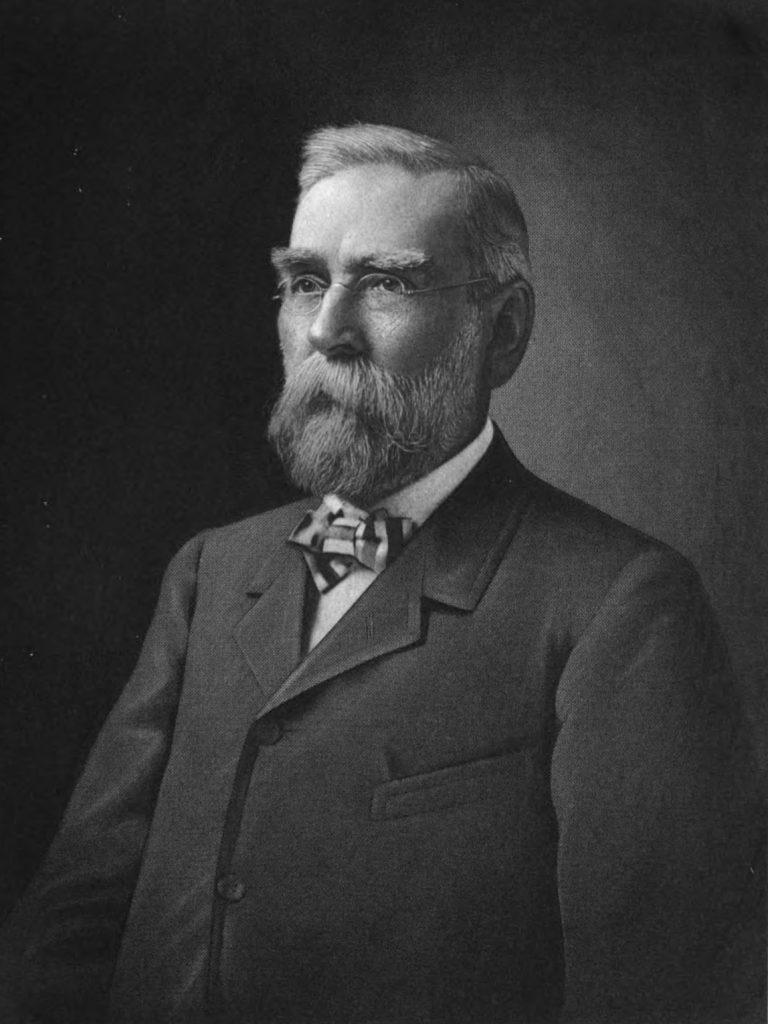 As one can imagine, the property was never for want of visitors during these years as the ten children of Elisha Packer Wilbur would go on to have children of their own, many who would visit over the summers with other extended family members.  The photo posted earlier from circa 1880 shows no less than two dozen people around just the main house on the property at the time.
On December 31, 1946, however, the Watertown Daily Times would report the sale of Sport Island and Little Lehigh–
Two islands and a palatial summer home, owned by the Wilbur family of South Bethlehem, Pa., and situated a half mile south of Grenadier Island in the St. Lawrence River, have been purchased by Sport Island, Inc., of New York City.

One of the Properties is Sport Island, consisting of about four acres of land.  The other is Little Lehigh Island.  The two are connected by an ornamental bridge.

A half century and more ago, Sport Island was one of the finest estates in the Thousand Islands summer region.  North Country frequenters of the Thousand Islands in the 1890s recall the black, broad-beamed sidewheeler yacht, "Sport," of the Wilbur Family.  This little boat, shaped like a pumpkin seed, always attracted attention, especially by its walking-beam, which was a rarity on private yachts of that day.
Less than two months later, it was clarified that Sport Island, Inc., owned by Annette de Bono, had no intentions of building a hotel on the island as had been rumored and did not own Little Lehigh Island per quitclaim during the transfer of property. Dorothy MacSherry, the granddaughter of Of Elisha P. Wilbur, would retain the rights to Little Lehigh but pass away in 1952.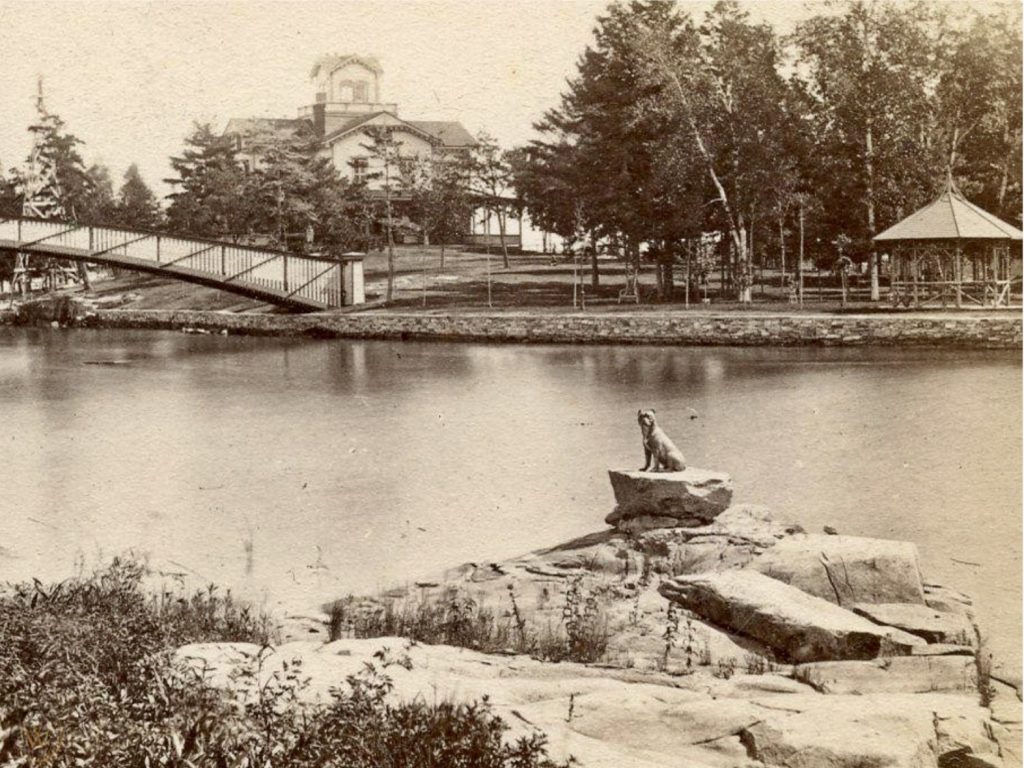 As a result of Dorthy's death, Little Lehigh transferred to her son, Richard T. MacSherry, who would apparently sell it to Mrs. Frances T. Short, owner of the Maternity Shop on Public Square in Watertown, as she was mentioned in an August 15, 1959 in the Times–
Alexandria Bay, Aug. 15 — A fire of undetermined origin leveled a two-slip boathouse, destroying two outboard motor boats and a skiff at Little Lehigh Island about two miles north of this village, Friday night about 10.

The island property, located in the Sport Island group, is owned by Mrs. Frances T. Short, owner of the Maternity shop at 7 Public Square, Watertown.  It was formerly part of the E.P. Wilbur estate and was owned for years by the late Mrs. Dorothy MacSherry.
As for Sport Island, Annette de Bono would wed attorney Robert W. Baker in 1956 and make their residence in Clearwater, Fla.  Annette, the President of the Democratic Women's Club of Florida, was also the secretary-treasurer and manager of Precision Tool Co., Inc.  It is unknown how often they frequented their summer home as Robert passed away in 1966, according to the Watertown Daily Times.
The property would remain in Annette Baker's name for many years with a son, Robert Baker II, utilizing it.  In 1999, the property was placed on a foreclosure list for back taxes, but they were paid in full just prior to the deadline.  In 2000, within a matter of months, the property would show the four-acres Sport Island in the newspaper as being sold by Baker to Charles Garlock & Sons, of Watertown, then back to Baker.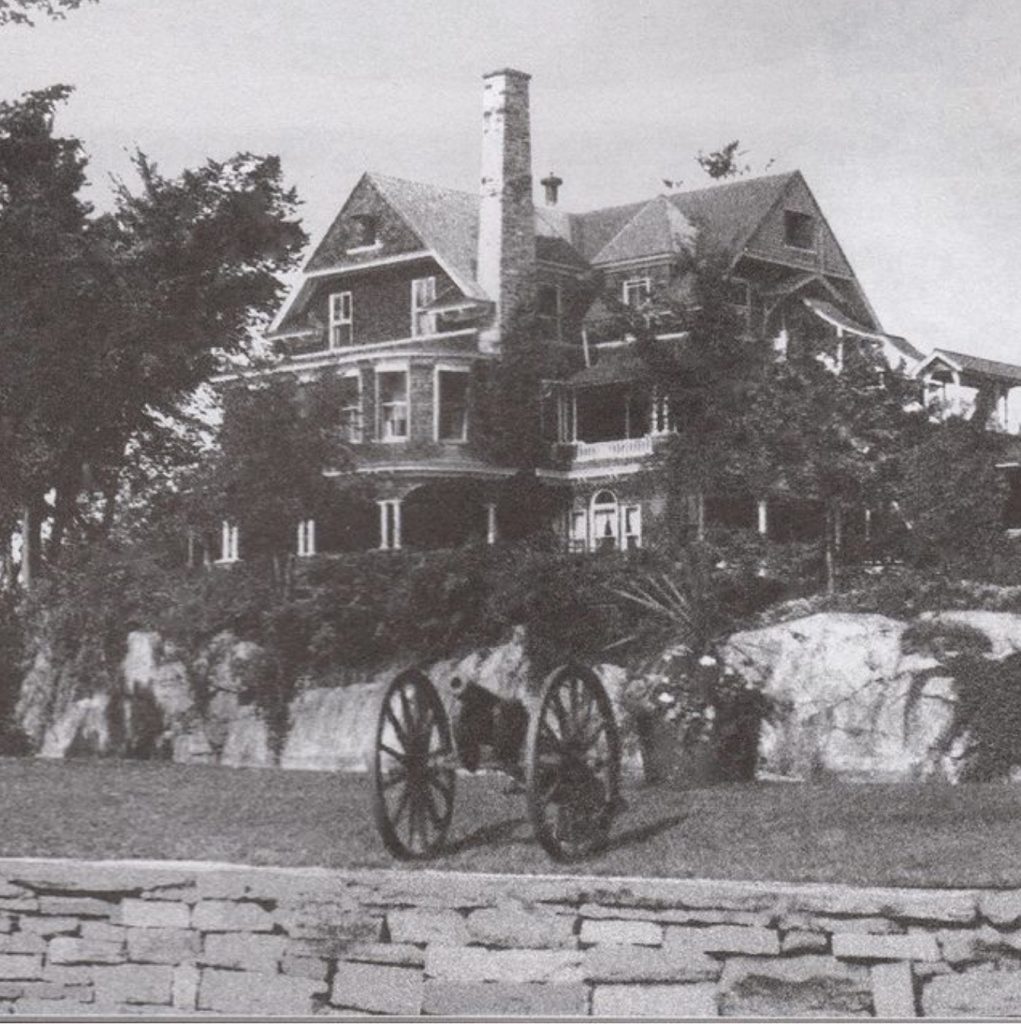 Three years later, the property would appear on the foreclosure list once again.  The Garlocks had apparently bought the property for back taxes to protect a lien they had on the property due to an unpaid bill by Baker.  This may have been in 2005 as there was a notice in the paper that stated Robert W. Baker II, as executor of his mother's estate, sold the property to Craig S. Garlock and Cathy F. Garlock of Alexandria Bay.
The following year, in 2006, Cathy Garlock, of Garlock Realty in Alexandria Bay, was featured in a Watertown Daily Times article discussing fixer-uppers which mentioned Sport Island–
Baroque in detail—with servants' quarters, lookout towers and spacious boathouses—these compounds are rarely on the market.  When they are, though, they can easily command more than $1 million.  Earlier this summer, a 5,800-square-foot Shingle-style house built in 1880, with nine bedrooms and four bathrooms and situated on Sport Island, In Alexandria Bay, was listed at $1.8 million.  
Though the property had fallen into a certain state of neglect over the course of the last several decades, it would sell the following year.  The Garlocks sold their part, along with Robert W. Baker II, to Jim Cumming/Sport Island of Alexandria Bay LLC, Atlanta, Ga., for less than the listed price and Baker would stay on the island seasonally as a caretaker for Cumming.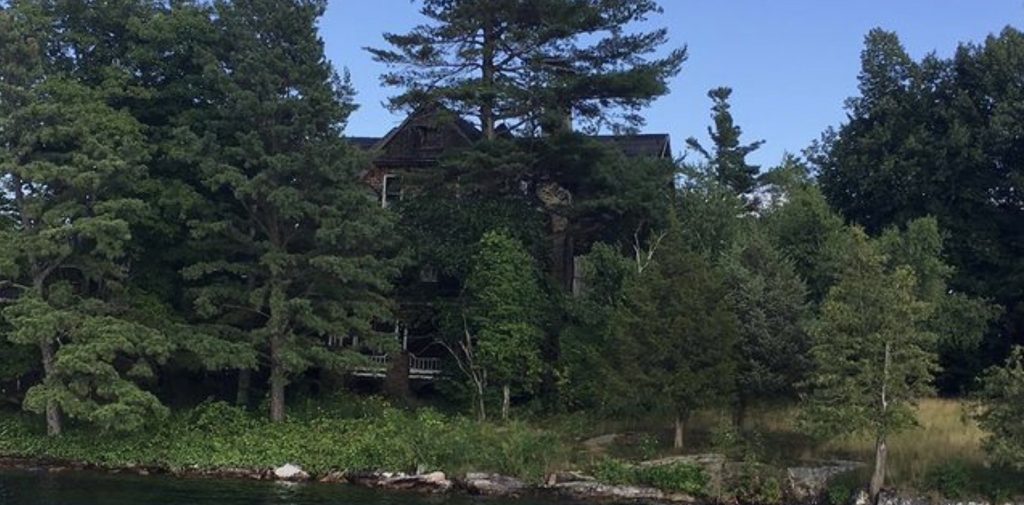 Restoration Begins In 2019
In the summer of 2019, Ben Walldroff, Jake Johnson and Jay Stewart purchased Sport Island from Jim Cumming.  The property, from the photo above, had been neglected for a great many years and the conditions of the buildings had deteriorated to a very sad, but salvageable state.  Jay, who owns the old Judge Spencer cottage on nearby Manhattan Island, mentioned that, at the start, his objection was to steer the project to correctly restore the buildings and getting them weathered-in with new roofs, siding and windows was the first priority.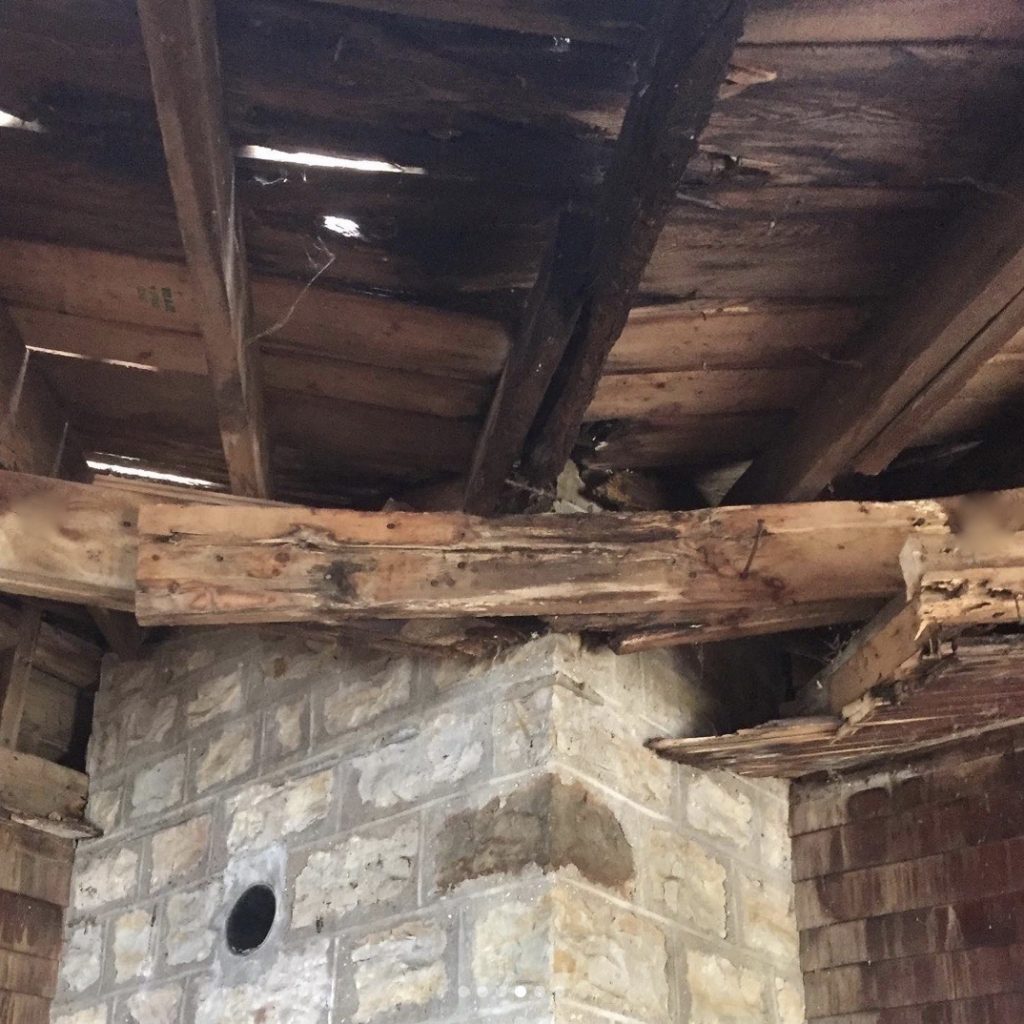 The structures on the island include the main house with nine bathrooms and four bathrooms; a smaller six room cottage for the caretaker; an ice house; a boathouse; caretaker's workshop; and a billiards house. A seventh structure, the caretaker's kitchen house, was beyond salvageable and was razed.
In addition to the main structures needing attention, rebuilding the stone walls and sea wall; repairing the main bridge to Little Lehigh and installing a new electrical transformer and power station for the island would be addressed as well.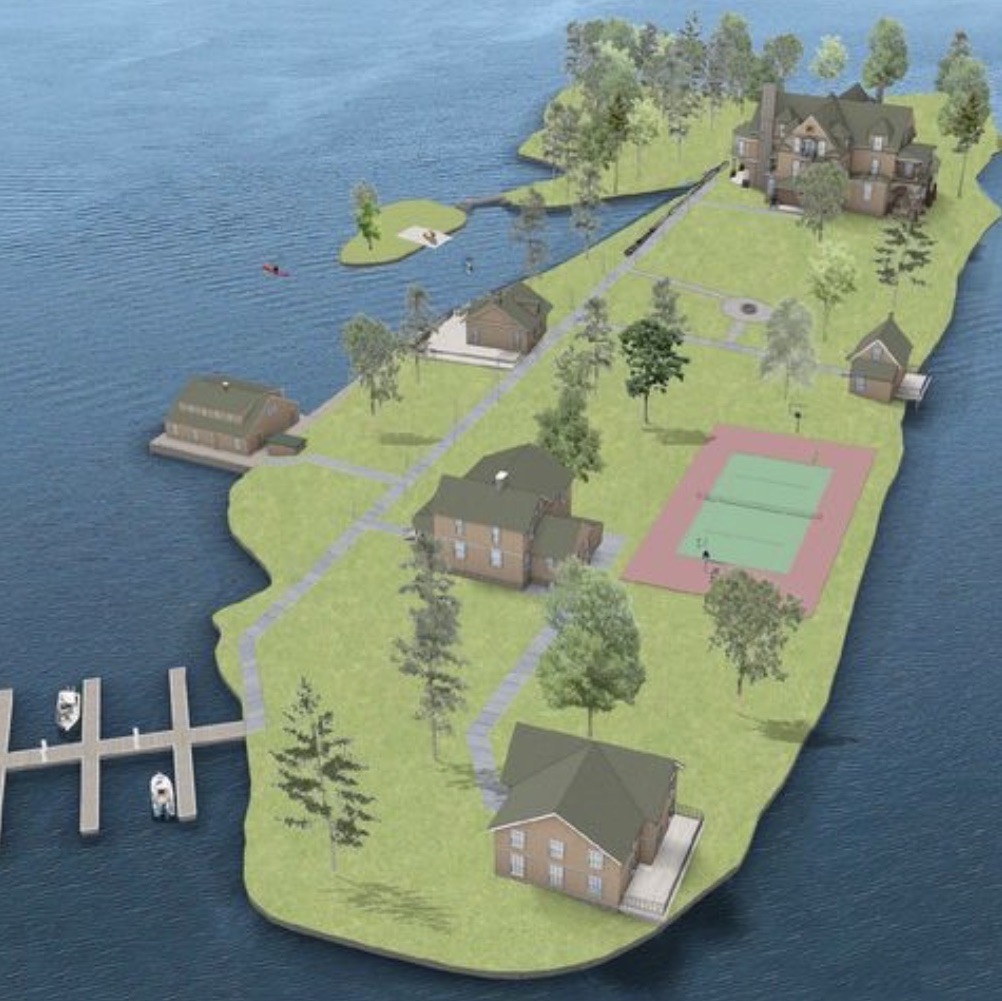 In the summer of 2020, Jay Stewart would sell his interest though he remains involved in the restoration. Dan Bower would buy into the Island with Ben Walldroff and Jake Johnson still in ownership.  In 2021, the three purchased Little Lehigh island.
The following are some photos from the Sport Island restoration progress, courtesy of Jay Stewart who deserves special thanks for once again sharing his knowledge of the history and photos, and most importantly, for taking on such an effort along with Mr. Bower, Mr. Walldroff and Mr. Johnson to restore the historic place that is Sport Island and Little Lehigh.  You can follow the progress of the restoration on instagram which has plenty of more photos at sportisland2019.