The Adriel Ely Store Has A Long and Notable History Of Connections To Who's Who In Watertown History
The Adriel Ely store was just one of many businesses to occupy the two-story stone building that long ago graced the south corner of Washington and Stone Streets in the 19th century.  For the sake of clarity and having been one of its earliest, and longest running, businesses, it'll be referred to mainly as such.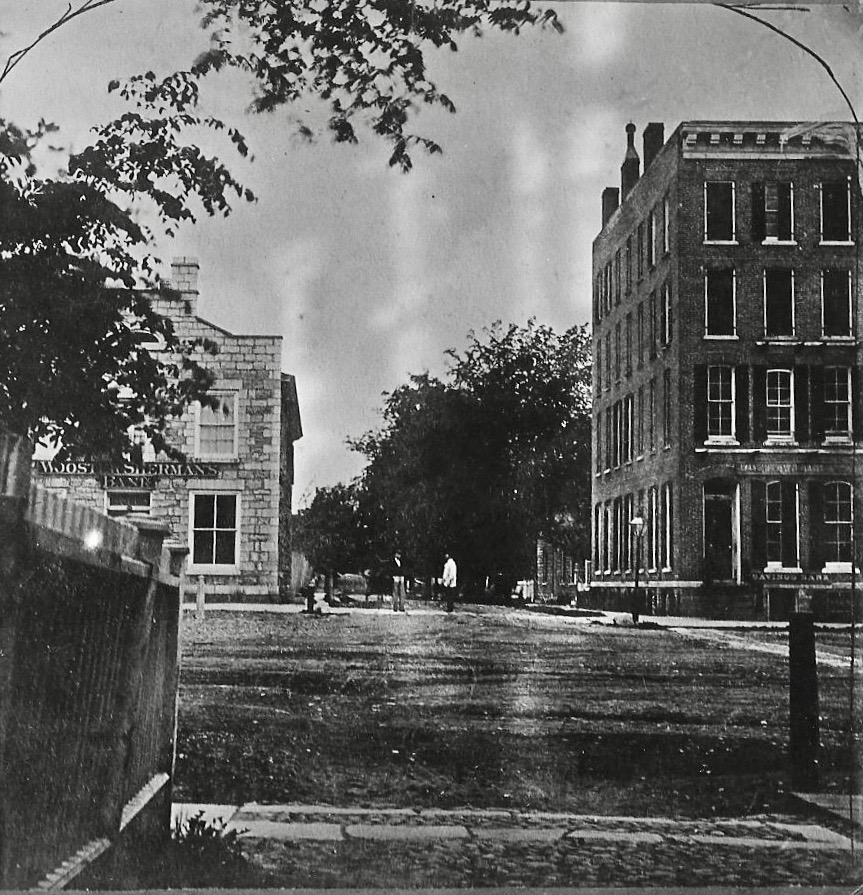 The stone building was built in 1828 by Levi Beebee, of Beebee Island fame, who constructed a cotton mill on the island as well as what was known as the Second Presbyterian Church on the corner of Factory and Mechanic Streets in which his mill employees worshipped on Sunday.  When his mill was destroyed by fire in 1831, Mr. Beebee saw his hopes go up in flames, too.  So discouraged at the loss, he sold the stone building on the corner of Washington and Stone Street to Adriel Ely and moved to Ohio.
Born in Lyme, Conn., in 1791, Adriel Ely would be one of the early settlers of Watertown with the likes of Henry Coffeen, Hart Massey, Orville Hungerford, Jabez Foster, Jasan Fairbanks, Perley Keyes, Isaac H. Bronson, George W. Knowlton, William Smith, Micah Sterling, Loveland Paddock, Henry Keep, Norris Woodruff, Eli Farwell and George C. Sherman.  
As John A. Haddock would write in Growth of a Century, published in 1894–
Adriel Ely was another man of marked individuality in Watertown.  He was a merchant, United States pension agent, and a manufacturer of patash—his old "ashery" standing on the north side of Factory Street, close to the bank of the river.  For many of his late years of merchandising  he occupied the stone building lately (1894) demolished for the new bank building, in the second story of which James F. Starbuck, Lurthur J. Dorwin, Lotus Ingalls and John A. Haddock were law students in 1841-1843, with the distinguished firm of Lansing & Sherman.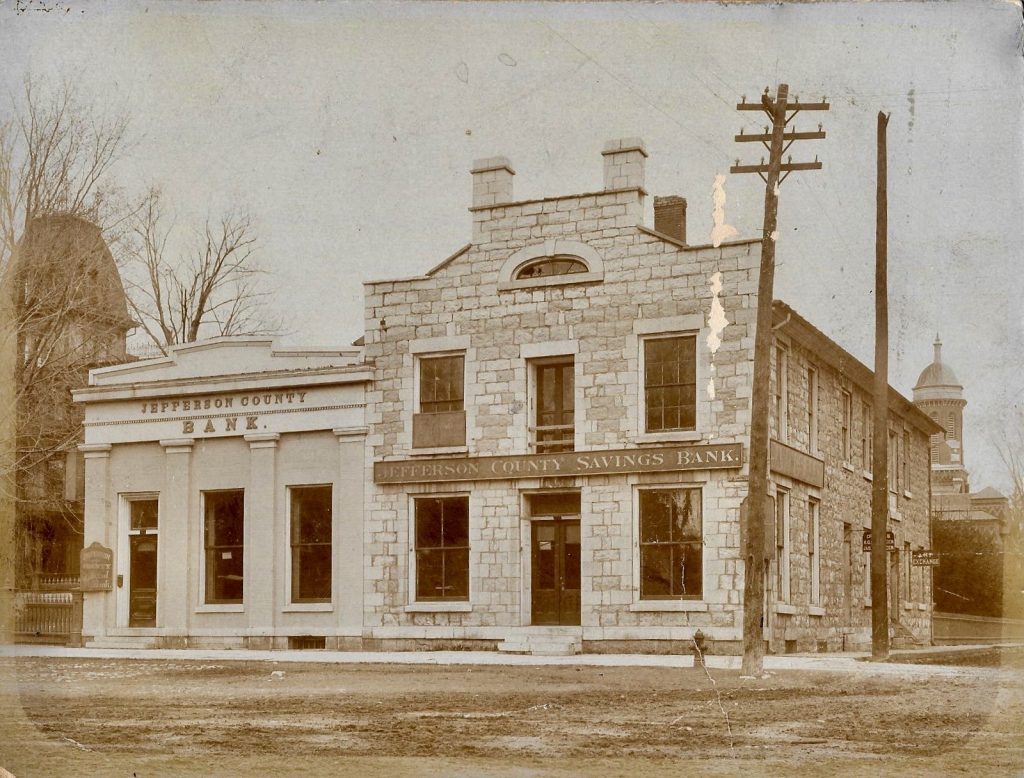 Around the time Ely settled in Watertown, he would become a clerk in the general store of Olney Pearce whose mansion on Washington Street would be greatly improved over the years and later be better known as the Herring Mansion.  Before long, Ely would purchase Pearce's interest in the business and later become a partner with Orville Hungerford for a period of time.  
In 1826, Adriel Ely would marry Evelina Foster, daughter of Judge Jabez Foster and Hannah Hungerford Foster.  Judge Foster's residence was the previous structure where the Paddock Mansion/Historical Society sits today.  That year, Adriel Ely would build his home where the Watertown Daily Times building currently is.  It, too, would be greatly modified and unrecognizable over the years.  
The Times would write of the Ely store in 1894 when the old building was razed–
Ely used the building as a general store for many years, and here it was, when Watertown was receiving its first impetus toward the multiplication of its inhabitants, that the people used to gather every day and swop news or gossip.  As a landmark it has always been noted in the compilation of historical matter.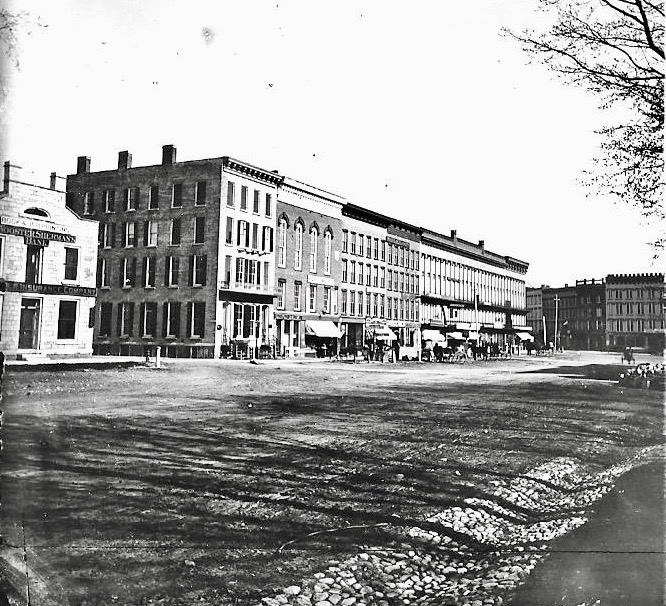 Adriel would pass away in 1859 and be buried at Brookside Cemetery of which he was said to have been the chief promoter of having made great efforts to see its creation and later serving as the president of its association until his death.  In addition, he was said to have been instrumental in establishing the Orphan's Home of Watertown and was an active member of the Masonic order and a Knight Templar.
Wooster Sherman Bank
Wooster Sherman was born in Newport, N.Y., in 1809, to Phineas and Emma Thornton Sherman, whose remains were the last removed from the old Trinity Church burial ground on Court Street and reinterred at Brookside Cemetery.  At the age of 16, Wooster would study law under Bucklin & Sherman and would become deputy county clerk the following year at the tender age of 17.  For the next five years he would continue in this role, acting as a clerk for both the Supreme and County Courts part of the time as well.  After resuming his studies, he was submitted to practice law in 1839.  
That fall, he was appointed cashier of the Bank of Watertown, presided over by Loveland Paddock, from 1839 – 1841.  In 1941, Sherman would resign his position and establish the first private bank with its own money in circulation.  Later, Oscar Paddock and Henry Keep would form their own banks under the general laws of the state which allowed them to circulate their own money.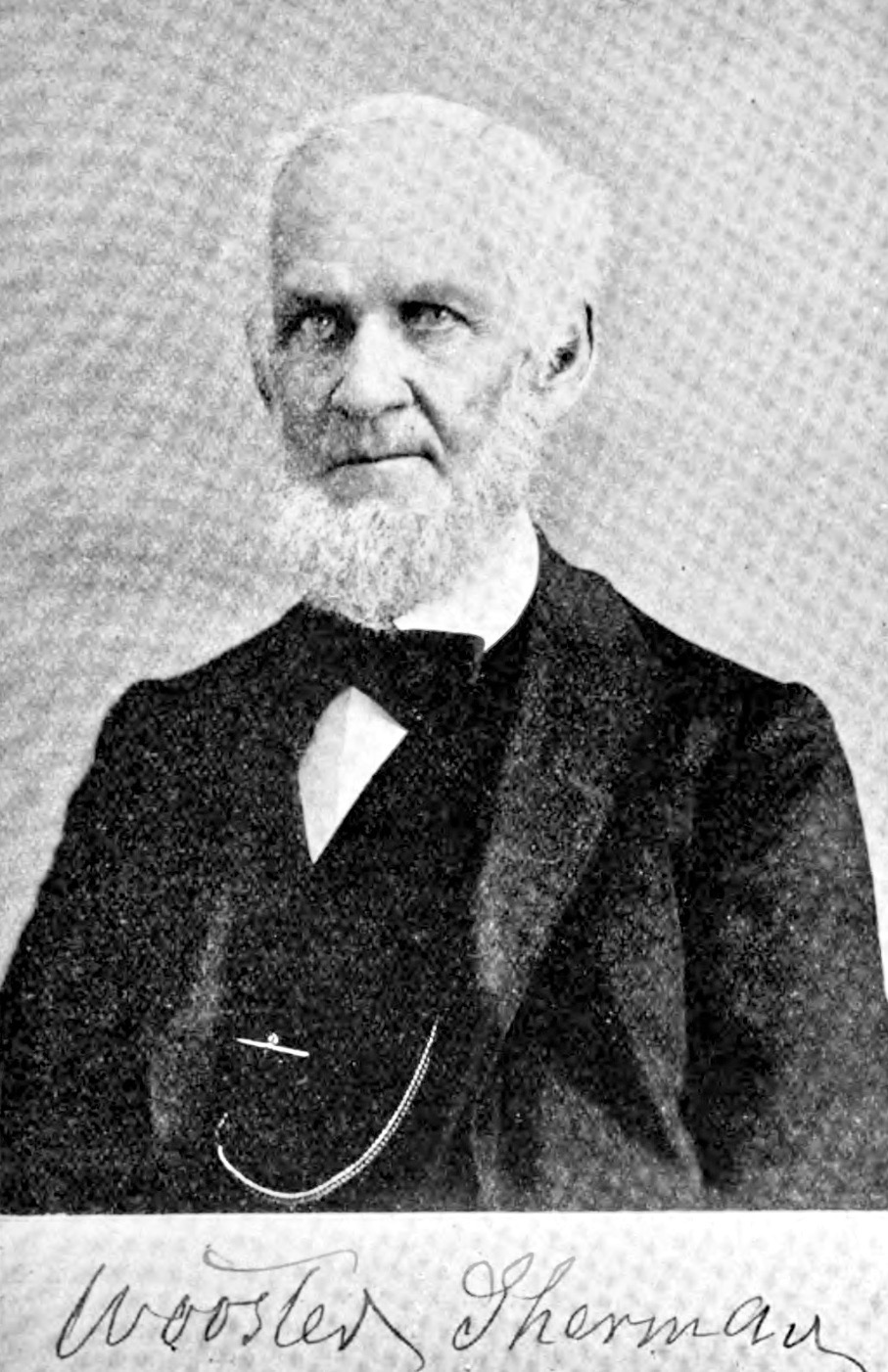 Wooster Sherman would pass away in 1896 at the age of 87.  The Watertown Times would note—
The funeral of the late Wooster Sherman will be held from the residence of his son, William W. Sherman, No. 1 Sherman Street, at 3:30 Monday afternoon.  Rev. J. Sanders Reed, rector of Trinity Church, will officiate.

Mr. Sherman is said to have been the oldest banker in the state.  It was in 1839 that he was made cashier in teh old Watertown Bank and in 1896 he resigned as treasurer of the Watertown Savings bank.

Mr. Sherman was a distant relative of Senator John Sherman, of Ohio, both being descended from Rev. John Sherman, who was born in 1613, an eminent New England preacher, who had six children from his first wife and 20 by his second.

Wooster, in a recent correspondence with Senator Sherman, told him that he possessed a copy of this family tree which showed that the senator and his brother, Tecumseh, were in the same line of descent claiming the prolific Ref. John as their respected ancestor.
When the former Ely store and Wooster Sherman Bank was torn down in 1894, The Times wrote of its condition, "This ancient edifice is now tarnished brown from rays of many a sun and looms up to the stranger as a bulky remnant of its former glory."
Interesting Tidbit
In researching this, there was an interesting bit in The Times regarding John C. Sterling once having his book store in this location, but also of a local Fourierist Association back then–
A two-story building in the corner of Washington and Stone Streets was occupied by the Jefferson County Bank until it went into the building it lately occupied, which was built by the Fourierist Association, that flourished at one time in Watertown.  The building vacated was afterwards occupied by Messrs. Symonds as a store, and at a later date by Wooster Sherman's bank and by J. C. Sterling as a book store.
Mentioned later–
In a historical way, nothing may around deeper interest in the minds of the older generation than to remind them of a sect or colony which was called the Fourierites.  Their headquarters were at Cold Creek, and it was their hands and implements that fashioned the material for the brick walls of this building.  
The sect took their name from the French socialist Fouriere.  While he was considered "dangerous" and an agitator, the local Watertown sect was apparently peaceful.  It was said to have eventually disbanded over disagreements of those "whose inclinations were toward idleness, and who sat around smoking and gossiping while others labored."