C L Fisher Garage – 531 State Street
Along with the growing popularity of the automobile came… automobile repairs. The Fisher Garage, located on State Street opposite Winthrop, was one such place to go in the early 1900s.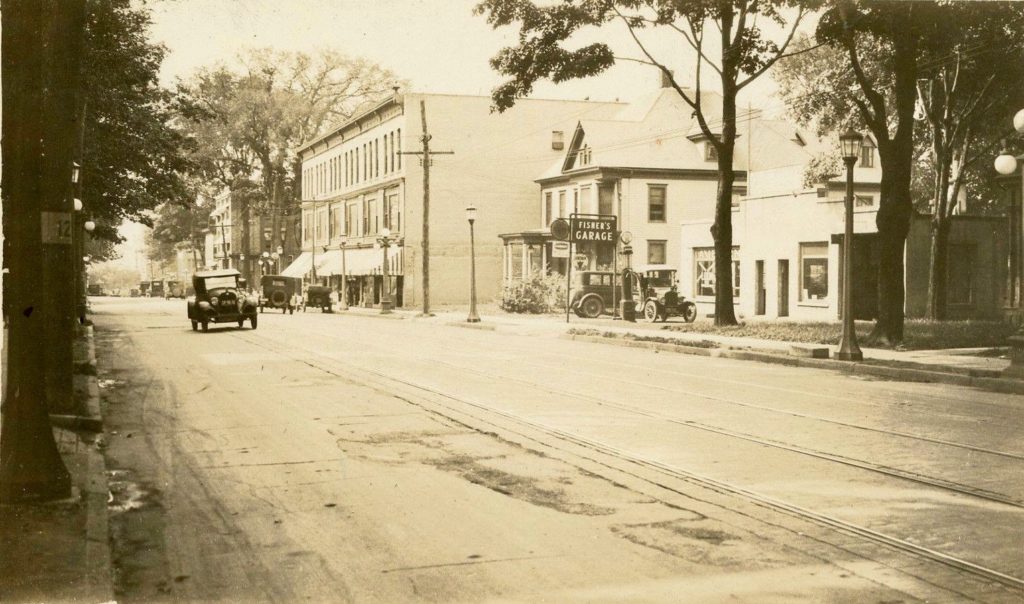 Caleb L Fisher would go from being a rural mail carrier in Lewis County to operating his own garage by the late 1910s, his service station was conveniently located next to L. W. Quick Cadillac, which would operate from the same location for a good number of years and kitty-corner to  Ward Smith's Studebaker Motor Cars dealership across the street.
In one particular lengthy newspaper advertisement, Fisher stated–
When any thing goes wrong with your car, take it immediately to the C. L. Fisher garage at 531 State Street, opposite Winthrop Street.  If your car will not run, then telephone 59-J and a serviceman will be immediately dispatched to your assistance.

The mechanics at the Fisher garage have had several years experience and know exactly how to fix your car.  They take the shortest method because their experience has taught them the many short cuts.
The garage features a general repair service upon all makes of cars. Every customer receives personal attention and is guaranteed a perfect job. Mr. Fisher is very careful that his customers are satisfied with all of the work that leaves his shop as he realizes that a poor job is a bad advertisement.

The many customers of the concern always stand ready to vouch for the expert work that they have received at the garage and do not hesitate in telling their friends about it. This is one big reason why Mr. Fisher has such a large business.

Day and night tow car service is featured. No matter where you break down, telephone the garage and one of the tow or wrecking cars will be sent to your aid.  You will never have to wait very long as Mr. Fisher operates a fleet of service cars and is well prepared to meet any emergency.