1950's Atomic Bomb Testings Were A Las Vegas Attraction
Below are some facts and figures regarding the atomic bomb testings conducted between 1951 and 1992.  Incidentally, the supposed bolide explosion in 1962 near the Nevada/Utah border was initially believed to have been an atomic test by some observers.
Location:  Nevada Test Site, now referred to as the Nevada National Security Site (and formerly the Nevada Proving Grounds), approximately 65 miles northwest of Las Vegas in Nye County.  It is operated by the Department of Energy and covers an estimated 1,360 square miles of desert and mountain terrain.
Number Of Tests:  928.  100 of these tests were detonations in the atmosphere which produced mushroom clouds visible in Las Vegas and California.  The remaining 828 tests were conducted underground.
Effects:  Las Vegas experienced noticeable seismic effects, visible mushroom clouds and bright flashes on the horizon.  As a result, the tests became tourist attractions with the best views coming from downtown hotels.
Magnitude:  From 1951 to 1955,  tests conducted ranged from less than one kiloton up to considerably less than 100 kilotons. (A kiloton is equal to 1,000 tons of TNT.)
Operation Plumbbob:  In 1957, a series of 29 tests were conducted over several months. Amongst them, Hood, the largest atmospheric detonation in the continental United States at 74kt, a two-stage thermonuclear test.
In comparison, the Hiroshima bomb "Little Boy" was the equivalent of an estimated 10,000 – 15,000 tons of TNT.  The most recent North Korean nuclear test on September 3, 2017, was an estimated 120kt.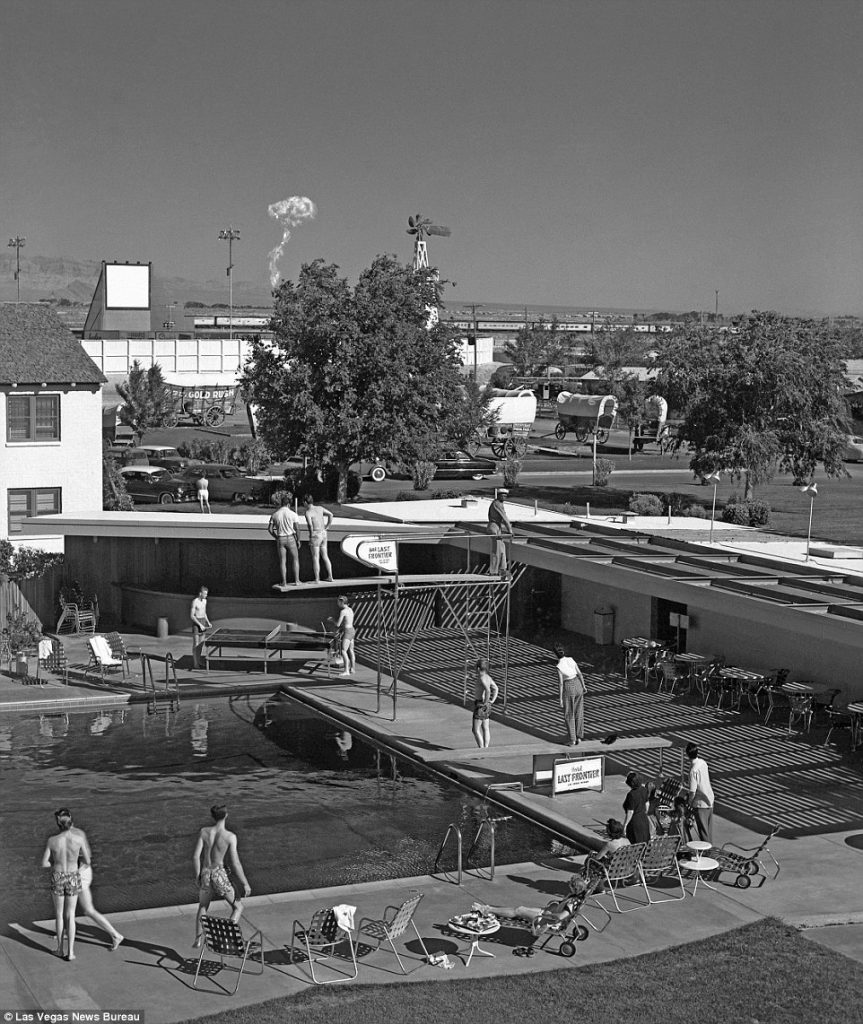 Survival Town:  Also known as Survival City, was located in Area 1 of the NTS.  Tests were conducted to gauge the effects of nuclear blasts onto civilian structures.  With other constructed areas, they were collectively known as "Doom Towns."
Fallout:  St. George, Utah received the worst of the above ground testing due to prevailing winds.  An increased number of cancers occurred between the early 1950's and 1980.
Protests:  From 1986 to 1994, over 500 anti-nuclear protests occurred at the NTS involving over 33,000 protestors and 15,000+ arrests.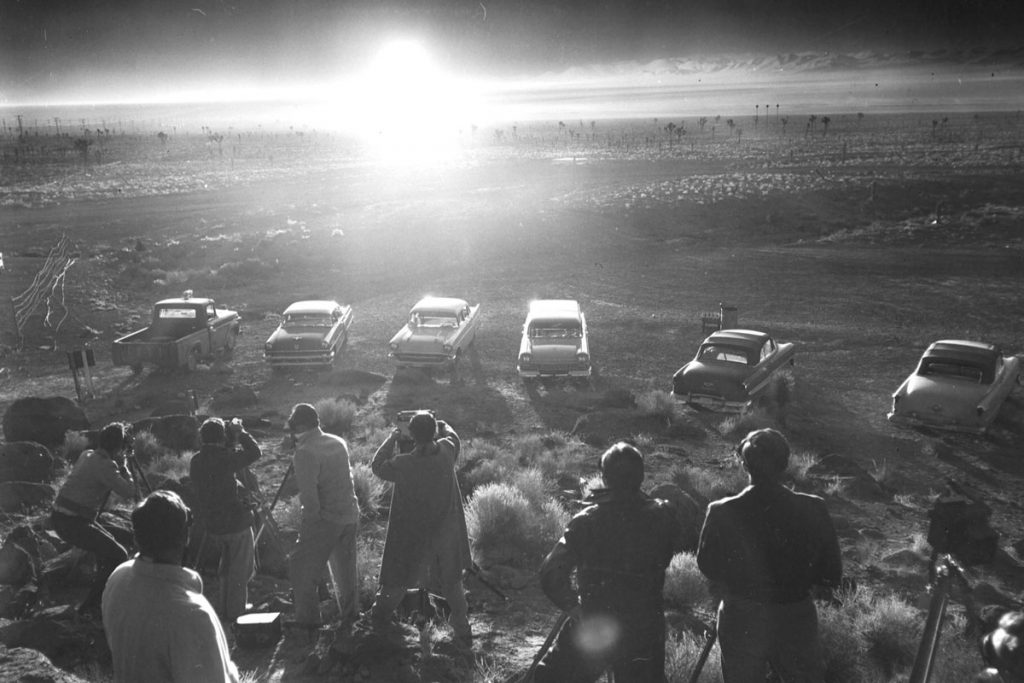 Additional Media Coverage