The July 3, 1975 Las Vegas Flood
The 1975 Las Vegas Flood began when heavy thunderstorms rattled Las Vegas on the afternoon of July 3, 1975, bringing unprecedented precipitation between the metropolitan area and mounts to the south, west and north.  Total storm precipitation equaled or exceeded 3 inches in some areas and surface winds topped nearly 58 mph.
Sediments from erosion, transportation (e.g. vehicles) and deposition occurred throughout the flooded area.  Particularly impacted were the mouth of Las Vegas Wash at Lake Mead and the Flamingo Wash at Caesars Palace Parking Lot.
Peak flows of Las Vegas Creek, Tropicana Wash, Flamingo Wash, and Las Vegas Wash were the highest ever determined as a result of the 1975 Las Vegas flood.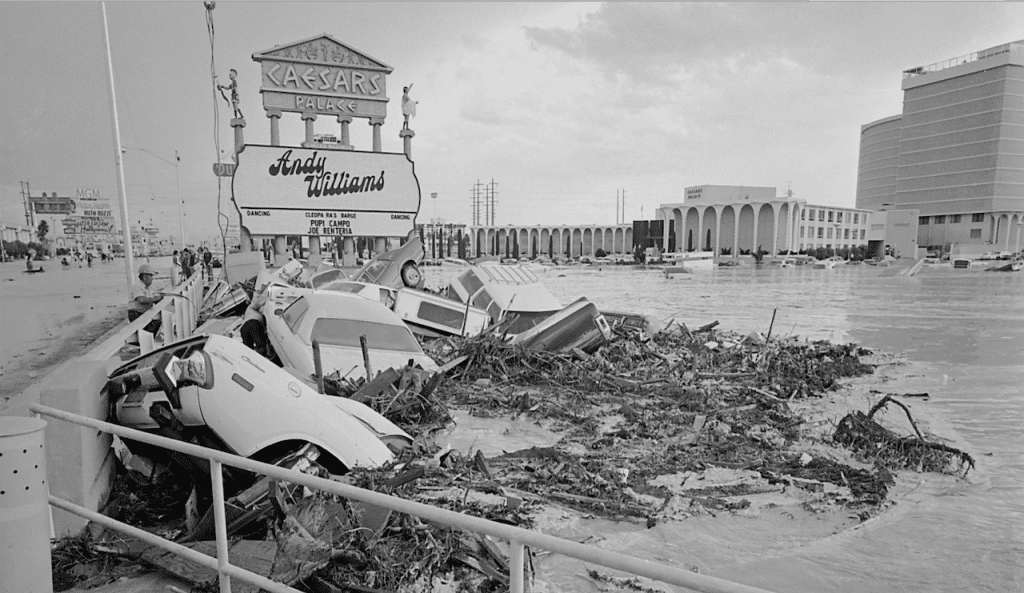 The July 3, 1975 Las Vegas Flood Facts & Figures
Time: Rainfall lasted between 11:00 AM and 3:00 PM.
Rainfall Amount: A maximum of 3 inches of rain fell in two locations inside the Las Vegas valley, the west valley and to the north via the path of the storm as it moved out of the area.
Las Vegas Yearly Precipitation Average:  The average yearly precipitation for Las Vegas is 4.17 inches.  The city received nearly all of that in a matter of hours.
Estimated 1975 Population: At the time, the population of Clark County in its entirety was 351,000 while the city of Las Vegas was just under 150,000.
Damage Estimates: $4.5 million dollars ($22,725,501.86 in 2021 inflated dollar-value).  Upwards of 700 automobiles parked near Caesars Palace were damaged or destroyed by the heavy floods.
Fatalities: Two City of North Las Vegas employees, Mike Williams, 30, and Richard Hunkins, 24, were swept away while directing traffic at I-15 and Craig Road.
Amounts Throughout The Valley: Only .07 inch of rain fell at McCarran Airport.  A tenth of an inch fell about an east of The Strip along the Flamingo Wash itself.  The southeast valley received very little rain while the higher elevated west side received heavy rain which resulted in unprecedented runoff.
From The LVRJ:  Some of the cars swept away from Caesar's Palace were reportedly found miles away.  Additional cars were swept away from the parking lot of the Marina Hotel.  Incidentally, the parking lot at Caesar's had warnings about flash flooding in the area.
A river of water poured through a building supply store, L&H, at 311 Bonanza Rd, carrying lumber with it.
Flooding reached depths of four on west-side streets during the 1975 Las Vegas Flood.
Momentary power outages were reported throughout the valley.
Police reported 30-40 people had to be evacuated from their townhomes due to mudflow which reached up to two feet high.
1975 Las Vegas, Daytime Drive, HD from 35mm/credit: thekinolibrary
Looking for more Las Vegas locations or events?  Click here.