The Mint On Fremont Street, Downtown Las Vegas
The Mint is another one of the hotel casinos from Las Vegas's bygone era.  Situated on Fremont Street, most may recall its location as being the home to Binion's Hotel which acquired it after The Mint's closure in 1988.  The hotel would eventually close in 2009, a victim of the late 2000's recession.
Opening in 1957, The Mint was another development for Milton Prell whose properties included Club Bingo (1947) which was later remodeled as the Sahara.  Prell's involvement would be short-lived as he sold the properties to Del Webb.  The following year, plans were underway to build a 22-story hotel tower at a cost of $5 million.  By the time of its completion in 1965, the hotel tower was 25 floors and ranked just behind The Landmark as the tallest building in Nevada.
Today, The Mint is arguably remembered most for being part of the setting in Hunter S. Thompson's Fear and Loathing In Las Vegas which immortalized Thompson's legendary weekend trip in 1971.
The Mint Interesting Facts & Figures
Opening Date: July 11, 1957.
Location: 100 Fremont St.  It would annex The Birdcage Casino located next door in 1959.
Costs: Initial costs are unknown, as are renovations including the annex of properties.  The cost for building the hotel's tower which opened in 1965 was an estimated $5 million.
Number of Rooms: 300.
Number of Floors: Originally planned for 22 stories, The Mint was built with a total of 26 floors as it battled The Landmark for tallest building in Nevada.  The Landmark's victory would be short-lived, losing the title to The International shortly thereafter.
Height: 290 Ft.
Closing Date: The hotel was acquired by Binion's Horseshoe in March of 1988, becoming Binion's Hotel which itself subsequently closed in 2009.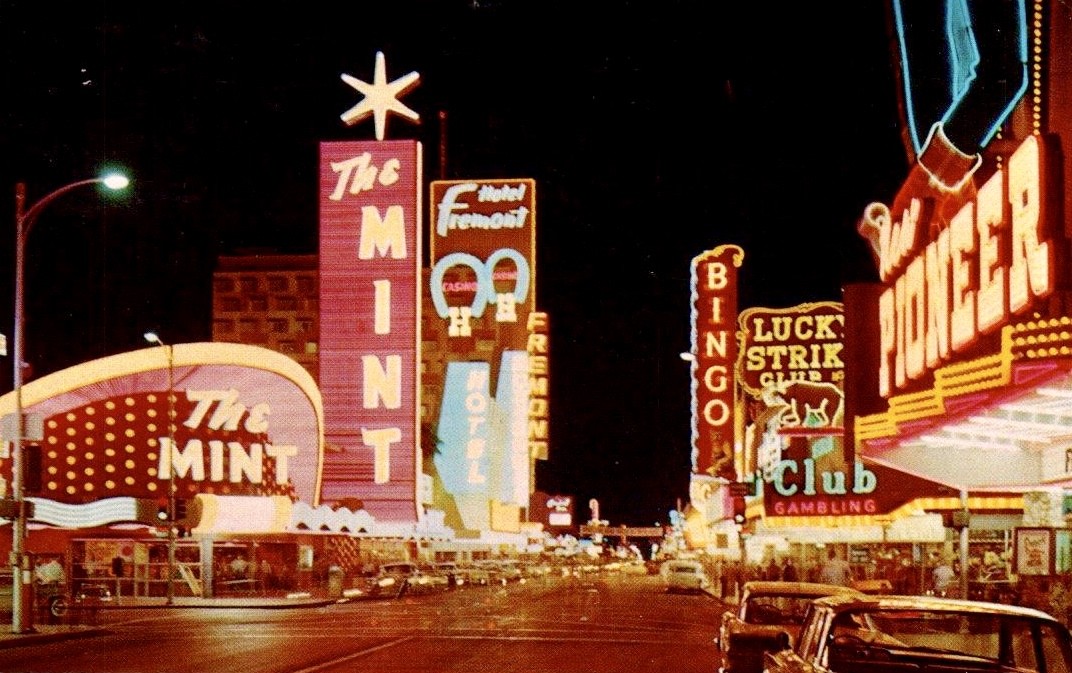 More Interesting Tidbits
The mint, as previously mentioned, was made famous (or infamous) in Hunter S. Thompson's Fear and Loathing In Las Vegas.
Patsy Cline performed at the "Merri-Mint Theater" just three months before her fatal plane crash in 1962.
The casino appears in the 1964 film "Viva Las Vegas."
The casino appears in the 1971 film "Diamonds Are Forever."
Shortly before its closure, The Mint was filmed in U2's music video for "I Still Haven't Found What I'm Looking For."
Looking for more Las Vegas locations and events?  Click here.